More Pennsylvania severe weather...
"Thoughts on Severe Weather Outbreak of June 2-3"
Another interesting storm setup is headed our direction with potential for severe weather across almost all regions of Pennsylvania for some point within the next three day. But first off I want to talk about the severe weather from May 31 on Saturday. Many people I know are very curious about what went wrong for not having the widespread severe weather. Well let me start off with forecasts. The Storm Prediction Center in Norman, Oklahoma issued a rare moderate risk for eastern Pennsylvania with a 45% chance of wind damage, 30% chance of severe hail, and even an impressive 10% chance of tornadoes. Then the rest of the state was under a slight risk for severe weather. Overnight Friday severe weather developed across the Ohio Valley with around 20 tornadoes reported. The supercells in that region joined together to form an mesocyclone thunderstorm complex that then pushed its way into western Pennsylvania by around five in the morning. A tornado watch was issued for western Pennsylvania. The MCS slowly moved across Pennsylvania and never ended up weakening. Strong dynamics were available that were near extremely impressive standards. Shear and helocity indices were sky high and EHI values were high too. But yet the MCS threw clouds across the entire region near the system and to the north. This meant anyone north of the Mason-Dixon line in Pennsylvania was socked in cloud cover most of the day. To the south in Maryland and Virginia severe weather broke out with mainly wind damage and hail. But one confirmed tornado and two unconfirmed tornadoes were reported in Maryland. Later in the day the MCS moved south of Pennsylvania allowing sun to break out, especially in the north. Now remember the MCS was located along the warm front. So the cold front followed in later in the day creating two areas of concentrated severe weather mostly located in northern Pennsylvania. An intense line of thunderstorms became very organized over the Poconos and isolated severe thunderstorms occured across northwestern Pennsylvania. Evening was fast approaching and most of the severe weather then dissapated quickly before affecting southern Pennsylvania. Southern Pennsylvania, which had the most impressive storm dynamics, was skipped for severe weather due to the morning MCS complex. Forecasts for every station, NWS, Storm Prediction Center, and myself had made pretty poor forecasts. But overall though I was not too upset as each of my moderate/high risks were under a tornado watch at some point. And across northern Pennsylvania severe weather reports did come in. Overall I give myself a somewhat satisfactory job. Below is my forecast map against the actual storm reports and the actual warnings that went out. Now for more information on the current June 3-4 severe weather see other sections below for more information.



"Current Weather Setup"
Alright another relatively complicated weather setup is headed towards Pennsylvania. Why can it never be plain and simple? O well it is only everchanging weather. Anyway moisture is on the increase across Pennsylvania with PWATS already around 1.4inches in extreme western Pennsylvania. But later tonight 4-5 deviation above normal PWATS will move into the region. The Low-level jet will also focus in moisture souring up from the Gulf of Mexico. The warm front and cold front are going to become stationary across the region as shortwaves and vortexes of precipitation move in across the region. It appears as if there will be three rounds of precipitation. First round will be Tuesday afternoon where thunderstorms are forming across areas of Pennsylvania as instibilities aloft are increasing along with at the surface. CAPE values look to approach 1000 j/kg in southern Pennsylvania today with high helicity values and 850 winds remain around 50+ knots. Freezing levels look to be around 10,000ft so hail remains to be a threat. Later Tuesday night a vortex will move in along the warm front and there will be a MCS along with it. The models are as typical suffering from convective feedback issues, but it appears as if tonight a MCS will develop across northern Illinois and track across Indiana and Ohio before moving into Pennsylvania after midnight. Overnight upper level instibility will remain high and continue to leave the oppurtinity for severe thunderstorms across some areas at the front-end of the MCS. But the MCS will be in a weakening phase. It appears as if heavy rain will be the main threat as mid-level isentrophic lift is high and PWATS are high. Southern Pennsylvania may be able to squeeze out 1inch of rain. By tomorrow morning the MCS will be weakening. Again then we are faced with another tough question. How fast can things clear out? Based on what past history has shown us this year it appears as if clouds look to prevail for the most part. Still it appears though another round of thunderstorms will form in Ohio and track along with stalled front. A few severe thunderstorms may be a threat, but overall dynamics are not there for anything widespread. High temperatures may stay below 80degrees for most areas along with dewpoints in the low 70s. Alot of questions remain for the setup of the MCS Tuesday night and early Wednesday morning and there is a big bust factor. I now want to highlight the past history of this storm.

A cold front began to push into the inner-mountain west region on Sunday and began to drop a low pressure along with it. A warm front then lifted northward and severe thunderstorms broke out with the main threat of large hail and two tornado reports. Hail with the diameter of 4.25inches was reported in parts of the northwestern Great Plains on Sunday. Then the system moved eastsoutheast and more severe weather broke out for Monday with several areas of MCS's. A strong one developed across Kansas and moved into Missouri. That MCS showed even derecho like features. Overall 3 tornadoes were reported along with around 250 severe weather reports mostly hail. So far today there have been several MCS areas with one that moved from Illinois through Indiana and now into Ohio with over 50 reports of severe weather with that impressive bow echo and one tornado report also. More convection is expected to break out later today.

"Current Advisories"



"Current Satellite"


(Courtesy of Penn State Meteorology.)

"Current Surface Map and Weekly History of Jet Stream Position"



"Radar for Western Pennsylvania"


"Radar for Central Pennsylvania"


"Radar for Eastern Pennsylvania"



"Forecasts from Storm Prediction Center"
DAY 1 CONVECTIVE OUTLOOK
NWS STORM PREDICTION CENTER NORMAN OK
0759 AM CDT WED JUN 04 2008

...MID ATLANTIC REGION...
BOUNDARY LAYER MOISTURE IS WELL-ESTABLISHED OVER THE MID ATLANTIC
REGION...S OF STNRY FRONT EXTENDING EWD FROM CNTRL PA TO NEAR NYC.
FARTHER S...A WEAK OUTFLOW BOUNDARY FROM OVERNIGHT STORMS ATTM
EXTENDS FROM N OF CRW ESE TO N OF RIC. SATELLITE DATA SUGGEST THAT
MODERATE TO LOCALLY STRONG HEATING WILL OCCUR OVER WV/VA/MD AND DE.
GIVEN MOISTURE AVAILABILITY AND FAIRLY STEEP MID-LVL LAPSE
RATES...THIS SHOULD YIELD SBCAPE TO AOA 2000 J/KG...WITH SLIGHTLY
GREATER VALUES POSSIBLE NEAR THE I-95 CORRIDOR.

UPSTREAM...MCV NOW OVER SRN IND EXPECTED TO CONTINUE E AT ABOUT 40
KTS...REACHING NRN WV AROUND 18Z. COMBINATION OF MCV-INDUCED
ASCENT...AND UPLIFT ALONG FRONT...OUTFLOW BOUNDARY AND THE HIGHER
TERRAIN...SHOULD RESULT IN FAIRLY WIDESPREAD STORM COVERAGE AS
HEATING DESTABILIZES REGION LATER TODAY.

WIND PROFILES WILL FEATURE 40+ KT DEEP...UNIDIRECTIONAL WLY
FLOW...WITH MINIMAL CLOUD-LAYER SHEAR. THIS SUGGESTS THAT WHILE
SEMI-DISCRETE STORMS/POSSIBLE SUPERCELLS MAY OCCUR...ESPECIALLY
ALONG THE AFOREMENTIONED BOUNDARIES...THE MAIN OVERALL
ORGANIZATIONAL MODE OF THE CONVECTION SHOULD BE FORWARD-PROPAGATING
LINES. EMBEDDED STORMS COULD YIELD DMGG WIND...SVR HAIL AND PERHAPS
A COUPLE TORNADOES THROUGH EARLY EVENING...BEFORE MOST OF THE
ACTIVITY MOVES OFFSHORE/WEAKENS.

IN THE WAKE OF THE ABOVE CONVECTION...ADDITIONAL WAVES OF WEAKER
STORMS MAY PERSIST OVER NRN PARTS OF THE MID ATLANTIC STATES THROUGH
EARLY THURSDAY.

"Tornado Risks"


"Hail Risks"


"Wind Risks"



"Model Analysis"
Well time to look at the models and looks at their agreements and discrepancies. Overall the models are handling our severe weather situation very poorly. The NAM especially is having some major convective feedback issues. The GFS is very modest with instibility. And the ever trustworthy SREF is highest in terms of instibility levels. I am very impressive by CAPE values from the 9z SREF model in which it shows values over 2000 j/kg in southern Pennsylvania. That combined with high max helicity and modest shear values may result in severe weather tomorrow. As I mentioned earlier it looks like three rounds of storms. The first round this evening. Second round after midnight. And third round tomorrow afternoon. This all makes it very difficult to get a good grab on the forecast. It was hard deciding on what model to focus on, but I decided to use the SREF due to its good record. Also it appears the old fashioned method, lol, meteorological surface observations may come in handy tonight, and Wednesday. The SWEAT index from the GFS though is impressive in southcentral Pennsylvania with it at 250. Below are some maps I felt that were necessary and may come in handy. Also forecast PWATS tonight and tomorrow may approach an impressive 2inches in southern Pennsylvania so flash flooding may be a threat. It will be interesting to watch that unfold. Some areas may see in excess of 2inches of rain in some favored upsloping precipitation regions. That winner may be Franklin County which has already picked up possibly 1.5inches according to rainfall estimates and it is only the beginning of this quite long event. Also below is the high resolution NMM model which appears to be handling the situation pretty well and it shows widespread thunderstorms tomorrow. Below in my forecast section I will take about some of the inhibiting factors, though, of the potential severe weather.

"9z SREF Model Forecast Max Cape Index"


(Wednesday afternoon)

"0z GFS Model Forecast Helicity"


(Wednesday morning)

"12z NAM Model Forecast CAPE and SWEAT indices"


(Wednesday afternoon)

"0z NMM Model Forecast Simulated Future Radar"


(Wednesday afternoon)

"My Forecast for Severe Weather"
Alright well here is my forecast for the upcoming severe weather. Alot of uncertainty remains and I believe cloud cover might preclude most chances of severe weather tomorrow. Still I left though a slight risk out for southern Pennsylvania. Isolated tornadoes are a threat for tonight and tomorrow morning when helicity and shear values remain high. EHI values are not too impressive, but they are still pretty high for Pennsylvania standards at around 2 for western Pennsylvania. I believe wind damage is the primary threat along with maybe some hail in the strong storms capable of the most powerful updrafts. Flash flooding also appears to be a pretty big threat at PWATs are an impressive 2inches for southcentral Pennsylvania. That combined with the typical Blue Ridges upsloping effect will lead to heavy rain amounts isolated at almost 3inches in some areas. I was going to issue a rain map, but I just did not have the time today. Anyway overall this does not appear to be that major of a severe weather threat, but still it needs to be monitored for any possible severe weather associated overnight with the MCS that will move through western Pennsylvania then into southern Pennsylvania slowly dying out by mid tomorrow morning. I will not be adding updates throughout the night. But my maps that update automatically should be enough warning along with the radars. Be sure to turn on your NOAA weather radio before you go to bed as these MCS will move in late overnight and may pose some severe weather problems especially for western Pennsylvania. Have a great evening!!!



(Wednesday)

"Conclusions on Severe Weather Outbreak"
It will be interesting to see what happens with the severe weather threat and the MCS threat for Tuesday night and Wednesday. There are some major convective issues with the models today and the plain meteorological maps show me a possible bust with the energy being stolen to our south. But still I will continue with my forecast for the MCS complex to move across Pennsylvania Tuesday night and then for a break with another round and threat for later on the day Wednesday. I also quickly want to explain my severe weather maps. My risk area definitions are very different than that of the Storm Prediction Center's official risk definitions. I make my risks based on our climate and how widespread severe weather has been in our region for the year so far. For example a moderate risk of severe with by the SPC in Oklahoma might not have the same meaning as it would here in Pennsylvania because it is rare here so the impact level to people is risen. My threats are usually one above what they would be from the SPC due to the fact of severe weather is not overally common in Pennsylvania. My 75% risk of regular thunderstorms translates to 10% risk of severe weather. My slight risk of severe weather translates to 20% chance of severe weather. My moderate risk of severe weather translates to 30% of severe weather. And my high risk of severe weather translates to 40% of severe weather. Overall I hope this better explains my severe weather maps that I produce. And once again this June 3-4 severe weather outbreak does not look to impressive other than just some isolated reports, maybe though a little more widespread across western Pennsylvania. Also as usuall verficition forecast maps will be issued to recap the event for June 3 and June 4. Have a great Tuesday evening!!!

"Storm Reports"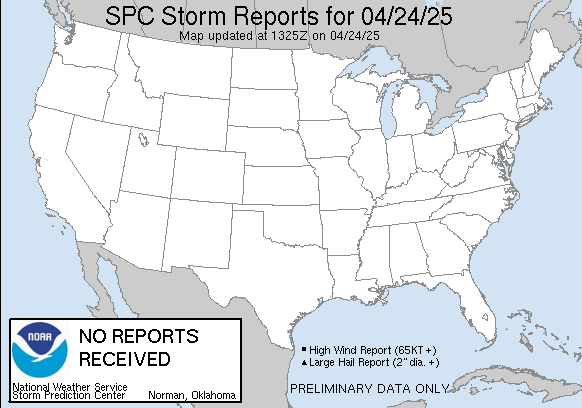 "Here north of Harrisburg 2008 statistics"
(Severe Weather Stats...)
Severe Thunderstorm Watches- 0
Severe Thunderstorm Warnings- 1
Tornado Watches- 1
Tornado Warnings- 0
Total Thunderstorms- 12

(Precipitation Stats...)
Flood Watches- 4
Flood Warnings- 3
Monthly Precipitation- 0.42inches
Yearly Precipitation- 18.49inches

(Temperature Stats...)
Heat Advisories- 0
Excessive Heat Warnings- 0
90degree days- 0
The views of the author are his/her own and do not necessarily represent the position of The Weather Company or its parent, IBM.
Reader Comments
Comments will take a few seconds to appear.
The Northeast Weather Blog...
Recent Posts
Local Weather
52 °F

Clear
Previous Entries for 2017
Personal Weather Stations