Severe Weather...
"Thoughts on Severe Weather Outbreak of May 26-27"
Good Sunday afternoon!!! Well another risk of severe weather is moving into the state of Pennsylvania. Lately on the news and media we have been hearing alot about severe weather in the midwest. Well this entire storm system is moving eastward into our region. Read more on the history and development of this storm system in the section below. I believe now is the time to review some typical severe weather indices, warnings, and forecasting techniques. Let me start with tornadoes. Here is a blog I wrote back in March of 2008 that describes some easy tornado forecasting techniques...Link Now below are some common severe weather terms and their definitions.

Here are some definitions of warnings that I may mention during some severe weather outbreaks all courtesy of NOAA...Link
Severe Thunderstorm or Tornado Watch: Severe thunderstorms with large hail, damaging winds, and/or tornadoes are possible, but the exact time and location of storm development is still uncertain. A watch means be prepared for storms

Severe Thunderstorm Warning: A severe thunderstorm is imminent or occurring; it is either detected by weather radar or reported by storm spotters. A severe thunderstorm is one that produces winds 58 mph or stronger and/or hail 3/4 inch in diameter or larger. A warning means to take shelter.

Tornado Warning: A tornado is imminent or occurring; it is either detected by weather radar or reported by storm spotters. A warning means to take shelter.

Severe Weather Indices/Parameters all courtesy of NOAA...Link
Lapse rate: Refers to the rate of temperature change with height in the atmosphere. A steep lapse rate is one in which the environmental temperature decreases rapidly with height. The steeper the environmental lapse rate, the more potentially unstable is the atmosphere

LI Index: The LI is a commonly utilized measure of stability which measures the difference between a lifted parcel's temperature at 500 mb and the environmental temperature at 500 mb. It incorporates moisture and lapse rate (static stability) into one number, which is less vulnerable to observations at individual pressure levels. However, LI values do depend on the level from which a parcel is lifted, and rally cannot account for details in th environmental temperature curve above the LCL and below 500 mb. LI was originally intended to utilize average moisture and temperature properties within the planetary boundary layer. The Best LI represents the lowest (most unstable) LI computed from a series of levels from the surface to about 850 mb. This index is most useful during cases when shallow cool air exists north of a frontal boundary resulting in surface conditions and boundary layer-based LI values that are relatively stable. However, the airmass at the top of the inversion, from which lifting may occur, is potentially unstable. An example of this would be elevated ("overrunning") convection (possibly a nocturnal MCS).

Severe Weather Threat Index: The SWEAT Index evaluates the potential for severe weather by combining several parameters into one index. These parameters include low-level moisture (850 mb dewpoint), instability (Total Totals Index), lower and middle-level (850 and 500 mb) wind speeds, and warm air advection (veering between 850 and 500 mb). Therefore, an attempt is made to incorporate kinematic and thermodynamic information into one index. As such, the SWEAT index should be utilized to assess severe weather potential, not ordinary thunderstorm potential. These are guidance values developed by the U.S. Air Force. Severe storms may still be possible for SWEAT values of 250-300 if strong lifting is present. In addition, tornadoes may occur with SWEAT values below 400, especially if convective cell and boundary interactions increase the local shear which would not be resolved in this index. The SWEAT value can increase significantly during the day, so low values based on 1200 UTC data may be unrepresentative if substantial changes in moisture, stability, and/or wind shear occur during the day. Finally, as with all indices, the SWEAT only indicates the potential for convection. There must still be sufficient forcing for upward motion to release the instability before thunderstorms can develop.

Convective Available Potential Energy: CAPE assumes Parcel Theory, in that 1) a rising parcel exhibits no environmental entrainment, 2) the parcel rises (moist) adiabatically, 3) all precipitation falls out of the parcel (no water loading), and 4) the parcel pressure is equal to the environmental pressure at each level. Parcel Theory can have significant errors, especially for large parcel displacements, at cloud edges, and for significant water loading. However, the method often works quite well in the undiluted core of a thunderstorm updraft. CAPE represents the amount of buoyant energy available to accelerate a parcel vertically, or the amount of work a parcel does on the environment. CAPE is the positive area on a sounding between the parcel's assumed ascent along a moist adiabat and the environmental temperature curve from the level of free convection (LFC) to the equilibrium level (EL). The greater the temperature difference between the warmer parcel and the cooler environment, the greater the CAPE and updraft acceleration to produce strong convection.

Convective Inhibition: CIN represents the amount of negative buoyant energy available to inhibit or suppress upward vertical acceleration, or the amount of work the environment must do on the parcel to raise the parcel to its LFC. CIN basically is the opposite of CAPE, and represents the negative energy area (B-) on the sounding where the parcel temperature is cooler than that of the environment. The smaller (larger) the CIN is, the weaker (stronger) must be the amount of synoptic and especially mesoscale forced lift to bring the parcel to its LFC. High CIN values in the presence of little or no lift can cap or suppress convective development, despite possibly high CAPE values. Remember, CAPE is the "available potential" energy. That energy must be released to become "kinetic" energy to produce thunderstorms.

Helocity: Storm-relative (S-R) helicity (Hs-r) is an estimate of a thunderstorm's potential to acquire a rotating updraft given an environmental vertical wind shear profile, assuming thunderstorms are able to develop. It integrates the effects of S-R winds and the horizontal vorticity (generated by vertical shear of the horizontal wind) within the inflow layer of a storm. A S-R wind is the wind that a thunderstorm actually "feels" as the storm moves through the environment. It is different from a true ground-relative (G-R) wind, except for a stationary storm whereby a S-R and G-R wind are equivalent. S-R helicity is proportional to the area "swept out" by the S-R wind vectors between two levels on a hodograph.

Energy-Helocity Index: CAPE and storm-relative (S-R) helicity (Hs-r) are both very important in the formation of a strongly rotating convective updraft. CAPE represents the amount of buoyant energy available, while S-R helicity incorporates the effects of environmental vertical wind shear and storm motion on thunderstorm type and evolution. An intense rotating updraft can form with relatively weak CAPE if the vertical wind shear and storm-relative inflow are strong. On the other hand, relatively low S-R helicity usually can be compensated by high instability to produce a rotating updraft. The EHI attempts to combine CAPE and S-R helicity into one index to assess the potential for supercell and mesocyclone development. High EHI values represent an environment possessing high CAPE and/or high S-R helicity.

I hope these definitions help to make it a little easier to understand the terminology that you may here during times of severe weather. For more information you can check the links posted above. Overall I do not expect too significant of severe weather outbreak for these two days, but this could be the largest outbreak we have had across Pennsylvania so far this year. Clouds as usuall will be an inhibiting factor. You can find more information about the factors in this event in the following sections below.

"Current Weather Setup"
Well this has been quite a severe weather week across much of the country from California to the northern Great Plains. Now the area of severe weather will shift eastward into the Ohio Valley and Middle Atlantic region. But let me start at day 1 of the severe weather outbreak to cover the entire event. A strong low pressure system was diving down from the Pacific Northwest into the Rocky Mountain Region. Widespread rain showers and thunderstorms occured across the west along with snow in some of the higher elevations. Many records occured for precipitation, for example Flagstaff, Arizona broke a record for 1.8inches of snow on May 22. Also in Phoenix, Arizona near .5inches of rain fell making it a precipitation record for the day. Up to 10inches of snow fell in the higher elevations in states such as Utah. Meanwhile in southern California heavy rain with isolated convection occured with some areas of flash flooding. Also some of the convection was on the strong side with two tornadoes being reported near San Diego, California overturning a nearby train and a tractor trailer. Also hail fell quite heavy in areas that saw convection and then accumulated to depths of near 3inches in some areas. Locals played with the hail like it was snow and throwing hailballs, lol. Meanwhile later in the day the Storm Prediction Center in Norman, Oklahoma issued a high risk for severe weather across areas of western Kansas and Nebraska even though some of the severe weather occured in states such as Colorado and Wyoming. In Colorado early on May 22 a family of tornadoes occured 75mles north of Denver in Weld County. The tornado ended up killing one person and causing quite a bit of destruction. Then that same supercell that spawned the Weld County tornado moved northward into Wyoming causing tornado reports near the town of Laramie and Cheyenne. By late in the evening the action shift eastward into western Kansas and Nebraska. Then for May 23 the cold front almost became stationary with more severe weather developing in western Kansas and Nebraska. For May 22 over 48 tornado reports occured with 249 reports overall. For May 23 the SPC issued a moderate risk of severe weather. A high risk was then later issued as the tornado reports became increasingly higher. Many very intense supercells occured with over 63 tornado reports for that day adding to the total reports for the day of 209. For May 24 the action quieted down a little bit as the energy level was not as strong. Only 13 tornado reports occured that day mostly in rural locations of North and South Dakota along with Oklahoma. Only a couple injury reports came in as a pig farm in Oklahoma suffered some minor damage. Now for May 25 a moderate risk area has been issued farther east with actually two moderate risk areas, one in Kansas and the other in Wisconsin and Minnesota. Areas in between are under slight risks. For May 25 the threat starts with supercells than converge into large mesocyclone thunderstorms complexes. These complexes with be quite intense with widespread wind damage being the main threat. These complexes will shift eastward for May 26 and weaken. The front will move eastward and be the focal point for more strong to severe thunderstorms for Monday. For Tuesday the front will move across eastward from the southeast to Middle Atlantic only causing isolated strong thunderstorms as debris clouds from previous mesocyclone complexes will weaken preventing strong instibility for Tuesday. Overall this several day period of a severe weather outbreak has been the strongest so far for this May. I possible see another record breaking month of tornadoes by the time the end of the month roles around.

"Current Advisories"



"Current Satellite"


(Courtesy of Penn State Meteorology.)

"Current Surface Map and Weekly History of Jet Stream Position"



"Radar for Western Pennsylvania"


"Radar for Central Pennsylvania"


"Radar for Eastern Pennsylvania"



"Forecasts from Storm Prediction Center"
SPC AC 270553

DAY 1 CONVECTIVE OUTLOOK
NWS STORM PREDICTION CENTER NORMAN OK
1253 AM CDT TUE MAY 27 2008

VALID 271200Z - 281200Z

...CNTRL/SRN NEW ENGLAND TO THE MID ATLANTIC COAST...

PERSISTENT SWLY LOW-LEVEL FLOW AHEAD OF COLD FRONT SHOULD SUPPORT
THE NEWD ADVECTION OF AN INCREASINGLY MOIST BOUNDARY LAYER WITH
DEWPOINTS INCREASING THROUGH THE 50S. WHILE MIDLEVEL LAPSE RATES
WILL REMAIN SOMEWHAT MARGINAL...THIS MOISTURE IN CONJUNCTION WITH
DAYTIME HEATING AND RESULTANT STEEPENING OF LOW-LEVEL LAPSE RATES
ARE EXPECTED TO CONTRIBUTE TO A MODERATELY UNSTABLE AIR MASS WITH
MLCAPES OF AROUND 1000 J/KG.

TSTMS ARE EXPECTED TO DEVELOP ALONG THE FRONT BY LATE MORNING/EARLY
AFTERNOON AS LEADING EDGE OF STRONGER HEIGHT FALLS ATTENDANT TO
MIDLEVEL TROUGH BEGIN TO OVERSPREAD DESTABILIZING AIR MASS.
FORECAST SOUNDINGS INDICATE LARGELY WLY TROPOSPHERIC FLOW WITH
DEEP-LAYER SPEED SHEAR RANGING FROM 40-50 KT OVER DOWNEAST ME TO AOB
30 KT NEAR AND S/SW OF THE DELMARVA. THIS ENVIRONMENT SHOULD
SUPPORT EVOLUTION OF A CONVECTIVE LINE ALONG THE FRONT...PERHAPS
COMPOSED OF SHORTER SEGMENT BOWING STRUCTURES CAPABLE OF DAMAGING
WINDS AND SOME HAIL. THE SEVERE THREAT SHOULD DIMINISH THIS EVENING
AS ANY ONGOING STORMS MOVE EWD/SEWD OFFSHORE.

"Tornado Risks"


"Hail Risks"


"Wind Risks"



"Model Analysis"
Models have done a pretty good job with coordinating with each other. Just some differences in intensities of instibilities is the only difference between the models. Below is the 9z SREF CAPE values and they do go over 1000 for much of central and eastern Pennsylvania for Monday. Also for Tuesday they rise even more and this time eastern Pennsylvania gets in the action. For the future radars it is quite impressive with that bow-echo looking thunderstorm complex that is shown moving from Ohio into Pennsylvania. I will have more short term model updates throughout Monday and Tuesday so stay tuned...

"15z SREF Model Forecast Max Cape Index"


(Tuesday)

"NMM Future Simulated Radar"


(Monday)

"My Forecast for Severe Weather"
Well my severe weather forecast maps are now out and I am ready for whatever this day may bring. I have a little excitment anticipating the first widespread severe weather outbreak of the region, even though my area should escape the worst of it. So anyway below are my maps and I want to talk about them and explain the thought process that went behind each region. And as you can see they are different than what the Storm Prediction Center in Norman, Oklahoma has out today. I did highlight a moderate risk area for extreme western and southwestern Pennsylvania. CAPE values are expected to reach near 1500+ j/kg which is quite high for Pennsylvania. Anything above 1000 I consider pretty significant for the keystone state. Also in western Pennsylvania helocity values approach 200 based on the NAM which is above the lower limitations for supercell development. Also dewpoints and temperatures should be the highest in that region of Pennsylvania today. EHI values though in that region are pretty low which is good news, because it means there will be a little tornado threat. Southwestern Pennsylvania near Mount Washington will be the area under the gun the most today. Also looking back at past records, western Pennsylvania historically has more severe weather reports in these types of storm setups. Now for the rest of central Pennsylvania I still did include a slight risk as the dynamics in that region are also extreme enough for storm development. The Susquehanna River should be near the dividing line where severe storms fissle out. But there is one area I am also watching today in Pennsylvania and that is in the Lower Susquehanna Valley where I live. Dewpoints are already creeping up as sunshine is also really heating up the atmosphere. CAPE values also are supposed to be near 1500 j/kg in the small region. EHI values also get near 1.5 on some models which is pretty significant for tornadic development. Helocity values are the highest in the state in this region. But the hindering factor is the lifting mechanism. The main setup of the storm is farther west. But if we can get a pulse thunderstorm to form ahead of the main activity then supercellular activity could be a threat in the Harrisburg-Lancaster tornado alley (this region has historically the most tornadoes typically recorded in the state per year). So for the Lower Susquehanna Valley I issued a 75% chance of regular thunderstorms which also translates to 5% risk of severe storms. For the rest of the state thunderstorms will occur tonight as the storms in western Pennsylvania move eastward and die out. The farther east you go the dwindling chances of thunderstorms I indicate on my map. The main threats are all 3 with hail threat as freezing levels are only near 13000, wind damage as winds aloft are very fast, and tornadoes as shear levels are high.

"My Severe Weather Risk Map"
Monday...



For Tuesday yet again my forecast is different than the Storm Prediction Center in Norman, Oklahoma. I have a slight risk for southern and eastern Pennsylvania. I believe there may be just enough breaks in the clouds from May sun inversion. Also again CAPE values are supposed to be over 1000 j/kg, and helocity values again near 200 in some areas of southern Pennsylvania. But EHI values remain in the negatives making tornadoes not too much of a threat. One thing to note is that todays models show much more instibility than yesterdays models did for southern Pennsylvania. The main question is how much cloud cover will there be for southern Pennsylvania. Wind damage is the primary threat that will be faced. Winds aloft are not too fast, but helocity values are high. Moisture levels including dewpoints will be higher for Tuesday than what they were for Monday and highs again will be in the 80s in southern Pennsylvania. Stay tuned for more updates on Tuesday throughout the day today and tomorrow.

Tuesday...



"Conclusions on Severe Weather Outbreak"
Well still overall the 2008 year is off to a quiet severe weather start across all of Pennsylvania. There have been few severe weather reports and no official outbreaks anywhere across the state. And even after this 2-day small outbreak still most likely storm reports will remain pretty few. As has been typical this year usually all factors except for one come together, but still no severe thunderstorms form. Monday in my opinion will be the most active day by far. Tuesday should be very quiet with heavy rain and maybe an isolated gusty wind are the only threats. While Monday there could be damaging winds and isolated tornadoes as threats. Warm-air aloft should prevent most hail from forming. Now remember severe weather season starts on June 1 here in Pennsylvania and last through Mid September. Even though we may be off to a quiet start does not mean it will be a quiet year. It only takes one damaging storm to change someone's life forever. As usually you can expect updates throughout the next two days on the severe weather outbreak. Be sure to report any unusuall weather here to the blog and also I would be happy to here other people's opinion on this potential severe weather threat here in the state. As for next week a short recap will be issued on Wednesday and then for Thursday back to a short weekly formatted forecast blog. As for next weekend another storm system heads up through the great lakes and isolated severe weather could become another threat for much of the state of Pennsylvania. Stay tuned for more information on this chance throughout the week. Have a great day and stay tuned to updates from the national weather service and make sure you have your NOAA weather radio up and running to keep informed about the severe weather chances.

"Storm Reports"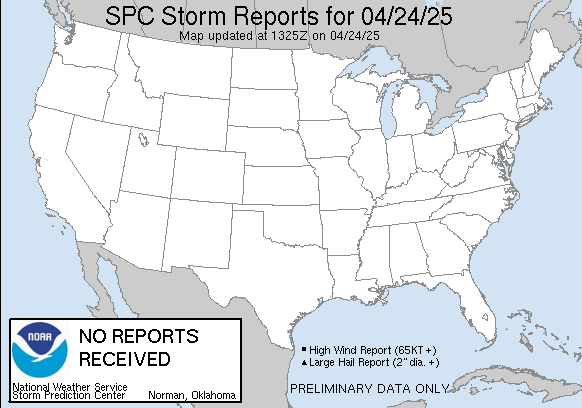 "Here north of Harrisburg 2008 statistics"
(Severe Weather Stats...)
Severe Thunderstorm Watches- 0
Severe Thunderstorm Warnings- 0
Tornado Watches- 0
Tornado Warnings- 0
Total Thunderstorms- 9

(Precipitation Stats...)
Flood Watches- 4
Flood Warnings- 3
Monthly Precipitation- 3.97inches
Yearly Precipitation- 17.63inches

(Temperature Stats...)
Heat Advisories- 0
Excessive Heat Warnings- 0
90degree days- 0
First severe thunderstorm of the year... (
Blizzard92
)
A thunderstorm clipped my location but did produce some impressive shots of the anvil cloud, gust front, and wall cloud. The thunderstorm was under a severe thunderstorm warning. But the worst of the storm was too my east.
The views of the author are his/her own and do not necessarily represent the position of The Weather Company or its parent, IBM.
Reader Comments
Comments will take a few seconds to appear.
The Northeast Weather Blog...
Recent Posts
Local Weather
52 °F

Clear
Previous Entries for 2017
Personal Weather Stations