WunderBlog®
News & Blogs
Near, short, and long term updates...
"Afternoon Thoughts" (Updated 5/21)
Good Wednesday afternoon!!! Wow, what a miserable May it has been. My highest temperature is 79degrees and that is basically one of very few 70degrees temperatures this month. Yesterday my high temperature was 49degrees along with .39inches of rain. It is amazing of how winterlike this pattern we are in looks like. Like the rain yesterday was from an Alberta clipper type storm. And today a cold front is moving through with rain squalls. Northwest flows also have been quite common this month. Snow this month has been surprisingly more often than it was in April for some mountain areas. Also remember the strong nor'easter we had two weeks ago with 2-4inches of snow in the mountains and in the valleys up to 1inch of snow. Then more traces of snow were recorded. And just the other day snow was reported in Bradford and Johnstown with lake effect snow. In the suburbs of Buffalo, NY up to 1inch of snow fell that day also. Now still snow is in the forecast for northern areas as a shortwave moves through Thursday morning. This is just getting unbelievable. But while we may be having cold temperatures, out in the western part of the country they have been having extreme heat with wildfires widespread. See more on western wildfires below. Overall it seems my forecast for the month of May is coming out very well as I forecasted below normal temperatures and above normal precipitation. One thing surprising this month is the little frequency of thunderstorms and severe weather. Looking at reports so far for the entire year of severe weather the northeast region has definetely been limited in reports. Most of the reports have been hail with this cold-air aloft. Again it appears as if this cool pattern will begin to ease with temperatures back to normal. But remember I am forecasting a cooler than normal summer, so we may want to get use to this type of weather. Hopefully this wet pattern continues as the last couple of summers have had well below normal precipitation. Currently there are some rain showers and low-topped thunderstorms occuring with the frontal passage. Some lightning strikes are being reported. Small hail and occasional gusty winds may be a threat today as the LI index is near 0 for eastern Pennsylvania and CAPE values are in the lower hundreds. An isolated strong storm cannot be ruled out. By later this evening conditions should clear out for the most part except for the far north. Another cold night is in store with clouds. By tomorrow a shortwave will be moving into the region with some light rain showers and maybe snow showers in the north early in the day. Temperatures look cool. So lets all push through this cold weather and hope for those warmer days to come. Have a wonderful rest of your day!!!

"Regional Radar"


(Courtesy of NOAA)

"Regional Satellite"


(Courtesy of Penn State Meteo.)

"Near Term Forecast" (Updated 5/23) (Friday)
Well high pressure is moving in across the region as the upper-level trough pushes out. Fair weather cumulus clouds should be the only threat today. Highs will be in the 60s to low 70s across much of the state. For Friday night clearing skies with light winds will create some radiational cooling that may drop temperatures pretty low in some areas. Also some ground fog may be a problem for Saturday morning with 2-3mile visibilities especially near waterways.

"Regional Advisories"


(Courtesy of NOAA)

"Short Term Forecast" (Updated 5/23) (Saturday through Sunday)
High pressure remains strong and keeps conditions very nice for the weekend. Northwesterly winds will shift to the southwest and bring warmer air surging northward. Highs will be on the Saturday in the low 70s and on Sunday from the mid 70s to upper 70s. For each night temperatures will be chilly and dip in the 40s in most areas. Beaware of slight chances of frosts across the north.

"Current Surface Map and Weekly History of Jet Stream Position"


(Courtesy of Weather Underground)

"Long Term Forecast" (Updated 5/23)
For a look ahead to next week temperatures continue to warm and the atmosphere will continue to moisten up. A front will be moving in from the west possibly causing some severe weather on Tuesday. I will have more updates on the severe weather in the form of comments throughout this weekend. My weekly format blog again will be issued on Sunday unless the severe weather threat seems imminent, in that case a severe weather format blog will be issued then for Tuesday.

"Wildfire Outlook" (Updated 5/19)
Looking at the forest fire outlook for the upcoming days in Pennsylvania, it looks pretty non-active. As moisture increases on Tuesday with light rain showers and for Wednesday with leftover northwestern Pennsylvania rain sprinkles, it just does not appear to be the right conditions for wildfire spread. But as the week progresses temperatures will begin to moderate and warm up in the mid 70s by Sunday. Conditions will also be very dry during the time as high pressure hangs around in the region. And as many of us know, the ground can dry up quickly even after quite a bit of rain. So forest fire threats will be a possible come the end of this week. Except more updates, if necessary on the possible threat.

Across the nation, record warmth and heat is occuring in the west as the stubborn ridge hangs in around the region. Relatively dry conditions will prevail, so forest fire danger is a definite threat. The SPC has issued fire outlooks for the next 3 days in the general vicinity of the west and southwest. Days 4-5 the threat will begin to shift eastward into New Mexico, Texas, and Oklahoma as the midwestern ridge begins to pump up heat from the south. Remember to be alert for the dry conditions, as many large wildfires can be prevented if only people had been more aware of their surroundings and the dry weather threat. Currently this Monday red flag warnings are out for the southwest and northern great plains in North Dakota. But the threat in North Dakota should be ending this evening.

"Fire Outlooks from Storm Prediction Center Days 1, 2, and 3"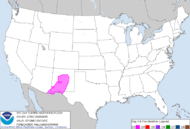 (Courtesy of NOAA)

"Gardening Outlook" (Updated 5/21)
Well Spring is the time for planting, but it sure does not feel like spring outside. I just planted some of my annuals in the pots and in the ground on Sunday and they look wonderful even though conditions are not quite ideal outdoors. Still I have alot more plants to get. As far as my vegetable garden it is coming along nicely with just last night another crop of lettuce I had for dinner. The lettuce plants are absolutely loving this cool weather and it is extending the growing period. My spring onions are getting very tall and I have been pulling them every now and then for dinner. They taste wonderful with their sweet taste. My blueberry bushes are budding nicely and surprisingly getting larger very quickly. If buying blueberry bushes try getting two different type of blueberry plants or else they will not cross pollinate. My cucumber plants sadly having taken a beating from the cold along with my basil plant. One plant has completely now died. I recommend now waiting until this weekend to get warm-weather vegetables in the ground as conditions are just too cool even for mid May. Though I am having great luck with my parsley plants as they have really gotten large fast. My radish seeds are nearly 3inches tall and I need to do some thinning of the plants as they came up invading each other too closely. My bean and pea seeds are also coming up nicely. So far my tomato plants and zuchinni plants seem to be dealing with the cold just ok. Oddly enough my neighbor already has a small tomato growing on their plant. Overall I am very pleased with my garden. Pictures should be coming this weekend.

As for gardening forecasts this week, ground temperatures will be rising. Soil moisture though will be gradually diminishing as precipitation totals through Sunday will be a measly statewide average of .25inches occuring Tuesday and Wednesday. So watering will be necessary by the end of the week as temperatures warm and the ground dries up under the dry conditions.

"Soil Moisture Anomalies and 5-day Precipitation Amounts from Hydro Prediction Center"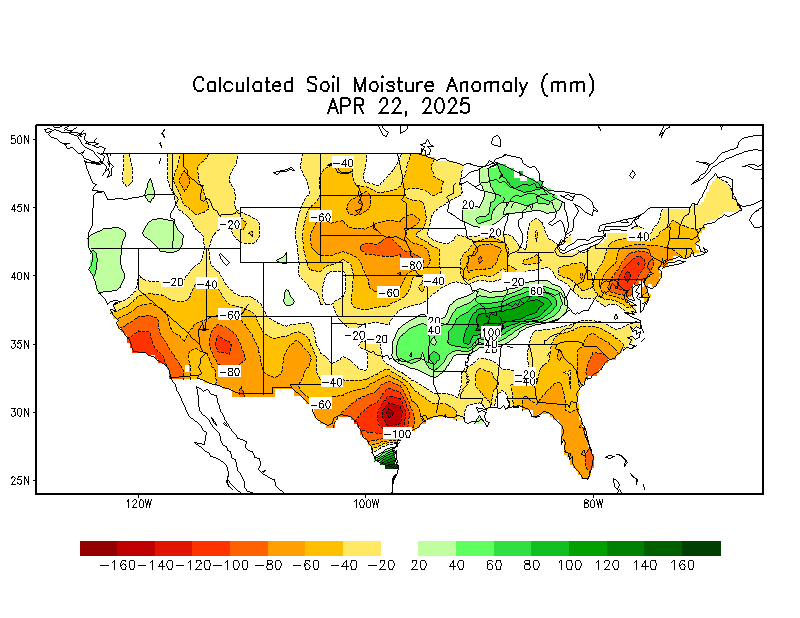 (Courtesy of NOAA)

Average Pennsylvania last freezes...


(Courtesy of PSU meteorology)

"Severe Weather Outlook" (Updated 5/19)
Very quiet on the Pennsylvania severe weather front. Throughout the week much of the state will be suffering from generally cooler than normal temperatures slowly rising as the days progress. But by the weekend as a trough develops in the west, a ridge may begin to build in the east. A dry stretch looks to be on tap for this coming weekend into next week. But warmth will be on the increase with limited chances of precipitation. The next possible chance of thunderstorms looks to be sometime next week as a weak cold front may move through the region.

Looking across the United States it appears pretty quiet severe weather wise. Some strong storms may occur in the Carolinas on Tuesday as a low pressure moves across Maryland and that region is put in the warm sector. Wind damage is the primary threat. In the plains their severe weather chances continue on getting delayed as it will be difficult for any storms to break through the CAP caused by the strong midwestern ridge. But the breakdown may begin sometime this weekend or next week. This will intern most likely cause a severe weather outbreak in the region. Both the GFS and EURO models show these chances of the breakdown of the ridge type pattern. The SPC has highlighted the western great plains in a severe weather outlook for days 4-6. Stay tuned for more updates on this situation.

"Severe Weather Outlooks from Storm Prediction Center Days 1, 2, and 3"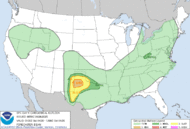 (Courtesy of NOAA)

"Monthly Outlook" (May)
Again it is time for my experimental monthly outlook. My April outlook for last month proved actually to be relatively accurate in precipitation forecast. The month did turn out above normal in many climate reporting stations across Pennsylvania. But in terms of snowfall that was well below normal. Only traces of snow were recorded at my climate reporting stations. Some areas in western and northern Pennsylvania did manage to pull of a few inches of snow. So now the winter is over for all areas. The end of April marks the end of Winter even for the far northwest mountains. For temperatures my outlook called for normal to below normal temperatures. But most climate centers reported normal to above normal temperatures. There were many periods of warm weather in mid to late April marking a start to a beautiful Spring. Overall though for my first monthly outlook I am pretty pleased since I do not even spend too much research in extreme long term forecasts. But still here in my May outlook for temperature and precipitation.

Temperature- Temperature wise again I believe will be normal to slightly below normal as the NAO remains in a negative stage and the AO remains negative also. There are no real signs of extreme warmth for at least the first two weeks of the month. But still ahead of fronts temperatures will get above normal and reach the mid 80s. In western Pennsylvania they may be able to squeeze out a few monthly above normal temperature readings though as that region tends to heat up ahead of fronts more quickly than areas east of the mountians.

Precipitation- Snowfall is over and I expect none to be recorded anywhere across Pennsylvania. For rainfall it looks to be an above normal month. The jet stream remains in a very active stage with frequent "april type rain showers". Thunderstorms do look also very possible as we get into midmonth will possibly our first major outbreak of severe weather as some strong fronts our indicated to enter our region in that time period. Rainfall should not be overally heavy though during the month and I do not expect to see any record rainfall amounts anywhere across the state.

"Temperature and Precipitation Outlooks from Climate Prediction Center for next 30 days"


(Courtesy of NOAA)

"Regional Forecasts" (Updated 5/23) (Friday)
1. Eastern- (Allentown, Southern Poconos)-
Sunshine with slight cover of afternoon clouds. High 70.

2. South Central (Harrisburg, York, Lancaster)(my home)-
Partly cloudy. High 70.

3. Southern- (Philadelphia)-
Sunshine and clear skies. Warmer. High 74.

4. Central- (State College)-
Partly cloudy. High 68.

5. Northern- (Erie, Bradford, Williamsport)-
Partly to mostly cloudy skies. High 66.

6. Western- (Pittsburgh)-
Sunshine. Warmer. High 72.

7. Johnstown, Altoona-
Partly cloudy. High 68.

***Note on regional map, the number equals which region in Pennsylvania. I chose regions with similar climates, geography, and elevation to make my overall forecast for the region.



"Here north of Harrisburg 2008 statistics"
(Severe Weather Stats...)
Severe Thunderstorm Watches- 0
Severe Thunderstorm Warnings- 0
Tornado Watches- 0
Tornado Warnings- 0
Total Thunderstorms- 9

(Precipitation Stats...)
Flood Watches- 4
Flood Warnings- 3
Monthly Precipitation- 3.97inches
Yearly Precipitation- 17.63inches

(Temperature Stats...)
Heat Advisories- 0
Excessive Heat Warnings- 0
90degree days- 0
The views of the author are his/her own and do not necessarily represent the position of The Weather Company or its parent, IBM.
Reader Comments
Comments will take a few seconds to appear.
Post Your Comments
Please sign in to post comments.
Not only will you be able to leave comments on this blog, but you'll also have the ability to upload and share your photos in our Wunder Photos section.
The Northeast Weather Blog...
Recent Posts
Local Weather
45 °F

Mostly Cloudy
Previous Entries for 2017
Personal Weather Stations