Strong Coastal Storm Recap...
May 11-13 Nor'easter

Surface observations...



Satellite...



Surface Map...



"First Thoughts"
Going into the event it was very interesting to watch the development and migration of the storm. After a heavy rain had already occured a few days before, the ground remained quite moist. And even the day before a mesoscale thunderstorm complex moved through in the Laural Highland area resulting in a widespread 1-2inches with an isolated 3inch amount. Flash flood guidance was at around 2inches in a 24hr period to produce flooding. So now forecast by the models for several days was another round. A strong low pressure system was expected to migrate eastward and develop a secondary low off of the Virginia Coastline. Heavy rain was forest to be the primary threat, but it turned out that there would be many other effects associated with the storm such as snow, wind, rain, flooding, severe weather, and coastal erosion. This type of storm for mid May was very unsuall and the setup was a very typical wintertime flow. Many meteorologists were memorized by the models in predicting a storm of this magnitude in Mid May. This storm also would bring in record cold temperatures during the event. For Philadelphia the high temperature was 49degrees for Monday and that was the second coldest high temperature ever recorded in the month of May. Here north of Harrisburg temperatures were in the mid to upper 40s all day. Out in Altoona a record low for the day was reached with 33degrees. Temperatures should be in the 70s across much of the state, instead they were in the 40s and 30s. Going into the event I did not believe this storm would cause the amount of impacts that it actually did. But still my forecast worked out wonderful as I will talk about below in the section titled my forecasts.

"Storm Track Recap"
An upper-level short wave was dropping down into the Midwest accompanied by a cold front. Behind the front was again more cooler air. The wave did move southeast into the upper Mississippi/Tennessee Valley and strengthen into a strong low pressure system. Pressures reached as low as 996mb in the Midwestern States. The low gradually moved eastward through the states of Indiana and Ohio. The low pressure moveed then southeast across the Ohio River and gradually weakened. Though moisture was well out ahead of the storm. Then a shift in energy did create a secondary low pressure off the Delmarva. Strong S/W energy pushed a southeast wind up the eastern slopes of the Appalachians. Heavy rain was common across east-central Pennsylvania into Maryland and northern Virginia. But to the north was a strong surface high pressure acting as a blocking mechanism. This prevented the heavy rain from getting to far north. Gradually by Monday night the low moved east and the cold front filtered in across the region. Overall this was a very complex storm system. As the low pulled away the pressures reached as low as 988mb only affecting mid Atlantic shipping lanes.

"Severe Weather Recap"
What a few days of severe weather preceded the main coastal storm. As the strong low pressure pulled down out of the midwest it moved east across Illinois. Severe weather began to form beginning on the 10th of May. Strong long lived tornadoes were widespread.


Over 20 fatalities were reported along with some of the tornadoes being rated at EF-4s. The one EF-4 tornado brought about a mile wide path of destructions for quite a long distance from Oklahoma into Arkansas destroying towns in its path. Total over 93 tornadoes occured in the 2-day period. For the 11th of May the area of severe weather shifted eastward into the Middle Atlantic.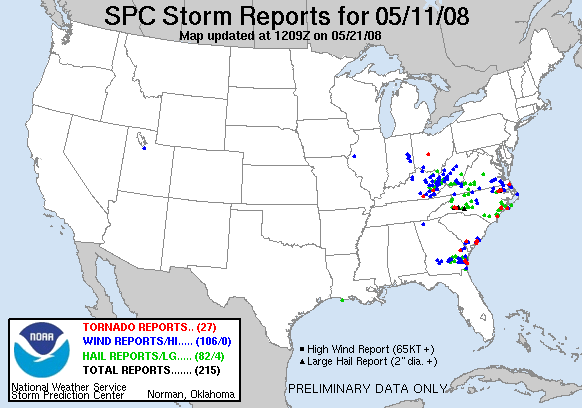 In all over 282 hail reports occured with 242 wind damage reports recorded too. So why did all of this severe weather occur? Well an interesting setup for severe weather occured. It was a very complex situation in which the warm front extended from Arkansas to Georgia. The dry line in Texas. The low pressure in Illinois. And the cold front in Kansas. All of these boundaries combined together across the southern Mississippi Valley where supercell thunderstorms formed. As the night progressed the storms organized into a derecho line of thunderstorms with winds as the main threat up to 90mph straight line winds. This derecho continued across the entire southeast to the South Carolina coastline. The supercells were especially strong along the warm front. I was very pleased in all with the adequate warning time and forecasts that were given in the tornado region that was affected. The problem with these storms is the damage was caused late at night and many people had gone to sleep not prepared for these devastating storms. This is especially when the NOAA weather radio comes in handy. In conclusion it was a memorable severe weather outbreak which will be a focus of the yearly 2008 weather highlights summaries.

"Rainfall Recap"
Rainfall amounts were generally in the 1-2inch range across the south with lighter amounts to the north. The highest reports of rainfall unofficially I saw were in Adams and Franklin Counties where around 3inches of rain fell. But in Maryland rainfall totals reached 7inches in North Beach. Overall the additional rainfall did not cause too many more problems as it was never overly heavy at times and generally just a steady moderate rain though flood watches were out. Below is a rain verification map.



"Flooding Recap"
Flooding was not too much of a problem here in Pennsylvania, but in Maryland there were many reports of flooded roadways including some creeks that toppled over their banks. But here in Pennsylvania flooding reports did come out of a few southcentral Pennsylvania counties. Franklin County saw the heaviest of rain and the worst of the flooding. But for coastal flooding there were some problems along the Delaware Bay near Philadelphia. Coastal flood warnings were out for that region as coastal tides coordinated with nor'easter storm surge to produce moderate levels of water rise causing a few problems along the boardwalks. Along the eastern seaboard coastline though erosion hit a maximum in places such as Cape May as waves crashed along the beaches with an abnormally high high tide. Below is a flood verification map.



"Wind Recap"
Wow, were winds strong in some areas. Up to 78mph gusts were recorded in as Sea Isle City, NJ. Here in Pennsylvania there were two locations of high winds. One area was in western Pennsylvania where gusts up to 60mph were recorded briefly. These southeasterly winds blew ahead of the low as the isobars were very tightly packed. Damage was reported in many locations with tree and power lines being the main threats. Then in central Pennsylvania there was little wind other than 20mph gusts. But in eastern Pennsylvania as the low passed southeast of the region winds turned in around from the northeast and gusted in the 45-50mph range as far west as Lancaster, PA which recorded a 40mph gust. Philadelphia recorded a 49mph gust. In New Jersey and Delaware winds were in the 60-70mph range with 70mphs quite common in the Delaware Bay causing chaos in with shipping. A few homes were even reported damaged in New Jersey from the winds including a roof collapse which trapped a man who later made it out safely. Below is a wind verification map.



"Snow Recap"
Yes you read it correctly, snow. As the secondary coastal low pressure deepened it drew in its own cold air and dropped 850mb temperatures below 32degrees across a region in westcentral Pennsylvania. Now after some dynamic cooling from the heavy rain surface temperatures across the region dropped into the low to mid 30s colder enough for snow to fall even in valley locations. In Centre County some accumulations were reported with .5inches in State College and 1inch in Philipsburg. This is one of the latest May snows on records. As far east as Huntingdon County snow was recorded with as far south as Somerset. See my rain map for a list of some snow recordings. Here is a public information statement concerning the unusall snow here in May for central Pennsylvania...

PUBLIC INFORMATION STATEMENT
NATIONAL WEATHER SERVICE STATE COLLEGE PA
132 PM EDT MON MAY 12 2008

...PUBLIC INFORMATION STATEMENT...

...LATE SEASON SNOW FALLS OVER SOUTH-CENTRAL PENNSYLVANIA...

AN UNUSUALLY INTENSE AND COLD LATE SEASON STORM DUMPED HEAVY RAIN OVER
MUCH OF CENTRAL PENNSYLVANIA OVERNIGHT SUNDAY INTO MONDAY MORNING.
HOWEVER IT MAY HAVE SURPRISED SOME TO WAKE AND FIND SOME WET
SLUSHY SNOW COVERING THE LANDSCAPE EARLY TODAY.

A LOOK BACK INTO THE RECORD BOOKS SUGGESTS THAT THIS WAS AMONG THE LATEST
DATES SNOW HAS BEEN OBSERVED FOR MUCH OF THE REGION. WHILE MOST OF
THE OFFICIAL REPORTS WE RECEIVED TODAY WERE FOR JUST A "TRACE" OF
SNOW...MEANING IT WAS ENOUGH TO BE SEEN BUT NOT QUITE ENOUGH TO
STICK A RULER IN TO MEASURE...SEVERAL CALLS WERE PASSED ALONG
INDICATING SOME OF OUR HIGHER ELEVATIONS RECEIVED ENOUGH TO COAT
THE GROUND OR EVEN BEND SOME OF THE TREES OVER WITH THE WEIGHT OF
THE HEAVY WET WHITE STUFF.

THE FOLLOWING ARE SOME "LATEST" DATES WHERE SNOW HAS BEEN MEASURED
IN THE PAST.

IN ALTOONA WHERE RECORDS HAVE BEEN KEPT SINCE 1948...THE LATEST SNOW
ON RECORD WAS .4 INCHES SET BACK IN 1976 ON MAY 4TH.

IN EBENSBURG WHERE RECORDS HAVE BEEN KEPT SINCE 1964...THE LATEST
SNOWFALL WAS .5 INCHES BACK ON MAY 5TH OF 1973.

HERE IN STATE COLLEGE RECORDS EXIST BACK TO 1925. THE LATEST
SNOWFALL WAS .2 INCHES ON MAY 9TH OF 1947.

IN SOMERSET RECORDS HAVE BEEN KEPT SINCE 1948. THEY OBSERVED .1 INCHES
OF SNOW BACK ON MAY 1ST OF 1963.

AN INCH OF NEW SNOW WAS ACTUALLY MEASURED TODAY BY OUR COOP
OBSERVER IN PHILIPSBURG...HOWEVER RECORDS HAVE ONLY BEEN KEPT
THERE SINCE 1986. WITH THIS SHORT PERIOD OF RECORD...THIS MAKES
IT THE FIRST TIME SNOW HAS EVER BEEN "OFFICIALLY" MEASURED IN MAY.



This is a 850mb chart at 12z for May 12. Note the cold pocket aloft over central Pennsylvania just to the northwest of the low's center. Chart courtesy of NOAA.

"Final HPC Storm Summary"
The HPC known as the Hydrometeorological Prediction Center did a pretty good job forecasting the storm. Just like the SPC handles severe weather, the HPC monitors precipitation across the United States. Here is a link to their site...Link. Below is a final summary statement issued after the storm was over.

STORM SUMMARY NUMBER 3 FOR MIDDLE ATLANTIC RAINSTORM
NWS HYDROMETEOROLOGICAL PREDICTION CENTER CAMP SPRINGS MD
1100 PM EDT MON MAY 12 2008

...LOW PRESSURE SYSTEM MOVING AWAY FROM THE MID-ATLANTIC COAST...

COASTAL FLOOD ADVISORIES AND WARNINGS ARE CURRENTLY IN EFFECT FOR
PORTIONS OF THE NORTHERN MID-ATLANTIC REGION. FOR DETAILS OF THE
CURRENT WEATHER HAZARDS AND LOCAL WEATHER INFORMATION...PLEASE
VISIT THE NATIONAL WEATHER SERVICE WEB PAGE AT WWW.WEATHER.GOV.

THE SMALL AND INTENSE LOW PRESSURE CENTER THAT RAPIDLY DEVELOPED
NEAR THE CHESAPEAKE BAY LAST NIGHT HAD WEAKENED AND MOVED FURTHER
OFFSHORE. AT 1100 PM EDT...THE 990 MB LOW WAS ESTIMATED TO BE
ABOUT 300 MILES EAST-SOUTHEAST OF WALLOPS ISLAND VIRGINIA...AND
WAS MOVING EASTWARD AT AROUND 22 MPH. AT 1100 PM EDT...NATIONAL
WEATHER SERVICE DOPPLER RADARS AND SURFACE OBSERVATIONS SHOWED
AREAS OF LIGHT RAIN MOVING GENERALLY SOUTHWARD ACROSS PARTS OF THE
NORTHERN MID-ATLANTIC STATES. THE COVERAGE AND INTENSITY OF THE
RAIN HAD BEEN STEADILY DECREASING.

...SELECTED STORM RAINFALL TOTALS IN INCHES FROM 800 AM EDT SUN
MAY 11 UP TO 1000 PM EDT MON MAY 12...


...NORTH CAROLINA...

HOLDEN BEACH 2.3 E 3.81
SWANSBORO 3.3 NW 3.40
WILMINGTON/NEW HANOVER CO. ARPT 2.51
NEW RIVER MCAS 2.28


...WEST VIRGINIA...

SHEPHERDSTOWN 3.20
MARTINSBURG RGNL ARPT 2.84


...VIRGINIA...

ALEXANDRIA 6.84
FREDERICKSBURG 4.5 ENE 6.00
LOVETTSVILLE 5.18
LEESBURG 5.09
WOODBRIDGE 2.6 SSW 4.86
RANDOLPH 4.55
LAKE RIDGE 1.7 SW 4.43
WARRENTON 3.5 SE 4.35
WASHINGTON/DULLES AIRPORT 4.33
BURKE 1.6 NE 3.65


...WASHINGTON DC...

WASHINGTON/NATIONAL AIRPORT 3.95
WASHINGTON 3ENE 3.67


...MARYLAND...

NORTH BEACH 0.3 W 7.07
MARLTON 6.0 E 6.30
DUNKIRK 3.2 NNE 6.14
BRANDYWINE 6.7 ESE 5.62
PRINCE FREDERICK 1.4 W 5.24
ANDREWS AFB/CAMP SPRINGS 5.07
WALDORF 3.6 SSE 4.52
CAMP SPRINGS 0.1 ESE 4.40
DEALE 2.3 SSW 4.30
BALTIMORE/WASHINGTON INTL ARPT 3.69


THE LOW PRESSURE SYSTEM IS EXPECTED TO CONTINUE MOVING EASTWARD
AWAY FROM THE MID- ATLANTIC COAST. THE REMAINING RAIN CURRENTLY
OVER THE MID-ATLANTIC REGION SHOULD CONTINUE TO TAPER OFF
OVERNIGHT.

THE WILL BE THE LAST STORM SUMMARY ISSUED BY THE
HYDROMETEOROLOGICAL PREDICTION CENTER ON THIS EVENT. PLEASE REFER
TO YOUR LOCAL NATIONAL WEATHER SERVICE OFFICE FOR ADDITIONAL
INFORMATION.

"Model Forecasts"
Overall the models did a fairly reasonable job forecasting this coastal storm. Below is the SREF model which probably performed the best in terms of precipitation totals. Below is the print out for QPF in central Pennsylvania. The GFS and 4km WFR models should be recognized for spotting the chances of snow in central Pennsylvania even though the meteorologists refused to acknowledge the chance of snow. The EURO model performed well with the storm track and kept it farther south like the actuall track occured. The GFS as usuall took the track too far northward. For some reason this year the GFS continues to overestimate and underestimate the blocking highs in Canada, therefore it does not get a good grab on forecast tracks of systems. Also an update the GFS is no longer getting a renovation announced by the NCEP. The GFS was originally supposed to get some updates to the supercomputer, but those have gotten canceled. Just recently the NAM model did get some updates which I believe have now been finished. So in all the models performed well with forecasting this strong coastal storm.

SREF model prediction...



"My Forecasts"
Overall I am very pleased with my forecast and I really do not believe it was necessary to make any changes. The only area that may have not been right on was in eastern Pennsylvania where rainfall amounts were generally around .1-.25inches below where I forecasted for a few areas. Above you can see what the actual data for wind, rain, and flooding against my original forecast put out 2 days before the storm. Again as with every storm I continue to learn more about the everychanging weather.

"Concluding Thoughts"
Overall the storm was very impressive for May standards. From producing to near 100 tornadoes to hurricane force winds off the Delmarva. Producing few inches of snow in the mountains to up to 7inches of rain, the storm made quite far reaching effects. In all this will probably be a storm studied in the future for its widespread effects. For the week ahead we are in a very unsettled pattern here across the east. For Thursday the weakening cold front will die out across the region only producing a few light rain showers across the state. Then a for Friday another wave moves through that is a little stronger and may produce some moderate rain across southern areas with up to .5inches falling. Could be a little thunder mixed in with the rain. Temperatures will be quite cool and in the 50s for high temperatures. For Saturday there will be leftover rain showers then gradually clearing from northwest to southeast. But another wave sort of in the form of a winter clipper moves in for Sunday with light rain showers across the state. Highs will be in the 60s across Pennsylvania. For Monday things will clear out for some sunny conditions. But then Tuesday as the upper level trough holds its ground another wave rotates in with some light rain showers. And for Wednesday things clear out again with temperatures well below normal in the low 60s. The GFS model really strengthens this trough so conditions may even be colder than currently forecasted if the model hold correct. Frost and freezes may be a concern. The NAO is going negative with PNA postive so it will definitely be the perfect setup for cooler unsettled conditions.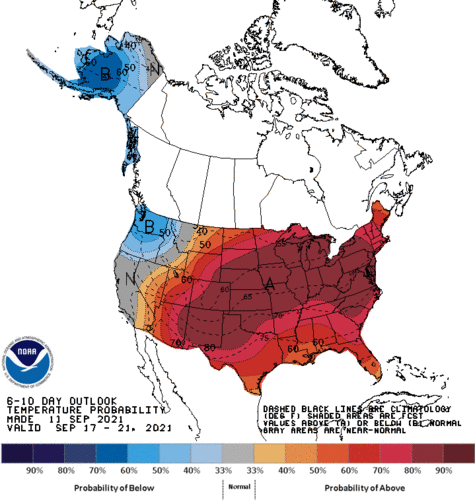 Note the CPC prediction for 6-10 outlook. Look at those below normal temperatures. But later in the week the EURO model develops a eastern ridge and western trough so maybe then finally things may warm up back to normal. As for upcoming blogs I continue on putting off my winter recap part II blog, but by June that blog should definitely be done. As for this week no blog wills be written until Sunday when the typical weekly formatted blog will come back again. Have a great rest of your week!!!
The views of the author are his/her own and do not necessarily represent the position of The Weather Company or its parent, IBM.
Reader Comments
The Northeast Weather Blog...
Previous Entries for 2017