Rain moving in...
"Afternoon Thoughts" (Updated 5/6)
Good Tuesday afternoon on this partly cloudy day across Pennsylvania!!! Well another nice day here in Pennsylvania with highs in the 70s almost statewide. A few isolated showers are around the region, but overall they should not be too much of a concern as they are low-topped and combined with low dewpoints they are relatively just dried up and only cumulus cloud about 3,000ft tall. I did just get some drizzle a minute ago though. It is interesting the change of seasons here in Pennsylvania and the mood swings of people along with the seasonal changes. Now almost halfway into Spring the trees are full of leaves with already dafodill and tulips dropping their blossums as their season is already over. Now even cool-season vegetable gardens are coming too a close in a few weeks here in southern Pennsylvania. Then it is time to transform the vegetable garden to more warmer climate favored crops such as tomatoes, squashes, and beans. The vegetation through the mountains is becoming thicker while more and more construction crews go higher and higher up the mountain building more homes. I think this is what gets me upset most of all is to see all of the homes being built on beautiful land. More and more trees/farms/fields are being transformed into shopping malls, condo-homes, hotels, etc. And I believe we all need to start to take a stand against these big contractors who believe they can build just anywhere. I love hearing stories on the news of neighbors who fight off and win against someone trying to tear down nearby land to build some form of a community. While a majority of the United States is rural, I feel every year that the country is shrinking in terms of true forests, etc and we need to find a way to stop this large expansion. We do not need 3 different types of grocery stores, for example, all along the same city block. In my opinion the development of asphault roadways is one of the leading causes of human-introduced warming of the earth. The suns heat rays just radient off the asphault and create the city-heat island effect. This effect is becoming increasingly noticeable here where I live. It is interesting because during for example a clear winter night with calm winds the temperatures drops 4-6degrees from a 10mile stretch with the coldest temperatures here where I live (more built-up land to more of a rural community). States such as Florida are having major problems with the destruction of precious land. Anyway enough of my little rant. Back with the changing seasons thoughts. It is interesting to note that us humans are never truely happy when it comes to the weather, too warm, too hot, too cold, to snowy, too cloudy, etc. And as Summer approaches enjoy the cooler temperatures here in May and observe the changing features of nature from city blocks to mountainsides, something is always changing. Have a great rest of your Tuesday!!!

"Regional Radar"


(Courtesy of NOAA)

"Regional Satellite"


(Courtesy of Penn State Meteo.)

"Near Term Forecast" (Updated 5/7) (Friday)
COMING THURSDAY!!!

"Regional Advisories"


(Courtesy of NOAA)

"Short Term Forecast" (Updated 5/7) (Friday night through Saturday night)
COMING THURSDAY!!!

"Current Surface Map and Weekly History of Jet Stream Position"


(Courtesy of Weather Underground)

"Long Term Forecast" (Updated 5/7)
COMING SOON!!!

"Wildfire Outlook" (Updated 5/4)
Well yet another week of an uneventful wildfire/forestfire outlooks. Conditions remain moist with lush vegetation growing in the mountainsides and valleys. Streams are running high. Dewpoints also should remain relatively high throughout the week with a few chances of rainfall. Conditions will be breezy though. In Pennsylvania typically the August through October time period is the driest with forest fire threats being most widespread during those times. Here is a review of typical forestfire advisories that may be issued in case of a high threat of fires. Below are the criteria and list of advisories.

Criteria for rapid initiation and spread of wildfires in PA:
-Winds must be sustained at 15 mph (13 knots) for two hours or more, and
-Minimum Relative Humidities (which usually occur in the afternoon) must be 30 percent or less, and
-10-hour Fuel Moistures must be 15 percent or less (and expected to remain there for two or more days

Fire Weather Advisories in PA:
-Fire Weather Watch: All three of the above criteria are expected to develop simultaneously within 12-24 hours.
-Red Flag Warning: All three of the above criteria are being met currently, or are imminent.

"Fire Outlooks from Storm Prediction Center Days 1, 2, and 3"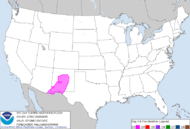 (Courtesy of NOAA)

"Gardening Outlook" (Updated 5/4)
Well here is an update on my vegetable garden. On Saturday afternoon I finished setting up the two raised bed gardens that are each 2ft by 6ft and 10inches high. They are large wooden boxes. I then filled them with a mix of several different types of soils, native soil, garden soil, and hummus/manure mix. Twenty-one bags of soil I had to get. Then I went plant shopping and got 2 tomato plants, 4 zucchini plants, 2 cucumber plants, 1 basil plant, 1 chive plant, 1 parsley plant, 1 pack of bush bean seeds, 2 packs of sugar snow peas seeds, 1 pack of carrot seeds, and 1 pack of radish seeds. I then planted everything. Later on I transplated this invasive lavender plant that was taking over my other vegetable garden. So now for that vegetable garden my lettuce plants, pea plants, and onion sets have much more room to grow. My blueberry bushes are also now able to grow more. So overall it was quite a busy day yesterday. Then I helped my neighbors setup their first vegetable garden after they saw mine and we dug and planted a square raised bed in the ground. They planted tomato plants, pepper plants, cucumber plants, basil plants, mint plants, parsely plants, bean seeds, and onion seeds.

Well now onto the garden outlook for the week. Well after some areas saw a nice rain last night including here in which I recieved .58inches of rain, many gardens are really taking off. Conditions are not near as dry as they were a few weeks ago. Below are the soil moisture anomalies for Pennsylvania. For the week ahead the only concern of frost would be in the northern third of Pennsylvania on Monday morning. Other than that temperatures will be on the rise. Some rainfall is expected Tuesday through Friday. But most of the rain should not be too overwhelmingly heavy. So it looks like a low watering week for gardens. Now is the time for us southern Pennsylvanians to start planting warm weather crops too.

"Soil Moisture Anomalies and 5-day Precipitation Amounts from Hydro Prediction Center"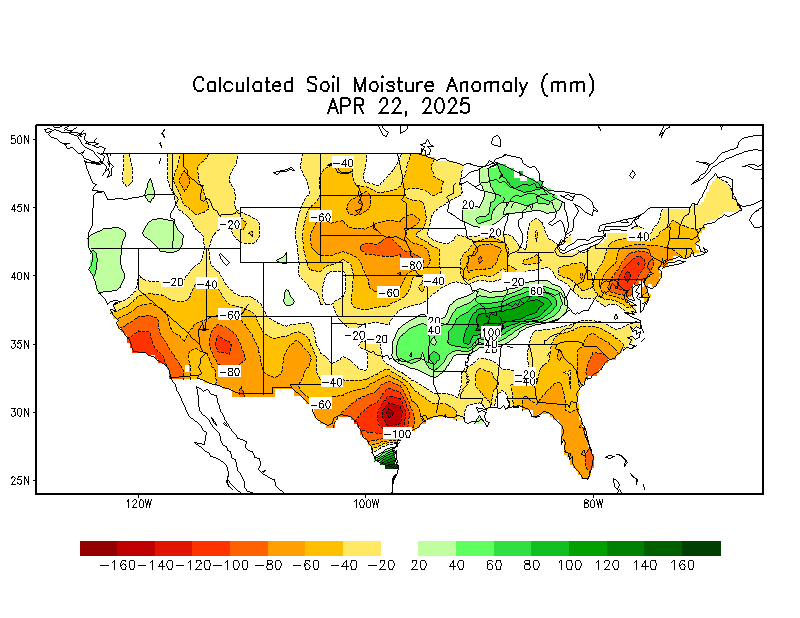 (Courtesy of NOAA)

Average Pennsylvania last freezes...


(Courtesy of PSU meteorology)

"Severe Weather Outlook" (Updated 5/4)
As for this week chances of severe weather do not appear to be overally high, but there will be two frontal passages at the middle and end of the week that may need to be watched. A warm front will lift over the region Wednesday with some afternoon scattered thunderstorms with CAPE values around 500 J/KG in southern Pennsylvania. Then a weak cold front will cross the state Wednesday evening. If the front moves through in late afternoon then a few stronger thunderstorms may occur. There may also be a few thunderstorms around for Thursday and Friday's frontal passage. Other than those chances of thunderstorms it looks like an overall pretty quiet week here in Pennsylvania. But out in the midwest it could get quite stormy with more chances of severe weather.

"Severe Weather Outlooks from Storm Prediction Center Days 1, 2, and 3"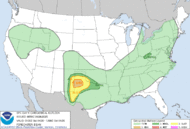 (Courtesy of NOAA)

"Monthly Outlook" (May)
Again it is time for my experimental monthly outlook. My April outlook for last month proved actually to be relatively accurate in precipitation forecast. The month did turn out above normal in many climate reporting stations across Pennsylvania. But in terms of snowfall that was well below normal. Only traces of snow were recorded at my climate reporting stations. Some areas in western and northern Pennsylvania did manage to pull of a few inches of snow. So now the winter is over for all areas. The end of April marks the end of Winter even for the far northwest mountains. For temperatures my outlook called for normal to below normal temperatures. But most climate centers reported normal to above normal temperatures. There were many periods of warm weather in mid to late April marking a start to a beautiful Spring. Overall though for my first monthly outlook I am pretty pleased since I do not even spend too much research in extreme long term forecasts. But still here in my May outlook for temperature and precipitation.

Temperature- Temperature wise again I believe will be normal to slightly below normal as the NAO remains in a negative stage and the AO remains negative also. There are no real signs of extreme warmth for at least the first two weeks of the month. But still ahead of fronts temperatures will get above normal and reach the mid 80s. In western Pennsylvania they may be able to squeeze out a few monthly above normal temperature readings though as that region tends to heat up ahead of fronts more quickly than areas east of the mountians.

Precipitation- Snowfall is over and I expect none to be recorded anywhere across Pennsylvania. For rainfall it looks to be an above normal month. The jet stream remains in a very active stage with frequent "april type rain showers". Thunderstorms do look also very possible as we get into midmonth will possibly our first major outbreak of severe weather as some strong fronts our indicated to enter our region in that time period. Rainfall should not be overally heavy though during the month and I do not expect to see any record rainfall amounts anywhere across the state.

"Temperature and Precipitation Outlooks from Climate Prediction Center for next 30 days"


(Courtesy of NOAA)

"Regional Forecasts" (Updated 5/7) (Friday)
COMING THURSDAY!!!
1. Eastern- (Allentown, Southern Poconos)-


2. South Central (Harrisburg, York, Lancaster)(my home)-


3. Southern- (Philadelphia)-


4. Central- (State College)-


5. Northern- (Erie, Bradford, Williamsport)-


6. Western- (Pittsburgh)-


7. Johnstown, Altoona-


***Note on regional map, the number equals which region in Pennsylvania. I chose regions with similar climates, geography, and elevation to make my overall forecast for the region.



"Here north of Harrisburg 2008 statistics"
(Severe Weather Stats...)
Severe Thunderstorm Watches- 0
Severe Thunderstorm Warnings- 0
Tornado Watches- 0
Tornado Warnings- 0
Total Thunderstorms- 9

(Precipitation Stats...)
Flood Watches- 2
Flood Warnings- 3
Monthly Precipitation- .58inches
Yearly Precipitation- 14.24inches

(Temperature Stats...)
Heat Advisories- 0
Excessive Heat Warnings- 0
90degree days- 0
The views of the author are his/her own and do not necessarily represent the position of The Weather Company or its parent, IBM.
Reader Comments
Comments will take a few seconds to appear.
The Northeast Weather Blog...
Recent Posts
Local Weather
40 °F

Clear
Previous Entries for 2017
Personal Weather Stations