Isolated severe weather today...
"Thoughts on Severe Weather Outbreak of May 3"
COMING SOON!!!

"Current Weather Setup"
COMING SOON!!!

"Current Advisories"



"Current Satellite"


(Courtesy of Penn State Meteorology.)

"Current Surface Map and Weekly History of Jet Stream Position"



"Radar for Western Pennsylvania"


"Radar for Central Pennsylvania"


"Radar for Eastern Pennsylvania"



"Forecasts from Storm Prediction Center"
SPC AC 031257

DAY 1 CONVECTIVE OUTLOOK
NWS STORM PREDICTION CENTER NORMAN OK
0757 AM CDT SAT MAY 03 2008

VALID 031300Z - 041200Z

...WRN/CENTRAL PA THIS AFTERNOON/EVENING...
THE PRIMARY SYNOPTIC LOW WILL LIFT NNEWD FROM LAKE SUPERIOR INTO
ONTARIO AS AN ASSOCIATED MID LEVEL TROUGH PIVOTS ENEWD FROM THE MS
VALLEY TO THE UPPER OH VALLEY BY LATE EVENING. A SURFACE COLD FRONT
WILL MOVE EWD ACROSS THE OH VALLEY TO THE APPALACHIANS BY EARLY
TONIGHT...WHILE A SEPARATE BAROCLINIC ZONE LIFTS NWD ACROSS MD/SRN
PA. WITH BOUNDARY LAYER DEWPOINTS IN THE MID-UPPER 50S AND SOME
DAYTIME HEATING IN CLOUD BREAKS...WEAK SURFACE-BASED INSTABILITY IS
EXPECTED IN A SMALL AREA NEAR THE RETREATING FRONT ACROSS
CENTRAL/WRN PA. IF SURFACE-BASED CAPE VALUES CAN EXCEED ROUGHLY 500
J/KG...THEN FORECAST HODOGRAPHS SUGGEST A FAVORABLE ENVIRONMENT FOR
ROTATING STORMS. THE UNCERTAINTY REGARDING INSTABILITY WARRANTS

"Tornado Risks"


"Hail Risks"


"Wind Risks"



"Model Analysis"
COMING SOON!!!

"9z SREF Model Forecast Cape Index"



"NMM Future Simulated Radar"



"My Forecast for Severe Weather"
COMING SOON!!!

"My Severe Weather Risk Map"
COMING SOON!!!

"Conclusions on Severe Weather Outbreak"
COMING SOON!!!

"Storm Reports"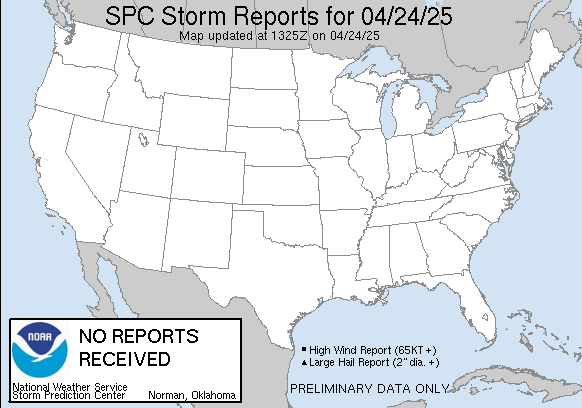 "Here north of Harrisburg 2008 statistics"
(Severe Weather Stats...)
Severe Thunderstorm Watches- 0
Severe Thunderstorm Warnings- 0
Tornado Watches- 0
Tornado Warnings- 0
Total Thunderstorms- 9

(Precipitation Stats...)
Flood Watches- 2
Flood Warnings- 3
Monthly Precipitation- 3.32inches
Yearly Precipitation- 13.66inches

(Temperature Stats...)
Heat Advisories- 0
Excessive Heat Warnings- 0
90degree days- 0
The views of the author are his/her own and do not necessarily represent the position of The Weather Company or its parent, IBM.
Reader Comments
Comments will take a few seconds to appear.
The Northeast Weather Blog...
Recent Posts
Local Weather
45 °F

Clear
Previous Entries for 2017
Personal Weather Stations