Winter Premonitions
Zachary Labe
25 July 2014
Winter Premonitions

In the land of long-term seasonal weather forecasts, accuracy and skill are two difficult words to define. Forecasting for large time scales is essentially a game of detective work; even though clues may point to one suspect, it probably is not him. Nevertheless, finding these clues requires an interesting approach to understanding the earth's weather and climate. The rossby pattern is one of a continuous wave that amplifies or deamplifies and shifts or retrogrades around our oblate globe. Even looking at the track of typhoons in the western Pacific can tell us a lot about the weather patterns here in the eastern conus.



(Courtesy of CUNY Hunter)

With that all being said, the verdict on seasonal forecasting is one of angst in the meteorological and energy market communities.

Another few weeks have gone by with unimpressive numbers from the Nino 3.4 region and standard SOI readings. Super-El Nino bust? Most likely. It appears a lack of dominant Kelvin wave propogation and continued upwelling off the western South American coastline has resulted in slow warming of sea surface temperatures. While previous memorable El Ninos were also lethargic to function (1998 in particular), there are no dominant clues to suggest that is likely for this upcoming ENSO regime.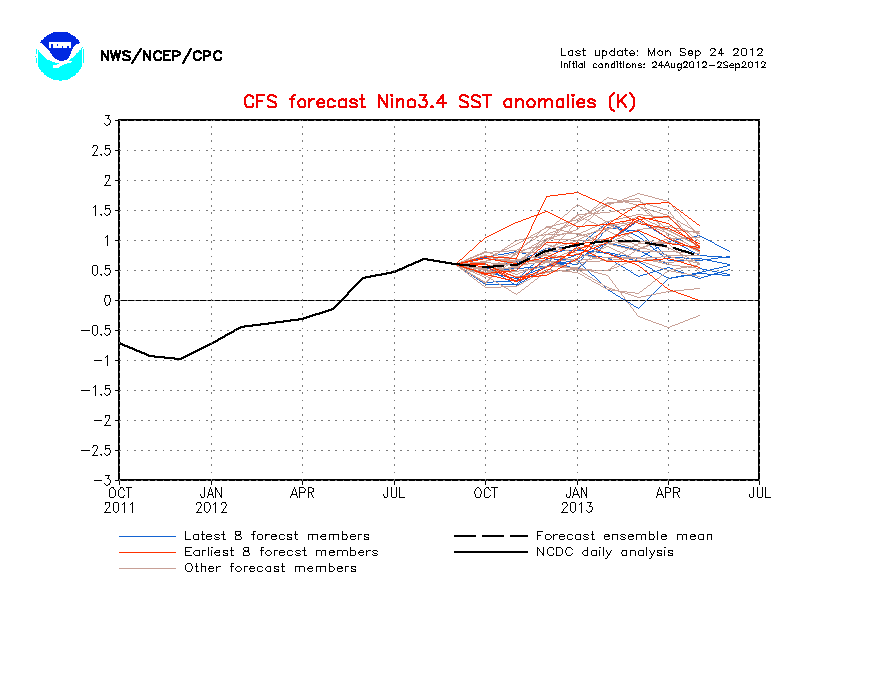 Global forecast models favor a moderate Nino to be expected by early winter. This approach seems reasonable. In fact, I would argue a weak Nino is more likely.

Philadelphia, PA
STRONG NINA - 6 WINTERS - 15.9"
MODERATE NINA - 7 WINTERS - 13.8"
WEAK NINA - 7 WINTERS - 23.1"
ENSO NEUTRAL - 22 WINTERS - 22"
WEAK NINO - 5 WINTERS - 28.1"
MODERATE NINO - 8 WINTERS - 24.3"
STRONG NINO - 6 WINTERS - 27"
(Courtesy of Mt. Holly NWS)

Quick statistics above show that El Nino years often correlate to snowier winters on average for Philadelphia. I have made the assumption this is representative for most Middle Atlantic locations. Of course, the ENSO pattern is not the only key player, but at this point in time (yes I know, only July), it is the biggest. Other indices meteorologists love to throw around... PDO, QBO, AMA, NAO (insert another acroynm) also all look favorable for the makings of another snowy winter.

Yes, you heard me right. My non-science based gut tells me a blockbuster snowy winter along with some cold weather is possible. Based on pure observation alone, it seems the global Rossby wave pattern has transitioned little in the last few months. Despite the Polar Vortex media hype from last week, in some aspects they were actually correct. For all intended purposes, the same weather pattern that delivered record January cold, sort of (I use this loosely) brought record July cold. However, the important take from this comparison is that there has been little jet stream shift. Essentially, the cold air is still on our side of the globe and shows no signs of budging in the long term. Once again, another purely observational account, is that I have noticed the position of the dominate PV remains consistent for several years at a time (tell that to Europe during a few winters in the last decade).

So for those keeping score (please don't), my premonition is a rough winter is headed for the eastern half of the contiguous United States. Meanwhile lets not forgot the rest of the world...




Despite few newsworthy heat waves across the Northeast this summer, most all areas are still above normal temperature wise. June will go down as the third consecutive month with record global warmth. The hurricane season also continues to be relatively quiet even after the unnecessary media hype from Hurricane Arthur. My "gut" feeling again suggests a quiet tropical season is to be expected for the rest of 2014. Dr. Jeff Masters has a great blog about this presently (July 25).




The atmosphere is never in steady state. It is in complete chaos allowing weather patterns to easily shift and balance through the jet stream. That is what makes weather forecasting, short and long term, quite difficult and unforgiving. So I guess it is best to roll with the punches until somebody can precisely calculate and code a way to model the ubiquitous atmospheric hydrologic cycle.




Lower Susquehanna Valley Doppler...


(Courtesy of WGAL)

Twitter... Link and Facebook... Link.
The views of the author are his/her own and do not necessarily represent the position of The Weather Company or its parent, IBM.
Reader Comments
The Northeast Weather Blog...
Previous Entries for 2017