Benign Summer Pattern Continues
Zachary Labe
27 July 2014

Warming temperatures and increasing humidity levels are the big weather stories for the upcoming stretch before the 4th of July. A temporary shift in the rossby wave patterns have allowed for increasing upper level thicknesses over the eastern contiguous United States. 1000-500mb thicknesses will rise to approximately 575dm across portions of the Middle Atlantic with H85 thermals at nearly 20C during the peak of the warmth.

It is likely an entirely accurate statement that the hypsometric equation is one of the fundementally most important in meteorology. Derivered from the ideal gas law and hydrostatic equation, the hypsometric can be manipulated to find out many important things about the atmosphere. Most commonly, it is used to relate the mean temperature of a layer over a given thickness (i.e. 1000-500mb thickness and the 540dm line).



(Courtesy of the Glossary of the American Meteorological Society)

where...
h = thickness
z = geometric heights
p = pressure levels
R = gas constant for dry air
T = average temperature in layer
g = gravity

The hypsometric is one of the most simple equations in meteorology and can be quickly altered by simple algebra. It is the starting place for many upper level meteorology courses. Using the direct proportion, we can see that as warm air advection increases (T increases), the air expands (h increases) and vice versa for cold air advection. Given this piece of evidence, we can note that pressure levels are not at a constant height. We cannot directly state that 850mb level is at 10,000ft aloft.

The temperature change in the atmosphere can tell us quite a bit about the present and future synoptic weather regimes. Therefore, given the increasing warmth over the next week, we can expect an expansion of air aloft. Middle range global ensembles suggest this milder pattern will be short lived with a returning trough axis after the 4th of July. This is relatively in support with most guidance. The summer season brings quieter and more stagnet weather patterns due to longer Rossby wavelengths that occur in both a lower frequency and few number. Teleconnections that are noted all too frequently during the winter season often become much less of a long term weather forecast aid during this time of year. In fact, some research would argue they present a relative useless value for Northeast weather pattern forecasting during July, and August.

Remarkable gains about been made across the equitorial Pacific over the last week with SST anomalies beginning to increase off the coast of South America. This supports dynamical model predictions of a positive ENSO cycle through at least the first half of winter.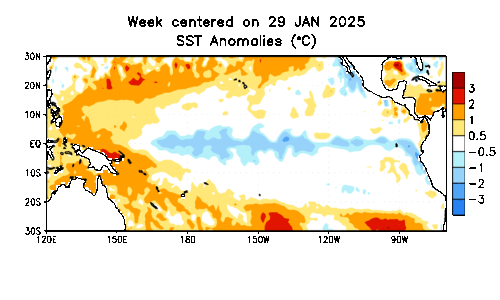 Lack of a strong westerly wind burst and unimpressive Kelvin wave regime has allowed most of the warming to dominate across the eastern portions of the basin. Up until a week or so ago, significant increases in upwelling allowed temperatures to be slow to warm even for eastern areas. However, this has changed. I am currently unimpressed with the Kelvin wave structure (essentially sloshes the water back and forth across the Pacific), and I am therefore not expecting this ENSO regime to reach the parameters set forth as 'strong' by NOAA. Nevertheless, I would expect warming to begin to increase more sharply across the Nino 3.4 region over the next few weeks. Weather pattern effects for the United States will likely be noted more towards the end of summer with an increasing subtropical jet and will definitely influence the hurricane season.

Early long term predictors suggest a potentially interesting winter, but that is all I will say for now.

For next week, a bit more unsettled look is likely as the flow shifts to the southwest with increasing humidity. Diurnal convection is likely each day and generally focused across topographically influenced regions or along sea breezes. A cold front will move through at the end of the period, likely in association with a slight risk of the severe weather as deemed by the SPC categorical risks.

My exploration and summer in the Finger Lakes is going marvelously thus far. I have begun to explore my Senior Honors Thesis potential topic of anomalous cold season warm air advection events in relation to plant growth and growing degree hours. Otherwise, this weekend I plan to make a trip out to Watkins Glenn and explore its state park and nearby beautiful Seneca Lake. Excluding some dry conditions along the immediate Middle Atlantic coast up through most of southern New England, this summer has been providing enjoyable temperatures and precipitation for many.
The views of the author are his/her own and do not necessarily represent the position of The Weather Company or its parent, IBM.
Reader Comments
Comments will take a few seconds to appear.
Post Your Comments
Please sign in to post comments.
Not only will you be able to leave comments on this blog, but you'll also have the ability to upload and share your photos in our Wunder Photos section.
The Northeast Weather Blog...
Recent Posts
Local Weather
49 °F

Overcast
Previous Entries for 2017
Personal Weather Stations