Friday afternoon thoughts...
"Afternoon Thoughts" (Updated 4/18)
Good Friday afternoon!!! Wow, what a great day. Temperatures in the 80s across much of the state. The cool spot in Pennsylvania is in and around Erie where a lake breeze is keeping temperatures in the 60s with partly cloudy skies. Elsewhere clear skies are prevelant. As of 400pm 86degrees is being reported in Philadelphia as the warm spot in the state. I am sort of surprised it got this warm. I was expecting low 80s, but not mid 80s. Just another reminder of how strong the mid April sun is. An update on upcoming blogs... Summer outlook blog is coming out Sunday which will feature my maps and graphs of predictions for the summer. Also there will be my forecast discussion in a written format with climate analysis. For Tuesday my special Earth Day blog will be posted which will highlight a little on gardening, saving energy, and my take on global warming. By Thursday the typical format blog will continue for the rest of the week with all of the forecasts. Enjoy the warm weather! Have a great day!!!

Good Thursday afternoon!!! What a marvelous day outside as temperatures moved up into the 70s across all locations in Pennsylvania. Even the PA icebox (Bradford) moved up to 71degrees. Sunshine prevailed after another chilly morning for many areas. Frost was not as widespread this morning, but still there were areas of patchy frost, including here north of Harrisburg. A few wildfires were reported around the state yesterday, but the DCNR quickly put out all of the fires. Conditions will remain on the dry side so beware of wildfire chances. Below you can still find a map portraying the average last frosts/freezes of the winter signifing the start of the growing season. Finally the local mountains and ridge tops are showing signs of green with budding taking place on trees. After being a dull brown it is great to see the mountains and local scenery turning green again. As for trees, the oriental tree buds are at their peak and are a marvelous site to see. Now is a great time to start planting before conditions get to hot. Enjoy the wonderful Spring weather we have been having. Have a great day!!! Note the Summer Outlook will be coming out Sunday along with the new weekly formated blog for the next week.

Average Pennsylvania last freezes...


(Courtesy of PSU meteorology)

"Regional Radar"


(Courtesy of NOAA)

"Regional Satellite"


(Courtesy of Penn State Meteo.)

"Near Term Forecast" (Updated 4/18)(Friday through Saturday)
Today 850mb heights rise to near 925mb with low level temperatures a good 10-25degrees above normal. A low-level southernly wind ahead of the next weak front will draw up the warm air. For the first time in 2008 temperatures will make it to 80degrees across many southern Pennsylvania regions. It has been since October since temperatures were in the 80s for any location across Pennsylvania. Friday night will feature rising dewpoints with calm winds creating a muggy night with southern area's lows in the upper 40s. Ground fog may be a problem at airfields KMDT, KLNS, KSEG, KTHV, and KRDG Saturday morning with MVFR in 3-4mile visibility fog. By 800am the fog will burn off due to the strong mid April sun. Clouds will be on the increase Saturday, especially in the western half of Pennsylvania ahead of the next weakening front. Highs again will manage to get up into the upper 70s. Breezy conditions will also occur with a southwesterly wind of 10mph.

"Regional Advisories"


(Courtesy of NOAA)

"Short Term Forecast" (Updated 4/17)(Saturday night through Sunday night)
Saturday night showers will be moving into western Pennsylvania. And by 10pm scattered rain showers will be all over the entire state. Rainfall amounts will be light and generally under a tenth of an inch. Low temperatures will be in the upper 40s to lower 50s. All Pennsylvania airfields will be encountoring MVFR conditions from Saturday night to Monday night. Light fog and low ceilings will be the primary threat combined with wet runways. Sunday temperatures will be cooler with highs in the upper 50s to lower 60s with a better chance of rain showers, especially for eastern Pennsylvania. A tenth to a quarter of an inch of rain can be expected. The rain will be very showerery in nature and not too widespread. Sunday night light drizzle will persist with lows in the upper 40s to lower 50s. The short term forecast is smaller than normal due to the week already almost coming to a close.

"Current Surface Map and Weekly History of Jet Stream Position"


(Courtesy of Weather Underground)

"Long Term Forecast" (Updated 4/14)
A relatively quiet long term period is upon Pennsylvania. Looking at the long term synoptics and global models, it seems to be a relatively normal extende period. Temperature should range near normal to slightly above normal through the next two weeks. Though by the end of April there is some indications of cooler weather moving back into the northeast. For precipitation, a relatively flat jet stream will be dominant with most fronts dying out as they hit the Appalachian Mountains. No significant precipitation widespread is in the outlook. So overall a very quiet period of two weeks is upon us. Get out and enjoy the beautiful Spring weather before the heat and humidity of Summer hit the region.

"Severe Weather Outlook" (Updated 4/14)
As for severe weather. For the next week I saw no chances for any strong to severe thunderstorms. As for regular thunderstorms I think chances will also stay at a minimal. As for long term severe weather chances, I do not really see any significan outbreaks anytime in our future. Enjoy the nice April weather while it lasts.

"Severe Weather Outlooks from Storm Prediction Center Days 1, 2, and 3"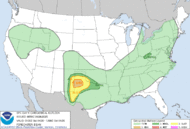 (Courtesy of NOAA)

"Monthly Outlook" (April)
Well Spring is officially here though it may not feel like it outdoors with the cold northwest brisk wind and snow falling from an Alberta Clipper. But spring is here and winter is just producing some last gasps. For eastern areas after April 10 usually no more snow falls. In central areas the date is usually around April 15, and in western areas it is usually around the 20th of April. In the northwest mountains and Laural Highlands snow can be recorded throughout all of April. But as the old saying goes "April showers bring may flowers" so hopefully this April will not be as dry as past Aprils. Here is my Outlook for April...

Precipitation- Overal the long term pattern favors a very active midwest storm track putting Pennsylvania on the warmer and more cellular in precipitation side of the storm. I believe April precipitation will be above normal statewide with many days with showers and thunderstorms. Also after these coldfronts move through it will get colder with lake effect snow showers in the mountains. As far as snow, it will be the same areas that have seen snow all winter will get more snow. I do not expect hardly any snow in the south and east. But I believe snowbelts will recieve possibly above normal snowfall. For rainfall it appears to be above normal in all areas with some areas in the southeast possibly recieving several inches more of rain than average. Severe weather may also be a factor in the later half of the month.

Temperature- For temperatures they will probably average near normal to slightly below normal. The long term shows slight greenland blocking with a neutral NAO favoring cool conditions over the state. But during times when storms head west of region warmer air will move into Pennsylvania. But I believe by the end of April temperatures will be above normal with the southeast ridge affecting our region. This year may be a year with a jump from winter to summer with only a little spring.

"Temperature and Precipitation Outlooks from Climate Prediction Center for next 30 days"


(Courtesy of NOAA)

"Regional Forecasts" (Updated 4/17) (Friday)
1. Eastern- (Allentown, Southern Poconos)-
Sunshine. Very warm. High 80.

2. South Central (Harrisburg, York, Lancaster)(my home)-
Clear and sunny skies. Very warm. High 80.

3. Southern- (Philadelphia)-
Very warm with blue, sunny skies. High 83.

4. Central- (State College)-
Sunshine and mild. High 78.

5. Northern- (Erie, Bradford, Williamsport)-
Mostly sunny skies. Warm. High 75.

6. Western- (Pittsburgh)-
Partly cloudy skies. Very warm. High 79.

7. Johnstown, Altoona-
Mostly sunny skies. Mild. High 77.

***Note on regional map, the number equals which region in Pennsylvania. I chose regions with similar climates, geography, and elevation to make my overall forecast for the region.



Here north of Harrisburg 2008 statistics...
(Severe Weather Stats...)
Severe Thunderstorm Watches- 0
Severe Thunderstorm Warnings- 0
Tornado Watches- 0
Tornado Warnings- 0
Total Thunderstorms- 5

(Precipitation Stats...)
Flood Watches- 2
Flood Warnings- 3
Monthly Precipitation- .74inches
Yearly Precipitation- 11.08inches

(Temperature Stats...)
Heat Advisories- 0
Excessive Heat Warnings- 0
90degree days- 0
The views of the author are his/her own and do not necessarily represent the position of The Weather Company or its parent, IBM.
Reader Comments
The Northeast Weather Blog...
Previous Entries for 2017