April 7 Severe Weather Outlook and evening thoughts...
"Afternoon Thoughts" (Updated 4/7)
Good Monday evening!!! An ugly start to the new work week. As the marine layer slowly retreats, may are left wondering "where is spring?" But by later tomorrow the sun will pop out and bring temperatures at least into the mid50s in most locations. Based on the the latest satellite images the clouds are retreating southeastward. This evening I want to highlight and emphasize again on how serious the severe weather outbreak may be this week. There are some very erie similarities between the April 3-4, 1974 super tornado outbreak and the possible this current week severe weather outbreak. Compare the similarities of the surface maps below.

Here is the forecast surface map for this Friday...



Here is the April 4, 1974 surface map...


(Courtesy of NOAA)

Look at the similarities. Now to refresh everyone's memories about the April 3-4, 1974 outbreak. 148tornadoes touched down in 13states. Over 330lives perished from the tornadoes. Now why I do not think the predicted outbreak this week will be near that severe, but the point is I would not be surprised to hear total tornado reports from the entire week to be slightly around 100. Typically this blog focuses on Pennsylvania weather, but I felt it was necessary to talk about some of the severe weather affecting our fellow midwesterners. We can all hope there is no loss of life from these tornadoes this week and that people heed the warnings. Best of wishes to tornado threatened area. Have a wonderful evening!

"Regional Radar"


(Courtesy of NOAA)

"Regional Satellite"


(Courtesy of Penn State Meteo.)

"Near Term Forecast" (Updated 4/7)
By Tuesday the marine layer will retreat eastward and out to sea. Approaching in the west is another weak cold front scraping western areas with clouds. Highs Tuesday will be in the 50s statewide approaching 60degrees in the southeast. Sunshine will be out for many areas Tuesday.

"Regional Advisories"


(Courtesy of NOAA)

"Short Term Forecast" (Updated 4/7)
Wednesday some light rain may approach the western parts of Pennsylvania, but sunshine will be out in the central and eastern parts. Highs will be around 60degrees in many areas. By Wednesday night light rain will move across all regions. Rainfall amounts will be below a tenth of an inch in almost all areas. Continuing rotating disturbances moving into the region later in the week will offer more April showers for Thursday and Friday. Friday may be accompanied with some moderate rain. The slow-moving front will continue on pressing east. A low pressure may form along the front in the Ohio Valley drawing gulf moisture into the region. The weekend appears very wet at first glance with a low pressure moving north along the front. But that is far out in the difference and things can change. After the front some cooler air will move into the region.

"Current Surface Map and Weekly Forecast Jet Stream"


(Courtesy of Weather Underground)

"Long Term Forecast" (Updated 4/6)
Well looking ahead in the far extended outlook it appears as if chilly weather will be moving back into the region. Latest GFS long term outlooks all show at least some cooler air pooling in back east into the Northeast. Now do not expect anything severly cold, but temperatures 10degrees below normal may occur along with many nights with lows below freezing. So frosts and freezes are definitely not over for a long time until early to mid May in most areas. In the urban areas frost season will end a little earlier due to the urban heat island effect. But in the shorter long term it appears temperatures will be seasonal with days with temperatures approaching 70degrees again ahead of fronts. It seems the main storm track for early in April is for many Great Lakes Cutters putting us in the warm sector portion of the storm. So enjoy Spring and see my April Outlook below for more details on what you can expect in the month of April.

"Severe Weather Outlook" (Updated 4/7)
This a new section for my forecasts on upcoming chances of thunderstorms and/or severe weather. Well interestingly enough possible severe weather outbreak is headed towards Pennsylvania. Across the Great Plains, Mississippi Valley, and Ohio Valley ingredients are setting up for a possible very destructive severe weather outbreaks. Starting today is the beginning of these outbreaks. A moderate risk area is out for Oklahoma concerning the threat of isolated tornadoes. As a cold front takes shape in the central US and active still winter-like jet stream will form a negatively tilted trough in the midwest. As the front moves east, warm southwesterly winds will blow up the front drawing 80degree temperatures very far northward. Behind the front will be a sharp temperature contrast with 80s ahead of front and 40s behind front with a northwest wind. High shear will alow for tornadoes to form. I believe long track tornadoes will be quite possible during this Monday through Saturday severe weather outbreak. Today severe thunderstorms will form in Oklahoma as the front is getting its act together coming out of the Rockies. Isolated tornadoes are possible. Tomorrow severe thunderstorms will shift out in the Mississippi River Valley where thunderstorms will be more cellular and isolated in nature. Again isolated tornadoes are possible. But as a piece of energy from the northwest US shoots out across the Rockies, a cut-off low will form. This will cause the front to move east slower and have more moisture with it. Wednesday will be the start of the significant severe weather outbreak. Across Texas and Arkansas very severe thunderstorms will form. Strong widespread tornadoes may form that have long tracks. For Thursday the severe area shifts east into the Mississippi River Valley again. The cut-off low pressure will be gaining strength with now a low pressure of 996mb. During the day Thursday very strong thunderstorms will form with a widespread outbreak possible. For Friday the Ohio Valley is under the gone for severe weather. And by Saturday a weakening squall line of thunderstorms will work across Pennsylvania. Western Pennsylvania will be the most risked area for severe weather, primarily wind damage, but an isolated tornado cannot be ruled out. It is still a little questionable on the intensity of the thunderstorms on Saturday. If enough warm and humid air can surge northward combined with some sunshine instibility then maybe a slightly significant outbreak could occur. The front will move through eastern Pennsylvania by evening on Saturday. Latest 12z GFS does indicate signs of severe thunderstorms in central and eastern Pennsylvania too so this whole situation bears watching.

Here is the 12z GFS for this Saturday...


The higher amounts of QPF indicate convection.

Here is the 12z GFS 500mb chart for this Saturday...


Note the intensity of the trough moving through.

Here are the 15z SREF Cape Values for this Thursday...


I am very impressed by the 1500 cape values out of the lower Mississippi Valley.

"Severe Weather Outlooks from Storm Prediction Center Days 1, 2, and 3"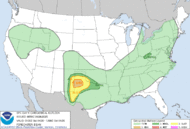 (Courtesy of NOAA)

"Monthly Outlook" (April)
Well Spring is officially here though it may not feel like it outdoors with the cold northwest brisk wind and snow falling from an Alberta Clipper. But spring is here and winter is just producing some last gasps. For eastern areas after April 10 usually no more snow falls. In central areas the date is usually around April 15, and in western areas it is usually around the 20th of April. In the northwest mountains and Laural Highlands snow can be recorded throughout all of April. But as the old saying goes "April showers bring may flowers" so hopefully this April will not be as dry as past Aprils. Here is my Outlook for April...

Precipitation- Overal the long term pattern favors a very active midwest storm track putting Pennsylvania on the warmer and more cellular in precipitation side of the storm. I believe April precipitation will be above normal statewide with many days with showers and thunderstorms. Also after these coldfronts move through it will get colder with lake effect snow showers in the mountains. As far as snow, it will be the same areas that have seen snow all winter will get more snow. I do not expect hardly any snow in the south and east. But I believe snowbelts will recieve possibly above normal snowfall. For rainfall it appears to be above normal in all areas with some areas in the southeast possibly recieving several inches more of rain than average. Severe weather may also be a factor in the later half of the month.

Temperature- For temperatures they will probably average near normal to slightly below normal. The long term shows slight greenland blocking with a neutral NAO favoring cool conditions over the state. But during times when storms head west of region warmer air will move into Pennsylvania. But I believe by the end of April temperatures will be above normal with the southeast ridge affecting our region. This year may be a year with a jump from winter to summer with only a little spring.

"Temperature and Precipitation Outlooks from Climate Prediction Center for next 30 days"


(Courtesy of NOAA)

"Regional Forecasts" (Updated 4/6) (Monday)
1. Eastern- (Allentown, Southern Poconos)-
Cloudy with morning light fog. Visibilities at 4mile. Low ceilings at 800ft rising to 2000ft. Drizzle. Cool. High 47.

2. South Central (Harrisburg, York, Lancaster)(my home)-
Cloudy with morning drizzle/mist and light fog. Visibilities at 5mile. Low cloud ceilings at 500ft rising to 2500ft. Cool. High 48.

3. Southern- (Philadelphia)-
Cloudy with morning patchy light rain. Less than .05inches of rain. Morning fog with visibilities at 3mile. Low clouds all day at 1000ft. Cool. High 52.

4. Central- (State College)-
Mostly cloudy. Cool. High 54.

5. Northern- (Erie, Bradford, Williamsport)-
Partly cloudy. Mild. High 57.

6. Western- (Pittsburgh)-
Partly to mostly cloudy. Mild. High 58.

7. Johnstown, Altoona-
Cloudy with low ceilings at 500ft rising to 3000ft. Few peaks of sunshine later in the day. High 53.

***Note on regional map, the number equals which region in Pennsylvania. I chose regions with similar climates, geography, and elevation to make my overall forecast for the region.



Here north of Harrisburg 2008 statistics...
(Severe Weather Stats...)
Severe Thunderstorm Watches- 0
Severe Thunderstorm Warnings- 0
Tornado Watches- 0
Tornado Warnings- 0
Total Thunderstorms- 4

(Precipitation Stats...)
Flood Watches- 2
Flood Warnings- 3
Monthly Precipitation- .5inches
Yearly Precipitation- 10.84inches

(Temperature Stats...)
Heat Advisories- 0
Excessive Heat Warnings- 0
90degree days- 0
The views of the author are his/her own and do not necessarily represent the position of The Weather Company or its parent, IBM.
Reader Comments
Comments will take a few seconds to appear.
The Northeast Weather Blog...
Local Weather
47 °F

Clear
Previous Entries for 2017
Personal Weather Stations