Northeast Winter Forecast 2012-2013
Zachary Labe
08 November 2012
Winter Forecast 2012-2013

Many areas are beginning to clean up after another impressive coastal storm moved up the eastern seaboard with high winds, snow, and heavy rain. Heavy snow accumulations occurred in many areas from Delaware up through Maine breaking 100 year snowfall records in some locations for the month of November. Maximum snow accumulations reached as high as 13.0" in Freehold, New Jersey, but even parts of the New York City metro region saw as much as 7.0" of snow. A narrow baroclinic zone off the coast of New Jersey allowed for a period of rapid cyclogenesis as the low pressure became vertically stacked. Precipitation began to spread inland beginning as a mix of light rain/snow/sleet for much of New Jersey, New York, and Connecticut. As the surface low began to deepen sub 996mb, frontogenic forcing allowed for several mesoscale bands to form from central New Jersey up through New York City and into southcentral Connecticut.


Snow rates exceeded 1in/hr. Temperatures began to drop hovering around 32-34F courtesy of the impressive dynamic cooling responsible from the banding structures. Snow ratios remained low and in some places 4.0" of snow melted down to 0.70in of QPF. The 12 hour radar loop from last night shows the near steady position of the intense band for almost 6 hours. By later in the night, the surface low began to decouple halting further strengthening. The precipitation shield began to become a bit more disorganized and dBz returns began to wane. Once rates decreased, boundary layer temperatures began to rebound into the mid to upper 30s along the I-95 corridor and the snow began to melt from the both the bottom and top layers. Widespread tree damage has been reported throughout much of New Jersey into southern Connecticut especially given the weakened foliage post Hurricane Sandy. Fortunately, it appears a quieter weather pattern is headed our direction over the next two to three weeks. Computer models verification charts show relatively fare scores for this nor'easter with the NAM likely the most accurate in the 24 hour forecast lead time. It was able to pick up on the eastern jog and tight precipitation gradient; this is likely due to the NAM's higher resolution and hydrostatic capabilities.

Winter 2011-2012 was characterized by a moderate La Nina. The Oceanic Nino Index numbers for December through February averaged around -0.9. A strong, dominant southeast ridge flooded much of the east with warmer air preventing the classic Miller A and B nor'easters. The Climate Prediction Center's mean NAO for the winter of 2011-2012 averages out to around a peak of +2. An unfavorable Pacific and stationary Alaskan Vortex also prevented colder air from penetrating south into the contiguous United States. Much of the nation had one of their warmest winters on record in the last 30 years. Snowfall departures were also near record low values, but an early October historic snowstorm prevented many records from being broken. Across the great lakes, a multi-year drought continued with snowfall below 50" in many of the common snow belt regions. Cold outbreaks were scarce across much of the country. Looking at comparisons through the current ENSO, Asian snow cover anomalies, and teleconnections, it is evident the setup is radically different for the upcoming winter; there are very few similarities in the overall long waves pattern.

The following data will analyze the makeup for my forecast for the 2012-2013 winter. I define these months by the meteorological winter starting December 1 and lasting until March 1. Therefore my snowfall and temperature forecasts will only be for this exact three month period and will exclude any out of season snowfall (i.e. the 11/7 nor'easter and Hurricane Sandy).

Below I will define a list of common acronyms that will be referenced throughout the forecast:

Teleconnections:
ENSO- El Nino and Southern Oscillation
MEI- Multivariate ENSO Index
ONI- Oceanic Nino Index
SO- Southern Oscillation
MJO- Madden-Julian Oscillation
NAO- North Atlantic Oscillation
PDO- Pacific Decadal Oscillation
PNA- Pacific/North American Oscillation
AO- Arctic Oscillation
AMO- Atlantic Multidecadal Oscillation
QBO- Quasibiennial Oscillation
AAM- Atmospheric Angular Momentum

Miscellaneous:
BL- Boundary Layer (surface conditions)
QPF- Quantitative Precipitation Forecast
ULL- Upper Level Low
SST- Sea Surface Temperatures
WWB- Westerly Wind Burst
SSW- Sudden Stratospheric Warming
AV- Alaskan Vortex
PV- Polar Vortex
H5- 500mb height level
H85- 850mb height level
H3- 300mb height level
Miller A- Nor'easter with origins in Gulf of Mexico
Miller B- Nor'easter with origins from secondary development off NC coast
ECMWF- European Centre for Medium-Range Weather Forecasts
GFS- Global Forecasting System
CFS- Coupled Forecast System
SD- Standard Deviation
CONUS- Continental United States

Forecast City Locations (Metar Airport Codes):
KDCA- Washington, DC
KBWI- Baltimore, MD
KPHL- Philadelphia, PA
KMDT- Harrisburg, PA
KNYC- New York City, NY
KBOS- Boston, MA

Differential heating across Earth due to a variable albedo, geographical influences, unequal heating due to the curved surface, and other critical factors make the entire atmospheric column in a chaotic fluid state. But the energy budget utilizing convection, conduction, and latent heat release allow for a balance and a semi-uniform state. Therefore it is critical to note the importance of weather conditions over the entire planet. While the majority of our weather occurs in the thin bottom layer of the atmosphere, troposphere, it is equally important to note conditions aloft in the stratosphere. That area of meteorology is one of particular interest over the past few years with recent research noting warm and cold trends correlating to general long wave patterns over the northern and southern hemispheres. Below I will try to capture a picture of the present atmospheric conditions through a series of indices helpful in long term weather forecasts. Forecasting beyond a month requires a different set of meteorological skills that are unique to day-to-day predictions. Given the high variability of synoptic and mesoscale meteorology, it is impossible to produce an accurate picture of the weather conditions beyond a few days lead time. But using a combination of teleconnections, forecast models, historical analogs, and present rossby long wave patterns, we can try to capture a general education estimation for the forecast ahead. The most important part to take away from all of this are the physical connections interacting with each other on such a large scale; the butterfly effect is highly evident in seasonal forecasting. Remember the atmosphere is one giant fluid.

Before we get started, I would like to quickly define El Nino/La Nina due their importance in seasonal forecasting. An El Nino event is defined as a short term climatic event resulting in a warm phase across the equitorial Pacific. SST deviations are usually above +0.5C; the warm pool of water helps to feed increased rainfall in the eastern Pacific east towards the South American west coast. La Nina conditions are associated with a cold period as SST anomalies drop below -0.5C with warmer waters being displaced farther west. Tropical trade winds are increased as the cold pool intensifies. ENSO conditions often affect long wave patterns across a large portion of the globe and directly impact our weather in North America.



Fig. 1 shows the effects of El Nino/La Nino on surface temperatures.

The SO and MEI indices are responsible for ENSO records since 1882 during warm and cold periods and help to differentiate the two phases.

An important short term climatic index often referenced below will be the NAO. It is an index measuring pressure anomalies across the northern Atlantic Ocean. A -NAO phase is associated with a weak pressure gradient between the subtropical high and Icelandic Low. The Icelandic low is displaced to Newfoundland; the -NAO phase is commonly responsible for blocking patterns and an increase in the strength of the polar jet. A +NAO results in a stronger pressure gradient between the two circulations and results in a strong southwesterly flow over eastern North America.



Fig. 2- General NAO phase correlations to synoptic weather patterns

While the NAO is a shorter term index than other teleconnections, I strongly believe their are direct correlations to 10 year period trends This is supported by long term means over certain decades such as the 1960s ~negative NAO. More recently the NAO has also featured a long term negative trend, but again shorter term variations are common.

In a case study by Paul Kocin and Louis Uccellini, 18 sites were subdivided to reflect the impact of the NAO on cities with seasonal snowfall averaging less than 20 and greater than 40in. The results indicated the impact of the NAO on seasonal snowfall is greatest along the I-95 corridor including all of the major metropolitan areas. "Since the seasonal snowfall within this region is significantly influenced by the occurrence of moderate to heavy snowfalls, an important relationship between the NAO and the occurrence of significant snowstorms is indicated." Also Kocin and Uccellini uncovered another relationship noting the transition periods from negative NAO to positive NAO characterized by east coast cyclogenesis. For further information on this correlation check out the 1950 Appalachian Storm, 1962 Ash Wednesday Storm, 1979 President's Day Storm, 1983 Metropolitan Storm, 1993 Superstorm, and 1996 Blizzard. I highly recommend this case study featured in their "Northeast Snowstorms" Monograph. This periodical is perhaps the most comprehensive collection of research to date on winter storms across the northeastern United States and a must have for the amateur to professional meteorologist.

Winter 2012-2012 Forecast:
Looking across the equitorial Pacific, it is evident rapid changes in SST anomalies have occurred over the last six months. We have seen a gradual transition from a Nina to near Nino cycle change. The latest ONI numbers are in for ASO (August, September, October) at ~0.4. While this still represents neutral conditions, this is dramatically higher than last year at this time. But interestingly enough over the last 6 weeks, SST anomalies have began to decrease in response to an area of cooling a few hundred miles west of Peru. Latest global models are forecasting near neutral conditions during the meteorological winter. These prognostics have changed dramatically from original forecasts of a moderate strength El Nino with anomalies around +1C.



Fig. 3- Current global climate model Nino Region 3.4 Outlook

I am going to differ a bit from the current operational forecast. I have noted an increased in SST's along the central pool of water in Nino 3.4 in response to a recent weak WWB in association with the recent Kelvin wave. This is supported by the latest MEI at around +1SD.



Fig. 4- MEI means over the 1950-present period

Therefore I am expecting weak El Nino to be present throughout the first half of the winter, although its effects will be subtle. In fact looking at long term wavelength patterns as we enter December, it looks more like a Nina synoptic weather pattern over North American than a Nino.

We continue to see an anomalous cold pool over water over the northern Pacific in association with the present -PDO. This will continue throughout the winter, although its forcing may be a bit mediated in reaction to the +ENSO. This will continue to favor the development once again of an AV near the Aleutian Islands. This will focus a deep trough over the west coast of the United States. Its effects are already evident with an impressive middle latitude cyclone delivering blizzard conditions over the inner mountain west. The PDO has been steadily negative over the last 5 or so winters and was highly responsible for the progressive flow during much of the last year.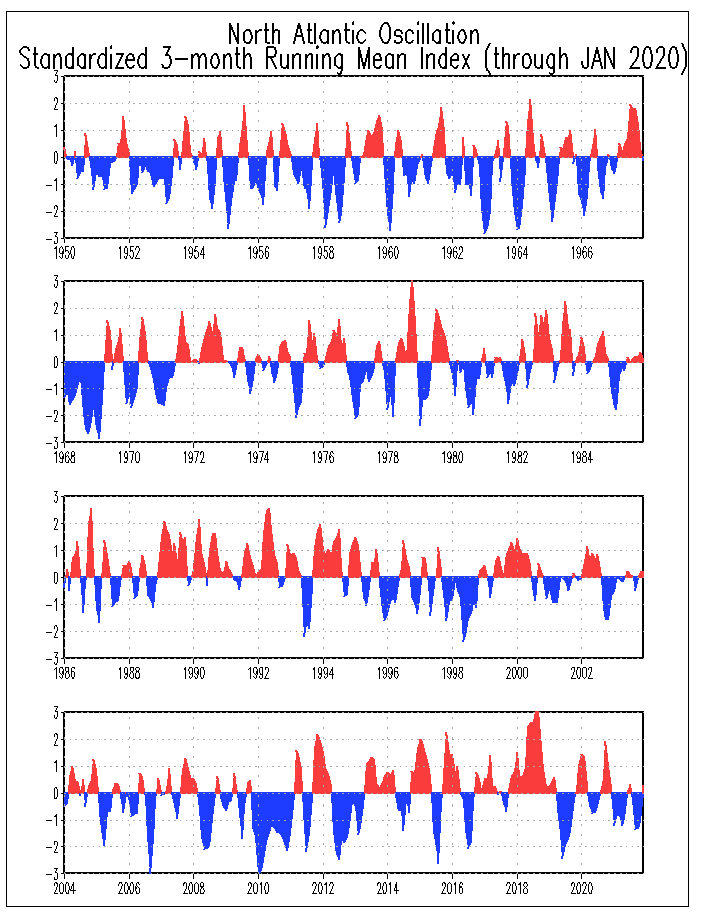 Fig. 5- NAO time Series post 1950

The NAO has recently entered a short-term negative phase. This is evident by the colder temperature deviations over the last seven days across the CONUS. We also saw two instances of strong east coast cyclogenesis, which is often correlated to -NAO phases given an amplified jet stream under blocking conditions near Greenland. Current GFS ensemble means highlight +3SD H85 temperatures near Greenland over the last seven days.

It appears this is only a short term relief to the general +NAO regime over the last 18 months. Also an extended +AMO regime has been noted across the Atlantic basin over the last twenty years. This will likely continue through winter 2012-2013. Present water temperatures off the east coast range around (+)1C-(+)3C.

The latest QBO data support a negative regime. Direct correlations can often be made between a -AO to -QBO - blocking pattern over North America. I think we will see an eventual breakdown to the persistent -QBO present in the lower stratosphere. Typically mean periods last approximately 30 days. But longer trends can be noted. The AO has also reached a sharp -2SD and has resulted in a transfer of cold air across much of Asia and Europe over the last two weeks. Snow levels have rapidly increased particularly in Asia resulting in the most widespread mean snow cover for the month of October since 2002.



Fig. 6 Departure from Normal Snow Cover for October 2012

This is perhaps the most encouraging chart for the upcoming winter. Direct correlations can be made between east coast troughing and Eurasia snow cover. It eliminates several analog years that featured low snowfall across the Northeast during weak +ENSO/+NAO regimes. It also enhances our chances of seeing a continued -AO regime and therefore reinforced blocking.

After a short recovery for Arctic sea ice, we are once again below the 2007 record low extent during the month of November.

Present monsoonal trends in the Indian Ocean support weak forcing by the MJO. This is consistent with trends over the last few months by GFS ensembles. I do not expect this to be a large factor this winter.

Present stratosphere and ozone data support a possible SSW event occurring by early December. Recent research out of several universities highlight a clear correlation between a stratosphere warm phase and east coast troughing. These SSW events though are short term, highly variable, and difficult to forecast.

While sunspot activity has been on the increase over the last two years with the advent of cycle 24, we have seen relatively quiet activity in sunspots.



Fig. 7 Solar Sunspot Cycle Monograph

Low solar activity has been directly related to periods of colder weather across the northern hemisphere. This science is relatively misunderstood and research periodicals are generally limited. I do believe given the importance of the sun in the energy budget that direct relations are likely. Looking at the latest data from the Space Weather Prediction Center, I am expecting a slightly quiet period of solar activity over the next few months.

A quick look at long range guidance suggests a mild approach to the upcoming winter. The latest ECMWF monthlies and CFS prognostics flood the nation with anomalous warmth at nearly +2SD. It is basically a repeat as far as temperature and precipitation deviations. These operational forecasts are generally low in accuracy, but interesting to look at.

Teleconnections and long term wavelengths remain relatively intermittent and do not highly lean warm or cold for temperature trends over the meteorological winter. But I think one of the more important features to look at is the previous six month's synoptic weather pattern. We are having a hard time breaking down the -ENSO pattern due to the persistent -PDO. I think we will continue to struggle with this throughout the winter. The latest H3 charts off the the global operational ECMWF/GFS are beginning to develop the AV. Whether it remains consistent will remain in question, but this portion of the forecast is critical to the upcoming winter. I am expecting low end Nino conditions, but its effects will have little impact on the general circulation. I am not sold on a -NAO regime over the next few months; in fact the north atlantic has been highly volatile over the past six months. As the -QBO begins to break down, even less support will be there for widespread blocking over the northern Atlantic.

I sort of like the winter of 2006-2007 as a possible analog for the upcoming winter, although possibly a bit warmer for H85 and BL mean temperatures. I expect a return to the amplified southeast ridge that will raise upper level heights up through the Middle Atlantic into possible southern New England. In fact the synoptic pattern may be more similar to a Nina throughout the first half of winter. Nina winters tend to run cold for December; that is important to note.

Long term trends support a lower frequency in Miller A development with a weak, progressive subtropical jet so large KU storms are not expected. Most QPF may occur in association with S/W overrunning events with possible late redevelopment off the New England coast. These events often produce a myriad of precipitation types depending on the anticyclonic conditions to the north.

In correspondance with a weak subtropical jet and generally progressive wavelength pattern, I expect precipitation to average near normal to below normal. The highest threat for below normal precipitation will stretch up through the Ohio Valley into western New England. This remains consistent with the subtle long term drought over this region.

Temperatures will be highly variable throughout the winter. It is evident by the position of cold air pools and PV relations that cold air will be more readily available on this side of the globe (unlike last winter). Therefore continental polar and arctic outbreaks can be expected, but their frequency and length will at times be limited. There will be periods of abnormal warmth under a screaming southwesterly flow during periods when the -NAO relaxes. The threat for mixed precipitation including freezing rain will be amplified this winter due to the abundance of cold air to the north strengthened by CAD (cold air damming) east of the Appalachians as overrunning systems approach from the southwest. Many shortwave and middle latitude cyclones will be fueled by a tight thermal gradient over the middle of the nation. Overrunning, frontogenically-forced precipitation events can quickly produce a quick 6-10in of snow in the cold sector, so they can have widespread impacts despite not being a MECS (major east coast snowstorm).

Overall meteorological mean temperatures will lean above normal for most all climatological reporting stations.

Winter 2012-2013 Selected City Conditions:
KDCA- (+3.5F) (75-90% of normal snowfall)
KBWI- (+3.2F) (80-100% of normal snowfall)
KPHL- (+3.0F) (80-100% of normal snowfall)
KMDT- (+3.0F) (90-105% of normal snowfall)
KUNV- (+2.5F) (100-110% of normal snowfall)
KNYC- (+2.5F) (100-110% of normal snowfall)
KBOS- (+1.8F) (110-125% of normal snowfall)

The bottom line for the upcoming winter support a higher frequency of warm spells in comparison to Arctic Outbreaks. I expect several extended periods of abnormal warmth, particularly during the second half of the winter. Snowfall estimates may be near normal to slightly above normal, but that is strongly based on the fact that the NAO may allow for several periods of blocking. If these -NAO periods do not pan out, I would expect a well below normal snowfall season. Snowfall has the highest chance for above normal deviations north of the I-80 corridor especially across southern New England where they normally do well during S/W flow events. I would expect possibly one larger MECS, but this remains dependent on the state of the NAO. Most snow will occur from other shortwave sources.

As usual, seasonal forecasts often feature lower than normal confidence and accuracy. The forecasts above are highly contingent on the state of the NAO given the general benign forcing from the other factors this year. No additional snow is expected over the next two weeks across the Northeast. Signals for any storminess around Thanksgiving remain pretty weak, so I am not convinced by any long range guidance at this point. I have heard rumbles from energy meteorologists favoring the first week in December for a possible winter storm, but this period is beyond what I can forecast. As in correspondance with my last four winter outlooks, I will post a verification blog during the beginning to middle of March.

Winter Forecast 2011-2012: Link
Winter Forecast 2010-2011: Link
Winter Forecast 2009-2010: Link
Winter Forecast 2008-2009: Link

***All images above can be found at the NOAA Climate Prediction Center, Space Weather Prediction Center, Rutgers Snow Lab, and Allan Huffman's Raleighwx Maps.

Kocin, P. J. and L. W. Uccellini, 2004: A Snowfall Impact Scale Derived From Northeast Storm Snowfall Distributions. Bull. Amer. Meteor. Soc., 85, 177-194

Follow my 24hr forecasts on Twitter... Link and Facebook... Link.

Lower Susquehanna Valley Doppler...


(Courtesy of WGAL)

"10mi northeast of Harrisburg 2012-2013 winter statistics"
(Snow Stats)
Monthly Total (October)- 0.0in
Monthly Total (November)- 0.8"
Monthly Total (December)- 0.0in
Seasonal Total- 0.8"
Winter Weather Advisories- 1
Winter Storm Warnings- 0
Ice Storm Warnings- 0
Blizzard Warnings- 0
Freezing Rain Advisories- 0
Winter Storm Watches- 0

(Temperature Stats)
Lowest High Temperature- 36.1F
Lowest Low Temperature- 18.5F
Wind Chill Advisories- 0
Wind Chill Warnings- 0

(Snow Storms Stats)
First Trace of Snow - November 24 - Lake Effect Snow Showers
First Measurable Snow - November 27 - 0.8" - Overrunning Event
The views of the author are his/her own and do not necessarily represent the position of The Weather Company or its parent, IBM.
Reader Comments
The Northeast Weather Blog...
Previous Entries for 2017