A taste of winter...
Good morning and happy Friday! It is another terribly dreary day here across the Finger Lakes as some light CAA rain showers move across New England ahead of an approaching cold front. Frost and freeze products have been issued for the entire Northeast and as far south as northern Virginia. A ridge of a high pressure behind the trough will create ideal radiational cooling conditions Friday night as temperatures drop at or below 32F for most climatological reporting stations. This will bring an official end of the growing season to the viewing area.


Looking at the climatological first frost dates, this year's freeze conditions are right around normal for areas along and north of I-80, but running even a few weeks early for areas to the south. Interestingly enough, last year's first 32F weather corresponded with the anomalous snowstorm around Halloween. This year is a bit different.

A lot of people have begun to ask me about the forecast for the coming winter. After last year's record warmth and low snow levels, many are left wondering how this winter will compare. With great certainty I can conclude that this winter will be colder and snowier than last year, but in reality that is not very to do. While I am waiting another two weeks or so for my official winter forecast, I will take a quick look today at some of the features in question.

The major player in forecasting long term weather during the winter months generally revolves around the condition of the ENSO. CFS prognostics for Nino region 3.4 SSTs continue to indicate weak to moderate El Nino conditions forming by early to mid winter, but taking a look at the actual pressure and SST anomalies in the equitorial Pacific show a different story.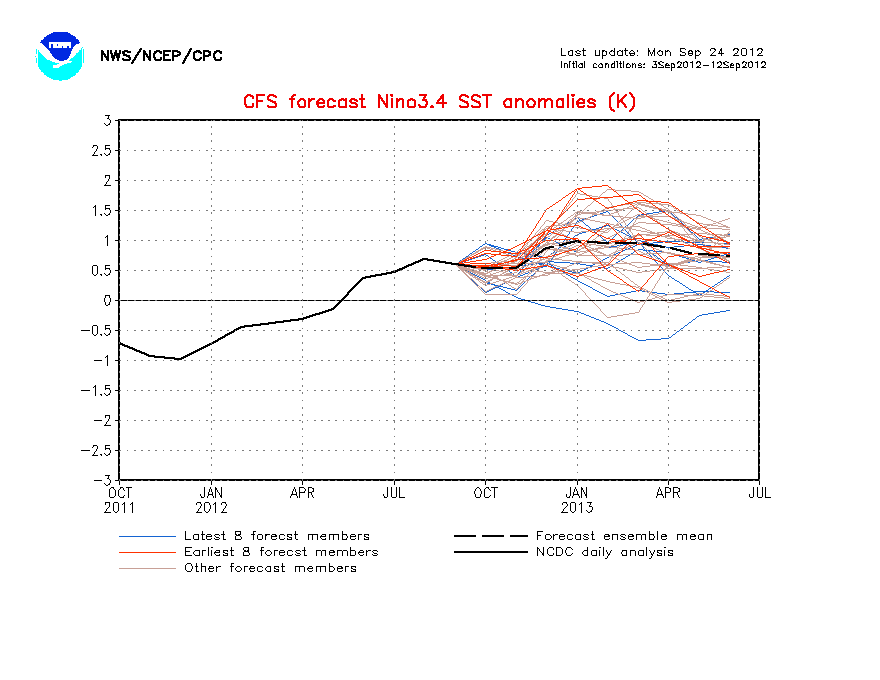 The latest SOI numbers coming in indicate a bit of cooling for September and October supporting the idea of neutral to weak El Nino conditions this winter. Current GOA SST anomalies are more indicative of the previous La Nina with cooler water temperatures and a stubborn -PDO. There has been a bit of improvement in this region over the last few days and weeks, but concerns over the formation of the Alaskan vortex are beginning to grow.


None the less as rossby wavelengths become shorter, teleconnections will play a larger impact on the synoptic weather patterns across the CONUS. Nearly 12+ months have been dominated by anomalous warmth across the Northeast, but we are beginning to see the pattern break down. A strong -EPO is responsible for this recent surge in cold weather across the Midwest and East. As noted in the SST's above, this animation Link shows great improvement in the breaking down of the bold -PDO across the north Pacific.

The El Nino is also not dead. Long range ensembles indicate weakening easterly winds at 10mb in response to a westerly wind burst that is in the forecast grids during the next few weeks. This may help to restore weak El Nino conditions to Nino region 3.4.

The MJO is beginning to yield outside of the 'circle of death' as we begin to see an increase in monsoonal rain patterns over the Indian Ocean. This will impact long waves and the current ENSO.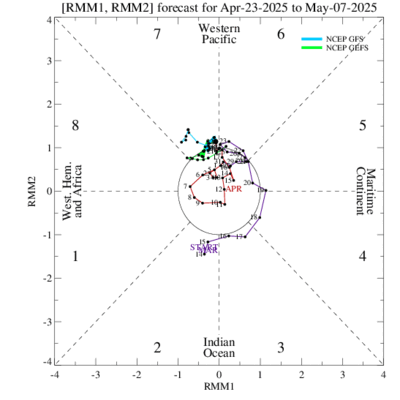 Outside the equitorial Pacific, other factors including Siberian snowfall departures indicate a pretty substantial snow cover thus far this year. While still below climatological norms, snow cover is at or slightly more widespread than the past few Octobers. Snow cover though is lacking in Canada, but the correlation is much weaker between Canadian snow cover and weather patterns over the Northeast.


Above is a brief look at the status of the major indices critical to forecasting long term weather patterns. But what does it mean for us? I think we can expect a general weak El Nino presense, although its impact will be even more subdued due to the Nina-like -PDO. There are signs of a stratospheric warming event as we enter November and December, therefore possibly signaling colder and snowier weather in this time frame. In fact long term wavelengths are supporting some type of winter storm around this time next month. This could time nicely with an influx of colder air that is currently being sniffed out by long range guidance in early November. It is likely early November will feature a higher than normal chance of a widespread snow over the Northeast. Given the current state of the stratosphere, there are also higher odds that winter will start off colder in December. Based on current teleconnections and analogs, I am leaning towards a near normal temperature winter with slightly above normal snowfall for most areas. The major concern in the coming weeks will be the status of any formation of the Alaskan Vortex. This feature killed off most all snow chances last winter. While it does not mean anything at this point, the entire synoptic flow over the globe is entirely different than last year at this time.

This blog will hopefully kick off my once-a-week blogs starting from now through winter. I will have my official winter forecast posted around Halloween.

Follow my 24hr forecasts on Twitter... Link and Facebook... Link.

"Lower Susquehanna Valley Doppler"


(Courtesy of WGAL)
The views of the author are his/her own and do not necessarily represent the position of The Weather Company or its parent, IBM.
Reader Comments
The Northeast Weather Blog...
Previous Entries for 2017