Widespread rain followed by much cooler Fall-like weather...
"Afternoon Thoughts"(Updated 9/14)
If you have not seen this image, I am sure you have heard that the current Arctic sea ice levels have dropped to the lowest extent on historical record.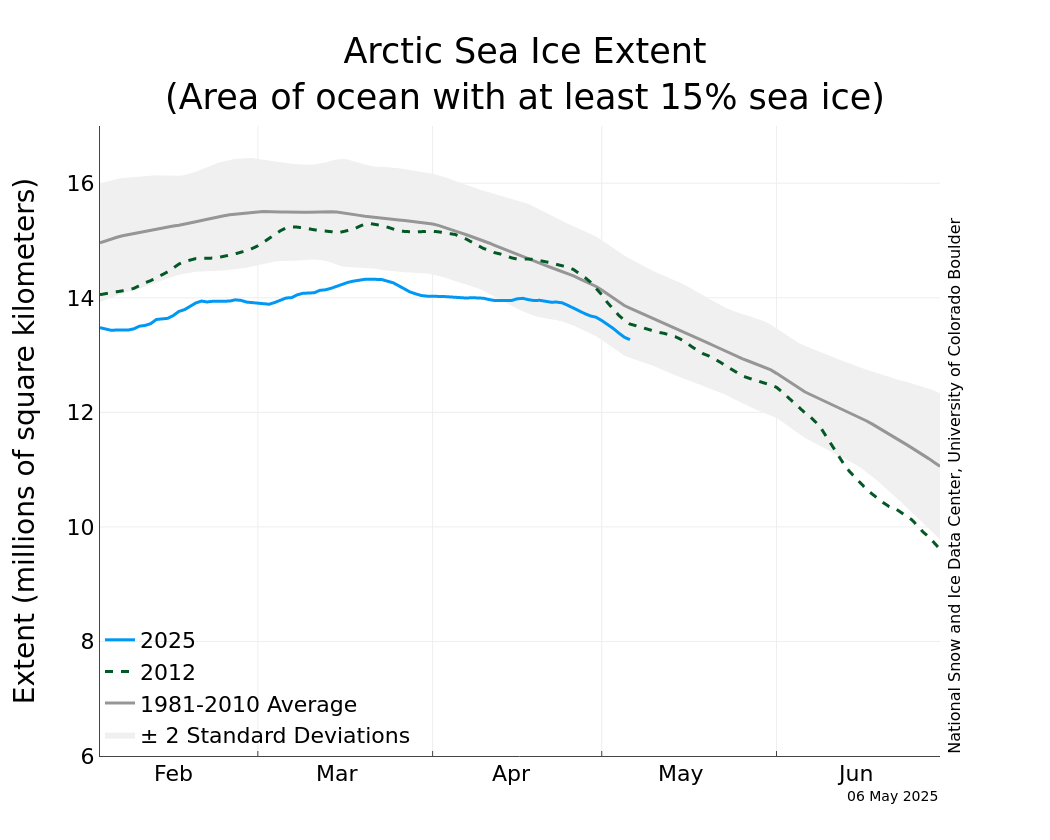 It is a startling graph, and whether one believes this is in response to anthropogenic warming or not, it is critical to note that this will have some sort of feedback effect on present/long term weather patterns. The entire global circulation (Rossby Waves, etc.) act in a feedback circulation with direct correlations between a myriad of factors. For instance the expected cool blast across the contiguous United States (anomalous trough) will be connected to increasing upper level heights over the Arctic circle. In fact recent ECMWF ensembles highlight near record breaking heat to once again plague the region where sea ice is already at a record low. While warmer temperatures and increasing surface moisture have allowed new snow accumulations, most of the precipitation is occuring over open water instead of adding to snow depth on the ice. Therefore ice will have less insulation during the winter increasing the rate of melting during the cold season.

It is important to note that we are very uncertain about why this is occuring. Because everything is tied together in such a feedback loop, all of the cogs in the machine must fit perfect to maintain a stagnant atmosphere. But we all know the atmosphere is continously in a chaotic state seeking equilibrium. We are also uncertain of the effects this decline in sea ice extent will cause on our weather, whether it be anything significant at all. The computer models cannot accurately provide a answer to this question, but can only give us varying solutions depending on the change of 1 factor or so (this is what ensemble models are for).

We should be excited and alarmed over these recent records as they have never been seen before since the development of modern technological science. There is a lot to be desired in the field of long term forecasting, and this loss of sea ice is just another factor in predicting the upcoming winter.

"Regional Advisories"


(Courtesy of NOAA)

"Current Weather Map"


(Courtesy of Wunderground)

"7-Day Forecast Discussion"(Updated 9/14)
Friday- An upper level trough centered over the upper Great Lakes will rotate into the region by the weekend dragging an associated cold front on Friday. The best forcing and associated QPF will be located along a convergence zone behind the front with a cold pool of rain showers and high elevated thundershowers. The best chance for rain will be from the Finger Lakes northeast through northern New England where amounts in some areas may reach .25in depending on the track of any convective activity. Winds will shift to the northwest behind the front will drier air sinking south into the rest of the region by Friday night. Highs will average above normal as H85s remain above +10C for most areas during the daytime hours reaching into the lower 80s in many areas. Brief strong to severe thunderstorms are possible in an isolated area in New York State during teh day as wind shear aloft 0-6km ranges from 20-30 knots. Poor mid level lapse rates and other dynamics should inhibit most activity.

Saturday- As the trough begins to center over the Northeast, much cooler and drier air can be expected as highs drop back to near normal values. A brief northwest flow (H85s sub +4C) over Lake Ontario may create a few instability lake effect rain showers towards western New York, but most areas should remain only partly cloudy.

Sunday- Sunday appears to be the nicest day of the stretch so far as temperatures remain slightly below normal with low dew points. Winds will be a bit calmer out of the northwest allowing downsloping to inhibit any lake-effect strato-cumulus clouds in northern Pennsylvania and western New York. Sunday night looks chilly with ideal radiational cooling conditions over the northeast as a 1020mb high remains directly over Pennsylvania. Lows will drop into the mid to upper 30s for the deeper valleys over the Adirondack, White, and Green Mountains where katabatic winds will allow the cooler air to swoop down from the higher elevations. Patchy frost is possible in the coldest spots. But for most areas lows in the 40s should be a sufficient forecast.

Monday- An anomalous trough begin to take shape across the Canadian plains will begin to drop down over the upper Midwest. Meanwhile the flow out ahead of this steep cold front with turn out of the west-southwest bringing an increase moisture to the boundary layer and slightly warmer temperatures. Increasing clouds will begin to lower especially across the Middle Atlantic as chances of rain begin to increase by Monday night and Tuesday.

Tuesday- A significant synoptic rain event is likely across the entire Northeast during the day Tuesday as a shortwave over the Dakotas drops south sinking with another wave over the south central Plains. PWATs will rise to near +2SD as gulf moisture begins to stream northeast out ahead and along of the advancing cold front. Current GFS/NAM/ECMWF QPF global means suggest a widespread 1.0" of rain for most areas during this stratiform event that will last 6-12 hours. A few model runs have hinted at a stronger low level jet fueling some elevated instability and therefore creating another severe low-topped squall line, but the gradient is not impressive and the dynamics are clearly displaced to the north. While this threat is something to keep an eye on, I do not think it is going to be a big deal. Generally it will remain just a nice soaking rain with an occasional gusty southerly wind.

Wednesday-Friday- The coolest air will remain displaced to the north as the trough only gives the Northeast a glancing blow. H85 temperatures will drop to near +2C or so, but the widespread frost temperatures will remain in the Great Lakes. Nevertheless it give a nice taste of fall to the region helping to boost leaf colors. Highs will struggle to reach 60F above 2,500ft during this period.

By the weekend a more anomalous H5 trough will sink south over the Great Lakes with heavy synoptic rains out ahead of the front in a similar progression as the previous week. In general a cooler than normal and wetter pattern is expected over the next 7-10 days.

"Regional Radars"


(Courtesy of Wunderground)

"Regional Satellite"


(Courtesy of Penn State Meteo.)

"Winter Climatology/Forecast Discussion" (Updated 9/14)
Winter forecasts to date have been all over the place in ideas from extreme warmth to bitter cold. These varying forecasts are in response to a mediocre ENSO response in the central Pacific. Current SST anomalies are indicative of a weak to even non-existent El Nino. This is in contrast to weekly/monthly CFS forecasts that indicated early in the summer that a moderate to strong El Nino would be forming by this time this year. Obviously these prognostics have not come to fruition.

But there will be changes likely developing across the equitorial Pacific as both the Kelvin Wave and Easterly Wind Burst continue to move west likely raising SST's a few tenths of a degree as more El Nino-like condition settle in. Current CFS guidance continues to forecast a weak El Nino to dominate this winter's ENSO forecast with the core located across Nino region 3.4. The El Nino conditions will also likely begin to respond as +PNA ridging begins to grip across the north Pacific during a short term pattern change at the end of the month.

Before the excitment across the snow-lover's blogosphere begins to take hold, there are a few concerns going into this winter. Long term pattern trends (last 17/18 months) continue to indicate a -PDO across the north Pacific along with the possible fear of a returning Alaskan Vortex which is the kiss of death for snow across the east coast.

In the upcoming weeks features took keep an eye on will include the October Eurasian snowcover anomalies, north atlantic sea ice levels, SST anomalies in Nino Regions 1+2/3.4, and the development of general circulations features towards Alaskan and the Aleutian Islands.

For the time being it is too early to speculate on a substantial winter outlook, but it does appear that conditions will be heavily relient on teleconnections such as a -NAO. Given the abnormal warmth across much of the globe over the last year+ it will be difficult for a cold regime to take hold without substantial support from both the Pacific and Atlantic.

"Equatorial Pacific SST Anomalies"


(Courtesy of NOAA)

"Average Date of First Freeze"


(Courtesy of NOAA)

"Fall Foliage Outlook" (Updated 9/14)
A wet and warm summer for most areas in the Northeast followed by cooler and dry weather here in September will likely provide fall foliage enthusiasts an excellent color season especially in comparison to last year's poor viewing. Most areas are showing generally healthy trees across the Northeast with limited leaf droppings due to drought this year. Recent cool nights and warm sunny days are helping to support the exhibit of brilliant colors expected in the coming weeks. Current network spotters are highlighting some 10-30% color response to the higher elevations in New England above 2500ft especially across the Catskills, White, and Green Mountains. Colors will begin to appear more widely over the Northeast likely in about seven days. If current weather forecasts continue with cooler weather expected, peak conditions will likely be slightly earlier than normal. Heavy rains and cloudy days as troughing grips the region could mute colors, although its affect is not expected to be too dire. Already colors are a good week or so in advance of last year where late summer-like heat was dominating the weather pattern.

Pennsylvania Fall Foliage Reports... Link

Northeast Fall Foliage Reports... Link.

"Long Term Discussion" (Updated 9/14)
Long term ECMWF and GFS prognostics indicate a change in the weather pattern across the northern hemisphere. As the polar jet begins to strengthen and the weather pattern becomes more supportive of middle latitude cyclones during the winter months, teleconnections upstream have a larger correlation to present weather across the contiguous United States. GEFS guidance suggests a wide spread in forecast PNA ridging, but it appears the +PNA will be supported in the upcoming pattern as increasing upper level heights maintains slight ridging in the north Pacific. The NAO will be sliding negative sharply for the first time in several weeks after generally a weak forcing period. These few pieces of support provide additional evidence to the expected pattern change by the later half of September. The H5 mean geostrophic flow (especially on the GFS) is more indicative of a pattern in mid January than that of September with an impressive blocking pattern near Greenland with steep troughing across the northeastern half of the United States.

Cooler temperatures will be expected and it is likely many areas along and north of I-80 will see their first frosts during this period. The latest GFS H85 thermal heights fall below 0C across the upper peninsula of Michigan during this period with boundary layer temperatures on a few degrees above freezing therefore raising the potential for a few wet snowflakes in this period. Given the recent state of the jet stream across the northern hemisphere, it is not expected to be a perminent pattern change for the long term. Therefore by extreme late September to early October, a warmer regime is likely to grip ahold across these same areas.

"Current NAO and PNA Predictions"


(Courtesy of NOAA)

"Temperature and Precipitation Outlooks from Climate Prediction Center for next 30 days"


(Courtesy of NOAA)

Follow my 24hr forecasts on Twitter... Link and Facebook... Link.

"Lower Susquehanna Valley Doppler"


(Courtesy of WGAL)
The views of the author are his/her own and do not necessarily represent the position of The Weather Company or its parent, IBM.
Reader Comments
Comments will take a few seconds to appear.
The Northeast Weather Blog...
Local Weather
58 °F

Overcast
Previous Entries for 2017
Personal Weather Stations