Elevation Specific Snow Map
"Afternoon thoughts"
Good Friday evening!!! A rainy evening across much of the state tonight is occuring after a day with high temperatures in the low 60s in the east and 50s in the west. But now temperatures are cooling to mid 30s in the northern portions of the state. Tonight I want to talk about my plans for upcoming blogs. Each Sunday I typically create a whole new blog for the upcoming week. I have been using the same format for blogs each week and use a special winter storm setup when winter storms threaten our area. But now as the seasons are changing and winter is becoming Spring I plan on using a new format for my blogs. Now weather in April timeframe can be quite boring with just small disturbances with rain showers. So through April my blogs will have a discussion on the weekly weather forecast, but the majority of the blog will be remembering major storms that have affected the state of Pennsylvania. Now if any major storms threaten our region in April I will revert back to my typical blogs. But starting this Sunday my blogs will focus on these storms with a new theme each week. The goal of this recapping is trying to get everyone to remember these storms and have there storm stories posted in comments below. Also there will be some learning qualities from each storm and I will show how intense Pennsylvania weather can be. Remember you will still be able to find a forecast for each day of the week. And each day of the week I will recap another storm similar to the setup I did with the 2007 severe weather outbreaks. But these storms will be in more detail. The first theme of this next coming week will be major Tornado Outbreaks in the state of Pennsylvania along with some interesting facts about tornadoes in this state. Hopefully by the end of April you will have an idea of how extreme Pennsylvania weather can be. I hope everyone shares their storm stories. Come early May back to forecasting complete weather discussions and I will be in severe weather mode all summer long. Have a great Friday evening!!!

"Short Term"
Friday night precipitation will overspread the entire state of Pennsylvania as a low pressure tracks just to the south of the Mason-Dixon line. The majority of the precipitation will be rain, but in the northern sections of the Poconos up to 2-4inches of snow will fall in elevations above 2000ft. The low is tracking farther south than originally expected and is going to drag some cold air in the north into the northern sections of the state. After 11pm is when the accumulating snow will fall. Below is my snow map. Look for maybe snow coatings also across Tioga County and Potter County too. Tonight will also be a breezy night with winds gusts to 20mph at times. The snow will be of the wet variety and again it will be confined to the higher elevations. As for rain amounts they will be around .25inches to maybe .5inches in some spots. No flooding issues should be expected this time around. There is still some snow pack in the northern parts of the state, but that will only take in the rain and the snow will become water logged. As for temperatures there will be quite a spread statewide with areas in the south with lows near 45degrees and areas in north around 30degrees. Rain should be ending early tomorrow morning. Then a lull in the precipitation ahead of another storm. More on that coming soon!

Here is my snow map for Saturday night...



Advisory...
None.

Current Radar...



"Long Term"
Between March 15-20 will be the favorible time for this stormy pattern. The models do indicate a stormy pattern right up through the end of March. I do believe after this March 15-20 time period winter will be over and spring comes quickly. I see that April could be quite warm in the east as I think the southeast ridge will poke northward again. I think April will be warmer than normal with more severe weather than normal with a great lakes storm track. This puts us on the warmer side of the storm. Spring will officialy ring in by March 21 so snowlovers this is our last chance. Enjoy the model picture below because we might not see it again until next winter!

Current NAO...


*Note the negative trend.

Current PNA...


*Note the positive to negative trend.


"Just to throw out there"
This week is Severe Weather Awareness Week in Pennsylvania. From 10-14 of March each day will be a new topic of severe weather with tornadoes, severe thunderstorms, flash flooding, river flooding, and severe weather spotters. In this section I will cover some of the severe weather occurences we had last spring and summer. Look for a two new severe weather outbreak recap everyday.

My Sunday recap for the May 10, 2007 outbreak...
The first major severe weather outbreak of the year took place on May 10. High temperatures were in the low to mid 80s statewide under sunny skies. Moist tropical air was flowing in from the southwest creating dewpoints in the mid to upper 60s. Temperatures aloft were cool and this created widespread hail. Wind shear was low so there were little wind damage reports. The low freezing level aloft was around 12,000ft. Hailstones were large and around marble sized although some bigger hail stones with 2inch diameter fell across northern Pennsylvania. The majority of the storms occured right in central Pennsylvania. There was also some reports of flash flooding in Cumberland County.
Radar and Watches...


Storm Reports...



My Sunday recap for the June 8, 2007 outbreak...
This was one of many very large severe weather outbreaks across Pennsylvania in June. The severe thunderstorms occured all across the Ohio Valley and Middle Atlantic on June 8. Alot of factors led up to the widespread severe weather. Temperatures reached the mid 90s in some locations combining with dewpoints in the 70s. A max heat index on my weather station of 103degrees occured. There was dry air aloft though and this precluded any pulse thunderstorms with rotation forming ahead of the squall line. A cold front provided the focus for the storms and the storms tapped into the fast moving low-level jet to produce widespread wind damage. The most of the damage occured in western and central Pennsylvania. Also as the front went through without the storms winds gusted to over 40mph at all of the major PA cities. Thousands of trees and powerlines were down statewide with the worst of the damage in Warren and Somerset Counties. The squall line was not the most organized squall, but the individual cells posed major wind threats to any areas that saw storms. Here north of Harrisburg I was stuck in between a thunderstorm that went to my south and a storm that went to my north. Damage was reported in Dauphin County. As the line moved east in had begun to fall apart, but still there were isolated areas of wind damage. Precipitation totals were over 1inch in some locations. After the front went through temperatures cooled back into the lower 80s with much drier air.
Radar and Watches...


Storm Reports...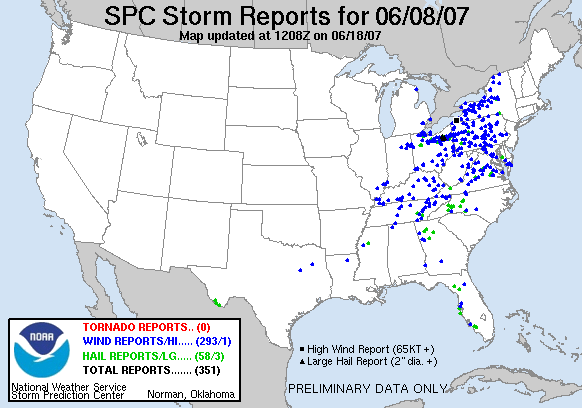 My Monday recap for the June 12-13, 2007 outbreak...
A violent 2-day outbreak took place on June 12-13, 2007. June of 2007 was one of the most storm severe weather months the state of Pennsylvania has seen in a long time. Alot of strange occurences occured that do not follow typical weather patterns. Day 1 was June 12. The storm movement was the strangest I have ever seen in Pennsylvania. Typically thunderstorms run west to east, southwest to northeast, northwest to southeast, south to north. But hardly ever do storms run northeast to southwest. But in this 2-day outbreak the thunderstorms moved northeast to southwest. The day 1 event was confined mainly to parts of eastern Pennsylvania and central Pennsylvania. This event also effected other states such as Maryland where an EF-1 tornado occured in the western part of the state. Wind damage was the main threat in this event. The damage was most extreme in the Poconos region. Also some 1inch hail was reported outside of Philadelphia. For Day 2 on June 13 the outbreak was much more extreme. Same as day 1 the storms moved from northeast to southwest. The storms were part caused by the heating of the day and part by a weak stalled back door cold front over New York State. This event caused the most damage in southern Pennsylvania. Hail and wind reports were widespread. Also some reports of funnel clouds including a funnel cloud report 1mile from my home. I was in Cancun, Mexico at the time and missed the funnel clouds. The most extreme damage actually occured in my county, Dauphin County with hail and wind damage reports widespread. Below is a radar animation of the storm that went through my county. Also there was a very intense straightline wind event that occured in York County with 75-100mph winds and it occured near Peach Bottom township. Severe reports were also reported in Pittsburgh where windows blew out of several office buildings. This severe weather outbreak will be one for the record books partly due to the unusual nature of the movement of the storms.

Radar for 12th...


Radar for 13th...


Watches for 12th...
None.
Watches for 13th...


Storm Reports for 12th...


Storm Reports for 13th...



Here is my Monday recap for the June 19, 2007 outbreak...
Another major outbreak of June occured on the 19th where severe weather occured statewide with a tornado also. A downburst with an embedded EF-0 tornado occured near Muncy in Lycoming County. A few structures did suffer minor damage along with hundreds of trees down. The tornado was estimated to be on the ground 7minutes. Hail reports were widespread that day with 1inch hail being quite common. But the main threat was from damaging wind gusts. The thunderstorms were sparked by a cold front along with moist, warm air from the Gulf of Mexico. Heavy rainfall occured around the region with a widespread 1-3inches. Some flooding did occur near Williamsport, PA and Harrisburg, PA. These thunderstorms were long last storms in the form of small bow echos and squalls. Overall though none of the damage was major with no reported injuries.
Lightning Strikes...


Watches...


Storm Reports...



Here is my Tuesday recap for the June 27, 2007 outbreak...
An interesting weather day took place on June 27. Near record heat with high temperatures approaching 100 in the southeast parts of Pennsylvania combined with dewpoints in the low 70s. A record of high of 97 occured breaking the original record of 95 in Williamsport, PA. Pulse thunderstorms fired up under the great instibility. Pulse thunderstorms can also be called popcorn thunderstorms as they fuel up very quickly and have a short life span. They are very typical over the Laural Highlands region in the summer. I will have more on pulse thunderstorms come my blog explanation of severe weather in Pennsylvania sometime this late spring. With June 27 unusuall temperatures occured along with abundent moisture creating the worst pulse severe thunderstorm outbreak of the year. The worst of the damage was found in the middle Susquehanna Valley with Selinsgrove getting hit hard by wind damage and some hail in Shamokin. Wind damage was the primary threat statewide. Pulse thunderstorms are very interesting to watch develop, but can sometimes be difficult to forecast because of their tendency to collapse after shortly developing.

Radar...



Watches...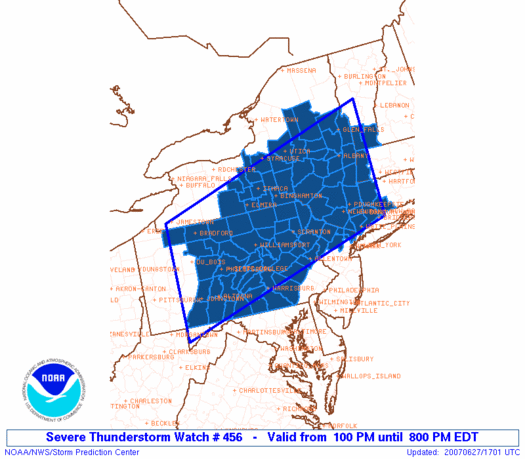 Storm Reports...



My Tuesday recap for the July 5, 2007 outbreak...
Under an intense southwest gulf flow moisture fired up across the state. Many areas recieved up to 2inches of rain from mesoscale thunderstorms the night before. Some of the thunderstorm complexes still existed the next day and intensifies in the southeast part of Pennsylvania. The Lower Susquehanna Valley was hit the worst with training severe thunderstorms. The city of Harrisburg was hit the worst with dime sized hail and 50mph winds reported 15mile northeast of the city. Also there were many areas of flash flooding. These convection complexes also had vivid lightning and thunder. The storm reports were not widespread, but the storms affected the Harrisburg metro area during the time of rush hour causing many problems.

Radar...



Watches...



Storm Reports...



Here is my Thursday recap for the August 7, 2007 outbreak...
One August 7, 2007 a weak tornado occured in central Pennsylvania in Centre County. Pulse thunderstorms had developed that day and tapped into the 100mph winds aloft to produce widespread rotation. The tornado was an EF-1 with peak winds at 95mph. The path of the tornado was 1.5miles long and 400yards wide. Over 200trees were toppled and there was some minor damage to local hunting cabins. The tornado tracked right ontop of a mountain range. No fatalities or injuries were reported. Other than the tornado there were only a few other wind damage reports statewide.

Radar Reflectivity with tornado path...



Watches...
None.

Storm Reports...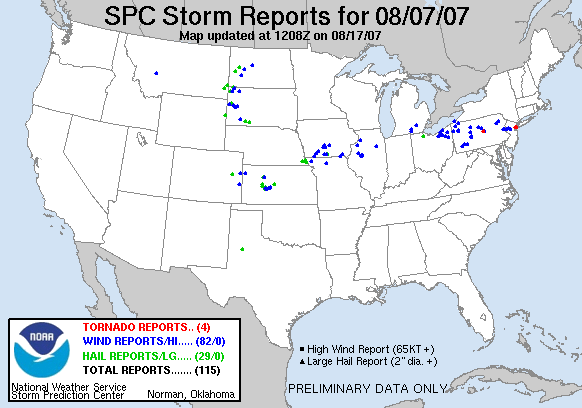 Here is my Thursday recap for the August 17, 2007 outbreak...
Significan hail storms occured across the Middle Susquehanna Valley on August 17. After a moist, hot, and humid day pulse thunderstorms fired up. With cold-level cloud tops tapping into the freezing level about 13,000ft that day large hail stones were able to be produced. The worst of the damage occured in Lycoming county where even a tornado warning was issued. No tornadoes were reported. Baseball sized hail occured in Muncy along with 80mph straight-line winds. Many windows were blown out and crops were damaged by hail. PPL electric reported 800customers without power after the storm. Also there were some other reports of damage in Lancaster, Northumberland, and Columbia counties that day. Also Carbon and Northampton Counties saw spotty reported of 2inch diameter hail.

Radar...
(Muncy zoom up in Lycoming County)



Watches...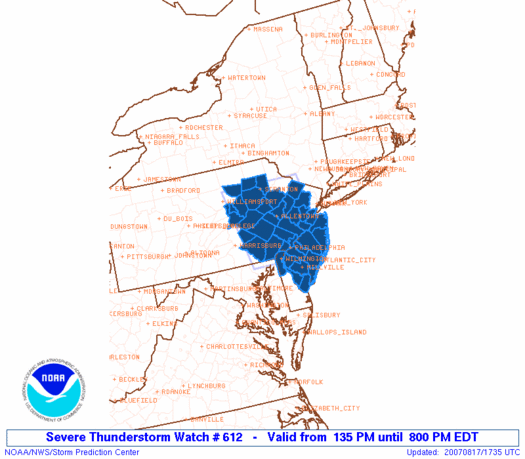 Storm Reports...



"Regional Forecasts" (Saturday)
1. Eastern- (Allentown, Southern Poconos)-
Morning light rain showers with clouds becoming partly cloudy later. High 53.

2. South Central (Harrisburg, York, Lancaster)(my home)-
Morning light rain showers and clouds becoming sunny late. High 53.

3. Southern- (Philadelphia)-
Morning clouds with drizzle then sunshine. High 57.

4. Central- (State College)-
Clouds in the morning becoming partly cloudy. High 48.

5. Northern- (Erie, Bradford, Williamsport)-
Cloudy. Light morning snow in northeast. High 42.

6. Western- (Pittsburgh)-
Partly cloudy becoming cloudy. High 45.

7. Johnstown, Altoona-
Cloudy with late day snow showers. High 43.

***Note on regional map, the number equals which region in Pennsylvania. I chose regions with similar climates, geography, and elevation to make my overall forecast for the region.



Weekly Weather Reviews
Good sunday afternoon! Todays weekly weather reviews are on the famous Extreme Weather book written by Christopher C. Burt and the 5 day forecaster weather station by Ambient weather.

This section will be dedicated to weather stations, weather technology, weather books, weather websites, weather magazines, etc. reviews that I write. I am going to try to write a review once a week on Sunday about some of the above topics. Also I am going to rate each item out of 5 stars. (*****)

Also if anyone else has a topic idea or something to add about my review you can leave it in a comment. Hopefully this will give you some knowledge about all of the fascinating weather accessories that are out there. And maybe you can try some out yourself!

Book- Extreme Weather - A Guide and Record Book - Climate Change Edition by Christopher C. Burt(*****)-
Extreme Written by Christopher C. Burt is one of the best weather books that are out there. This book has had two editions on I just recieved the 2nd edition written in 2007. The first book was written in 2004. The book is the basic field guide to weather plus much more. In this book are tons of weather records for all around the world and that is what the book focuses on, the most extreme weather worldwide. Chapters are Heat and Drought, Cold, Snow and Ice, Rain and Floods, Thunderstorms and Hail, Tornadoes, Hurricanes, Windstorms and Fog, Appendices (Maps, Records, Conversion Tables). In each chapter the most extreme weather events for that category are talked about, for example the coldest city in the United States is Fairbanks, AK with any average temperature of 26.7degrees. Wonderful diagrams and maps are pictured throughout the book showing averages for precipitation, etc. There are also bright and colorful pictures of extreme weather at its best. Also a nice plus in the back of the book is the City records section. For each state the largest cities in the state are chosen and they are listed with the city temperature records and city precipitation records. There is also of map in the cover of the book with a world map and listed are the world records for weather on each continent. Also listed are interesting stories worldwide with how people deal with the weather. For example cities in Japan use warm-water sprinklers in the city streets to melt the snow, because on average the recieve over 200inches of snow per year. Also are strange accounts of the weather with such as snowflakes with the diameter of 15inches in Fort Keogh, Montana. This book is a wonderful book to add to your library of weather books!
The goods (+)
Great colorful pictures
Clear maps of worldwide averages
Wonderful charts of weather records
302pages of great information
Great list of internet and book links about the weather
Inexpensive price of $25.95 for hardcover edition
Up-to-date information as the copywrite is 2007
The bads (-)
Could focus a little more on El Nino and La Nina
Little section on climate change

Technology- Ambient 5Day Weather Forecaster(*)-
Two years ago I saw that a new type of weather station was now being sold on the weather market, a 5day forecaster. One of the first of them to come out was Ambient Weather's 5day forecaster. It had a price of $99. So after I recieved it I was very excited and was hoping that some days I could just look at the station to get my 5 day forecast. The forecast was sent by satellite from Accuweather. The system required 2AA batteries. After a simple instilation I turned the system on and it would not update. One the signal strength icon it was at the lowest bar. A week later still no signal = no update. I was not pleased. After looking up to see the problem I had to call the company and I could get a special 30day trial run. After the 30days I would have to pay a monthly price. No where with the item was the mentioned. So the next day I experimented with the trial and it finally got a signal. But the next day it got no signal. I finally observed that on cloudy days there was never a signal and only on clear days would the system work. The entire station was very cheaply made and not worth the money. After the 30days I canceled the trial and now I do not use the station. Even when it worked it was not accurate. Now a few months later I saw many other companies were producing 5day forecasters, but still I have been cautious about getting another one. I would not recommend these stations at all.
The goods (+)
Offers highs and lows for 5days
Shows current temperature
Weather information if from Accuweather
Has different symbols for different weather conditions
Has forecasts for cities across the USA
Shows battery level
Shows satellite signal level
The bads (-)
No backlight
Batteries die in a week or two and need replaced
No AC adapter
Weak satellite signal
Inaccurate current temperature reading
Did not update on cloudy days

My snow totals (10miles northeast of Harrisburg)
07-08 Seasonal Total so far... 25.5inches
Monthly Total... Trace
Daily Total... Trace
Snow Cover... None

My accuracy for Harrisburg snowstorms, 07-08
Date.........Prediction.........Actual
Jan. 26........C-2inches........Coating of Snow
Feb. 4.........C-2inches........Coating of Snow/Sleet
Feb. 9.........1-3inches........2inches of snow
Feb. 10........C-3inches........1nch of snow
Feb. 12-13.....1-4inches........5.5inches of snow
Feb. 20........1-3inches........1inch of snow
Feb. 22-23.....3-7inches........4inches of snow
Feb. 26-27.....C-1inch......... .25inches of snow
Feb. 29........2-4inches........2.5inches
March 15-16....C-2inches........Trace of snow
The views of the author are his/her own and do not necessarily represent the position of The Weather Company or its parent, IBM.
Reader Comments
Comments will take a few seconds to appear.
Post Your Comments
Please sign in to post comments.
Not only will you be able to leave comments on this blog, but you'll also have the ability to upload and share your photos in our Wunder Photos section.
The Northeast Weather Blog...
Recent Posts
Local Weather
37 °F

Clear
Previous Entries for 2017
Personal Weather Stations