Multi-day threat of severe weather for the eastern United States...
Here in Pennsylvania, educational reforms are the hot bed of discussion, partly due to proposed budget cuts from the political roundtop at our capitol Harrisburg. Obviously cuts in any sort of institution such as education are typically felt with detrimental side effects. But the problem in education stems from something more than poor standarized test scores of public schools not making the grade/cut. The importance of education is certainly not of the highest regard in our society. Looking at where we have come in the last 100 years as average life expectancies rise through the 80s, both medically and technologically we have come a long way. In fact if we were to take away certain guidelines and/or moralic type codes, we have the capabilities to perform near science fiction type actions. Since the human genome project, we have been able to completely map the genetic code for our uniqueness separating humans from animals. We are on the verge of pharmaceutical individuality where medications will be developed based on each of our own set of genetic makeup. We have the capability to develop and utilize fission technology to harness the sun's energy to serve as an overarching power source. We have the capability for AI and soon the knowledge to map the brain through new neurologic techniques. We are on the verge of discovering microbial life in our solar system, which will change biology as we know it. We live in the era of the fastest growth of technological advancement that the human species has ever seen. I fully expect to live to see some of these accomplishments. But we cannot get there without the core of our society.

Certainly, the United States is based on blue collar jobs and will not be able to function without these necessities. College is not for everyone. The growing popularity of technical schools is certainly on the upswing. But the problem stems from early in primary school. As we all are of the young age in our first few years of grade school, our brains are molded rapidly to new concepts. We finally realize that we have our own set of opinions and ideas. The frontal lobe continues to rapidly grow in information. These years are critical. Unfortunately, modern society puts anything but the focus on the importance of schooling. There is little to no reward for literary, scientific, mathematical excellence. Instilled at a young age should be a set agenda. These years are where habits are developed. Homework should be done directly afterschool, organization of schedule to prevent procrastination, workbooks over the summer and weekend, constant drilling of simple facts at school. If the focus of education would be of higher regard by media, our society would be a better place.

I do not propose that everyone needs to be a brilliant, college bound student. Education is simply more than this concept. It instills moralic lessons and a better understanding of people and culture. Not only does society have little focus on learning, but it also focuses it primarily on the wealthier classes. Poverish, limited resource communities, are the ones facing ever increasing dropouts in high school and constant failing state guidlines for testing. Could this be analogous with higher crime rates in lower income communities?

Why is the question... Why is it cool to skip school? Why is cool to say rules are meant to be broken? Why is it cool not to do your homework? Yes, these early years are about discovering yourself, but each generation's most important years are these building block ages. And it seems all of these problems stem back from one's instilled parental guidance and support system. Society needs structure. Society needs knowledge. Society needs achievers. Where would be without Einstein's theory of relativity; where would we be without the functions of public sanitation; where would we be without the sanctions of musical excellence? These polar concepts derive from a society focused on the importance of a well-rounded education, an education based on the understanding of human nature and growth. Educational reform should not be stirred from the agendas of politicians, but by those of us looking out for the well-fare of our future. And soon, long into the future, hopefully we can reflect without a nodding sigh.

On a more related note, I just want to take a quick look at the recent wet spell across much of the eastern United States particularily here in central Pennsylvania where we are on target for the wettest April on record. Looking back at my CoCoRaHS statistics, I have recorded 5 periods of no rainfall. Measurements for rainfall accoring to CoCoRaHS standards fit a 6am to 6am 24hr period. I have recorded 7.64in of rain this month with nearly 18in of rain for my yearly total. These totals are well above norms by a fair 5in+.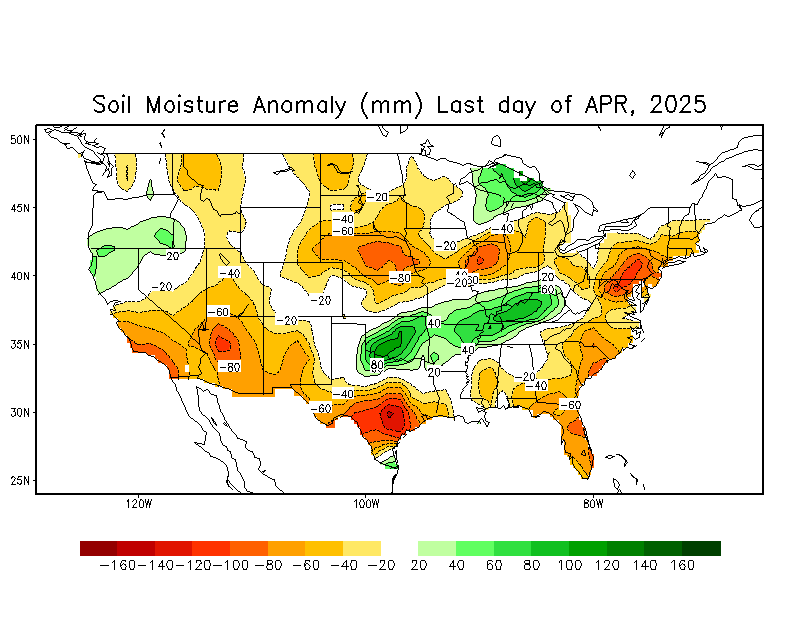 Looking at the current montly soil moisture anomalies, we can easily note the high percentages across Pennsylvania and New York State. Also note the abundance of moisture across California. This is in correspondance with our wet patten as an unusually active jet stream has allowed several strong Pacific storms to parade across the nation. This is also in connection with the active severe weather across much of the continental United States.


You can note the abundance of tornadic activity this Spring is well above the 75th percentile expected means. The majority of the severe weather this season has occured along and east of the Mississippi River.


This heightened activity can directly be correlated with the La Nina, which continues to weaken across the equitorial Pacific. I like to think of all of the global weather patterns as a giant fluid closed system. Therefore this concept is analogous to the idea of one act of pollution affects an entire watershed right into the following ocean. This active northern jet stream dominated weather pattern appears to continue with a parade of middle latitude cyclones across the continental United States although subtle changes in the ridge and trough axis will be noted. A -NAO looks to be full fledge towards early May favoring a trough over the eastern United States. This will likely lead to a cool and wet beginning of the month; definitely not what the farmers wanted to hear who are still trying to plow their fields. In fact the 384hr GFS run prints out a whopping 4.75in of precipitation through the end of the run for KMDT. This coming week will feature several chances of diurnal convective precipitation instances. A cold front will be approaching from the Tennessee River valley by Thursday carving a path of severe weather across the eastern United States. Ahead of the cold front is a stationary front drapped across just south of the interstate 80 corridor keeping cooler and cloudier weather across areas to the north in New England with scattered rain showers dropping less than .5in of QPF. To the south is a moist, sunny, and dry atmosphere across Virginia and Maryland with a well capped atmosphere as H85 thermals remain relatively warm. In the middle is a turbulent region with daily threats of precipitation and changing temperatures. This is along the warm front or stationary front for that matter.
"Severe Weather Outlooks from Storm Prediction Center Days 1, 2, and 3"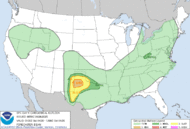 Much of the region especially across parts of Pennsylvania, New York, Maryland, and Virginia remain at risk for severe weather during the next few days as winds aloft begin to increase with a turbulent low level jet ahead of the slow moving cold front. Rising PWATs near 1.75in will aid in the addition of a flash flooding/heavy rain threat especially towards Wednesday and Thursday. CAPE levels will be rising to near 2000 j/kg especially towards Wednesday and Thursday across the region as high resolution guidance suggests the rapid approach of a squall line. GFS/EURO/NAM guidance remain at odds as far as timing for this squall line.


The NAM shows a strong signal towards Thursday of a rapidly advancing squall line with the threat of damaging winds. The GFS is much faster indicating the severe threat for the Middle Atlantic and Northeast occuring during the unfavorable hours of early morning on Thursday. Helicity values will also be on the increase and current SREF significant tornado values rise to near 30, very impressive this far out. In case by Thursday evening, the front will finally be offshore as cooler air moves in for the end of the week with high pressure for a few dry days for once. Some areas in the coming few days may experience very heavy rainfall, especially those who experience several thunderstorm days. Given the low FFG (Flash Flood Guidance) across local counties, some areas may experience flooding... Link. I will have small updates throughout the week on each individual threat of severe weather.

Tuesday appears to have severe weather and thunderstorms primarily focused across western Pennsylvania in correspondance with the approach of the cold front and several small MCV that will be rotating through. Damaging winds, hail, and isolated tornadoes will be the the primary threats. Areas eastward will face a more capped environment with a lack of an organized trigger, although an isolated pulse thunderstorm cannot be ruled out.

Lower Susquehanna Valley Doppler...


(Courtesy of WGAL)

"Here north of Harrisburg 2011 statistics"
(Severe Weather Stats...)
Severe Thunderstorm Watches- 3
Severe Thunderstorm Warnings- 3
Tornado Watches- 2
Tornado Warnings- 0
Total Thunderstorms- 10

(Precipitation Stats...)
Flood Watches- 5
Flood Warnings- 4
Flash Flood Warnings- 2
Monthly Precipitation- 0.12in
January Precipitation- 1.12in
February Precipitation- 2.74in
March Precipitation- 6.43in
April Precipitation- 10.47in
May Precipitation- 0.12in
Yearly Precipitation- 20.88in

(Temperature Stats...)
Heat Advisories- 0
Excessive Heat Warnings- 0
90degree days- 0
Highest Temperature- 84F
The views of the author are his/her own and do not necessarily represent the position of The Weather Company or its parent, IBM.
Reader Comments
The Northeast Weather Blog...
Previous Entries for 2017