Snow Map for January 9th...
"The One Hundred Year Storm"



(Fig 1- The aftermath of a nearly 30in snowdepth, February 12, 2010 here 10mi northeast of Harrisburg, PA)

Throughout the past few centuries, large swirling masses of low pressure have consistently rolled up along the East Coast during the winter solstice months leaving a trail of burried landscapes in their wake. These snowstorms have been the setting for countless stories and traditions passed on from generation to generation. The 'when I was your age' stories continue to dominate holiday dinner conversations. Over the past ten years, many meteorologists have concluded a large increase in the number of significant nor'easters affecting parts of the east coast. While some decades featured more significant snowstorms than others due to ENSO factors, it does appear there is a linear trend for increasing strength and frequency of these low pressures along the east coast. This entry will take a look at several case studies of this concept along with posing potential reasons for the subject matter.

A recent study proposed by Matthew E. Hirsch in "An East Coast Winter Storm Climatology" defines a ECWS as....

Storm must:

1) Have a closed circulation

2) Be located within the quadrilateral bounded at 45N by 65W and 70W and at 30N by 85W and 75W.

3) Show general movement from the south-southwest to the north-northeast

4) Contain winds greater than 23 mph.

These conditions must persist for at least a 12 hour period.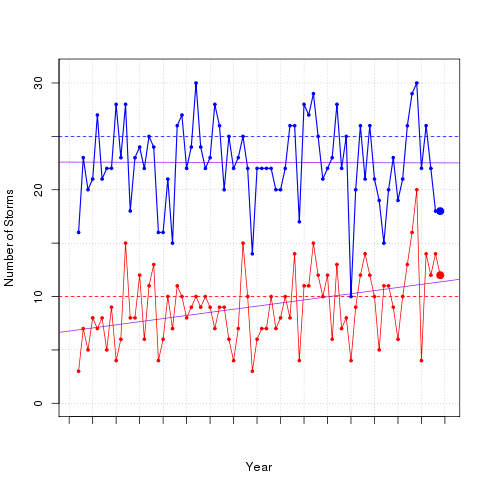 (Fig. 2- This graph courtesy of the Northeast Regional Climate Center shows a strong linear increase in the average strong east coast winter storm)

Red Solid Line- Strong ECWS with winds exceeding 52 mph
Red Dashed Line- Strong ECWS with winds exceeding 52 mph
Blue Solid Line- All ECWS regardless of strength or duration
Blue Dashed Line- High ECWS activity is indicated in seasons exceeding this value

The growing trend by this study indicates a greater number of east coast winter storms per year with an even stronger correlation in the number of strong east coast winter storms per year. Looking at the actual data for each decade dating back to 1950... Link

Decade and Number of Strong East Coast Winter Storms-
1950-1959- 78
1960-1969- 90
1970-1979- 86
1980-1989- 76
1990-1999- 103
2000-2009- 99

Since 1990, the study clear shows a great increase in the frequency of strong east coast winter storms. While the actual number of east coast winter storms is not increasing too much, the intensity of these storms systems seems to be on the rise.

In Paul Kocin's and Louis W Uccellini's "Northeast Snowstorms Monograph" they characterize 32 snowstorms from 1950-2003 meeting their requirements to fulfill as a historical east coast winter storm. These KU storms vary in track and intensity but share the common purpose of a large snowstorm impacting a large portion of the population in the Northeast. For our purposes, the KU storms only date to December 2003 and therefore we cannot see any trends for the 2000-2010 decade. But we can look at any trends since 1950 for the frequency of these historic snowstorms.

Date and Number of KU Storms...
1950-1959- 3
1960-1969- 11
1970-1979- 4
1980-1989- 5
1990-1999- 5
2000-2003- 4

With limited data, there is essentially no conclusion or trend based on the statistics above. We though are able to note the anomaly of the 1960-1969 decade with 11 KU storms. I will come back to this important statistic later. But another interesting note can be derived. From 2000-2003, that short time period already featured 4 KU storms. That frequency in those three years is much higher than any of the other decades which average 1.26 KU storms per three years (I threw out the 1960-1969 anomaly which skews the data). As we have already seen, several other storms in this past decade would have given a large frequency of KU storms had data been reported post 2003.

The NESIS (Northeast Snowfall Impact Scale) rating developed by Paul Kocin and Louis W Uccellini is a similar concept as to rating hurricanes or tornadoes. Link. The general rating from one to five is based on the amount of snow vs. the density of the population impacted. Therefore a 12in snowfall impacting all of the major cities from DCA-BWI-PHL-NYC-BOS would have a higher rating than a small 32in snowfall only impacting the state of New Jersey for instance. The blizzards of 1993 and 1996 are the only two storms out of 79 rated by the NESIS scale to fall under the extreme category 5. Looking at the NESIS scale, nine additional snowstorms would fall under as KU storms post December 2003. This would give a grand total of 13 KU storms in the past decade surpassing the 11 KU storms from 196-1969.

Now that we taken a quick glance at actual statistics for east coast winter storms, some data does support the hypothesis of an increasing frequency in major snowstorms. The past ten years have featured what many would consider 'One Hundred Year Storms' from the President's Day snowstorm to the Valentine's Day Snowstorm to last winter's surplus of blizzards. The widespread one hundred year snowstorm seems to be becoming more common. But look at actual scientific evidence, while the frequency does appear to be increasing, there may be a better answer. Yes a warming atmosphere will support stronger storms with more moisture content. It is as simple as basic meteorology; warmer air holds more moisture. But the 1960-1969 decade is critical to note for several reasons. The decade featured a greater than normal number of east coast snowstorms. This partly was lead by a solar minimum in the sunspot cycles and the decadal trend of a negative NAO for those ten or so years.



(Fig. 3- Courtesy of NOAA)

We are in a deep solar minimum. And while in October a few sunspots were found, the sun has once again gone blank. Astronomers correlate sunspot cycle 23 to perhaps be the lowest since the maunder minimum. This minimum occured from 1645-1715 and correlated with below normal temperatures globally. While there are many scientists quick to argue of the little effects of sunspots on global temperature patterns, I do believe there is a weak correlation. The 2009-2010 period has been affected by a dominate negative NAO. In fact in some regards, this has been the lowest NAO on record during several periods. A negative NAO often correlates to a favorable time period for east coast cyclogenesis. While many argue the NAO is subject to yearly trends, I believe a more broad decadal trend can be noted.



(Fig. 4- NAO means for January, February, and March from 1950)

Looking at the graph above we see a minimum in the NAO around the 1960-1969 period. Also since 1990, the linear trend supports a lowering NAO to the current 2010 negative NAO anomaly. And then if you go even farther looking at the sunspot cycle chart, you will note a minimum during the 1960-1969 period. While not near as severe as the current solar minimum, it does support the concept the low solar activity correlates to upstream blocking. And simply put, more upstream blocking correlates to a higher than climatology threat of a strong east coast winter storm. The NAO is such an important driving factor, that it can even skew over the ENSO wavelengths. In fact despite a high end moderate La Nina currently, global weather patterns are very anti-Nina. Looking at the solar-blocking theory, one could argue that the increase in east coast winter storms is not linear, but more in a wave like pattern with minimum and maximum ten year periods or so.

In another perspective, the warming climate would support more storms capable of a higher moisture content. Also a warming climate supports warmer than normal sea surface temperatures therefore fueling these coastal storms. With higher than normal SSTs, there is more 'potential energy' acting as the catalyst for storm development. Yes global warming will likely lead to more snow.

Whatever be the answer, it appears strong east coast winter storms are on the rise with a greater frequency per year than before. Keep in mind solid snowstorm data only dates back to 1950. One more interesting point, while the number of nor'easters is increasing, the average snowfall for locations across the Northeast is remaining steady or slightly declining. But I will leave that topic for another day.

An East Coast Winter Storm Climatology
Matthew E. Hirsch, Arthur T. DeGaetano, Stephen J. Colucci
Journal of Climate 2001 14:5, 882-899

Kocin, P. J. and L. W. Uccellini, 2004: A Snowfall Impact Scale Derived From Northeast Storm Snowfall Distributions. Bull. Amer. Meteor. Soc., 85, 177-194

"Here northeast of Harrisburg 2010-2011 winter statistics"
(Snow Stats)
Current Snow Cover- 3.0in
Monthly Total (November)- Trace
Monthly Total (December)- 0.6in
Monthly Total (January)- 3.25
Seasonal Total- 3.85
Winter Weather Advisories- 2
Winter Storm Warnings- 0
Ice Storm Warnings- 0
Blizzard Warnings- 0
Freezing Rain Advisories- 1
Winter Storm Watches- 1

(Temperature Stats)
Lowest High Temperature- 24.1F
Lowest Low Temperature- 12.8F
Wind Chill Advisories- 0
Wind Chill Warnings- 0

(Snow Storms Stats)
First accumulating snow - December 10 - 0.50in
Clipper light snow - January 7-8 - 2.25in then another 1in

"Snow Map; January 6-8"


*Keep in mind a majority of the snow accumulation will be accompanied by a band of snow making accumulations hit or miss with some areas seeing more or less than others.

"Snow Map; January 8-9"



"Local Harrisburg Radar"

The views of the author are his/her own and do not necessarily represent the position of The Weather Company or its parent, IBM.
Reader Comments
Comments will take a few seconds to appear.
The Northeast Weather Blog...
Recent Posts
Local Weather
43 °F

Light Rain
Previous Entries for 2017
Personal Weather Stations