Winter Forecast 2010-2011
Winter Outlook 2010-2011...(December, January, February)



(South Mountain- 21 February 2010)

Ah, the sounds of shoveling and snow blowers in the early morning will soon become the norm as old man winter blows across the western hemisphere. After anomalous snowfall during the season of 2009-2010, a peak back at snowy years has quickly remerged in our short term memory banks. For those located along the I-95 corridor south of the Mason-Dixon line, historical odds show a near 1 in 200 chance of a another seasonal snowfall year such as the one before. For those north of that line, there have been several seasons which have featured snowier conditions than last season. None the less for many, the month of February will be one to tell the grandchildren after a series of low pressures matured off the eastern seaboard. The pattern was emphasized by a starkly negative NAO (North Atlantic Oscillation). The NAO is teleconnective value, which takes into account differing regions of air pressure in the northern Atlantic located near the Icelandic Low and Azores High Pressure. The strengths of these associated areas including positions affect the mean NAO throughout the entire year. As the polar jet begins to drop across the northern United States towards the winter months, the NAO has direct affects on long term wavelength patterns downstream dictating short term and long term weather patterns. Unfortunately the NAO is not able to be predicted accurately more than a two week period or so in advance, reducing its helpfulness it long term weather pattern predictions. But on occasions, trends are able to be noted to support possible long term NAO tendency predictions. More on this subject will be discussed below on implications for the upcoming winter.

Of other importance note is the SO (Southern Oscillation) status of the 2009-2010 winter, which remains completely polarized from this current time last year. The strong El Nino peaked around mid December with SST anomalies near +2C SD for Nino region 3.4. Counter affects globally have been evident through the past six months, as one of the strongest El Ninos on record continues to have residual effects. Planet Earth so far has been dominated by global temperatures peaking near the highest mean on record since records have been kept since 1979. But this is very common with strong El Ninos. 1998 featured the hottest year on record globally, again directly correlated to the anomalous and infamous El Nino of that year. While strong El Ninos are typical to bring warm temperatures surging throughout a plethora of the United States during the winter, the anomalous negative NAO allowed the warmth to stay suppressed. El Ninos often feature an active subtropical jet, so the combination of upstream blocking and moisture from the south created the catalyst for the record snowfall.

But Fall 2010 is in a complete disposition from last year at this time. It was evident last winter was going to be a very snowy year for the Middle Atlantic with the predominant negative NAO and active southern stream courtesy of the El Nino. Tides have quickly changed this year making this seasonal forecast quite unique. First let me begin with a quick summary on the average Middle Atlantic region winter...

An average winter in Pennsylvania consists of many different types of winter weather. Winters in Pennsylvania are more severe than middle Atlantic winters and Ohio valley winters, but less severe than neighboring New England winters. On average the first snowflakes fall in mid to late October in the northwestern part of the state. And the last snowflakes typically fall in the northwestern part of the state in early May. Frost season lasts from early October to mid May in most areas. The geographic regions of Pennsylvania play a major part in snow totals and temperatures.


("Courtesy of NOAA")
There are two regions of Pennsylvania that see significantly higher snow totals than the rest of the state. The Laurel Highlands and Northwest Mountains see snow totals well over 100inches every winter. In extreme winters snow may be on the ground into June with seasonal totals of over 200inches. The seasonal snow total record is held in Corry, Pennsylvania of 237inches. The monthly snow total record is held in Blue Knob, Pennsylvania with 96inches of snow. Corry is found in the northwest mountains and Blue Knob is a ski resort found in the Laurel Highlands. Blue Knob is the highest ski able mountain in Pennsylvania. Below is a map of average seasonal snow totals in Pennsylvania.


("Courtesy of NOAA")
Different types of winter storms affect the state of Pennsylvania, clipper systems, lake effect snow outbreaks, nor'easters, advection snows, and etc. The coldest month is typically January statewide. And the snowiest month statewide is typically February. Northwest Pennsylvania typically sees a majority of their snows in Lake Effect snow outbreaks. While eastern Pennsylvania sees most of their snows from coastal storms. When coastal storms come up the coast many areas in Pennsylvania can see major snowstorms. The Poconos typically see the most snow from coastal storms due to their elevation aid to precipitation totals. Some of the greatest storm total snowfall records are actually held in eastern Pennsylvania and not in the northwest Snowbelt regions. The highest average seasonal snow average is found in Corry, Pennsylvania with an average of 118inches. While the low seasonal snow total is found in Philadelphia, Pennsylvania with 21inches of snow. As far as temperatures go the coldest temperatures are found in the Alleghany Plateau region with the lowest temperature every recorded in Pennsylvania was in Smethport with -42degrees. Temperatures typically dip below freezing every day from November to March statewide. Extreme cold outbreaks typically occur around mid to late January. At times warm thaws may occur, but they are rare and sparse. As for ice storms they typically occur in December when the sun's rays are at their lowest. Very odd winter weather features occur each year including thunder snows, etc. and thunder snows are like thunderstorms but with snow instead of rain. Snow rates up to 5inches can occur. Thunder snows are mostly likely associated with frontal passages and lake effect snows. As far as winds, typically northwest winds setup on the coldest of winter days and can gust up to 50mph. Wind chills as low as -25degrees are felt almost at least once in the mountains of Pennsylvania. On average winds gust to 30mph several times each month. For ice on waterways, many northern lakes and rivers solidly freeze every winter. For southern areas ice forms every winter, but does not necessarily become very thick. During extreme winters even southern regions can see ice thicknesses of over a foot. The most extreme winter storms that affect Pennsylvania are nor'easters though. They affect large areas of the state with high winds and heavy precipitation. On rare occasions snow totals of over 35inches have occurred with snowdrifts as high as 6ft in many areas of eastern Pennsylvania. Winters in Pennsylvania overall are relatively severe, with geographic regions playing a major part in average snow totals and cold temperatures. Weather for parts of Maryland and Delaware could be considered a bit more uniform due to the size of the states. Maryland is a bit more varied thanks to some unique geographic features. Western Maryland particularly in Garret County is home to some extremely heavy snow thanks to its favorable upslope location allowing orographic lift to aid in heavy snow over the 2000ft+ elevations. Over 100inches of snow falls each year in parts of the county near popular resort areas such as Deep Creek. Heading east in Maryland crosses several large mountain ranges near the Cumberland Gap, the Potomac Highlands, and the Blue Ridge Mountains heading towards Hagerstown which sees a varied snowfall each season averaging around 30inches of snow less than that of most of southern Pennsylvania, excluding Philadelphia. Heading south and east towards Baltimore and Washington DC snowfall totals immensely fall off to averages from 15-20inches with similar numbers in Delaware. The palliating effects of warmth from the Atlantic allow for slightly low totals as they featured more mixed precipitation events.

I am going to dive right into the heart of the forecast this year, but likely the most difficult... the ENSO regime. For those not familiar, the ENSO is a measure of sea surface temperature anomalies in the equatorial Pacific in correlation with direct and indirect monsoon precipitation trends. These anomalies and patterns often feature global affects and are used in long term weather pattern predictions. La Ninas featured cooler than normal SST anomalies, while El Ninos featured warmer than normal SST anomalies.


("Courtesy of NOAA")
Global computer models had been indicating the reemergence of a strong La Nina for this upcoming Fall by about the beginning of summer. The CFS clearly indicated the threat, but such a dramatic swing from one of the strongest El Ninos on record to a strong La Nina seemed unusual and unlikely. Well SST began to cool through the summer, and by the middle of June they were at the standard deviation threshold for being classified as a La Nina. But it remained unofficial, as those readings must stand for at least three months to be classified. Well three months later and SST anomalies remain well below normal. In fact I am bold enough to signal these anomalies as reaching the minimum strong threshold. The current ONI (Oceanic Nino Index) has already reached a JJA (June, July, August) reading of (-0.6) The ONI index is a general mean of the Nino region 3.4 sea surface temperatures. It is my favorite indicator to keep track of the ENSO status. For data back to 1950... Link. Interestingly enough referencing several strong La Ninas such as 2007-2008 already shows this current La Nina stronger at this date than those years.

Strong La Nina years for a JJA ONI Mean...
2007- (-0.4)
2000- (-0.4)
1954- (-0.8)
1950- (-0.8)

(Keep these years in the back of your mind). Dramatic swings in SST anomalies are difficult to note and few years remain similar. In fact what remains unique about this La Nina is actually the location. A weak westerly wind burst has actually favored a slight rise in sea surface temperatures on the western end of the measured equatorial Pacific regime. Currently the lower SSTs remain east based, and this appears to be making for an easterly based strong La Nina. What does this mean? Well essentially many are familiar hearing about the west-based El Nino of last winter. This helped to cause direct influences on the local weather patterns in the western hemisphere. But an east based ENSO event typically has slightly fewer influences being dispositional. Still though a strong La Nina will be a dominate player in the upcoming winter. What makes the forecast difficult is there are zero analogs that correspond to this year's SST anomaly SST depressions. A few matches to 1950-1951 and 1954-1955 emerge, but that is all.

So first check is strong La Nina, but the most important driver in the winter regime is the highly variable teleconnective indices. First off, it is important to note the PDO (Pacific Decadal Oscillation) has resurged back down to negative values. This index monitors SST anomalies in the northern Pacific and can be closely followed based on 10-year trends. I had recent ideas that the PDO was beginning to show signs to tip to positive starting last fall, which it did courtesy of the El Nino. But now with it surging negative again, it is clear the decadal negative cycle has yet to end. A negative PDO is often associated with a warmer pattern for the central and eastern United States with cooler conditions to the west. It is closely in correspondence with the shorter term PNA (Pacific/North American Oscillation). Another teleconnection already mentioned is the NAO, which again is all interconnected with the other indices. Through most of the summer the PNA and NAO have been steady excluding an early August hiccup...

PNA...



NAO...



They have clearly pointed to a positive PNA and negative NAO regime. In winter, this would lean towards troughing over the east coast and ridging over the west coast of the United States. But during the summer, these teleconnections have a much less influence on the global wavelength pattern and therefore go unnoticed. It remains clear that the NAO generally remains dominated negatively. Last year in fact it reached the lowest negative reading in nearly fifty years during December and early January; this coupled with the United Kingdom featuring one of their coldest winters in nearly 30 years. While many say forecasting the NAO is highly impossible, I do feel there are a few important trends that can be detected. I have been monitoring monsoonal patterns in the Indian Ocean along with the AMO (Atlantic Multidecadal Oscillation) and have noted possible correlations to a continued negative NAO regime. I do believe the NAO will feature a general upswing pattern though by the end of December. While short swings to negative and positive and vice versa are possible... my general NAO forecast is...

December- (-1SD)
January- (-+0SD)
February- (+1.5SD)

This being said, I do not think the NAO will reach any negative anomaly such as that of last winter. Still, the NAO may be the saving grace for snowfall in the Middle Atlantic during favored wavelength periods. Also the AO (Arctic Oscillation) is another player and again has generally been negative to neutral through most of the Summer. I expect this continue through much of the winter. Recent satellite images and statistics continue to show increasing cooler temperatures in that region along with end to the rapid dwindling sea ice levels.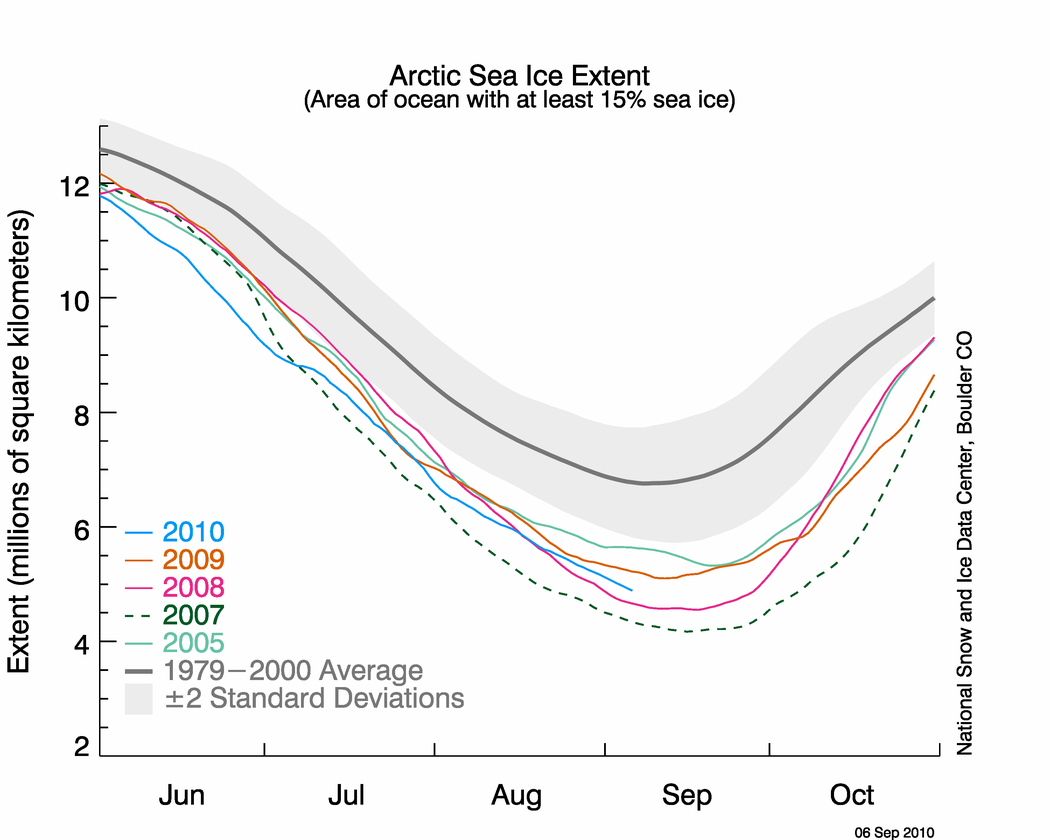 ("Couresty of NSIDC)

As noted above, sea ice levels are relatively close to last years at this time and continue to remain higher than the record lows of 2007 and 2008. A continued upswing in levels is likely as the negative AO remains imminent for the next week or more. Eurasia snow levels also continue to remain near normal values and nothing of any worth noting. Same for Canadian snow levels, which are beginning to recover after a record low during this past winter and summer. Cooler air courtesy of the negative AO weather patterns have allowed for recent snowfall in the northern portions of that region. ECMWF and GFS guidance continue to indicate cooler than normal temperatures in this region, which will continue to aid in a building snowpack.

Of important and controversial note remains the solar field. Low sun spot cycle 21 continues to plague astronomers and climatologists on residual effects on planet Earth. The topic remains highly controversial as some completely disagree in any affects on global temperatures. But excluding the strong El Nino this summer, which allowed global temperatures to surge, the general global trend has been about a (-0.2)-(-0.4)C drop in global statosphere temperatures for this past decade under the extremely low sunspot regime. Activity continues to remain dull, with very little to no sunspot reports daily. My personal opinion remains that sunspots do affect climate globally. The sun is the catalyst for weather and energizes the Earth along with heat from the inner core. Any change in the solar output of the sun is bound to have some type of effect on the Earth's weather. The sunspot minima also argues against finding any analog with a strong La Nina coupled right after a strong El Nino. This will likely for tail some interesting weather patterns.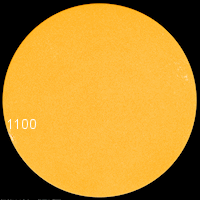 ("Courtesy of SpaceWeather")

Global models continue to indicate a variable pattern through the winter with ECMWF monthly reports showing near normal precipitation and near normal temperatures for the three meteorological winter months. The CFS model also remains similar showing cooler conditions during the first half of winter followed by a warming trend towards February. It is though interesting to note, the CFS shows a definite favorability towards continued Greendland Blocking (negative NAO) and higher thermal heights over the western United States.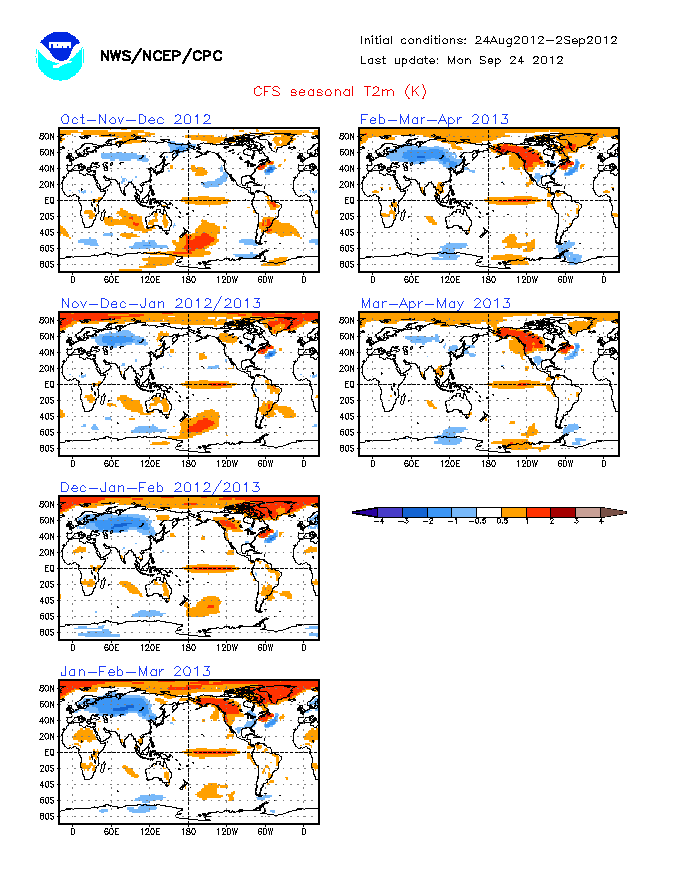 ("Courtesy of NOAA")

Finally I just wanted to point out that I have been recently following GFS verification charts closely. As many already know, the GFS underwent a recent major upgrade increasing resolution, parameter boundaries, etc. The model has actually been performing quite well during the past weeks, especially in the tropics often outperforming the ECMWF. Recently for weather patterns across the Middle Atlantic, the convective feedback QPF problems have been eliminated and the model does not produce as many outrageous 384hr solutions. But please note... it does contain a WARM bias after 180hrs. Unlike the previous GFS, the updated GFS now as a warm long term bias instead of a cold bias.

So what does all of this information mean? Well it portrays the volatility of this upcoming winter season at its best. We have a strengthening east-based La Nina coupled with a negative NAO regime in a sunspot minima decade. Analogs are in relative inexistence this season, so global patterns will play the major role in the forecast. La Ninas often feature mild and sometimes very dry winters for the Middle Atlantic. In recent memory La Ninas have caused some very poor snowfall department winters especially along I-95. My forecast for this winter 2010-2011 will maintain an interesting and slightly uncertain approach.

Temperature Monthly Anomalies...
December- (+0.4F)
January- (+1.1F)
February- (+1.5F)

Snowfall Monthly Anomalies...
December- (115% of normal)
January- (90% of normal)
February- (45% of normal)

I am forecasting a very mild winter, especially towards the later half as the La Nina and pesky GOA (Gulf of Alaska) low undergo troughing over the western United States. But the negative NAO regime may allow for periods of snowy weather, especially in late November and December. The biggest question remains on how dry the weather pattern will be. The east-based La Nina tends to leave me to believe that we will avoid the normal La Nina dry spell for the most part, but this remains uncertain. I also believe there will be periods of severe arctic blasts, especially across the central northern Plains, which will likely average below to well below normal. The negative AO will offer these cold blasts, and they will modify moving eastward. This will allow for likely at least 2-3 one week periods in the Middle Atlantic this winter for very cold weather and near record lows at times. It is often common in La Nina patterns to receive this cold blasts behind storm systems that track through the Ohio Valley. But in general warmer patterns will prevail between the colder outbreaks. I am taking a variable storm track forecast this year with no preferred location. The pattern will be hostile and active with great temperature contrasts. Yes there will also be a dominate southeast ridge. The strength of this southeast ridging will determine the snowfall placements northwest of the low pressures along the east coast. I also believe it is possible to see a dramatic upswing in snowfall totals from the Mason-Dixon line on northward with dramatically lower totals to the south. For more information see winter of 2000-2001. The threat of several mix precipitation and ice storms remains higher than normal this year and will likely be featured several times this winter under cold air damming scenarios. All in all a general La Nina winter is likely courtesy of the anomalous strength already this early in the Fall. But important to note is the NAO and easterly placement of the SST deviations. This may allow the winter not too be a total disaster for many areas. For those expecting a record breaking winter, it is not likely for areas in the Middle Atlantic. New England may do fairly well, especially in northern portions which escaped the brunt of last winter. As always I will be busy posting away throughout the entire winter. My college application process is just about done, so I will finally begin to have some more free time just in time for my favorite weather season. Keep in mind out of my three winter outlooks, this one has the lowest confidence levels. So far the other three turned out well, so we shall see. As usual a verification blog will be posted at the end of the meteorological winter in February.

"Here north of Harrisburg 2010 statistics"
(Severe Weather Stats...)
Severe Thunderstorm Watches- 12
Severe Thunderstorm Warnings- 10
Tornado Watches- 2
Tornado Warnings- 1
Total Thunderstorms- 18

(Precipitation Stats...)
Flood Watches- 4
Flood Warnings- 4
Monthly Precipitation- 3.10inches
Yearly Precipitation- 29.64inches

(Temperature Stats...)
Heat Advisories- 5
Excessive Heat Watches- 1
Excessive Heat Warnings- 1
90degree days- 38
Highest Temperature 101F (x2)

For the final section, I thought it would be interesting to post some archived maps of the four major nor'easters of our last winter from Penn State Meteo. EWall...
December 19, 2009...



February 6, 2010...



February 10, 2010...



February 26, 2010...



And finally time for the newly annual frost/freeze game! I will keep track of everyone's guess and post them on the blog. Then as each freeze event occurs we will look at who is the closest. When making your prediction please post the city and forecast date for the, at or below 32degree reading. Here are the following Middle Atlantic cities to make your predictions...

KTHV (York-Thomasville, PA)...
Tazmanian- October 7
Blizzard92- October 11
Wunderstorm87- October 15
TheRaspberryPatch - October 17

KMDT (Harrisburg-Middletown, PA)...
Tazmanian- October 7
Blizzard92- October 13
TheRaspberryPatch - October 16
Wunderstorm87- October 18

KBFD (Bradford, PA)...
Blizzard92- September 20
Wunderstorm87- September 27
TheRaspberryPatch - October 1
Tazmanian- October 12th

KPIT (Pittsburgh, PA)...
Blizzard92- September 21
Wunderstorm87- October 1
TheRaspberryPatch - October 3
Tazmanian- October 10th

KPHL (Philadelphia, PA)...
TheRaspberryPatch - October 22
Blizzard92- October 30
Wunderstorm87- November 4
Tazmanian- November 5th

KIAD (Dulles International-Washington, DC)...
TheRaspberryPatch - October 17
Blizzard92- November 1
Wunderstorm87- November 5
Tazmanian- November 5th

KHGR (Hagerstown, MD)...
Blizzard92- October 9
TheRaspberryPatch - October 11
Wunderstorm87- October 15

KBWI (Baltimore, MD)...
TheRaspberryPatch- October 17
Wunderstorm87- October 23
Blizzard92- October 25
Tazmanian- Oct 26th

KILG (Wilmington, DE)...
weathergeek5- October 22
Tazmanian- October 25th
TheRaspberryPatch - October 28
Blizzard92- October 30
Wunderstorm87- November 5

KSBY (Salisbury, MD)...
TheRaspberryPatch - November 4
Blizzard92- November 12
Tazmanian- November 12th
Wunderstorm87- November 23

KHGR (Hagerstown, MD)...
Blizzard92- October 9
TheRaspberryPatch - October 11
Wunderstorm87- October 15
Tazmanian- October 17th

"National Radar"


(Courtesy of NOAA)
The views of the author are his/her own and do not necessarily represent the position of The Weather Company or its parent, IBM.
Reader Comments
The Northeast Weather Blog...
Previous Entries for 2017