Hot and humid weather continues...
Upper level ridging continues across the eastern half of the nation as anomalous westerly 850hPa temperatures occur. This is will allow for a continued pattern with decaying cold fronts accompained by prefrontal warm southwesterly winds. Hot and humid air will return by the weeks end after midweek rainfall.

"Afternoon Thoughts" (Updated 6/14)
Good afternoon all!!! It is hard to believe my junior year has quickly come to a ceasing end. While pondering across the recess schoolyard in first grade, senior year appeared a daunting task far off on the horizon. None the less after countless new friendships, relationships, and innovative education motivations, the time has already come and approached in a matter of seconds. In an era of a crumbled economy, an importance is placed on secondary education; college is a near necessity in many peoples' opinions for success. While I am sure many of the last generation would argue success comes from hardwork and not necessarily a piece of paper (college diploma), importance is now placed on a solid educaton to guide one's ship in their future endeavors. The importance of success or just completing all of one's homework is in a majority of the youth's minds despite current cliched biases by current adults. I have been one of few fortunate enough to know from a young age what my passion is. There are thousands of people lost in a sea of abyss pondering the exact question in which I discovered an answer to years back. Therefore I have been able to base my priorities and motivations towards those endeavors and opportunities. Now as I look into future education, a critical decision arises. One could argue the benefits of any University, but in my mind I am looking for all of the benefits to allow future networking. Meteorology has a limited major field across the United States to a select few schools, especially in close proximity to my location. For years I pictured an image of myself frolicking across the grassy knoll at Penn State with a meteorology book in my hand studying under those large trees. The magnitude and size of those old trees seem smart in themselves. But as I begin to make this decision, I have second thoughts... For years I have strived to position myself with relationships with those who value the learning process. Education and knowledge never end and really only begin each day of our century long lives. To be accepted into a pretigious school such as Cornell would be my dream and strive my passion for working hard excellence. But there are thousands of kids across the nation with the same statistics as mine and many whom are much better. The separating factor is I know my where I want my future to be and I have roads to get me there. Whether or not my application points towards this ivy league school remains in question, but I suppose 70$ is worth the possibility of forever changing education and resume. But there remains the error... the personal fable... this exists for things such as the lottery. People believe "someone has to win and it could be me." In any case where ever my education turns towards, I know that the relationships and decisions I have made will only help me towards a better tomorrowland.

Also WU members, please vote in the latest poll...

"Regional Radar"


(Courtesy of NOAA)

"Regional Satellite"


(Courtesy of Penn State Meteo.)

"Regional Advisories"


(Courtesy of NOAA)

"Forecast Discussion" (Updated 6/14)
A 1020hPa high pressure will be departing over New England on Tuesday, but will still allow the northwest flow to keep generally clear skies over much of the northern Middle Atlantic. A decaying cold front will be approaching from the west in the Ohio Valley later in the day allowing for mid level and high level cirrus to overspread the region from southwest to northeast. H85 temperatures around 11-13C will keep temperatures near normal values in the 80s on Tuesday. By Tuesday night into Wednesday PWATs will be on the increase as the southwest moisture flow opens up to 1.8in precipitative waters. A weak low level jet will fuel scattered showers and isolated thunderstorms, but with the close proximity of a weak 1012hPa low pressure, stratiform rain will be the dominate threat for most areas on Wednesday. QPF ranges from .25in-.5in for most guidance with a few convective feedback problems on the GFS. The warm front will attempt to move northward on Wednesday allowing for a dirty warm sector, but it will be limited with high pressure over Newfoundland. Therefore elevated instability will dominate as clouds prevent diurnal heating maintaining LI's only around -2 and CAPE around 500j/kg. Most thunderstorm chances will be limited to along and south of interstate 76 in Pennsylvania. By Wednesday night the cold front will pass through, but cooler air will be nonexistent with H85s near 13C. Thursday will feature a northwest flow with a few orographically enhanced cumulus, but generally clear skies. Friday will feature a return to the southwest flow with increasing PWATs to near 1.5in. A few diurnal thunderstorms are also possible over the Laurel Highlands along the ridgetops. But generally most areas will be dry through Saturday night.

"Current Surface Map and Weekly History of Jet Stream Position"


(Courtesy of Weather Underground)

"Weekly Forecast" (Updated 6/14)
Tuesday- High pressure will dominate the region continuing brilliant sunshine with only a few high cirrus especially later in the day. Northwest flow will continue adding a few cumulus over the higher ridgetops in the northwestern portions of Pennsylvania. Under a northwest flow will keep temperatures near normal levels with lower humidity as dewpoints stay in the 50s and 60s. Highs will range from the mid 70s across the higher elevations to the low 80s near the Washington DC metropolitan region. Tuesday night will feature an increase in clouds as a cold front and coupled low pressure approach the region. Rainfall will move in across the region from west to east with lowering stratus. The rain shield will be generally confined to the northern portions of the region especially near northwestern Pennsylvania where up to .5in of rain is possible in a steady moderate rain. Lows will be mild generally in the upper 60s for most areas.

Wednesday- Wednesday will feature widespread stratus clouds as the cold front and low pressure approach from the west. Scattered rain showers and isolated thunderstorms will be possible most of the day especially north of the Mason-Dixon line. Most areas will receive rainfall generally ranging around .25in-.5in of rain with higher amounts courtesy of scattered elevated thunderstorms. Highs will be cooler in the low to mid 70s with a few 80s possible in the warm sector across Maryland and Delaware. In this region a few more peaks of sunshine are possible with a few scattered strong to severe thunderstorms. Damaging winds will be the dominate threat and isolated at best. Wednesday night will feature clearing skies from west to east. A few sheltered valleys may see some patchy valley fog with visibilities below 1mi later in the night. Lows will be in the low to mid 60s for most areas as drier air moves in

Thursday- High pressure will approach the region again under a northwest flow with very slightly cooler temperatures near normal values. Humidity levels will be a bit lower also with dewpoints in the low to mid 60s. Highs will range from 80F over the mountains to near 85F across the I-95 corridor with cooler air over the coastal waters courtesy of the sea breeze. Sunshine will be widespread over the region with any fog burning off by 9am. Thursday night will feature clear skies and cooler temperatures as dewpoints will be slightly lower. Radiational cooling will allow lows to drop into the mid to upper 50s for many areas.

Friday- Friday will feature a turn towards warmer and more humid air as the wind turns out of the southwest. Partly cloudy skies will dominate the region's weather with a few larger cumulus over the Laurel Highlands. A few pulse thunderstorms are possible over the ridgetops later in the day courtesy of elevation enhanced precipitation, but most all areas will be dry throughout much of the day. Any areas though that do see a thunderstorm, will be at threat to heavy rain from slow moving flash flooding. Highs will approach 90F for southern areas into Maryland/Delaware and southern Pennsylvania with mid 80s over the northcentral mouintains in Pennsylvania. Friday night will feature humid conditions with dewpoints in the upper 60s and low 70s featuring patchy fog and muggy conditions as lows drop into the upper 60s.

Saturday/Sunday- The weekend will feature hot and humid conditions with highs in the mid 80s to near 90F along with a chance of diurnal isolated thunderstorms Saturday with a more organized threat of thunderstorms towards Sunday. Sunshine will dominate the skies both days for a nice weekend outdoors despite the heat and humidity.

"Wildfire Outlook" (Updated 6/14)
Late meteorological Spring and meteorological Summer often lead towards spotty mesoscale rainfall. Essentially therefore rainfall falls generally in spotty convective events. Similar to lake effect snow, areas a few miles away may note heavy rain accumulations in excess of 1in, while another region nearby reports drizzle. For instance this month my rainfall is around an inch and a quarter, but Middletown (20min to my south) is reporting well over three inches of rain. Therefore lawns and foliage are beginning to turn brown here along the Blue Ridge. In general drought conditions are very difficult to define during the summer season unless a general absence of rain has been noted regionwide. Wildfire season is quickly coming to an end and this will be the last wildfire outlook until next Fall. All foliage is out and green, and general drought conditions are nonexistent over Pennsylvania, Maryland, and Delaware except for isolated locations. This outlook will be replaced by a quick Chesapeake Bay and Atlantic Coastline forecast section. Brushfires and forestfires were relatively limited this Spring as rainfall was generally very plentiful and there was a quick start to the green foliage season across the countryside courtesy of very warm weather. Drought conditions, fortunately, have been relatively limited during the past 5-10 years or so across Pennsylvania, Maryland, and Delaware. Yes there have been a few dry periods, but in general they have not lasted more than a few months. The most severe drought in recent memory was during the late 90s with many water conservation bans in place during this time period. Looking ahead there are not any starch signs of drought conditions approaching as wet moisture anomalies are continuosly being noted on long term climate models such as the CFS.

Here again are the fire criteria for development in Pennsylvania... Link.

Criteria for rapid initiation and spread of wildfires in PA:

1. Winds must be sustained at 15 mph (13 knots) for two hours or more, and

2. Minimum Relative Humidities (which usually occur in the afternoon) must be 30 percent or less, and

3. 10-hour Fuel Moistures must be 15 percent or less (and expected to remain there for two or more days).

"Fire Outlooks from Storm Prediction Center Days 1, 2, and 3"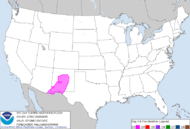 (Courtesy of NOAA)

"Gardening Outlook" (Updated 6/14)
After unusually mild weather for the last several months, gardening has been an extended season so far along with generally plentiful rainfall except for a few of us along the rainshadow region in the northern Lower Susquehanna Valley. Anyways this past weekend I finally got around to digging up my cool weather crops including the last of the lettuce, spinach, broccoli, and cauliflower. My broccoli had an absolutely terrific year with large heads that were very flavorful. My cauliflower on the other hand had a terrible year, because after each began to form a head they quickly bolted and went to seed/flower. I even tried blanching it by protecting the leaves, but had little to no success. Perhaps the unusually mild weather was a bit too much for the sensitive plants. The lettuce and spinach had another successful year, and I will be sad to see it go despite giving much away due to too much excess. My Swiss Chard and Onions remain and are still being harvested when needed. For those who have not planted Swiss Chard, it has a wonderful flavor, adds color to the garden, and grows with little to no maintenance. My celery plants continue to grow and look very healthy. The topsy-turvy strawberry plant has been producing several strawberries, which are small but have a wonderful flavor. In general I will consider the planter a success. My other experimentation planters are doing wonderful, the potato barrels. My potato plants are growing at such an incredible rate and are now showing white flowers. I am quite pleased, but I guess the true test will come during harvest later in the year. My blueberry plants are doing well, and I finally found some cheese cloth for bird protection this summer to hopefully salvage the berry harvest. Yesterday I finally planted my tomato plants, cucumbers, zucchini, and peppers. Yes I know I am a bit late, but better late than never. I planted Early Girl, Roma, and Cherry tomato plants and Big Bertha Pepper Plants. My watermelon plants are not growing too much this year, unlike last year, but still I guess it is too early to tell if they will be successful. Last year I picked the melons too early and it never ripened so if anyone has any methods to tell when to pick a melon, feel free to mention them below. I also picked all of my sugar snap peas and then planted yellow wax beans in their location. I find yellow beans have a 100% better flavor than their sister green beans.

Looking ahead at this week, widespread rainfall and convective chances exist around the Wednesday time period in whic most locations will receive around .25in+ of rain, but hot and dry weather resumes for the weeks end before the next cold front approach in the Sunday time frame. Watering needs will be likely early in the week and late in the week as the hot weather will continue to beat on the soil as we enter the time of year with the strongest solar radiation. Happy Gardening!!!

"Soil Moisture Anomalies and 5-day Precipitation Amounts from Hydro Prediction Center"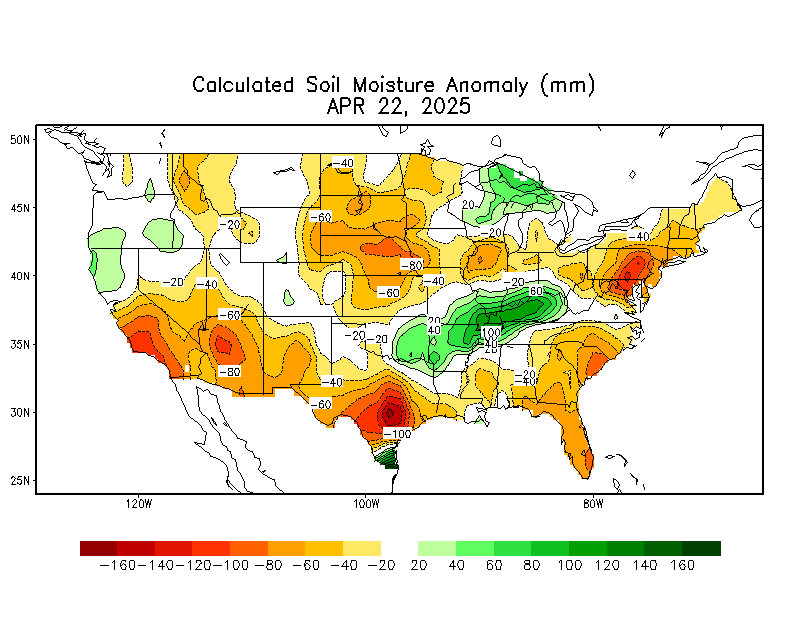 (Courtesy of NOAA)

"Severe Weather Outlook" (Updated 6/14)
Severe weather chances remain limited to one potential this week during the Wednesday time frame. A cold front will be approaching from the west as the surface low tracks across the Ohio Valley. A warm front will attempt to move northward over Maryland and Pennsylvania, but will make little progress with high pressure departing off of Newfoundland. PWATs will increase Tuesday night with widespread stratiform rain trailing over northern Pennsylvania with widespread cloud cover south to the Mason-Dixon line. As the cold front closes in the warm sector will generally be limited to the Maryland-Delaware region, but even there dense stratus clouds may keep a cap on activity. At this point the GFS generates meager CAPE around 1000j/kg or below in this period, and most of the instability remains elevated. But if the warm front can progress a bit farther north, this will push the stratiform rains farther north into upstate New York. This will be something to watch. In any case the severe weather potential during this time period remains below 15% and generally confined to south of the Pennsylvania-Maryland border. Winds aloft remain around 30knots 0-6km shear levels, so nothing impressive, but still relatively strong. Later in the week diurnal convective chances increase as the flow turns out of the southwest with increasing heat and humidity. Daily CAPE levels will reach 2000j/kg, but with a lack of an organized trigger, most pulse thunderstorms wil be limited to orographically enhanced locations. The Laurel Highlands will be favored in this time frame with the highest threat featuring heavy rain and flash flooding. But still a wet downburst could produce a damaging wind gust or two. By the end of the upcoming weekend, it appears another cold front approaches the region with again the potential of stronger thunderstorms. All in all though this week, severe weather and general convective chances will be limited.

"Severe Weather Outlooks from Storm Prediction Center Days 1, 2, and 3"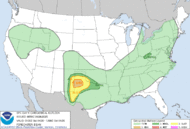 (Courtesy of NOAA)

"Monthly Outlook" (June)
As noted by many, since about March temperatures across much of the region east of the Mississippi have maintained well above normal values. In fact some areas have seen some of the warmest Aprils on record for major metropolitan regions. And looking ahead there does not appear to be any major pattern changes. In fact the ECWMF and GFS consistently point to a very warm weather regime across the eastern seaboard in the 15 day time frame. H85 anomalies are well above normal values in this range with increasing upper level ridging over the region with a possible favorable Bermuda high development. The 5/16/10 6z GFS is now printing out its first 90 degree 2m values for KMDT in the end of the two week time frame as H85s rise above 14C. There have also been some interesting ENSO developments, which pose a lot of questions for long term weather predictions. Recent cool SST upwellings have developed across the western and eastern Pacific with very few positive anomalies. It is safe to note the strong El Nino has finally come to a cease. Northern Pacific SSTs in fact have surged well below normal anomalies therefore defining a strongly negative PDO. All Nino regions have now surged below +.5C now with neutral values. All tropical Pacific SSTs are nearly near negative values with already an evident ongoing easterly wind anomaly. So yes I am signaling a possible, dreaded La Nina. I must say I am a bit surprised, but not surprised at this development. Since about mid March, it was evident the higher positive SST anomalies were beginning to fall, but they have been falling at an incredible rate in fact. Several global ENSO models noted this development back in the winter signaling a strong La Nina, but many dismissed this as too extreme. While at this point forecasting a moderate or strong La Nina would be pointless, it is critical to note that this may be a slight possibility down the road. This tumultuous period across the tropical Pacific is definitely unusual going from a record La Nina to a very strong El Nino (strongest since 1998), and a radical switch to a La Nina. At this point I am going conservative with my Nina prediction until I see further evidence. This will be something critical to watch for next winter. In any case what does this all mean for June...

Temperature- I am going to go with normal to slightly above normal temperatures. I do think after these well above normal positive temperature anomalies, we will relax for a period again using my own little balance of equilibrium theory. Still though with very little cool air in Canada, I see nothing that would lend itself in the cooler than normal department. Positive anomalies will probably range from (+0.3)-(+0.9)F. We will likely see at least one heat wave (period of 3+ 90F high temperature days in a row). But also some cooler weather is likely as noted by external global wavelengths. General global forecast models are hinting at normal temperature anomalies, but generally speaking they have been running a bit too cool recently.

Precipitation- For precipitation MJO patterns indicates normal to above normal precipitation with several rainy periods likely in June. These rainy period will likely be in correspondence with the cooler than normal temperature periods. Rainfall anomalies will likely range from (+0.25")-(+0.75"). Isolated convection will cause localized areas to receive lower than normal values and higher than normal values depending on geographic placement. Several severe weather outbreaks are likely and I actually think the frequency of severe weather days will be higher than normal across the entire Middle Atlantic region. We have already noted several impressive and unusual convection days this 2010 season.

"Temperature and Precipitation Outlooks from Climate Prediction Center for next 30 days"


(Courtesy of NOAA)

"Learning Corner" (Updated 6/14)
As tropical season kicks off with an invest in the central Atlantic, effects often are also felt along the Middle Atlantic coast at some point during the tropical season. To review some of the forecasting techniques for inland tropical storm effects, it is critical to note the importance of possible PRE events...

Predecessor Rain Events (PRE) situations occur around 500-700 miles in three possible locations ahead of a tropical system. Either in the left quadrant from the storm, the right quadrant, or directly ahead of the storm. Typical regions of concerns are in the front entrance of an upper level trough which for this situation puts the area mentioned above in the highest threat. The mesoscale event is difficult to predict for placement and timing, but most times produce some localized every heavy rainfall with even mesoscale rainfall totals occurring in isolated locations. Several of these events have produced over 6inches in an isolated favorable orographic lift location. The moisture is fed by a strong low level jet ahead of a tropical system allowing moisture to stream up the right side of the upper level trough. These events occur in a narrow corridor of heavy rainfall that trains over the same location. Most recently tropical storm Hanna back in September 2008 produced this in nearly the same location as the forecast event in this situation. Up to 4inches of rainfall fell in eastern Pennsylvania.

It is always importance to note the importance of a low level jet influence in correlation with an anomalous plume of gulf moisture +2SD. PWATs typically must reign around or above 2in. Many times these areas of heavy rain are picked up on local high resolution models such as the 4km WRF, but often on the lower resolution, such as the GFS, these are typically just included as areas of 1in stratiform rain areas. It is equally important to note QPF charts, 750mb, and 500mb charts to note the trough axis position and low level jet influences. These PRE areas have been noted in the past to produce copious amounts of rain even before the main synoptic rainfall. These also occur in highly sheared environments therefore enhancing the potential for elevated convection including isolated severe weather. These PRE events tend to stay stationary for about a 12hr period with embedded thunderstorms and isolated severe weather. Remember the tornado that occurred in Allentown during the PRE from Tropical Storm Hanna, and how there was no warning given.

An example of a PRE NEXRAD radar image would be Hurricane Rita and the heavy rain plumes located north of the center of circulation...


(Courtesy of Albany EDU)

For more information visit this site... Link.

"Here north of Harrisburg 2010 statistics"
(Severe Weather Stats...)
Severe Thunderstorm Watches- 5
Severe Thunderstorm Warnings- 5
Tornado Watches- 1
Tornado Warnings- 0
Total Thunderstorms- 9

(Precipitation Stats...)
Flood Watches- 3
Flood Warnings- 1
Monthly Precipitation- 2.42inches
Yearly Precipitation- 16.64inches

(Temperature Stats...)
Heat Advisories- 0
Excessive Heat Warnings- 0
90degree days- 7
The views of the author are his/her own and do not necessarily represent the position of The Weather Company or its parent, IBM.
Reader Comments
Comments will take a few seconds to appear.
The Northeast Weather Blog...
Recent Posts
Local Weather
59 °F

Overcast
Previous Entries for 2017
Personal Weather Stations