Synoptic rain chances...
A relatively benign weather week looks to be in store for the Northern Middle Atlantic with a wet period from Monday night through Wednesday accompanied by cooler than normal temperatures, followed by sunshine and warm weather towards the week's end.

"Afternoon Thoughts" (Updated 5/16)
Pardon my extensive tardiness in the blog department; these past few months have been anything but calm, cool, and collective. As I approach the end to my junior year, I am reaching the critical point as far as to the options of higher education. Just a few days ago, I traveled with my Physics class to celebrate Physic's Day at Hershey Park in which we have a fun-filled day accompanied by a lab at the park. While walking around I felt an overwhelming feeling of the amazing options the scientific field offers towards one's future. The kids taking physics are motivated enough not to be the ones causing problems at school. I feel as my high school years soon come to a ceasing abrupt end that I have very few regrets and I worked nearly to my full capacity. The prospects of beginning my career in the sciences excite me towards the future for my education and lifestyle. There are millions of people across the United States who are in complete dissatisfaction with their job/career. While that is not to say I will always be completely pleased with my job, I am excited to be headed in a profession that exults my passion since my youngest years of my childhood. In a growing field with the latest technologies and concerns over climate change, meteorology is a fast paced subject region that will leave monumental impacts and research on the environment to better understand the complexities of nature. I do not think I have ever doubted my career path in the past few years, because as to find a passion at such a young age is a great blessing in itself. The opportunities that have presented themselves to me have been to the highest regard and in the best fortune. While three quarters of my class of nearly 500 sit and ponder, I know the sails of ship are headed into a fast paced and exciting career path into my greatest passion that I will work at all my will to reach... By the way please vote in the new wunderpoll on the right…

"Regional Radar"


(Courtesy of NOAA)

"Regional Satellite"


(Courtesy of Penn State Meteo.)

"Regional Advisories"


(Courtesy of NOAA)

"Forecast Discussion" (Updated 5/16)
A weak 1015mb banana high complex will be pushing off to the northeast as an influx of moisture is approaching from the Gulf of Mexico Sunday night. PWATs will be on the increase, but a relatively dry air mass will allow for the rain to make a slow progression northward. 2m GFS dew points stay in the upper 40s through about 6z Monday. GFS/NAM correspondence attempts to move rain into southwestern Maryland and southwestern Pennsylvania by midday Monday, but based on the dry boundary layer, that is probably too early. As the weak double barrel lows progress northeastward with a new primary low forming along the coast, precipitation will expand over the southern portions of the northern Middle Atlantic. Increasing isentropic lift and PWATs rising to near 1.5in will allow for a moderate to heavy stratiform rain especially south of the Mason-Dixon Line. Recent high resolution model guidance such as the HIRES-NMM indicate high pressure holding ground over northern New England, allowing for the heaviest precipitation to stay in Delaware and Maryland with little to no rainfall along and north of interstate 80. Finally by 12z Tuesday, rainfall will lift northward over the region as the low pressure off the coast strengthens slightly near 1008hPa. QPF ranges greatly on latest guidance with the NAM quite wet featuring well over 1in for the entire northern Middle Atlantic with closer to 1.5in for the Delmarva region. The GFS offers a drier solution with the heavier precipitation confined to areas south of the Mason-Dixon line with QPF around 1in. Using a 40/60 compromise QPF totals for the slow moving stratiform rain from Monday late afternoon through Wednesday morning will range from 1.25in for areas south of the Mason-Dixon line to 1in QPF south of the PA turnpike and .5-.75in for areas north of there to about I-80. The rainfall will feature two waves, first being the weak overrunning rain Monday evening, followed by the weak cyclogenesis favoring heavier rain towards the coast. The farther south and east will allow for the higher QPF totals. As the synoptic rain generally ends by 6z Wednesday for all areas, sun will begin to filter across the region. An anticylonic flow will resume for the latter half of the week with a refreshing northerly breeze out of Canada with slightly above normal temperatures courtesy of some slight upper level ridging. ECMWF/GFS correspondence generally favoring increasing chances of above normal H85 temperature anomalies heading towards the weekend and next week signaling warmer temperatures. The primary concern for the forecast this week remains the strength and placement of the surface low towards Tuesday and Tuesday night. Recent 5/16/10 12utc ECMWF guidance indicates a favoring towards the NAM solution with a northwest trend in the surface low path, but questions remain looking at the unfavorable water vapor map for precipitate anomalies, I am inclined to lead towards a drier solution.

"Current Surface Map and Weekly History of Jet Stream Position"


(Courtesy of Weather Underground)

"Weekly Forecast" (Updated 5/16)
Monday- Increasing mid level stratus clouds will invade the region from the southwest as an area of weak overrunning precipitation approaches Maryland with light rain by midday. With high pressure to the north, very weak cold air damming coupled with filtered sunshine will allow for cooler than normal temperatures especially in areas that wet bulb from falling precipitation in Maryland and perhaps Delaware. To the north across Pennsylvania, widespread clouds will dominate the weather for a majority of the day with dry conditions. A few light rain showers may begin to approach the Laurel Highlands by about 1pm, but most other areas should stay dry for a majority of the day due to the dry low level air mass. The stratus layer will begin to lower by nightfall as rainfall chances and moisture anomalies increase over the entire northern Middle Atlantic. Daytime rainfall amounts will generally be confined to Maryland across the southern and western portions of the state with generally .1-.35in with a few higher amounts. High temperatures will generally be blanket in the low to mid 60s regionwide with a few upper 50s over the Laurel Highlands and Garret County, Maryland. Monday night will feature lowering cloud ceilings to around 1000ft with IFR conditions in connection with low visibilities as rainfall increases. The stratiform rain will allow for a steady moderate rain over the entire three state region with amounts overnight generally around .5in for Maryland/Delaware and .25-.5in for Pennsylvania with lesser amounts north of I-80. Lows will generally be in the 50s regionwide with a few 40s for elevations above 1800ft.

Tuesday- The coastal low pressure will be gathering strength off of Cape May spreading a widespread rain shield over the region with lower probabilities for western areas. Widespread low stratus will maintain low ceilings around 800ft with dense fog on the ridgetops. This will also cause filtered sunshine therefore keeping a low diurnal temperature swing with blanket highs generally below 60F for the entire region. It looks to be a chilly, rain day simply put for the entire Pennsylvania, Maryland, and Delaware region. Rainfall amounts will generally be around .25-.5in during the day with higher amounts for areas in the east closer to the onshore/upslope flow. Tuesday night will feature decreasing rain showers from west to east as the low departs slowly to the north and east. Additional rainfall amounts should generally be less than a tenth of an inch. Lows will generally be in the lower 50s for all areas with a few mid 40s for the northwestern portions of Pennsylvania where clearing may take place late.

Wednesday- A bit of leftover moisture east of the Alleghany Plateau will allow for drizzle and low stratus for the first half of the morning, but skies will attempt to clear from west to east during the late afternoon as a northerly flow resumes. Highs will remain slightly below normal ranging from the lower to upper 60s. Little to no additional rainfall accumulation is expected. Wednesday night will feature breezy conditions as things continue to dry out. Lows will range over the region from the lower 40s to the lower 50s. Skies will be partly to mostly cloudy overnight.

Thursday/Friday- Thursday and Friday will feature similar weather with widespread sunshine under high pressure and a northerly flow. Highs will be slightly above normal in the mid to upper 70s over most regions and possibly touching 80 near the Washington DC metro region. Both nights will feature radiational cooling under clear skies and calm winds, but higher dew points will prohibit frost even across the deep mountain valleys. Lows will range from the lower 40s to the lower 50s. Towards the weekend, guidance remains questionable as the GFS advertises a stalled frontal boundary with a plethora of moisture and stormy conditions. But this is a low confidence development at this point and remains highly questionable. Stay tuned though as the weekend get be a bit rainy depending on the moisture axis placement of the jet stream.

"Wildfire Outlook" (Updated 5/16)
Due to abnormally strong winds this Spring from the anomalous northwest flow, forest fires have actually been somewhat of a problem this year across the northern Middle Atlantic, particularly in northern Pennsylvania. The NWS drought monitor continues to indicate abnormally dry conditions across northwestern portions of Pennsylvania, where water tables are low from a lack of snow in late winter and from recent low and spotty rainfall. In this region several smaller brushfires have been reported in the past two weeks with many red flag warnings and forest fire watches having been posted. This week appears to feature a forest fire threat towards the second half of the week as a dry, anticyclonic flow forms around the departing low pressure from earlier in the week. Winds will gust to about 25mph with low 2m dewpoint values. But in general these factors will only barely meet guidelines for fire criteria development in the northern Middle Atlantic, so generally this does not appear to be a major factor in the end of the week for outdoor plans. In most cases this just advises to use a bit more caution when outdoors and in the use of open outdoor flames. In most areas of the region foliage is already out and generally full due to early warmer weather. A few areas across the Laurel Highlands, which received 1-3in of snow last week above 1750ft, have limited bare trees, but most areas are green. Across the entire United States this week's forest fire threat looks to be contained to the four corners of the nation region and across western Texas where abnormally dry weather accompanied by gusty winds will allow for higher than normal fuel values. Fortunately, across the northern Middle Atlantic if using caution when outdoors, almost all fires can be prevented in this region.

Here again are the fire criteria for development in Pennsylvania... Link.

Criteria for rapid initiation and spread of wildfires in PA:

1. Winds must be sustained at 15 mph (13 knots) for two hours or more, and

2. Minimum Relative Humidities (which usually occur in the afternoon) must be 30 percent or less, and

3. 10-hour Fuel Moistures must be 15 percent or less (and expected to remain there for two or more days).

"Fire Outlooks from Storm Prediction Center Days 1, 2, and 3"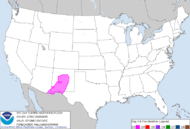 (Courtesy of NOAA)

"Gardening Outlook" (Updated 5/16)
With extremely unusual warm weather to start Spring 2010, the gardening season got started a bit early this year. For the week ahead rainfall looks plentiful for the first half of the week with northern Pennsylvania receiving about .25in QPF, southern half of Pennsylvania receiving about .5-.75in QPF, and Maryland/Delaware receiving about 1in QPF. After Wednesday drier weather and sunshine will resume with watering needs likely again by Friday evening. For agricultural purposes, frost threats remain limited for the entire northern Middle Atlantic this week. Sunday night/Monday morning is the only day that may feature a bit of patchy frost in the north central Pennsylvanian Mountains up near Elk County up through Bradford. But still lows will be in the upper 30s in this region, so frost will be isolated. Elsewhere for most locales outside of the high Appalachians, lows will range from about 45-55F for most of the week with high temperatures generally above 60F.

So far this has been quite an interesting gardening year. Perennials have done about as terribly as I have seen with very few lilac blooms, terrible tulips, horrible daffodils, and worthless lily of the valleys. Also many other earlier blooming perennials including the azalea have also done poorly. I do believe this all relates back to the unusually warm weather we have had this Spring, as it was one of the earliest tree foliage green-outs we have seen in decades. Nature has an atomic clock, then when touched will cause a few detrimental problems. I have been busy planting away at my annuals now replacing my cool-weather annuals such as pansies with warmer weather flowers. I am trying a few new things this year, so we will see how they go.

My vegetable garden is doing very well this year with some experimentation ongoing. I used full crop-rotation this year to prevent all disease or infestation, which so far is allowing for a bountiful harvest. My blueberry plants this year I have mulched heavily with long pine needles ensuring the acidic soil necessary for fruiting flowers. This year I am hoping to find solid cheese cloth that will prevent birds from eating all the berries come July. My topsy-turvy Strawberry plant is going wonderful, although I have noticed one inhibiting factor which is that one side of the hanging planter receives a majority of the sun, while the other is in a shaded location. Still though I have noticed several flowers form, which are ready for pollination. I have already used my early Spring fertilization comprised over 10-10-10 minerals and this year I have mulched using straw, which seems to be working well. The thought process behind this is for the straw to protect the soil from erosion and drying out, along with ensuring a slow decomposition of nutrients from the straw. My celery plants are growing larger than last year it seems perhaps due to a more favorable location thanks to crop rotation. The Spring/White/Yellow Onions are growing well and are nearly a foot and a half in length. My herbs are growing well with chives, basil, parsley, and oregano having already been planted so far. I put in my first tomato plant yesterday, which is in Early Girl and sits in a pot instead of in the typical beds with the rest of the tomato plants. The lettuce is growing wonderful with a whole box of lettuce this year in which many are forming delicious heads, although the Gourmet Bibb lettuce is already showing signs of bolting, hmmmm. The Swiss Chard is growing wonderful and luckily is not too bitter, and this year I am having much better luck with Spinach. The last two years I tried growing spinach from seed and failed miserably with it bolting each time last year immediately. This year I just bought the plants from the local flower nursery. My snow peas are doing great despite some frost damage from the other night, and they are beginning to climb the trellis. My broccoli and cauliflower are doing well and have just begun to form heads about three days ago. Unfortunately I did loose 4 of the 10 cauliflower plants to frost, but the others are doing well. I just planted yesterday two watermelon plants, so we will see how that goes this year. Last year I did get two melons off of one plant. Finally my potato barrels seem like they are going well with large sprouts about 6in tall in each potato bag. I am excited to see how well they do later this summer.

"Soil Moisture Anomalies and 5-day Precipitation Amounts from Hydro Prediction Center"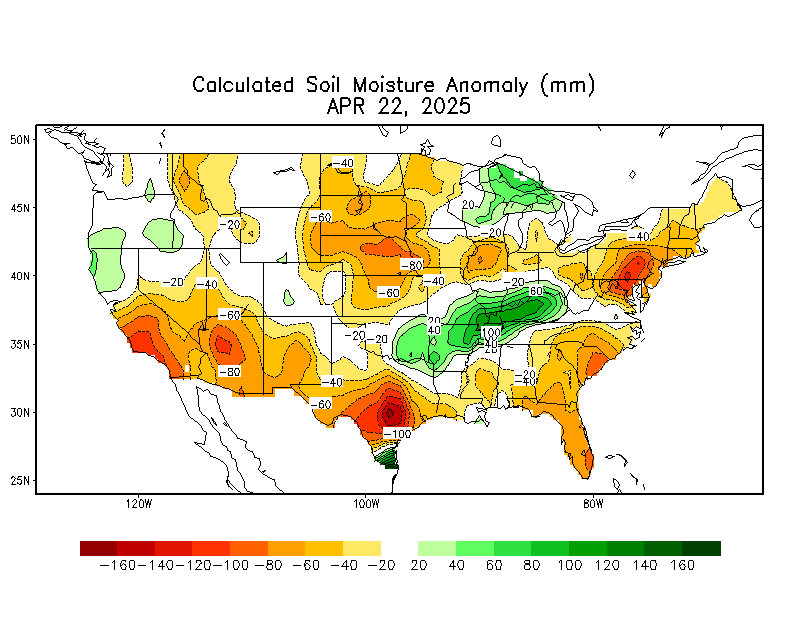 (Courtesy of NOAA)

"Severe Weather Outlook" (Updated 5/16)
Severe weather chances remain limited for the next seven days with the only threat being a stratiform rain event for the first half of the week. Limited thermodynamics will prevent most convection from forming. Most guidance indicating a benign period for the second half of the week with no cold frontal passages. To recap Friday, severe weather posed major problems across much of the southern half of Pennsylvania and into central Maryland especially in the hail department. Steep lapse rates with low freezing levels allowing for high topped echo tops to create excellent hail growth in the supercellular development. SBCAPE values rose to about 2000 j/kg with LI readings around -4, allowing for relatively excellent thermodynamics in our region. EHI values were also relatively high near about 2, courtesy of some enhanced elevated upper level rotation/helicity/wind shear. With an approaching cold front for a trigger, single celled thunderstorms formed and quickly took advantage of the excellent thresholds to form supercellular characteristics with echo tops well above 40,000ft into the stratosphere. Large overshooting anvils formed with beautiful displays of mammatus clouds near sunset. In response to these dangerous thunderstorms, a series of selective damage reports occurred along and south of the I-78/I-81 corridor with two cells in Pennsylvania creating widespread damage reports. A hail-spike cell formed and moved south across Cumberland, York, and Lancaster Counties with max DBZ near and at times over 72 decibels. Accompanied by VIL near at times 60, large hail reports occurred in the Cumberland Valley with hail at or above severe limits of a 2in diameter. Widespread damage occurred. This one cell also was warned of a tornado warning with some briefly elevated rotation, but no ground report of a tornado has been confirmed despite several funnel cloud sightings. Many areas suffered widespread hail damage. Another severe cell formed in the Lehigh Valley with several funnel cloud sightings and widespread hail, although not quite as large as the other supercell. Finally a collection of severe thunderstorms formed in central Maryland in the Delmarva and near Washington DC with widespread hail up to about 2in in diameter. All in all a very unusual day with impressive supercell storm structures very unusual and unique to the northern Middle Atlantic region. For now cleanup will resume with a quiet thunderstorm week ahead.

"Severe Weather Outlooks from Storm Prediction Center Days 1, 2, and 3"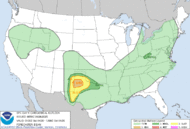 (Courtesy of NOAA)

"Monthly Outlook" (June)
As noted by many, since about March temperatures across much of the region east of the Mississippi have maintained well above normal values. In fact some areas have seen some of the warmest Aprils on record for major metropolitan regions. And looking ahead there does not appear to be any major pattern changes. In fact the ECWMF and GFS consistently point to a very warm weather regime across the eastern seaboard in the 15 day time frame. H85 anomalies are well above normal values in this range with increasing upper level ridging over the region with a possible favorable Bermuda high development. The 5/16/10 6z GFS is now printing out its first 90 degree 2m values for KMDT in the end of the two week time frame as H85s rise above 14C. There have also been some interesting ENSO developments, which pose a lot of questions for long term weather predictions. Recent cool SST upwellings have developed across the western and eastern Pacific with very few positive anomalies. It is safe to note the strong El Nino has finally come to a cease. Northern Pacific SSTs in fact have surged well below normal anomalies therefore defining a strongly negative PDO. All Nino regions have now surged below +.5C now with neutral values. All tropical Pacific SSTs are nearly near negative values with already an evident ongoing easterly wind anomaly. So yes I am signaling a possible, dreaded La Nina. I must say I am a bit surprised, but not surprised at this development. Since about mid March, it was evident the higher positive SST anomalies were beginning to fall, but they have been falling at an incredible rate in fact. Several global ENSO models noted this development back in the winter signaling a strong La Nina, but many dismissed this as too extreme. While at this point forecasting a moderate or strong La Nina would be pointless, it is critical to note that this may be a slight possibility down the road. This tumultuous period across the tropical Pacific is definitely unusual going from a record La Nina to a very strong El Nino (strongest since 1998), and a radical switch to a La Nina. At this point I am going conservative with my Nina prediction until I see further evidence. This will be something critical to watch for next winter. In any case what does this all mean for June...

Temperature- I am going to go with normal to slightly above normal temperatures. I do think after these well above normal positive temperature anomalies, we will relax for a period again using my own little balance of equilibrium theory. Still though with very little cool air in Canada, I see nothing that would lend itself in the cooler than normal department. Positive anomalies will probably range from (+0.3)-(+0.9)F. We will likely see at least one heat wave (period of 3+ 90F high temperature days in a row). But also some cooler weather is likely as noted by external global wavelengths. General global forecast models are hinting at normal temperature anomalies, but generally speaking they have been running a bit too cool recently.

Precipitation- For precipitation MJO patterns indicates normal to above normal precipitation with several rainy periods likely in June. These rainy period will likely be in correspondence with the cooler than normal temperature periods. Rainfall anomalies will likely range from (+0.25")-(+0.75"). Isolated convection will cause localized areas to receive lower than normal values and higher than normal values depending on geographic placement. Several severe weather outbreaks are likely and I actually think the frequency of severe weather days will be higher than normal across the entire Middle Atlantic region. We have already noted several impressive and unusual convection days this 2010 season.

"Temperature and Precipitation Outlooks from Climate Prediction Center for next 30 days"


(Courtesy of NOAA)

"Learning Corner" (Updated 5/16)
Doppler radar is a critical source of modern weather technology, and continues to play a dire role in developing the latest technology to accurately predict severe weather. The science of radar is extensive enough to prove entire series of books and college courses. Essentially radar sends out impulses of radio waves in a high frequency. Particles in the air including insects, precipitation, geographic landforms, dust, smoke, etc then reflect some of the impulse waves. Computer programmed algorithms then calculate the intensity of the precipitation dependent on the scattering of reflected waves as they contact particles in the air such as precipitation. The scale known as DBZ (decibel) then measures the intensity of the scattering of waves known as reflectivity. The higher the DBZ, the greater intensity of the precipitation.

Velocity is calculated by other computer algorithms such as the time it took for the return impulses of the radio waves back to the radar and the shift in frequency of the waves.

The Doppler Effect was developed by Christian Doppler, and this is quite evident near trains for instance. As the train approaches a stationary observer, the sound waves are compressed, therefore a higher frequency, therefore a higher pitch. As the train passes the sound waves are stretched with a lower frequency and lower pitch. Therefore the Doppler radar can detect the changes in frequency of reflected waves detailing the vector velocity, which consists of direction and speed. These latest velocity calculations have become a critical point in the detection of severe weather such as tornadogenesis.

Now that we know that how the Doppler radar works to calculate precipitation and wind velocity aloft, it is critical to note several types of specifications the radar uses. For precipitation measurements, typically the angle beam that sends the impulses is placed at an angle of .5 meaning the angle is tilted .5 above the horizon. Using higher angles allows for the availability to note storm structure at higher altitudes including how well developed a storm may be. These are used on the base reflectivity radar. The composite option using the NWS WSR-88D indicates the maximum potential echo intensity; this helps to note storm intensity and growth/development of thunderstorm cells. To calculate wind velocity the base or storm relative velocity maps work interchangeably with precipitation/wind moving towards the radar containing negative values designating a green color and precipitation/wind moving away from the radar designating positive values, which is a red color. Noting couplets of close proximity red/green colors in thunderstorms, is critical to note rotation in the lower and upper levels of the atmosphere. Using the different offered angles such as .5 and 1.45 degrees helps to note how well defined the rotation is.

Another important option used by WSR-88D NEXRAD radar is the clear air option mode. This is frequently used in winter to detect light snow. This option allows for a higher sensitivity, which can detect light precipitation forming at very low altitudes such as drizzle, snizzle, and/or flurries/light snow. It is quite evident when the radar map is in clear air mode, as the DBZ chart is lowered to smaller values +-.

Finally ground clutter is important to note as an issue with current radar. Within 25mi of many Doppler radar locations, many of the beams maintain lower altitudes as they raise the .5 degree angle therefore coming in contact with mountains, buildings, etc and report them back as echoes. They typically have very low dbz values and are especially evident on clear sunny days. Also at times other particles in the air may be noted on radar such as bats, birds, dust, smoke, insects, aircraft, etc.

Radar technology continues to grow in development as research continues in the realms of 3D technology and the new high definition Terminal Doppler Weather Radar (TDWR), which is slowly taking shape across the United States to define higher sensitivity and resolution. In all this was a quick summarization of radar technology with credit given in some areas of information to the NWS. For more information a great textbook is offered by AMS publications, "Radar in Meteorology: Battan Memorial and 40th Anniversary Radar Meteorology Conference" but a basis in physics and calculus is greatly encouraged.

"Here north of Harrisburg 2010 statistics"
(Severe Weather Stats...)
Severe Thunderstorm Watches- 4
Severe Thunderstorm Warnings- 3
Tornado Watches- 1
Tornado Warnings- 0
Total Thunderstorms- 7

(Precipitation Stats...)
Flood Watches- 3
Flood Warnings- 1
Monthly Precipitation- 1.39inches
Yearly Precipitation- 15.61inches

(Temperature Stats...)
Heat Advisories- 0
Excessive Heat Warnings- 0
90degree days- 3
The views of the author are his/her own and do not necessarily represent the position of The Weather Company or its parent, IBM.
Reader Comments
The Northeast Weather Blog...
Previous Entries for 2017