Predecessor Rain/Severe Thunderstorm Event (PRE)...
"Initial Thoughts on August 20-22 Severe Weather/Flooding Event"
Good afternoon!!! This blog is a special case study of the upcoming severe weather and potential flooding event from an approaching upper level trough and effects from a possible Predecessor Rain Event (PRE) across eastern areas of the Middle Atlantic. A regular weekly weather forecast blog will be issued Sunday afternoon. Then the weekend after this coming one, we will take a look back at the Summer including my forecast. And finally Labor Day weekend my Winter Outlook 2009-2010 will be issued. So a lot of exciting weather things are coming up in the next two weeks here on the blogs. Again a special thank you to all of my support on Wunderground as each and every comment posted I fully appreciate which helps to make all these blogs possible. Thanks again! Anyways on with the blog... We all know that this Summer has been unusually wet and cool for a majority of the three months. But just within the past two days several prolonged periods of thunderstorms occurred in the afternoon particularly over the south-central region in the Lower Susquehanna Valley. But also northern areas including the northern Poconos also saw heavy rain. Anomalous tropical moisture moved over the region along with a stalled frontal boundary over the state of Pennsylvania. Thunderstorms developed with a few becoming severe as moderate westerly winds aloft allowed for some of the stronger winds to mix down to the surface. But with the slow approaching front eventually washing out as a warm front over the region, the trajectory speed of the storms allowed a slow progression. This caused flash flooding conditions for many counties over southern and extreme northern Pennsylvania. Maryland and Delaware for the most part escaped the brunt of the training thunderstorms. Some areas particularly in the Cumberland Gap in Pennsylvania have seen nearly 4-5inches of rain in the last 48hours. Any rainfall to occur in the coming days would only spark increased flooding potential.

"Forecast Discussion Thursday"
An occluded front over northern Maryland has moved northward overnight as a warm front over Pennsylvania and now is situated around the Mercer-Du Bois-Mansfield-Scranton corridor currently at 12pm. This boundary will continue to slowly lift northward. Meanwhile a slow moving cold front is approaching the region ahead of an amplifying, elongated trough axis. Infrared water vapor loop indicates a shortwave advancing northeast over the northern Middle Atlantic by afternoon sparking scattered showers and thunderstorms Thursday afternoon with QPF approaching 1inch in some locales. Morning low stratus has prevented destabilization in areas east of the Susquehanna River, but breaks in the clouds are evident on visible satellite imagery. Lifted indices will be approaching -5 for southern Pennsylvania by afternoon with the thermodynamic field become highly unstable with MU and SB CAPE levels approaching 2000 j/kg for southern Pennsylvania and northern Maryland/Delaware. But a 1000mb surface low located over the Great Lakes will keep deep shear values located for western portions of the Middle Atlantic displaced from the highest instability. The highest threat of severe weather Thursday remains over southwestern Pennsylvania and extreme Western Maryland where 0-6km shear values are approaching 40knots+. But thunderstorms will be region wide thanks to the approaching shortwave. Deep layer 700mb moisture levels indicate high RH values with surface dewpoints steady in the mid to upper 70s for areas south of I-80. Also with the heating of the boundary layer, temperatures will rise in the upper 80s in many areas especially towards Maryland and Delaware with potentially southern Pennsylvania. PWATs are near 2inches, which are several deviations above normal. Storm trajectory looks to be southwest to northwest thanks to the approaching wave trough. Possible low level rotation is also a threat today for areas in the Lower Susquehanna Valley as easterly winds blew in a marine layer with a stratus deck eroding to the west in the Lehigh Valley. Meanwhile ahead of the trough, the generally trajectory remains with a southwest wind aloft. With veering wind profiles EHI values will jump up to values near 2 m2/s2 over the valley. Any high topped thunderstorm over 20,000ft will be able to pose some rotation threats in the afternoon. Damaging winds though do remain the primary threat as freezing levels aloft are above 15000ft thanks to warm 850s near 16C. My axis of concern appears to be in western Pennsylvania with bowing segments and wind damage as primary threats, but also the Lower Susquehanna Valley into northern Maryland and extreme northern Delaware thanks to veering wind profiles with damaging winds a threat also. Instability will also be highest in this region by late afternoon around 4pm. Flooding is a slight concern this afternoon as deep tropical moisture remains concentrated over the Middle Atlantic. General model consensus is with .25-.75inch QPF with higher end totals indicating convective totals. The best chance of flooding would be over the south central mountains and the northeast mountains over Pennsylvania. With loss of daytime heating, diurnal convection will wane by 10pm with the exception of western Pennsylvania as they will be closer to the better dynamics of the upper level trough. Once again a mild night is in store with lows in the 70s with fog and stratus formation overnight giving way to the most active day of the week, Friday.

"Regional Radar"


(Courtesy of NOAA)

"Regional Satellite"


(Courtesy of Penn State Meteo.)

"Regional Advisories"


(Courtesy of NOAA)

"Forecast Discussion Friday/Saturday"
Friday features an interesting day as a Predecessor Rain Event (PRE) develops over the region from northern DE/MD up through eastern Pennsylvania. PRE situations occur around 500-700 miles in three possible locations ahead of a tropical system. Either in the left quadrant from the storm, the right quadrant, or directly ahead of the storm. Typical regions of concerns are in the front entrance of an upper level trough which for this situation puts the area mentioned above in the highest threat. The mesoscale event is difficult to predict for placement and timing, but most times produce some localized every heavy rainfall with even mesoscale rainfall totals occurring in isolated locations. Several of these events have produced over 6inches in an isolated favorable orographic lift location. The moisture is fed by a strong low level jet ahead of a tropical system allowing moisture to stream up the right side of the upper level trough. These events occur in a narrow corridor of heavy rainfall that trains over the same location. Most recently tropical storm Hanna back in September 2008 produced this in nearly the same location as the forecast event in this situation. Up to 4inches of rainfall fell in eastern Pennsylvania. Taking a look at 12z guidance Thursday suggests the corridor of concern on the 700mb charts...


These PRE events tend to stay stationary for about a 12hr period with embedded thunderstorms and isolated severe weather. Remember the tornado that occurred in Allentown during the PRE from Tropical Storm Hanna, and how there was no warning given. It appears QPF from this event will likely be around 1-3.5inches with isolated higher amounts. Latest ensembles indicate a very high chance of rainfall over 1inch. There still though remain concerns over development of this rain band, but for now the corridor at highest risk has been mentioned above. Elsewhere Friday the surface low attached to the cold front will be swiftly moving up through the Great Lakes allowing deep layer bulk shear over the region particularly northern Pennsylvania. Severe weather will be possible over the region with wind damage the primary threat. See the severe weather discussion for more details. Friday night most activity will shift to eastern areas with the potential PRE situation. Activity will generally shift to New England by Saturday with the heavy rain threat. But with a cold front over eastern areas and Hurricane Bill to the east by nearly 1000 miles, thunderstorms and heavy rain showers are still possible Saturday. Generally the severe weather threat will be non-existent but flooding remains a high threat as storm motion will be by nearly 5-10mph. By Saturday evening most activity will dwindle as drier air blown in from the northwest with high pressure for Sunday.

"Current Water Vapor Loop"


(Courtesy of Penn State Meteo.)

"Rainfall Forecast"
Under this tropical regime with deep layer moisture, it is no surprise that heavy rainfall totals have been occurring across the region. Training thunderstorms are possible Thursday as storm trajectories show relatively slow storm forward momentum especially for eastern areas farther away from the strong jet dynamics. PWATs remain around 2.0-2.3inches, which is several deviations above normal. The areas of highest threat for flooding Thursday remain over the northeastern mountains of Pennsylvania particularly on the favorable upslope locations of Luzerne and Lackawanna Counties. Also Garret County, Maryland may experience heavy rainfall in the favorable upslope locations. Across southern Pennsylvania in Cumberland County up through the northern Conewago mountains in York County heavy rain may also occur causing flooding thanks to nearly 4-5inches of rain in the last 48hours. Thunderstorms will be not as organized as Friday. Friday heavy rain threats shift to eastern Pennsylvania and northern Maryland/Delaware as a potential heavy rain axis forms over the region. With tropical moisture anomalies aloft and small scale mesoscale features within the band, heavy rain is a definite threat. High resolution models indicate the potential for 1-3inches of rain over the area within a 12hr period. Flash flood guidance is generally 2-3inches over the Middle Atlantic so some flooding is probable especially over small streams and urban areas. Questions remain how far west the axis develops, but the highest threat is from the entire Susquehanna Valley on eastward. Thunderstorms will also be widespread Friday over other areas of Maryland and Pennsylvania causing isolated heavy rain. Generally the flooding risk is not for a widespread region, but more for isolated areas that get mesoscale band features capable of very heavy rainfall. I would not be surprised to hear of a 6inch rain amount in a 4-day period by the end of the week in the south-central Pennsylvania region. Stay tuned throughout the next two days for updates. Saturday will feature residual thunderstorms and rain showers some of which could be slow moving capable of heavy rain again. But overall activity will be more intermittent.

"12hr Estimated Precipitation"


(Courtesy of NOAA)

"HPC Forecast 5-day total QPF map"


(Courtesy of HPC)

QUANTITATIVE PRECIPITATION FORECAST DISCUSSION
NWS HYDROMETEOROLOGICAL PREDICTION CENTER CAMP SPRINGS MD
551 AM EDT THU AUG 20 2009
DAY 1...

...ERN U.S. TO GULF STS...
GNRLY XPCT DIURNAL CNVCTV DVLPMENT THRU THE REGION AS DEEP MSTR
AND HEATG COMBINE. SEA BREEZE CVRG WL AID WITH SOMEWHAT BETTER
ORGANIZED CNVCTN OVR THE GULF STS...WHILE THE HIER ELEVS OF THE
APPLCHNS WL SUPPORT STGR DIFF HEATG. ISOLD HVY RNFL IS PSBL...BUT
THE HIER PROBABILITIES OF HVIER RNFL WL REMAIN OVR THE GULF STS
WHERE PWS WL BE AOA TWO INCHES AND THE DEEP LYRD FLOW WL REMAIN
WEAK.

DAYS 2/3...

MS VLY/GTLKS TO MID ATLANTIC AND NORTHEAST...

THE UNSEASONABLY STRONG UPPER TROF WILL CONTINUE SLIDING EAST
THROUGH THE EASTERN THIRD OF THE COUNTRY WHILE A SFC COLD FRONT
SWEEPS EAST TOWARD THE ATLANTIC SEABOARD AND SOUTH THROUGH THE
GULF STATES. PCPN SHOULD BE ASSOCIATED WITH THE MAIN UPPER SYSTEM
IN ADDITION TO BEING FOCUSED ALONG AND IMMEDIATELY AHEAD OF THE
COLD FRONT. ABUNDANT MOISTURE SHOULD LEAD TO PLENTY OF AREAL
COVERAGE...ESPECIALLY AT TIME OF MAX HEATING...WITH LOCALLY HEAVY
AMOUNTS POSSIBLE. NCEP MODELS CAME TO MUCH BETTER AGREEMENT IN
THE 00Z SUITE...BUT THE MANUAL PROG FOCUS REMAINS ON THE 12Z ECMWF
AND BLENDED ENSEMBLES. THE 00Z ECMWF WAS A LITTLE STRONGER WITH
THE UPR TROF CORE AND DISPLACED SOUTHWARD FROM THE CONSENSUS...SO
IT WAS NOT FACTORED AS MUCH AS ITS PREVIOUS RUN. OUTSIDE OF THE
ECMWF...HINTS OF A SLOWER AND STRONGER TROF HAVE EMERGED...AND
THIS MADE AN UPWARD ADJUSTMENT TO TOTALS PRUDENT. AN AXIS OF
48-HR 1.5-3 INCHES HAS BEEN DRAWN FROM NRN MD TO WRN ME WHICH
MATCHES THE BEST COMBINATION OF MSTR FLUX AND DYNAMICAL FORCING

"Severe Weather Forecast"
The severe weather threat appears to be highest on Thursday for western Pennsylvania into the Ohio Valley. An approaching upper level trough will put the region in the right front entrance quadrant of the strong mid level jet with winds in the 0-6km range around 40knots. Unidirectional bulk shear values will also be up towards 35-40knots giving the threat of bowing segments and supercellular structures during the day Thursday over western areas. MUCAPE values will approach 1500 j/kg with lifted indices in the (-2)-(-4) range. Residual outflow boundaries exist from overnight convection which will allow for a trigger for afternoon convection particularly over Ohio and as thunderstorms move east-northeast, they will strengthen with a more favorable thermodynamic layer field over western Pennsylvania and eastern Ohio. Freezing levels aloft remain relatively high and should prevent most hail formation. But the stronger cores with echo tops near 30,000ft may be able to present some severe hail especially over southwestern Pennsylvania and extreme western Maryland. Thursday will also feature severe weather over a small portion of the western Delmarva up through the Lower Susquehanna Valley with hodographs showing largely weak, but unidirectional shear with veering wind profiles with easterly winds at the surface, but southwesterly winds aloft. EHI values will rise to near 2 m2/s2 especially over Lancaster County. Any strong convection that forms in this region will have the chance of low level rotation. Friday the main severe weather threat shifts eastward over central Maryland up through central Pennsylvania on eastward with strong unidirectional deep layer shear values over the area particularly over northern Pennsylvania. Destabilization of the atmosphere with morning heating will allow for CAPE values to rise near 2500 j/kg over parts of southern Pennsylvania, all of Maryland, and all of Delaware. Deep tropical moisture will be streaming northward fueling the storms aloft. Wind damage is the primary threat with large scale bowing segments. But isolated tornadoes are also possible over the southern Delmarva region closer to the favorable EHI values. The axis of the highest storm reports for severe weather will likely stretch from northern Maryland up through central Pennsylvania. The best kinematics remain though to our north closer to the surface low in New York State.

"Severe Weather Outlooks from Storm Prediction Center Days 1, 2, and 3"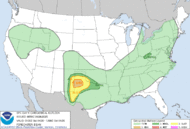 (Courtesy of NOAA)

DAY 1 CONVECTIVE OUTLOOK
NWS STORM PREDICTION CENTER NORMAN OK
1129 AM CDT THU AUG 20 2009

...CENTRAL/ERN PA AND NY THIS AFTERNOON...
A MOIST ENVIRONMENT PERSISTS ACROSS MUCH OF SRN/WRN NY AND PA TO THE
SW OF A RETREATING WARM FRONT. ASIDE FROM WRN NY/PA...MUCH OF THIS
AREA IS REMOVED TO THE EAST OF THE STRONGER DEEP LAYER
FLOW/SHEAR...AND RATHER POOR MID LEVEL LAPSE RATES WILL LIMIT THE
MAGNITUDE OF INSTABILITY. ISOLATED DAMAGING WINDS WILL BE POSSIBLE
THIS AFTERNOON WITH WARM SECTOR STORMS...BUT THE OVERALL THREAT
APPEARS TO WARRANT NO MORE THAN LOW SEVERE STORM PROBABILITIES.

DAY 2 CONVECTIVE OUTLOOK
NWS STORM PREDICTION CENTER NORMAN OK
1237 AM CDT THU AUG 20 2009

...WRN/CNTRL NY SWD INTO THE NRN MID-ATLC...
00Z GFS/12Z ECMWF SUGGEST THAT A CLUSTER OR TWO OF STORMS WILL
LIKELY BE ONGOING OVER THE OH VLY AT THE START OF THE PD...ASSOCD
WITH A MID-LVL WAVE. THIS WAVE...AND ANY CONVECTIVE
ENHANCEMENTS...WILL MOVE NNE INTO THE LWR GRTLKS REGION DURING PEAK
HEATING. RESULTANT COOLING OF THE MID-LVL TEMPERATURES AMIDST VERY
MOIST AIR MASS MAY CONTRIBUTE TO A MODEST ENHANCEMENT TO THE THERMAL
BUOYANCY DURING PEAK HEATING DOWNSTREAM ACROSS PARTS OF PA AND NY.
ASSOCD SWLY DEEP UNIDIRECTIONAL FLOW REGIME WILL BE FAVORABLE FOR
LINEAR SEGMENTS...LIKELY BACKBUILDING AND TRAINING. SOME STORMS MAY
GROW SUFFICIENTLY STRONG FOR ROBUST DOWNDRAFTS...ENHANCED BY SMALL
SCALE BOWS WITH DMGG WIND GUSTS.

FARTHER SE...THE LEE TROUGH WILL LIKELY BE THE FOCUS FOR TSTMS FROM
ERN PA SWD INTO NRN VA...THOUGH LAPSE RATES WILL BE COMPARATIVELY
LESS THAN FARTHER TO THE W. VERY MOIST BOUNDARY LAYER AND PRESENCE
OF 25 KTS OF SLY LLVL FLOW /PERHAPS SLIGHTLY BACKED INVOF THE
TROUGH/ COULD CONTRIBUTE TO ISOLD STORM ORGANIZATION WITH PERHAPS A
DMGG WIND GUST OR A BRIEF TORNADO. ALL IN ALL...HOWEVER...SVR
THREATS ACROSS THIS AREA SHOULD BE LESS THAN FARTHER TO THE NW.

"Concluding Thoughts"
Overall this is an interesting and complex event with several factors making for this potential severe weather and flood event for August 20-22. Hurricane Bill is also adding to the threat with the increase of tropical moisture some of which is actually from Claudette too. Hurricane Bill appears its only affects on the Middle Atlantic will be over the marine areas with wave heights along the Atlantic coast up to 8ft on the Delaware and Maryland shoreline. Across the Delaware and Chesapeake Bay wave heights up to 3-4ft seems more reasonable only over the wider and deeper channels. A few spillover prone areas may see a little water, but that should be all and only to occur around astronomical high tide. Rip currents are also a major threat and red flag warnings will be issued for the entire region through the weekend. The best advice is to stay out of the water. Hurricane Bill appears to track fortunately between Bermuda and the US and several hundred miles off the Cape Cod region. But with a growing expansive wind shield as Bill weakens, a few wind gusts on the outer Cape could approach 45mph. Waves will also be upwards of 15ft on the Cape. Newfoundland and Nova Scotia will feel the primary brunt of the weakening Bill as winds approach hurricane force on the coast there with heavy rain. Eventually Bill will emerge as an extratropical system as it moves northeast back over the north Atlantic shipping lanes. Luckily this powerful storm never really caused too many headaches other than some severe beach erosion over the Leeward Islands up through the east coast of the United States finally up to Canada. For now the tropics look a bit quiet after Bill, but GFS has indicated on a few runs of a new strong wave emerging and developing off the African coast. Anyways have a great day!

"Here 10mi Northeast of Harrisburg, PA 2009 Statistics"
(Severe Weather Stats...)
Severe Thunderstorm Watches- 8
Severe Thunderstorm Warnings- 9
Tornado Watches- 0
Tornado Warnings- 0
Total Thunderstorms- 33

(Precipitation Stats...)
Flood Watches- 4
Flood Warnings- 1
Monthly Precipitation- 4.35inches
Yearly Precipitation- 28.02inches

(Temperature Stats...)
Heat Advisories- 2
Excessive Heat Warnings- 0
90degree Days- 9
Highest Temperature- 95degrees

Here just northeast of Harrisburg a powerful thunderstorm moved through with impressive storm cloud structures. A severe thunderstorm warning was issued at the time. Note the low scuff clouds around the approaching shelf cloud. Also note the mountain to the west covered by a wall of rain approaching towards the camera. Definitely an interesting storm.
Here just northeast of Harrisburg a powerful thunderstorm moved through with impressive storm cloud structures. A severe thunderstorm warning was issued at the time. Note the low scuff clouds around the approaching shelf cloud. Also note the mountain to the west covered by a wall of rain approaching towards the camera. Definitely an interesting storm.
The views of the author are his/her own and do not necessarily represent the position of The Weather Company or its parent, IBM.
Reader Comments
Comments will take a few seconds to appear.
Post Your Comments
Please sign in to post comments.
Not only will you be able to leave comments on this blog, but you'll also have the ability to upload and share your photos in our Wunder Photos section.
The Northeast Weather Blog...
Recent Posts
Local Weather
41 °F

Clear
Previous Entries for 2017
Personal Weather Stations