Typical summer weather...
"Afternoon Thoughts"(Updated 8/16)
When I say meteorologist, I think of immediately the NWS. When most people say meteorologist they think of the people on television behind a green screen. It amazes me how many people really do not know what the entire science of meteorology involves and how much goes on behind the scenes with some many broad categories that expand out of meteorology. Most of the general public has no idea what or who the National Weather Service is or that generally speaking most of their local news forecasts do not have meteorology degrees and generally get their information from the National Weather Service. No, this does not apply to everyone by any means, but many weathermen on local news Televisions especially in small towns only have an AMS certificate which is not an official college degree, but it shows that the person has a general understanding of the atmosphere and the weather. It really amazes me how much the meteorology field has expanded in the last few years thanks to an increase in technological understanding, but also courtesy of the explosive popularity in the 90s of The Weather Channel. The 90s were my favorite decade for The Weather Channel especially during winter when Paul Kocin would get on issuing winter weather outlooks on potential storms, etc. Or when Dr. John Nese would forecast for the coming week. There was nothing better than Paul Kocin coming on before the Blizzard of 96 and Blizzard of 2003. But it seemed that The Weather Channel went in a decrease in popularity by pure weather enthusiasts in the recent few years, but not necessarily with the general public. With the rise of the interest in global warming and the addition of Storm Stories and other network shows, the pure idea of local weather 24/7 began to disappear almost as MTV lost touch with its initial interest to provide music videos and instead shows reality TV. But with the modern era, allows an expansive and growing network of meteorological jobs more than just what is thought of as a 70s TV weatherman in front of a magnetic board. I continue to strive to make the point aware that meteorology is an interesting field of science beyond the typical though of spectrum of a TV newsman weatherman. Still that role plays a critical part in relaying data to the public. For NOAA's goal of increasing safety from extreme weather, there seems to be a needed increase in public awareness for what the National Weather Service is and show its outreach. For now the general person still cannot deviate between a watch and a warning. Anyways just a little rant of mine this afternoon. Have a great day!

Well just an update on some special blog features coming up in the next few weeks. If you haven't noticed on the calendar the meteorological summer is coming to a close in 15 days and that means it is time to open my Summer forecast blog and create my verification. I will already say that it was a terrible outlook that overlooked the idea of the La Nina pattern hanging around despite a slowly strengthening ENSO pattern of a weak to moderate El Nino. But I did redeem myself with my monthly outlooks which have proved to be my most accurate monthly outlooks issued here on my blogs. Also my one and only winter outlook will be debuting in a short two and half weeks on Labor Day. While some may say that it is a bit premature and early posting, I like to get my thoughts out there early and ride with them as I did despite a pathetic Summer outlook for 2009. In any case my winter outlook will feature forecasts this year for the northern Middle Atlantic including Pennsylvania, Maryland, and Delaware unlike previous outlooks. A few hints about the winter outlook prove to show an exciting potential with a moderate El Nino which could feature some exciting winter potential. I am beginning to gather my data which points prospects to a snowier winter than the previous few. Of course more details will be provided in the outlook with hopefully healthy discussion. My winter weekly blog outline for each forecast week will not be out until the last week of September. For now the Summer format will exist. Well as you can see I am excited for winter and I will be around forecasting all the "potential." Anyways have a fantastic Sunday!!!

"Regional Advisories"


(Courtesy of NOAA)

"Current Weather Map"


(Courtesy of Wunderground)

"7-Day Forecast Discussion"(Pennsylvania, Maryland, Delaware)(Updated 8/16)
High pressure across the southeastern states, 1020mb, dominates the weather for Monday with clear skies and nearly calm winds. Lower dewpoints than previous nights will prevent widespread fog formation Sunday night with only isolated deep river valleys seeing 1-2mile radiation fog. By 9am any fog or low level stratus should burn off giving way to a nice day with mild temperatures. Temperatures will be above normal especially for eastern areas courtesy of downsloping winds. Highs will reach up into the 90s for most areas south of I-80 and east of the Hagerstown-State College line. Heat indices though will be lower than expected thanks to 2m dewpoints only around the mid 60s with heat indices around 93-95 for max values. A cold front lies to our west slowly moving east by Tuesday. Monday afternoon may feature some scattered cumulus and an isolated thunderstorm especially over western Maryland in Garret County as SBCAPE values rise to near 1000 j/kg. For most other areas a CAP will generally inhibit any precipitation. Monday night will feature slowly rising dewpoints back into the upper 60s with clear skies for eastern areas and a light cirrus deck for western areas ahead of the next cold front. Lows will be in the low to upper 60s depending on geographic locations with cities obviously on the warmer end of the spectrum. Tuesday the cold front will be across the Ohio Valley generally sparking thunderstorms to our west. But with a strong west-southwest flow rising dewpoints near 70degrees and increasing H85s near 17C will allow slightly unstable air to form over western Pennsylvania and Maryland. With strong westerlies near 35knots aloft a few stronger storms could form for extreme western Pennsylvania and Maryland. For areas east of the Cumberland-Johnstown-Bradford line most areas will only see afternoon cumulus with hot surface conditions for highs in the low 90s especially for the major cities. Tuesday night any isolated thunderstorm will weaken by midnight giving way to a partly cloudy sky with a mid level cloud deck moving in from the west. Lows will generally be in the mid to upper 60s including the mountain locations. Wednesday the lee trough moves ahead of the front sparking off thunderstorms by late morning for eastern Pennsylvania and northern Maryland and Delaware. Western areas will likely be under an altocumulus sky along the advancing cold front and residual thunderstorms from overnight in the Ohio Valley. Tropical moisture will begin to stream in from the south from the remnants of Tropical Storm Claudette which will move northward. PWATs will rise to near 2.1inches for southern areas, several deviations above normal. SBCAPE will rise to near 2000 j/kg for southern Pennsylvania, Maryland, and Delaware with meager MUCAPE near 1500 j/kg for those same areas. Despite meager thermodynamics thunderstorms will be widespread by afternoon under the tropical regime which will keep low lapse rates. But with strong westerlies a few severe thunderstorms capable of damaging winds could form for areas east of the Cumberland-State College-Lock Haven line. Flash flooding is a threat for areas across the Schuylkill Valley courtesy of heavy rain in the previous week. QPF totals up to 2inches are possible for locations that receive training thunderstorms. The cold front will move through the entire region by 8pm and slowly begin to stall out over the northern Maryland region. Mostly cloudy skies with isolated thunderstorms will be the commonplace overnight Wednesday. Highs Wednesday may approach 90degrees for southern areas like KDCA and KBWI, but north of KPHL highs will be more manageable in the upper 80s with dewpoints for everywhere in the low 70s. QPF generally should remain below .25inches with the flooding threat slowly diminishing hour by hour. Lows will be mild with high dewpoints courtesy of residual moistures. Lows will above normal likely in the 70s in more urban areas to mid 60s in mountain valleys. Mostly cloudy skies with a strato-cumulus sky will prevent widespread dense fog, but some fog formation (1-2mile visibility) and low stratus (300ft) may form with LIFR conditions by morning for areas particularly in the mountains near Johnstown up through Bradford with inversion.

Thursday the front will become an occluded front as it slowly moves northward towards the Mason-Dixon Line by afternoon. Once again by 9am any fog and stratus should burn off with some afternoon heating and SBCAPE levels rising above 1000 j/kg. With weak kinematics, severe weather remains a low risk. With weak upper level wind trajectories, slow moving thunderstorms may pose a risk with flash flooding a possible threat. 1hr FFG for western Pennsylvania and the Schuylkill Valley remains near 1.6inches, which is low enough for possible flooding from slow moving convection. PWATs will be near 2inches enhancing the threat for heavy rain. Tropical moisture will also be abundant from the remnants of Claudette. Highs Thursday will be dependent on thunderstorm coverage, but they should generally be in the mid to upper 80s with dewpoints in the 70s. The area with the least chance of rainfall Thursday will be northwestern Pennsylvania up in the Bradford-Erie corridor. Thursday night will feature decaying thunderstorms as instability becomes elevated and thunderstorms loose lack of surface instability. Still some areas may receive a tenth of an inch of rain or so especially across southern Maryland and from Dover, Delaware on southward. Lows will be mild again with patchy radiation fog, in the upper 60s to low 70s with lows over northwestern Pennsylvania in the low 60s. Friday will be another day featuring chances of diurnal convection as the front washes out over the region as a front approaches from the west. Chances for widespread activity diminish with lack of focusing trigger and weaker kinematics and thermodynamics. QPF will be likely around .25inches for areas that see any thunderstorms or heavy rain showers. Highs will be in the mid 80s for most areas with upper 80s for DCA on south. Friday night will feature patchy fog especially over the lowlands of Maryland, Delaware, and southern Pennsylvania with lows in the 60s for most areas and upper 50s over the mountains with elevations over 2000ft. Towards the weekend an upper level trough approaches the region with a strong cold front and then cooler air with chances of low topped rain showers through the weekend under a drier northwest flow. Pea sized hail cannot be ruled out Sunday for elevations over 2600ft. Also keep your eyes on Bill for any surprises, see more details in my tropical discussion. Have a great week!!!

"Regional Radars"


(Courtesy of Wunderground)

"Regional Satellite"


(Courtesy of Penn State Meteo.)

"Lower Susquehanna Valley Forecast"(Franklin, Adams, York, Lancaster, Cumberland, Perry, Dauphin, Lebanon Counties)(Updated 8/16)
A hot and humid week is in store with chances of thunderstorms and rain showers for most of the week starting Tuesday. Monday keeps high pressure in control with a downsloping flow drawing in the hot surface temperatures throughout the day. Generally skies will be clear as similar to Sunday, but a few cumuli are possible over areas such as South Mountain and western Perry County. Sunshine will heat temperatures up to 90degrees for most areas including the mountains in northern Perry, Dauphin, and Lebanon County, but up to 93degrees is possible for urban areas such as Chambersburg, Harrisburg, York, and Lancaster. Air qualities will also be poor with lack of mixing keep unhealthy air particles stationary over the urban heat island areas through evening. Heat indices though will be lower as dewpoints will only be in the upper 60s making heat indices up to 95degrees. Dry conditions will prevail through Monday night with clear skies for all areas. Dewpoints in the upper 60s rising to low 70s will prevent radiational cooling too much, but some ground fog formation is possible over Lancaster, Franklin, and Adams County towards morning with visibilities as low as a half a mile. Lows will generally be in the 60s for most areas with a low of 70 possible near Middletown. Tuesday the high moves farther off the coast and allows the flow to turn more southwesterly drawing in rising dewpoints into the low 70s and warm temperatures similar to Sunday and Monday's highs. With warm temperatures aloft, a general CAP will remain over the region, but a pulse thunderstorm or rain shower cannot be ruled out over South Mountain over in western Franklin County. Cumuli will dominate the cloud cover for Tuesday for most areas with highs poking 90 for all but northern Franklin County. Tuesday night a cirrus deck ahead of the approaching cold front will engulf the region along with mild lows in the upper 60s to lower 70s in urban areas especially in York, Lancaster, and Harrisburg. As the lee trough approaches Wednesday morning with the cold front on behind for Wednesday late afternoon, widespread showers and thunderstorms will be common throughout the day. With high moisture levels, flash flooding is possible over areas that have seen heavy rain in the past few days especially in northern Lebanon County from Ono to Indiantown Gap. Rainfall amounts may total over 1inch in stronger thunderstorms. Also a few severe thunderstorms cannot be ruled out for the entire Lower Susquehanna Valley as winds aloft remain moderate around 35knots. Wind damage is the primary threat. Highs Wednesday will be kept down by cloud cover and occasional rainfall, with highs generally in the mid 80s. Wednesday night will feature a few dying thunderstorms and rain showers pushing east out of Lebanon and Lancaster County by 9pm. Mostly cloudy skies will prevail with some low stratus and ground fog forming overnight in areas that saw rainfall during the day. Lows will be in the mid to upper 60s for all locations with lower 60s near Millersburg to Williamstown.

Thursday will feature the stalled front with scattered afternoon showers and thunderstorms, some of which could be very slow moving causing flash flooding over areas especially in the mountains over Perry, Dauphin, and Lebanon Counties where heavy rain has occurred during the past week. Rainfall amounts generally should be around .5inches, though and not everyone will see rain. Highs will be a bit cooler in the low to mid 80s with mostly cloudy skies. Fog should burn off by 10am. Thursday night will feature partly cloudy skies with lows in the mid 60s across the Lower Susquehanna Valley. Friday will feature similar conditions to Thursday, but thunderstorms will be more intermittent with flash flooding a less of a threat. Still a few areas may see heavy rainfall, especially in favorable southern upslope locations such as the Conewago Mountains, and South Mountain. Highs will be similar to Thursday in the low to mid 80s. Showers and thunderstorm will decay by 9pm giving way to partly cloudy skies with residual moisture allowing fog formation thickening to as low as .5mile visibilities. Lows will be in the mid 60s with lower 60s near Williamstown in northern Dauphin County. The weekend will feature an upper level trough moving in from the Great Lakes which will give way to a cold front passage turning the flow towards the northwest with drier conditions despite a few orographic lift thunderstorms over Franklin, western Cumberland, and western Perry Counties. Generally temperatures will be slightly below normal with partly cloudy skies.

"Current Lower Susquehanna Valley Radar"


(Courtesy of Wunderground)

"Chesapeake Bay and Atlantic Coast Marine and Boating Forecast"(Maryland and Delaware Coastal Forecast)(Updated 8/16)
It looks like another generally nice week for marine concerns with conditions relatively quiet. High pressure remains in control through Tuesday morning with light winds and scattered cumulus as the main event. Seas will also remain light with near normal tidal levels. Towards the later part of Tuesday winds will shift towards the south as high pressure moves out to sea and a front approaches the region. With a strong south-southwest flow aloft near 35knots and in the boundary layer winds will increase to near 15knots over the waters by Tuesday afternoon. Conditions will further increase wind speeds to small craft advisory thresholds by Tuesday night through Wednesday night with choppy seas and breezy winds. By Wednesday the front closes in on the region causing a chance of convection over the Chesapeake Bay basin and Atlantic coast by evening. Convection will be widespread especially over the northern Chesapeake with rainfall amounts up to .5inches. Thursday the front begins to stall out over the region around the Mason-Dixon Line and become an occluded front. Tropical moisture will ride up along the front with scattered thunderstorms possible Thursday and Friday with mainly diurnal chances. Winds will drop below 15knots through Thursday and Friday. By the week a large and slow moving upper level trough will approach the region with a cold front passage around Saturday with more chances of scattered thunderstorms and rain showers. Overall throughout the week severe weather chances remain slim, but a few stronger isolated storms may be common each day along the occluded front especially for the northern Delaware beaches and northern Chesapeake Bay basin. Also keep an eye on the tropics to see the exact track of Bill. Despite if it likely recurves out to sea, enhanced swell/wave activity will be common on the Maryland and Delaware Atlantic coastline with waves up to 2-5ft by Sunday and Monday. Also the rip current threat will likely rise up to the moderate threshold by late weekend and the start of next week. Overall the marine forecast remains pretty quiet this week with a scattered chance of thunderstorms from Wednesday through Sunday. Beware if any Special Marine Warnings are issued for mariners this week. Happy boating!

"Current Atlantic Coast Forecast Wave Heights and Chesapeake Bay Forecast Wind Direction/Speed"


(Courtesy of NOAA)

"Agriculture/Gardening 7-Day Outlook"(Updated 8/16)
Well it is another week of stalling fronts that wash out over the Middle Atlantic states, which should bring copious amounts of thunderstorms throughout the week. The week will initially be pretty dry from Sunday through Monday especially over the valley locations. A few upslope weak heavy rain cells could develop over the Laurel Highlands or northern mountains of Pennsylvania on Sunday and Monday. But by Tuesday a front approaches the region with scattered showers and thunderstorms especially for western areas during the afternoon, but a lee trough over eastern areas could also spark showers and thunderstorms. QPF totals will likely be averaging around .25inches with thunderstorm trajectory moving at an average rate of speed. Wednesday the front moves southeast and stalls over northern Maryland. Thunderstorms are possible over all of Maryland, Delaware, and Pennsylvania with some being slow moving. QPF could approach 1-2inches for areas that see thunderstorms. Thursday another front approaches the region and a strong southwest flow may allow tropical moisture from the past gulf storm to head in our direction. Widespread showers and thunderstorms are likely to develop with QPF near .5inches for many areas that see thunderstorms across the entire area. An upper level trough moves over the region for Friday through Sunday with diurnal chances of rain showers and isolated thunderstorms with QPF around .1-.25inches. Overall the week looks plentiful for all areas to see rainfall likely totaling 1inch for many locations on average for the next seven days. Sunday and Monday will be the only hot days and that will need watering for gardens. Areas south of I-80 will see highs up to 90degrees.

My garden is starting to produce finally some of the long term crops that were planted earlier in the season. I am beginning to harvest my celery crop and cut about 7 stalks that taste wonderful and are not too bitter. I have other stalks on the plants that will need cut whenever need be. My Swiss Chard is still producing, but eating it raw is a bit bitter, but cooked the flavor still tastes like Spinach. The strong Summer sunshine gives the plant a slightly more bitter flavor when eaten in things such as salads. The Blueberry bushes are beginning to show signs of foliage turning red similar to a Burning Bush. While a bit early, I have noticed some young maples newly planted turning red too. The Leeks are getting larger and larger and once I am finished with my onions I will begin to pull the leeks as they have a thickness of about a half dollar. The broccoli, cool weather crop for Fall, is finally showing signs of life and beginning to grow a bit larger. It is shaded part of the day so it stays pretty healthy. My Cherry tomato plant has many green tomatoes, but some are finally beginning to ripen. Note I planted this tomato plant much later I should have, I believe in late June. My other tomato plants are producing great including the Early Girl which has been a thorn in my side. It is planted in a croc and insists on having copious amounts of water each day as it always looks dead. My Roma plants are doing great and I have been picking 5 tomatoes on average a day for the past two weeks. The zucchini plant has completely died along with my cucumber plant. I find it funny the dead cucumber plant is still producing fruit, but they quickly turn yellow and bloated with lots of seeds. My watermelon plant is finally showing signs of larger growth including two melons on the vine. I have put a plastic lid down between the watermelon and the ground so it does not rot. My Lambkin melon is also doing well and finally showing signs of ripening by turning a brighter green color. I have continuously been picking beets which taste wonderful when boiled and added with some salt, pepper, and brown butter. The yellow beans are finally producing their last batch of beans after producing hundreds of beans this season. My pepper plants, Big Bertha, and Cherry Fire are still producing and finally having the peppers turn red after several extended weeks of them being green. My relative made stuffed peppers with the green Big Bertha peppers and said they tasted wonderful. I dug out the radishes as they didn't do anything other than go to seed and take up room in the garden. I planted Butter crunch lettuce and Spinach in their place, most of which looks very healthy even in the Summer heat. The herbs are doing great including the Basin, Oregano, Parsley, and Garlic which is being hung to dry in the garden shed. I finally picked most of my onions which tasted wonderful and were used Saturday night for a picnic with chicken and steak skewers with zucchini and potatoes in a teriyaki marinade. I still have some onions that haven't been picked yet, most of which are the red onions. All in the entire garden still seems healthy despite being close to the end of Summer and usually plants are distressed by the extreme heat or lack of heat this year, lol. Happy Gardening!!!

"Soil Moisture Anomalies and 5-day Precipitation Amounts from Hydro Prediction Center"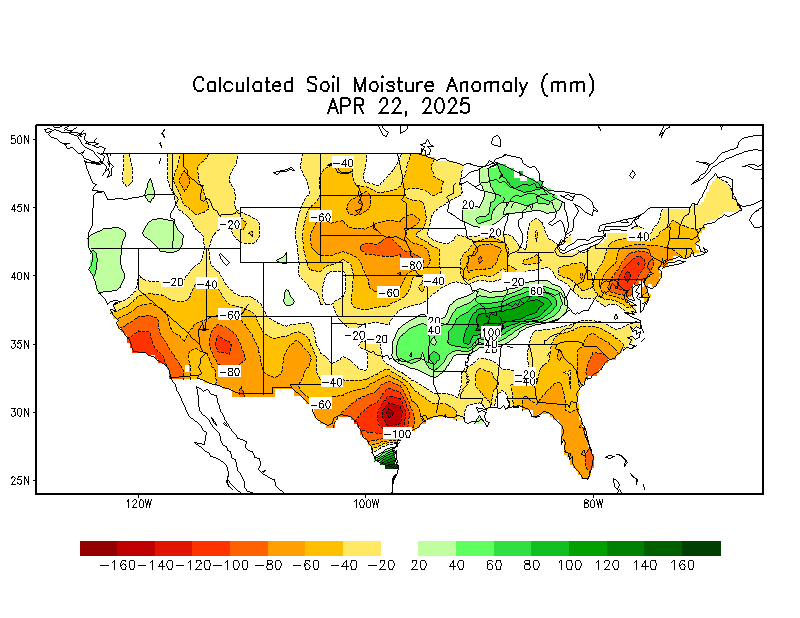 (Courtesy of NOAA)

"Severe Weather Potential/Probability"(Updated 8/16)
A few chances of nuisance type severe weather exist this week as a series of fronts of move through the region along with enhanced tropical moisture from Tropical Storm Claudette. The first risk of severe weather appears to be in western Pennsylvania and western Maryland on Tuesday as a weak cold front moves across the region. With a strong 40knot west-southwest flow, a few severe thunderstorms are possible to develop ahead and along the cold front. With poor lapse rates under warm air aloft, thunderstorms will be more heavy rain producers and not hail as freezing levels rise over 16000ft. Wednesday this risk shifts eastward over central Maryland up through central Pennsylvania on eastward towards the coast as the front moves through. Again the westerly flow aloft with winds 0-6km near 35knots, a few stronger thunderstorms may exist again with high winds and heavy rain as the primary threats. PWATs rise over 2inches with an influx of southern moisture as Tropical Storm Claudette has remnants that catch up with this front. Flash flooding is possible in areas of eastern Pennsylvania across the mountains of the Poconos, mountains of south central Pennsylvania, and the mountains of northeastern Pennsylvania as they have seen quite a lot of rain in the past week. Thursday again severe weather threat remains low, but a few wet downbursts could occur as the cores of the thunderstorms collapse. Again heavy could be a threat with an influx of tropical moisture. Towards Thursday and Friday another front moves into the region. Latest ECMWF indicates a wet frontal passage while the GGEM shows a more dry frontal passage. I would estimate there to be thunderstorms along the front some of which could be severe with heightened shear levels aloft and thermodynamics approaching moderate levels with SBCAPE up to 1500-2000 j/kg. Towards the weekend the upper level trough moves firm over the region with diurnal weak convection, but cool air aloft posing the risk for pea sized hail is higher topped storms around 10000ft. Also keep an eye on the tropics by the weekend to see the exact track of Tropical Storm Bill. Overall though, this week widespread severe weather outbreaks should not be the common ground.

"Severe Weather Outlooks from Storm Prediction Center Days 1, 2, and 3"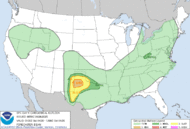 (Courtesy of NOAA)

"Atlantic Ocean Tropical Discussion"(Updated 8/16)
Well the tropics have heated up in the past few days including a homegrown threat that will be making landfall in the Florida Panhandle in the next 24hours. Lets first take a look at the homegrown threat. After flight reconnaissance from the NHC flew into tropical depression 4 this morning, they discovered a defined low level circulation undergoing moderate cyclogenesis just south of the Florida panhandle. Latest vapor loops indicate a well moistened troposphere with precipitate waters well above normal. Shear values aloft remain below 10knots and with gulf of Mexico water temperatures near 85degrees+, continued strengthening is likely upon landfall. Continued slower northwest motion will pinpoint a landfall around midnight Sunday night/Monday morning. I expect tropical storm Claudette to continue strengthening to a strong tropical storm upon landfall with heavy rain as a primary threat. Recent radar reflectivity scans indicate a growing rain shield capable of producing up to 6inches of rains over the Florida Panhandle with lesser amounts to the north across the southeast. Slight chance of severe weather is also possible with isolated tornadoes as feeder bands move onshore. Wind damage will be pretty isolated with max winds only up to 70mph at most. The circulation is generally small affecting only a small area of the southeast. Continued guidance suggests a track north then northeast and east heading towards the Middle Atlantic by mid to late week enhancing moisture up the coast which could cause some heavy rain for Pennsylvania, Maryland, and Delaware. For now though greater impacts remain for the Southeast coast as Claudette makes landfall in Florida as likely a strong tropical storm. Other activity is more located across the central Atlantic where tropical storm Ana has now formed, but is being sheared apart by some dry northwest winds. Convection around the center of circulation has greatly reduced with the cyclone being very small. Continued very slow if any development will be common as Ana moves to the west into the Caribbean where it make move across the mountainous islands of Hispaniola and Cuba which would weaken Ana to a depression before entry into the Gulf of Mexico by late this week. Impacts to the islands will generally be flash flooding and mud slides with heavy rain. The NOGAPS model remains the most south avoiding contact with the islands, but for now the faithful ECMWF remains steadfast in an island coaster. The Gulf of Mexico coast needs to monitor this storm closely as it will move back into the Gulf allowing for possible strengthening before another potential landfall. But in the back of my mind it says to look for Ana tracking a bit north of where current models suggest such as over the Bahamas. Latest center of circulation placement is north of 12z Sunday model initiation. I would pay close attention in the Bahamas and the east coast of Florida in this time period for Ana. The other system of concern is tropical storm Bill which churns away in the central Atlantic beginning to strengthen as the circulation broadens and convection intensifies. Shear values aloft remain 10knots for most of the track of Bill along with SSTs near 27C. This will promote strengthening to a hurricane or possibly a major hurricane. HWRF model suggests category 3 hurricane strength by this coming weekend. A broad upper level trough will be working across the east coast which will help Bill feel for the weakness in the jet stream and move north and out to sea as a likely track. Bermuda needs to keep a close eye on this system. Interestingly enough the ECMWF hinted at this fish storm while other guidance suggests the ridge holding its ground allowing for an east coast storm interaction. Now this solution by the ECMWF seems to be the winner among other models with a trough moving east pushing the storm out to sea. But the east coast still needs to monitor Bill as things could change as the recurve may be close to parts of the east such as New England. If the evolution of the trough is a bit slower and that high pressure over the southeast remains stationary, then the east coast is a threat from Bill. This will definitely be something to watch this week as the trough timeline is critical to Bill's forecast path. Another tropical wave is moving off the African coast with widespread convection, but for now no development is likely within the next 72hours. So far the forecast increased August activity looks to dominate this seven day forecast period.

"Current SSTs and Tropical Systems/Atlantic Infrared Satellite"


(Courtesy of Wunderground)

"Monthly Temperature/Precipitation Outlook"(August)(Updated 7/27)
After a below normal June and July, August may try to tap into some warmer air. In June temperatures averaged around -.5degrees across Pennsylvania despite few if any 90degree high temperature days. The warmest conditions oddly enough occurred this year in April. But we are entering a slight pattern change. The trough situated over the east coast will begin to pivot westward over an extended period of time. This will keep the core of the cooler air and trough axis over the Great Lakes. But this does not mean warm air is going to be surging up the coast. Further downstream the trough over Europe will still be over eastern areas and until this trough is replaced with a ridge, the east coast of the US will continue to be lacking in above normal temperatures. With the trough axis slightly to the west of the region, this will place the Northeast is an active pattern for disturbances and rainfall. They will develop along the lower end of the trough and move northeast up the trough. Also something interesting is how this deep stubborn trough will stall in the Southeast off the coast and Gulf of Mexico. As mentioned earlier, I am still monitoring the possibility of tropical development on the axis of the lower end of the trough. For now that is just an outside chance, but still I expect the Atlantic tropical season to start getting in gear during the month of August with the Gulf of Mexico and southeast coastline at the highest threat for any land falling system.

Temperature- Temperatures should average around normal from (-.5)-(+.5) with areas across the western half of the state slightly cooler than eastern areas. This Summer will surely be one to remember with the crystal clear blue skies and dry air, but during August I do expect humid conditions to be a common theme during a majority of the month. Temperatures should be warmer in the first half of the month as cool air reloads across the Arctic Circle as the NAO surges near neutral. But during the end of the month I expect a return to near negative NAO values with below normal temperatures along with the trough axis moving back east as the EPO values surge back to negative too.

Precipitation- This month looks to be fairly wet with normal to above normal precipitation thanks to the trough axis to our west, but a flow bringing in Gulf Disturbances on up the coast. Also any tropical influences will likely make landfall and head up the east coast states causing heavier rain. The highest chance of above normal rainfall will be over southern areas thanks to high instability forming stronger thunderstorms with heavy rain. I still have the first week in August open as a period with possible severe weather being likely as disturbances rotate in from the Lakes with possible severe thunderstorm squall lines, but for now that remains about 1-2 weeks away.

"Temperature and Precipitation Outlooks from Climate Prediction Center for next 30 days"


(Courtesy of NOAA)

"Here 10mi Northeast of Harrisburg, PA 2009 Statistics"
(Severe Weather Stats...)
Severe Thunderstorm Watches- 7
Severe Thunderstorm Warnings- 8
Tornado Watches- 0
Tornado Warnings- 0
Total Thunderstorms- 32

(Precipitation Stats...)
Flood Watches- 4
Flood Warnings- 1
Monthly Precipitation- 3.57inches
Yearly Precipitation- 27.24inches

(Temperature Stats...)
Heat Advisories- 2
Excessive Heat Warnings- 0
90degree Days- 9
Highest Temperature- 95degrees
Black Moshannon State Park is located northwest of State College situated on the 2000ft+ Alleghany Plateau. It features some unique geography including a National Bog Preserve home to unusual plants and animals. I took a trip there after my tour to the NWS and got a few interesting pictures. It is a must see Pennsylvania State Park.
Black Moshannon State Park is located northwest of State College situated on the 2000ft+ Alleghany Plateau. It features some unique geography including a National Bog Preserve home to unusual plants and animals. I took a trip there after my tour to the NWS and got a few interesting pictures. It is a must see Pennsylvania State Park.
Black Moshannon State Park is located northwest of State College situated on the 2000ft+ Alleghany Plateau. It features some unique geography including a National Bog Preserve home to unusual plants and animals. I took a trip there after my tour to the NWS and got a few interesting pictures. It is a must see Pennsylvania State Park.
The views of the author are his/her own and do not necessarily represent the position of The Weather Company or its parent, IBM.
Reader Comments
Comments will take a few seconds to appear.
The Northeast Weather Blog...
Recent Posts
Local Weather
52 °F

Clear
Previous Entries for 2017
Personal Weather Stations