Squall line beginning to weaken...
"Afternoon Thoughts"(Updated 8/01)
The other day while watching the 11pm evening News after the typical headlines of the day, something on Michael Jackson, healthcare reform, etc a small blurb came on about those recycled grocery bags. It mentioned that the latest scientific study announced that large amounts of bacteria were found being transferred in our reusable grocery bags potentially spreading E Coli, etc and that juices from our raw meat would slip through the packages into the mesh grocery bag material spreading more food-born illness. At the end of the report a scientist remarked, "If you are so worried about E Coli from your grocery bag, there is something wrong." I had to clap my hands at that statement. Recently more and more of these so called "save the Earth" type products are littering stores. I even bought a new "Environmentally Friendly" pillow the other day, whatever that means. And now these CFL light bulbs that make it sound like you need to bring in a HAZMAT team every time a bulb burns out or breaks. It appears to take more energy to use and dispose of these new bulbs than the old incandescent bulb. I am a full environmental person and do my part by local litter pick-ups and planting trees and gardens, but I just feel this whole climate change has gone a bit overboard in terms of the retail market. Now local shopping centers are finding ways to have a yearlong Christmas by advertising these statements about new environmentally friendly products. Whatever happened to just planting a tree? And did anyone notice it isn't global warming anymore it is now official called climate change. I am not here to denounce the maps and data suggesting the loss of ice melt and warming land temperatures as the data is factual. My suggestion is why do we not look at other theories than just a direct human influence. How about the sun which supplies all of heat and energy here on Earth. I will not say that Humans are doing beneficial things for the planet by all of the pollution, but I do not think we are the only reason for change. Why the Earth is always going through changes and that is why climate is climate and climate is always changing especially considering long term decadal weather patterns. Also why is the data collected by NOAA for global temperature monthly reports only in a 30 year period? So being the warmest June on record globally only includes data from the last 30 years, hmmm. We are told back in elementary school about sufficient data in science fair projects and the more the merrier. Anyways I am not here to cause a climate debate as this is in no way a climate blog; in fact I really do not want to see any debate. But my thoughts are just to stir the pot and to get one thinking that maybe this climate change is just more than weather patterns changing; with roots more in politics and the consumer based economy. Anyways have a wonderful Saturday afternoon and week!!!

"Regional Advisories"


(Courtesy of NOAA)

"7-Day Forecast Discussion"(Pennsylvania, Maryland, Delaware)(Updated 8/01)
Current vapor loop shows evident surface map features across the United States with a stalled frontal boundary along the coastal plain from North Carolina on southward. Another deep trough moves in across the Great Lakes behind an advancing shortwave and dying cold front plagued to hit parts of the east during the day Sunday. Rising heights ahead of a cold front will lead rising temperatures and humidity Saturday through Sunday. Current 12z NAM seems to be handling the mesoscale features better than GFS and GEFS with 850s rising to near 15C on Sunday. Highs will be variable across the region thanks to some areas with cloud cover. Across the mountains from Garret County, Maryland on northward through Johnstown up through Bradford highs will be near 78-80 dependent on elevation. Highs for valley locations from north central Maryland up through central Pennsylvania will be in the low 80s and for major cities such as Pittsburgh and cities across Maryland up through Delaware and southern Pennsylvania highs will be in the upper 80s. Sunday early morning will feature a few scattered showers and thunderstorms over eastern areas as a disturbance rides up northeast along the boundary off the coast. Max rainfall totals should only be around .25inches and best chances of rain are from the Altoona-State College-Williamsport line on eastward. IFR conditions will persist through 10am late morning as residual moisture forms stratus over the east. Advancing cirrus over western Pennsylvania in response to an approaching cold front will allow some slight heating of the atmosphere before clouds lower and thicken. The cold front will be weakening but with a shortwave passing over the Delmarva bulk shear values will remain near 40-45knots posing the threat of severe weather across most of Maryland, Delaware, and eastern Pennsylvania. Meager thermodynamics with SBCAPE values near 1500 j/kg and minimal surface heating will prevent widespread severe weather, but still some areas may see damaging winds. Warm air aloft and freezing levels over 12000ft will prevent widespread large hail reports. Thunderstorms will generally be from central portions of the region on eastward as rain showers over western areas will preclude thunder development in the morning. Rainfall amounts up to .5inches, especially in storms, cannot be ruled out. Sunday night will feature the scattering of any leftover convection eventually completely moving off the coast by 11pm. Lows will near the mid 60s from the coastal plain west towards the Frederick, MD-State College, PA line and there, lows will be in the low 60s on westward. Relaxing pressure gradient will allow fog to form Sunday night with leftover ground moisture. Dense fog may occur across the entire region with LIFR conditions potentially widespread. Monday will feature more humid and mild conditions as the frontal boundary remains across the Delmarva. With uneven heating of the surface, thunderstorms will develop over the ridgetops across areas south of I-80 during Monday afternoon and track eastward into the valleys by dark. A few thunderstorms may also develop on the sea breezes over the Chesapeake Bay basin. Lowering PWATs near 1.5inches will prevent flash flooding and weak instability and kinematics should prevent severe weather. Highs will be mild across the region with elevations below 1000ft with highs in the upper 80s and elevations above 1000ft with highs in the low to mid 80s. Areas near Washington DC and Dover, DE may approach 90degrees. Monday night will feature clear skies and light MVFR valley fog especially over the Laurel Highlands. Lows will be in the low 60s regionwide. Tuesday will feature another cold front ahead of an upper level trough pivoting through the Great Lakes. Strong diurnal heating ahead of the cold front advancing southeast will allow temperatures to warm to near 90degrees for much of the region as H85s rise to near 18C. Tuesday will the warmest day out of the next 10days. A strong 40knot low level jet out ahead of the cold front will allow for strong winds aloft potentially reaching the surface through severe thunderstorms. Moderate SBCAPE and MUCAPE values will make damaging the winds the primary threat. Rainfall amounts will be dependent on areas that see thunderstorms, but with PWATs rising to near 1.8inches some areas could see over .5inches. Tuesday night cooler and drier air will move in preventing fog formation and allowing lows to drop into the low 60s region wide with upper 50s across northwestern Pennsylvania near Erie and Bradford.

An anomalous upper level trough will bring well below normal H85s below 10C from the Pennsylvania turnpike on northward. 1020mb high pressure will also bring very dry air over the region with dewpoints likely in the upper 50s by Wednesday. Sunshine will prevail across the region with only scattered diurnal cumulus forming over the ridgetops during the days. Highs will be several degrees below normal in the low 80s for most areas. The frontal boundary that moved through Tuesday afternoon will hang up over North Carolina on Wednesday. A shortwave will begin to move up along the front Wednesday night and Thursday for increasing chances of convection across southern Maryland and Delaware on Thursday. Lows Wednesday will be well below normal thanks to an anomalously dry airmass. Lows will be in the low 50s across the mountains with lows in the upper 50s over rural areas and valley locations. Closer to the urban areas lows will be in the low 60s. Thursday will be similar to Wednesday but with a chance of thunderstorms over extreme southern areas. Elsewhere just some scattered afternoon cumulus. Highs will be near 80 for most areas north of the PA/MD border with areas south in the mid 80s closer to the front and humidity. Rainfall amounts will be confined to southern MD and DE with totals up to .25inches. Thursday night will feature clearing skies over the region and dropping dewpoints as RH values drop to 40% for most locales. Lows in the upper 40s cannot be ruled out near Bradford, but lows in the 50s should be prevalent for most areas. Friday will be nice across the entire area as the 1020mb high pressure centers over our area and pushes the boundary to the south over the Southeast. Highs will be below normal in the upper 70s to low 80s for most areas with dry dewpoints in the 50s. Scattered afternoon cumuli are once again likely over the ridgetops. Lows Friday night will be in the upper 50s to low 60s.

By the weekend rising moisture levels as winds shift to the southwest will be prevalent as diurnal chances of thunderstorms increases from Pennsylvania on south. Conflictions arise in the long term as far as national weather patterns. Current ECMWF continues to push the idea of the ridge over the southwest shifting eastward eventually to the East which would allow warmer weather. GFS is less certain with conflicting runs between continuing the trough through mid month over the east or allowing a southeast ridge to form. I thoroughly believe in a balance in equilibrium so I think it is quite possible for a very warm period around mid month as the ridge finally leaves the western US and migrates east. I do not think it lasts long though.

"Regional Radars"


(Courtesy of Wunderground)

"Regional Satellite"


(Courtesy of Penn State Meteo.)

"Lower Susquehanna Valley Forecast"(Franklin, Adams, York, Lancaster, Cumberland, Perry, Dauphin, Lebanon Counties)(Updated 8/01)
A stalled front off the eastern seaboard will be problematic Saturday night for the Lower Susquehanna Valley as a wave of low pressures moves up along the front causing nocturnal showers and thunderstorms over the region late Saturday night. QPF totals are not overly impressive only around .25inches for some locations especially over Lancaster County. Lows will be mild as dewpoints remain high and clouds thicken over the region. Lows in Harrisburg and York will be near 70 with surrounding suburbs in the mid to upper 60s. Sunday a weakening front will approach the region. Residual moisture from any rainfall overnight will form morning low IFR stratus over the region with ceilings as low as 800ft. Early August sun should burn off the clouds by noon before more clouds move in from the west. With a few hours possible of slight breaks in the clouds for sunshine some meager surface based CAPE near 1500 j/kg will form especially over southern York County and across Lancaster County. Bulk shear levels rise to near 40knots ahead of the front potentially allowing damaging winds to form in some isolated severe thunderstorms. Thunderstorms should not be overly widespread as the front will be weak and PWATs will only be up to 1.8inches. Heavy rain cannot be ruled out though in a few cells. Generally QPF will be .25inches over the valley but amounts up to .5inches+ cannot be ruled out. Highs Sunday will be around 80-84 over the valley. Decoupling winds and high surface moisture will possibly allow dense fog to form Sunday night after skies clear. Visibilities may fall to near .15miles in areas that received rainfall and areas prone to fog such as Lancaster County south of the Mt. Gretna Mountains. Lows Sunday night will be mild in the 60s across the areas near 70 in the city of Harrisburg. Monday after some residual morning fog skies will clear, but haze will be common throughout the day with 6mile visibilities. With a dying boundary to the south of the region and semi steep lapse rates a few afternoon pulse thunderstorms cannot be ruled out. Thunderstorm development will likely be over the mountains especially over South Mountain, near Blue Mountain over Franklin Counties and over the York County Mountains towards Hanover. Rainfall amounts will be light and spotty with only a handful of small cells forming with likely little to no severe weather. Highs Monday will be mild in the mid 80s over the region up to 86 in Lancaster. Monday night will feature clearing skies with high humidity for some more valley fog not near as widespread though. Lows will be near 70 in Harrisburg, York, and Lancaster and elsewhere in the mid 60s. Tuesday will feature another cold front approaching the region from the northwest. Cirrus will be widespread over the region, but surface heating will allow CAPE values to rise near 2000 j/kg surface based over the Lower Susquehanna Valley. Precipitate waters will rise to near 1.7inches, which is near normal for convection days in the Summer. Thunderstorms will develop and move across the region and with a strong low level jet screaming near 40knots, some severe weather is possible. Highs Tuesday will be hot and near 90degrees for most areas, but upper 80s over mountains over northern Dauphin County and Perry County. Rainfall amounts will be generally near .5inches or less depending on areas of thunderstorm formation. Tuesday night will feature clearing skies along with dry air moving in preventing any fog formation except for valleys such as Fishing Creek, Stony, Clarks, and Powells. Lows will be in the low 60s over the area with upper 50s likely from Newport on Perry County on westward in the county.

Wednesday will be a delightful day over the region as a deep trough with dry air and high pressure remains parked over Pennsylvania. Cool northwest wind will keep dewpoints in the 50s north of the turnpike and low 60s on southward. Sunshine will be prevalent, but a few cumuli may form over South Mountain, Blue Mountain, and Peters Mountain. Highs will be near 80 over the valley. Wednesday night will feature dry air and clear skies allowing for ideal radiational cooling with lows dropping as low as 52 near Williamstown in northern Dauphin County. Elsewhere lows in the mid to upper 50s are likely. Thursday will be another nice day with sunshine and a few ridetop cumulus. Highs again will be near 80 with dewpoints in the 50s. Below normal temperatures will continue for the lows as they drop to near 50 in Powells Valley in Dauphin County. A good rule of thumb after a cold front with high pressure in control is the second night after the front will be the coldest. Lows elsewhere will be in the mid 50s. Friday will feature some cirrus and rising dewpoints in the 60s as the flow turns more southwesterly. Highs will be slightly warmer approaching 84 in Gettysburg and Chambersburg. An isolated thunderstorm cannot be ruled out over northern Franklin County and western Cumberland and Perry Counties close to the Blue Mountain.

"Current Lower Susquehanna Valley Radar"


(Courtesy of Wunderground)

"Chesapeake Bay and Atlantic Coast Marine and Boating Forecast"(Maryland and Delaware Coastal Forecast)(Updated 8/01)
Relatively nice week for those with activity over the waters as pressure gradients remain pretty loose keeping a hold on wind and waves. Saturday will feature high pressure over the region although some southerly winds will cause 3-5ft waves along the Atlantic coast. The rip current threat is low to moderate Saturday. A cold front will move for Sunday causing a stronger southerly flow with winds up to 20knots over the Chesapeake and Delaware Bay basins. It does appear though conditions generally will be below the small craft advisory threshold. The rip current threat along the Atlantic Coast will be moderate especially from Ocean City on southward in Maryland. Monday will feature high pressure and nice boating conditions although a few strong thunderstorms may occur causing possibly special marine warning conditions in isolated locations in the afternoon. Tuesday another cold front will move through the region, but the pressure gradient will remain loose keeping winds at less than 10knots and well below small craft advisory thresholds. Astronomical tides during this 7-day period will also be near or below normal so flooding is not expected this week even along favorable splash-over areas. Stronger thunderstorms are possible Tuesday afternoon into early evening so boaters beware for rapidly changing conditions. Wednesday will generally be a nice boating day over the region with sunshine. Thursday through Saturday a chance of thunderstorms is possible in the afternoon from Ocean City on southward and across Annapolis on southward in the Chesapeake. But generally wind and waves will remain light. Overall conditions appear to be very quiet for the next seven days.

"Current Atlantic Coast Forecast Wave Heights and Chesapeake Bay Forecast Wind Direction/Speed"


(Courtesy of NOAA)

"Agriculture/Gardening 7-Day Outlook"(Updated 8/01)
Another week of more rainfall is possible for the next seven days with several chances of rain showers and convection. Two organized chances of thunderstorms also will occur this week. Sunday a front will approach the region with showers and thunderstorms causing a widespread .25inches, but some areas could receive more up to .75inches in thunderstorms. Isolated thunderstorms are then possible Monday with more organized thunderstorms Tuesday with similar QPF to Sunday. The rest of the week dries out with low humidity towards Wednesday, Thursday, and Friday. Watering gardens only looks necessary later in the week as dewpoints dry in the 50s which is very odd for this time of year. Drought conditions are improving over southern Maryland where abnormally dry conditions were being reported. Heat will be lacking this week with only one day of widespread 90s being on Tuesday.

My garden is doing pretty well although lacking in some areas thanks to the cooler weather. If the soil dries out enough this Saturday I hope to get in some early cool weather crops. Looking at the calendar it is officially August and this is the last month in the meteorological Summer. Days are slowly shortening and the daily averages have now begun to drop from the highest point back in mid to late July. So according to gardening calendars it is time to start planting a few cool weather crops. I would like to plant some broccoli and cauliflower along with lettuce and spinach. I plan on planting these crops in part shade locations because they receive shade in the afternoon and get the morning sun. This allows them to miss some of the hot weather that can happen in August. Currently my radishes I planted which were supposed to be a Summer variety are not doing well. They just continue to grow a larger green foliage, but do not thicken the radish bulb at all. It appears they soon are going to bolt. My blueberry bushes are beginning to have the leaves turn red as the producing season is over and they loose foliage pretty early compared to everything else. The cooler weather also may have aided in their early color turn. Once again no berries. My celery is just wonderful in turning into stalks with harvest now just about any day. I just hope it is not too strong as I did not really protect it from blanching in the Sun. My leeks are growing and about the width of a half dollar coin for a majority of them. They should be able to be picked by early Fall. The Swiss Chard is growing larger, but with warmer weather comes a slightly bitter taste so I have not picked any in a while. But the leaves add a bit of color so I have kept the plants growing. My one cucumber plant has completely died along with my cilantro plant. I am not sure what happened. But this is the area I plan to put some of the Fall crops. My other cucumber plants have slowed down production. So I did a bit of a cucumber experiment and made some B&B refrigerator pickles, but for my first attempt they turned out way too spicy. Maybe too much red pepper and turmeric? I will try again next year. My zucchini have slowed down and are not producing any currently within the last two days. My roma tomato plant is doing the best and I pick a few every day. But my Early Girl and Cherry tomato plants are not ripening at all and very slow to grow. But finally I picked a few today. My Basil is growing and it is wonderful to add it to pasta dishes. My other herbs, chives, oregano, and parsley I use for any dinner dish I possibly can. I am making a batch of vinegar potato salad for dinner tonight adding some parsley. My melon plants are doing well, but I just do not know when I have to pick them. Anyone have any experience with lambkin melons? Also I have one watermelon plant growing, but it is small. My pepper plants are producing an abundance of peppers with my big bertha peppers producing the most. My yellow beans taste fantastic and I have picked several hundred of them, way too many. The onions and garlic tops have begun to die out so I have to get a farming fork and dig the bulbs out. I am excited to have fresh garlic. Lastly my beets are doing well and starting to get pretty large and may need picking in 1-2weeks. It is hard to believe Summer gardening is almost over. I went to the flower nursery the other day and would you believe everything was Mums. Wow talk about time flying by. Anyways Happy Gardening!!!

"Soil Moisture Anomalies and 5-day Precipitation Amounts from Hydro Prediction Center"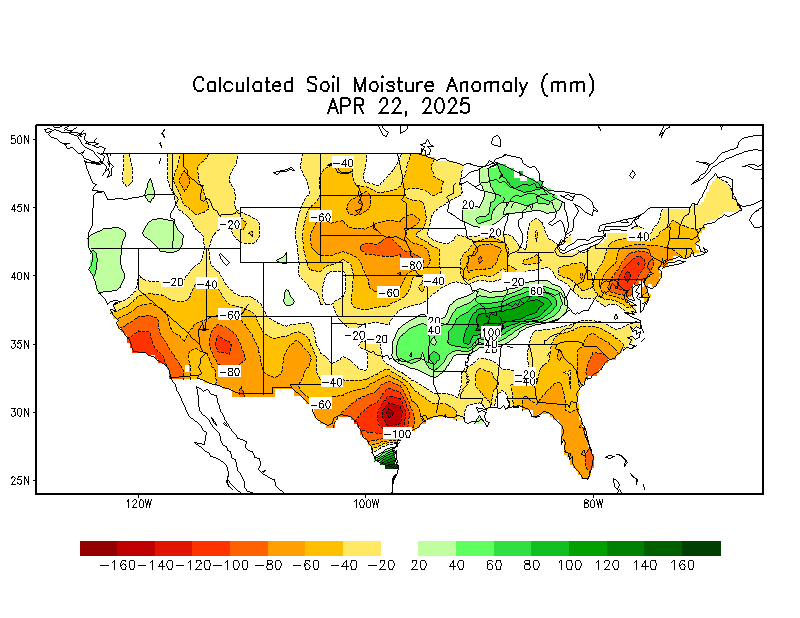 (Courtesy of NOAA)

"Severe Weather Potential/Probability"(Updated 8/01)
A few severe weather chances look to occur this week as a series of disturbances rotate through the region. Sunday an upper level trough will be rotating across the Great Lakes with the lee trough passing through central Pennsylvania through Maryland around noon. Bulk shear values ahead of the lee trough will be around 40knots. Some morning low stratus may prevent initial morning sunshine over eastern areas, but the clouds should burn off. Meanwhile a few rain showers and an isolated thunderstorm is possible over western Pennsylvania in the morning closer to the front. Clouds will be widespread east of the State College-Altoona-Hagerstown line throughout the day. With a few peaks of sunshine over areas east of the line at least some meager SBCAPE near 1500 j/kg may develop with 2000 j/kg over far southeastern areas in Maryland and Delaware up through Philadelphia. Cooling cloud tops by afternoon combined with surface temperatures in the 80s and dewpoints in the 70s will allow thunderstorms to form with severe weather possible in eastern areas. Damaging winds appear to be the primary threat as temperatures aloft remain pretty warm and freezing levels above 12000ft, but hail cannot be ruled out. This event is lacking the kinematics that the recent two severe events had, so the tornado threat is not near as high. The frontal boundary will push to the south by late evening with dying convection. Monday will feature a few pulse thunderstorms as the boundary remains close to the region, but severe weather is not likely. Although a few 40mph wind gusts are possible as pulse cell cores collapse. Tuesday afternoon another front rolls through from northwest to southeast. Again surface heating will not be widespread thanks to some clouds, but there may be more heating than the last few severe events. CAPE values up to 2500 j/kg are possible over northern Maryland and Delaware up through southern Pennsylvania in the southcentral region. High bulk shear values and a strong low level jet will promote damaging winds as the primary threat. Cold air aloft moving in with the trough will also allow for some hail and frequent lightning under high ice crystal growth. Conditions quiet as high pressure remains in control through Friday before the flow turns back to the southwest allowing moisture to increase with daily chances of convection. But with lack of organized trigger severe weather does not look likely through at least Saturday. So for this week the best chances of severe weather will be Sunday for eastern areas and Tuesday for a majority of the region. Tuesday may feature a squall line at least according to some guidance. Stay tuned!

"Severe Weather Outlooks from Storm Prediction Center Days 1, 2, and 3"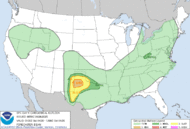 (Courtesy of NOAA)

"Atlantic Ocean Tropical Discussion"(Updated 8/01)
The tropics continue to be extremely quiet over the region as we enter a new month, August. First a note of interest brings one to the central Pacific where Tropical Storm Lana churns across the waters south of the Hawaiian Islands. Winds are near 50mph sustained with 60mph gusts. This compact system will likely slowly weaken over time as it enters cool waters and a higher sheared environment. Only impacts to the Hawaiian Islands will be increased swells on the southeastern shores and an increase in moisture for afternoon showers and thunderstorms. Across the eastern Pacific things remain abnormally quiet as only 4 named systems have formed this year which is very odd especially considering the Eastern Pacific hurricane season begins earlier than the start of the Atlantic hurricane season. No development is expected within the next 3-5days. The Atlantic basin continues to be quiet with only a tropical depression having formed this year. But the African dust seems to be dissipating over the Atlantic Basin. Also water temperatures continue to warm up to near 27C over the central Atlantic. Currently a few rain showers and thunderstorms are occurring off the coast of Honduras, but no development is expected as activity remains diurnally driven. Elsewhere sunshine prevails across the Caribbean. A few tropical waves have been moving off the coast of Africa, one possible of interest. Current infrared satellite shows a nice area of convection as this wave exits the African coastline. Shear levels remain high over 20knots, but will be waning over the next several days. Dry air also is prevalent over the area. But a few of the forecast models show possible development including the ECMWF, GFS, and CMC. For now little to development will occur by Monday, but later in the week this areas bears watching. For now enjoy another quiet week in the Atlantic.

"Current SSTs and Tropical Systems/Atlantic Infrared Satellite"


(Courtesy of Wunderground)

"Monthly Temperature/Precipitation Outlook"(August)(Updated 7/27)
After a below normal June and July, August may try to tap into some warmer air. In June temperatures averaged around -.5degrees across Pennsylvania despite few if any 90degree high temperature days. The warmest conditions oddly enough occurred this year in April. But we are entering a slight pattern change. The trough situated over the east coast will begin to pivot westward over an extended period of time. This will keep the core of the cooler air and trough axis over the Great Lakes. But this does not mean warm air is going to be surging up the coast. Further downstream the trough over Europe will still be over eastern areas and until this trough is replaced with a ridge, the east coast of the US will continue to be lacking in above normal temperatures. With the trough axis slightly to the west of the region, this will place the Northeast is an active pattern for disturbances and rainfall. They will develop along the lower end of the trough and move northeast up the trough. Also something interesting is how this deep stubborn trough will stall in the Southeast off the coast and Gulf of Mexico. As mentioned earlier, I am still monitoring the possibility of tropical development on the axis of the lower end of the trough. For now that is just an outside chance, but still I expect the Atlantic tropical season to start getting in gear during the month of August with the Gulf of Mexico and southeast coastline at the highest threat for any land falling system.

Temperature- Temperatures should average around normal from (-.5)-(+.5) with areas across the western half of the state slightly cooler than eastern areas. This Summer will surely be one to remember with the crystal clear blue skies and dry air, but during August I do expect humid conditions to be a common theme during a majority of the month. Temperatures should be warmer in the first half of the month as cool air reloads across the Arctic Circle as the NAO surges near neutral. But during the end of the month I expect a return to near negative NAO values with below normal temperatures along with the trough axis moving back east as the EPO values surge back to negative too.

Precipitation- This month looks to be fairly wet with normal to above normal precipitation thanks to the trough axis to our west, but a flow bringing in Gulf Disturbances on up the coast. Also any tropical influences will likely make landfall and head up the east coast states causing heavier rain. The highest chance of above normal rainfall will be over southern areas thanks to high instability forming stronger thunderstorms with heavy rain. I still have the first week in August open as a period with possible severe weather being likely as disturbances rotate in from the Lakes with possible severe thunderstorm squall lines, but for now that remains about 1-2 weeks away.

"Temperature and Precipitation Outlooks from Climate Prediction Center for next 30 days"


(Courtesy of NOAA)

"Here 10mi Northeast of Harrisburg, PA 2009 Statistics"
(Severe Weather Stats...)
Severe Thunderstorm Watches- 5
Severe Thunderstorm Warnings- 5
Tornado Watches- 0
Tornado Warnings- 0
Total Thunderstorms- 27

(Precipitation Stats...)
Flood Watches- 3
Flood Warnings- 1
Monthly Precipitation- 1.00inches
Yearly Precipitation- 24.67inches

(Temperature Stats...)
Heat Advisories- 0
Excessive Heat Warnings- 0
90degree Days- 5
Highest Temperature- 92degrees
The views of the author are his/her own and do not necessarily represent the position of The Weather Company or its parent, IBM.
Reader Comments
Comments will take a few seconds to appear.
The Northeast Weather Blog...
Recent Posts
Local Weather
52 °F

Overcast
Previous Entries for 2017
Personal Weather Stations