New Middle Atlantic Weather Blog...
"Afternoon Thoughts"(Updated 7/27)
Good afternoon!!! This is the new and hopefully improved format for my weekly weather blogs. This format reaches out to a broader zone of areas including Pennsylvania, Maryland, and Delaware. Many bloggers I know reside in some of these other states; so my thought was to broaden the forecast zone, without decreasing forecast accuracy, or else I know I will have to hear about it from some, hahahaha. Anyways the format begins with a general forecast discussion for the next seven days for the broad area of Pennsylvania, Delaware, and Maryland. This will mention the meteorological data and generic forecast. Below is a section specifically for my home region, the Lower Susquehanna Valley. This will provide detailed forecasts for the next seven days for this region as many bloggers here reside in this area. I have always wanted to throw a specific forecast for my area in a discussion format, so finally I decided this would be a good time to do that. You will also find a marine and boating forecast for the Maryland/Delaware coastlines of the Atlantic Ocean, Delaware Bay, and Chesapeake Bay. On down the blog keeps the gardening outlook, severe weather outlook, monthly outlook, and tropical discussion. Maps have changed a bit to add just a different touch from the previous same old same old. I really would like to hear feedback, good and bad and ideas for any slight improvements. I hope everyone enjoys the new blog format and that it will fit the needs for a broader region of bloggers.

Well on to the weather... I looked last night at my weather station records and it showed the last five days have featured rainfall creating a five day total of 2.57inches of rain for a monthly total of 4.20inches. This month sure has been anything, but a typical summer. Still looking at the climate report for KMDT shows every day but one having below normal temperatures. That is pretty darn remarkable during the Summer time. During the Summer it is relatively hard to get below normal temperatures as the air mass has to be remarkably anomalous as the sun is just so powerful in the Summer. Winter is a different story and almost every cold front brings near below normal air. Usually in the Summer cold fronts just bring the air back to normal standards with lower humidity. But warmer weather is coming whether it just is near normal temperatures, it will be warmer. With the deep trough centered over the Midwest, some guidance suggests a weak southeast ridge formation brining warmer anomalies surging northward. H85s will rise near +17-18C across the Northern Middle Atlantic bringing possible 90s to areas as far north as Philadelphia. In the Washington-Baltimore corridor, 90s can be expected at least two or three days during this coming week. But with a cutoff low over the Great Lakes this will bring down disturbances to rotate over the area bringing thunderstorms and rain showers which may prevent some areas from getting to levels they could reach. Then towards the first week in August models bring the trough back east dramatically, which seems a bit too sudden for my current thoughts. I do believe the first week in August will be cooler than this last week in July, but nothing as cooler as we saw in earlier July. The NAO still shows negative predictions for the next 30days so hot weather for an extended period of time is not likely. Maybe an Indian Summer is in store for September and October, otherwise for now Summer weather will be making a short pit stop in the Northeast for this coming week.

"Regional Advisories"


(Courtesy of NOAA)

"7-Day Forecast Discussion"(Pennsylvania, Maryland, Delaware)(Updated 7/27)
The deep trough axis remains over the central United States especially across the Great Lakes with well below normal temperatures. Meanwhile a developing weak southeast ridge is allowing southerly winds near 210degrees to draw up humidity and warmer air from the Gulf of Mexico. H85s remain near 15C allowing temperatures to climb into the mid to upper 80s across Pennsylvania and near 90degrees across Delaware and Maryland. Monday will feature across southern portions of the area the upper level jet moving through coupled with a weak shortwave which will be a catalyst for thunderstorm development from I-80 on southward. Closer to the shortwave, Maryland and Delaware may have a period of severe thunderstorms in the 2pm-7pm time frame as thermodynamics increase with CAPE values up to 2500 j/kg. Current GEFS guidance suggests thunderstorm activity to die down with after the heating of the day. Monday night will be mild at least in comparison to previous nights with lows in the mountains of Maryland and Pennsylvania in the low 60s to upper 60s in the valleys through southern Pennsylvania and Maryland to the low 70s in the major urban areas. Under a developing Bermuda high to the east and a trough to the west we remain in a squeeze play allowing an active storm track to funnel through the region. Tuesday will be relatively quiet though as temperatures warm aloft and in the mid levels near 2 deviations above normal allowing the development of a weak CAP. Despite this a few isolated thunderstorms are still possible especially across the mountains and along any sea breezes that form in Delaware and Maryland near the Chesapeake. Rainfall will remain light under the thunderstorms as PWATs remain near 1.5inches which is not atypical for this time of year. Highs Tuesday will be the warmest of the summer season as H85s increase to near 16C for southern areas. 90s are likely in all major urban areas and 90s are likely across southern Maryland with perhaps western DC reaching mid 90s. Closer to the water highs will be more manageable near the low 80s as southerly winds draws up the cooler waters. Tuesday night will feature dry conditions for most areas, except across northwestern Pennsylvania where another approaching shortwave may feature some nocturnal thunderstorms near Erie. QPF will generally be light. Lows Tuesday night will be dependent on geographic locales as radiational cooling in valleys and mountains will create lows in the low 60s and potentially upper 50s near Bradford, but in urban areas from I-76 on southward through Delaware and Maryland lows will be warmer as humidity levels will be higher with lows in the upper 60s to near 70. Wednesday is a much more active day. The subtropical jet and northern jet across the Great Lakes will phase creating a series of strong shortwaves capable of heavy rain with thunderstorms from Wednesday through Friday. PWATs will rise to near 2inches, several deviations above normal, and dewpoints will rise to near 75 for southern locales. H85s rise to near 17C Wednesday and H7 remains moist with high RH values. The prefrontal trough will approach the region Wednesday kicking off thunderstorms across the entire area. Thunderstorms may become widespread and train over the same areas under the southwest to northeast trajectory. QPF totals from MREF and SREF runs produce up to 2inches of rain in selected locales. Highs Wednesday will be dependent on areas that see rainfall and areas that receive more sunshine. Areas across Delaware and southern Maryland may approach 95degrees. Wednesday night features a lull in the activity as a weak bubble of high pressure moves in. Lows Wednesday night will generally be in the 60s across all locales with near 70degrees from Philadelphia southward to DC.

Thursday and Friday feature similar weather as the region enters the right front quadrant of the incoming strong jet ahead of the upper level trough. Showers and thunderstorms will develop both days with heavy rain as the primary threat as precipitate waters remain several deviations above normal under an anomalous 700mb flow. QPF totals each day are dependent on which areas see thunderstorms, but averages should be around .25inches-.5inches. Highs Thursday and Friday will be in the upper 80s for most locations with lows each night from the mid 60s to lower 70s. Friday night current GFS guidance suggests an 850 low to track over the region, 1012mb, producing a possible MCS complex capable of again heavy rain. Development and track of this possible complex will generally remain uncertain. As the front passes through Friday it will stall and slowly fade out around the Mason-Dixon Line. This will produce scattered showers and thunderstorms through the weekend until another strong cold front moves in towards Sunday capable of a severe weather outbreak. Highs this weekend will be in the 80s for most areas with some low 90s across southern Maryland. Rainfall in thunderstorms will not be as heavy as previous days as moisture aloft begins to thin through the weekend.

"Regional Radars"


(Courtesy of Wunderground)

"Regional Satellite"


(Courtesy of Penn State Meteo.)

"Lower Susquehanna Valley Forecast"(Franklin, Adams, York, Lancaster, Cumberland, Perry, Dauphin, Lebanon Counties)(Updated 7/27)
This zone forecast is specifically for the counties mentioned above in southcentral Pennsylvania. The forecast will cover the same time period as the regional forecast above; Monday through Saturday. With warming temperatures aloft near 15-16C in the 850mb level, surface temperatures will be warmer than they have been most of this summer for Monday. Harrisburg, York, Lancaster, and Gettysburg will approach the upper 80s for highs. With strong heating of the boundary layer a few thunderstorms are possible in the afternoon with development likely over the ridges such as Peters Mountain, Mount Gretna Mountains, South Mountain, Blue Mountain, and the York County Mountains. Cells will roll off the ridges later in the afternoon and intensify especially across southern York and Lancaster Counties as isolated CAPE areas approach 1500j/kg. A severe weather report cannot be ruled out despite the best jet dynamics and shear values off the coast. After any afternoon thunderstorm, they will weaken by evening for a warm and humid night. Fog will likely form in areas that see thunderstorms, particularly in the valleys of northern Dauphin, Perry, and Lebanon Counties. Lows will be in rural areas in the low to mid 60s with near 70 as a low in Harrisburg and Lancaster. Tuesday high pressure moves in, but with the heating of the day may be a few pulse thunderstorms particularly over northern Dauphin County and in Franklin and Adams County near South Mountain. Sunshine will prevail most of the day with some cumulus and thunderhead formation over the ridgetops. Highs will be near 90degrees in Harrisburg, York, and Lancaster with highs in the upper 80s in more rural locations from I-76 on northward. Once again any areas that see rainfall during the afternoon may experience some dense morning fog. Lows will be again mild around 70 with mid to upper 60s across Perry and northern Franklin County. Wednesday things get a bit more active as a front approaches the area. Instability will intensify over areas especially across the lowlands of the Maryland border counties Adams, Franklin, York, and Lancaster. The day will feature mostly cloudy skies with intervals between strato-cumulus and cirrus clouds. Haze will be common also as dewpoints rise to near 75 over Lancaster County. Highs will be in the upper 80s across the Lower Susquehanna Valley. Thunderstorm threat remains high for the entire area during the afternoon with the threat of flash flooding high for several areas such as near Lewisberry in York County, Carlisle in Cumberland County, and Chambersburg in Franklin County as those areas saw near flooding rains just a few days ago. Training thunderstorms may be possible as storms cross the Mason-Dixon Line. Watch out in areas in York and Lancaster County for a stronger thunderstorm capable of strong winds as the highest instability develops there. Rainfall totals may approach 1inch for areas that see the most rainfall. Wednesday night will feature weakening thunderstorms and rain showers over the area with areas of dense fog as a lull in the precipitation occurs with a slight clearing of clouds. Dense fog will be likely Thursday morning over many areas especially near and along the Susquehanna and Juniata Rivers.

Thursday will be active again as will be Wednesday with thunderstorms common over the area. The true cold front will be approaching the region so winds aloft will strengthen posing the threat for some severe weather. Hodographs seem impressive across the Lower Susquehanna Valley for some isolated severe weather with even the potential for a rotating cell over southern Lancaster County up through southern Lebanon County. Rainfall will once again be heavy in training cells with flash flooding a threat along creeks such as the Conodoguinet Creek and the Yellow Breeches as levels are already heightened from previous rainfall. Highs Thursday will be in the mid to upper 80s through the valley. Thursday night will feature mostly cloudy skies and mild conditions with lows in the upper 60s. An isolated thunderstorm cannot be ruled out. Friday will feature widespread stratus morning clouds from residual moisture. Weak inversion and strong July sun should burn off the clouds by noon creating some more cumulus clouds later in the day. Thunderstorms are once again possible with heavy rain with isolated areas seeing 2inches of rain. Severe weather threat remains low, but an isolated report is possible Friday. Thunderstorms will organize in clusters. Stratiform rain showers will also be widespread. Highs Friday will be in the low 80s as cloud cover will prevent ample warming of the boundary layer. Saturday will feature stratus in the morning thinning out throughout the day. Again a few showers and thunderstorms are possible especially in the southern half of the valley south of I-76 as they remain closer to the stalled front. Highs Saturday will be in the mid 80s in urban areas such as Harrisburg to low 80s across elsewhere locales. Rainfall in thunderstorms will be less of a threat for flooding as moisture aloft thins out. Best chance of any heavier thunderstorm would be in southeastern Lancaster County closer to the Chesapeake Bay.

"Current Lower Susquehanna Valley Radar"


(Courtesy of Wunderground)

"Chesapeake Bay and Atlantic Coast Marine and Boating Forecast"(Maryland and Delaware Coastal Forecast)(Updated 7/27)
A series of weak cold fronts will be rotating in across the region this week. Ahead of these cold fronts will be a dominant southerly wind around 210degrees, especially on the days Monday, Wednesday, Thursday, and Friday. Winds over the Bay will be around 15-20knots during those afternoon periods reaching the threshold for Small Craft Advisories. A Small Craft Advisory is in effect for Monday for the Chesapeake Bay basin and Atlantic Coast. Waves along the Atlantic Ocean will be running high this week around 5-6ft especially on Monday and Wednesday ahead of the cold fronts. Tidal levels are running about 1-2ft above normal thanks to some channeling of water from the southerly flow in the bay, but astronomical tides are low this time of year so flooding is not expected this week for vulnerable areas. Thunderstorms are possible each day this week along the waters raising the risk for heightened wave and wind conditions each day for a slight period of time. Monday shows possible stronger storms along the Maryland coastline near Ocean City and along the southern Chesapeake Bay Basin. Storms will be capable of strong winds. Those with concerns over the water need to have a NOAA weather radio in case a Special Marine Warning is issued. Towards Friday locally heavy rainfall is possible as a front stalls up along the Mason-Dixon line with shortwaves rotating along the front. Locally 1-2inches of rain is possible Friday afternoon. Towards the weekend the front tries to dissolve relaxing the pressure gradient and allowing for a less of a chance of rain showers and thunderstorms creating a nicer weekend at the beach. Also rip currents are possible much of this week with the southerly flow and higher than normal wave heights around 5ft. A moderate threat of rip currents is forecast Monday and possible throughout the week especially on Wednesday and Friday. The moderate threat of rip currents is likely across the Atlantic Coast from Delaware to Maryland. Overall this week does not appear the best for boating or marine activity. But as the saying goes "if you don't like the weather, just wait 5minutes for the weather to change."

"Current Atlantic Coast Forecast Wave Heights and Chesapeake Bay Forecast Wind Direction/Speed"


(Courtesy of NOAA)

"Agriculture/Gardening 7-Day Outlook"(Updated 7/27)
This week will once again feature an abundance of rainfall similar to last week as shortwaves rotate in along cold fronts from the Great Lakes. One cold front passing through Thursday will stall over the region near the Mason-Dixon line keeping the chance of showers and thunderstorms possible through the weekend. Current drought conditions show abnormally dry conditions across parts of the Maryland/Delaware region along with southwestern Pennsylvania. These areas will see drought improvement this week with a series of thunderstorms each day. Total QPF is each day will depend on your location as thunderstorms will be scattered in nature. But total QPF on average for the week will be from 1-3inches of rain through Saturday evening. Temperatures this week will be warmer than they have been this entire Summer season. Temperatures will likely hit 90degrees the first half of the week in Washington DC through Dover Delaware. One or two 90s is possible from the Mason-Dixon line on northward. But later in the week as the front slowly moves through along with clouds and rain will be cooler temperatures back below normal in the lower 80s. Humidity levels will be high all week with dewpoints in the upper 60s to lower 70s. All in all watering the garden does not seem too likely this week for each day.

My garden is doing wonderful now that temperatures have warmed up slightly. I am really excited with my celery plants as it is amazing to watch the stems thicken into stalks. I planted six plants each going to have many stalks when it is all said and done. The leeks are getting finally larger and now have a thickness of about a half dollar or so with a few larger and smaller. The other herbs are doing well with my Basil adding a bit of flavor next to my tomatoes. My chives and oregano are growing nicely, but my parsley seems to attract an unknown critter that only eats a bit of the parsley each day. The garlic tops are beginning to die back completely so I will likely have to get a farmers fork in a week or two to loosen and dig up the garlic bulbs. My yellow and red onions I haven't picked yet as the tops have completely died of yet, but they will be ready in a week or two with a similar growing period to the garlic. The summer radishes are not doing so well as I believe I did not thin they well enough when they were small seedlings, so now they are not growing bulbs too well due to close proximity. The Swiss chard is growing well, in fact I planted too much. Well the Blueberry story... Ugh I knew when I tried laying netting over the Blueberries that it would cause problems. First off the birds just pecked through the holes in the netting even though I laid the netting over itself three times. Then I walk around to the garden and notice a chipmunk in distress with its head caught around the netting several times. So without getting to close to the chipmunk I cut the netting along its body away from the net and after 15minutes it took off running without any harm to itself or myself. A day or two later I took the worthless netting off the plants and found some sort of petrified animal that could not be classified because it was in back of the netting so long. So next year I am not going to use this killer netting and try more like a cheese cloth. Back to my vegetables... The cilantro plant has died due to the higher temperatures. My melon plants are doing wonderful in which I have a large melon about the size of a small football, and yes I put a tuber ware container lid between the melon and the soil so it does not rot. I have small melons also on the plant. My pepper plants have a lot of green peppers, but I do not pick them until they are red. The yellow wax beans are doing great and I picked about 100 of them for the first batch. The beets are also getting larger bulbs finally. My pickling cucumber plants produce about one cucumber a day. I decided to try to make some refrigerator pickles out of them sometime this coming weekend. It is my first time so if anyone has any advice, please do so in a comment. My zucchini is not too great this year. It grew just as large as last year, but my zucchini grow at a snail's pace; still though I have picked about a dozen or more this year. The tomatoes are also doing well, but take a while to ripen especially the Early Girl.

"Soil Moisture Anomalies and 5-day Precipitation Amounts from Hydro Prediction Center"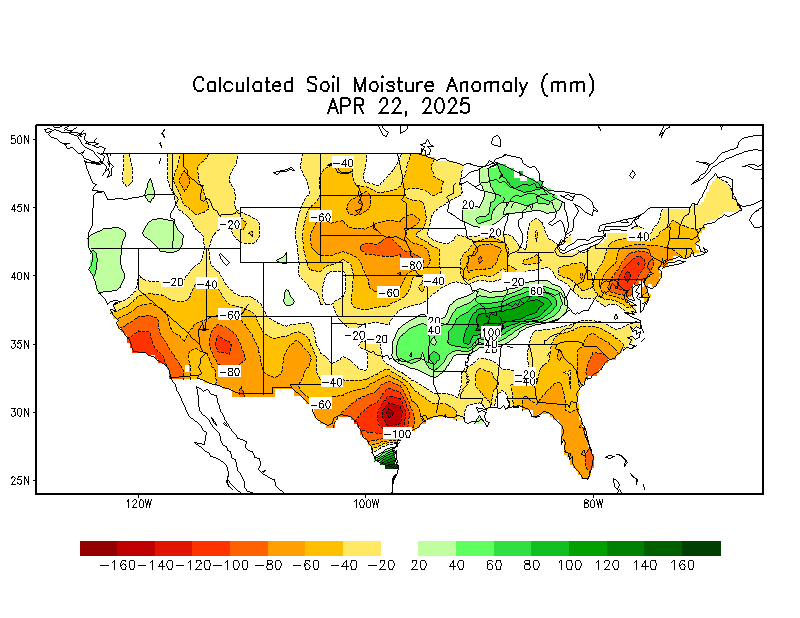 (Courtesy of NOAA)

"Severe Weather Potential/Probability"(Updated 7/27)
This week brings several small chances of severe weather as fronts rotate through the area. Monday there is a decent chance of severe weather across eastern Maryland and Delaware along with southeastern Pennsylvania. The deep upper level trough will continue to rotate east with a shortwave moving across Maryland. Little if any debris clouds can be found across the region so rising CAPE values look over the Chesapeake Basin with values near 2500 j/kg over central and southern Delaware up through Philadelphia. Lacking a major triggering mechanism and little lift will prevent widespread thunderstorm activity. But with shear values near 25knots 0-6km, a few damaging winds reports are possible. Freezing levels remain very high, but any stronger cell core could tap into the cold upper levels of the troposphere. Thunderstorms will form cellular during the early afternoon and form clusters by evening. After the diurnal heating of the day, thunderstorms will weaken by evening. Another wave off the cutoff low in the Great Lakes will move towards the area Wednesday. The best jet dynamics and winds aloft will be found to the north, but the best instability will develop over Maryland up through southern Pennsylvania. A slight isolated chance of severe weather is possible in the afternoon hours with wind damage the primary threat. The front will stall over the southern part of the Northern Middle Atlantic through the weekend causing a chance of thunderstorms each afternoon through Saturday. High winds aloft will be well offshore, but any afternoon thunderstorm day will be capable of a few severe weather reports as the cell cores collapses forming wet microbursts. A strong front approaches late in the weekend into early next week and may bring a more widespread severe weather event with the region being in the right front quadrant of the open jet. Kinematics look very favorable towards Sunday afternoon for severe weather. For now this week appears to be quiet for widespread severe weather, but a few severe storms could occur each day. Stay tuned for updates each day.

"Severe Weather Outlooks from Storm Prediction Center Days 1, 2, and 3"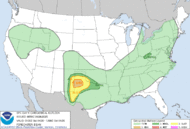 (Courtesy of NOAA)

"Atlantic Ocean Tropical Discussion"(Updated 7/27)
The tropics remain very quiet as we likely end the month of July without a named storm. So far this season we have had several invests and one tropical depression which formed up off the coast of New England and quickly weakened once it entered cooler waters. Several tropical waves are exiting the west African coastline, but with such dry air aloft over the central Atlantic and widespread Saharan dust this year, development will be difficult in the next 96hours. At this time I also do not see any immediate home grown threats as things remain quiet in the tropical basin. It is not unusual to go a season without a named storm in the tropics. Just back in the busy season of 2004, it took until the very end of July for the first storm to develop, Hurricane Alex off the coast of the Outerbanks particularly near Hatteras. Now remember that season got extremely busy towards August and September. So things can go from quiet to extremely busy in just a matter of weeks. If we look the same with no tropical formations come this same time, but in August, then we can consider this to be more of an anomaly than a common occurrence. At this time I do not believe any tropical formation is likely this week as things are just to preventive of tropical development with high dust values, dry air aloft, and high winds aloft in the upper Jet Stream. As far as the current ENSO status, the El Nino continues to look like it will be a dominating feature for at least the next six months. The SOI index appears it will be forecasting negative values, which again strengthens the idea of a developing El Nino. Global models show the potential for a moderate El Nino to be underway come winter 2009-2010. The current ENSO pattern is unfavorable for an active tropical season, so this pattern will help delay tropical activity even further. Currently I do believe the pattern will become more beneficial towards tropical development as winds aloft relax and the African dust becomes less widespread during the month of August. For now though this week remains quiet in both the Eastern Pacific and Atlantic.

"Current SSTs and Tropical Systems/Atlantic Infrared Satellite"


(Courtesy of Wunderground)

"Monthly Temperature/Precipitation Outlook"(August)(Updated 7/27)
After a below normal June and July, August may try to tap into some warmer air. In June temperatures averaged around -.5degrees across Pennsylvania despite few if any 90degree high temperature days. The warmest conditions oddly enough occurred this year in April. But we are entering a slight pattern change. The trough situated over the east coast will begin to pivot westward over an extended period of time. This will keep the core of the cooler air and trough axis over the Great Lakes. But this does not mean warm air is going to be surging up the coast. Further downstream the trough over Europe will still be over eastern areas and until this trough is replaced with a ridge, the east coast of the US will continue to be lacking in above normal temperatures. With the trough axis slightly to the west of the region, this will place the Northeast is an active pattern for disturbances and rainfall. They will develop along the lower end of the trough and move northeast up the trough. Also something interesting is how this deep stubborn trough will stall in the Southeast off the coast and Gulf of Mexico. As mentioned earlier, I am still monitoring the possibility of tropical development on the axis of the lower end of the trough. For now that is just an outside chance, but still I expect the Atlantic tropical season to start getting in gear during the month of August with the Gulf of Mexico and southeast coastline at the highest threat for any land falling system.

Temperature- Temperatures should average around normal from (-.5)-(+.5) with areas across the western half of the state slightly cooler than eastern areas. This Summer will surely be one to remember with the crystal clear blue skies and dry air, but during August I do expect humid conditions to be a common theme during a majority of the month. Temperatures should be warmer in the first half of the month as cool air reloads across the Arctic Circle as the NAO surges near neutral. But during the end of the month I expect a return to near negative NAO values with below normal temperatures along with the trough axis moving back east as the EPO values surge back to negative too.

Precipitation- This month looks to be fairly wet with normal to above normal precipitation thanks to the trough axis to our west, but a flow bringing in Gulf Disturbances on up the coast. Also any tropical influences will likely make landfall and head up the east coast states causing heavier rain. The highest chance of above normal rainfall will be over southern areas thanks to high instability forming stronger thunderstorms with heavy rain. I still have the first week in August open as a period with possible severe weather being likely as disturbances rotate in from the Lakes with possible severe thunderstorm squall lines, but for now that remains about 1-2 weeks away.

"Temperature and Precipitation Outlooks from Climate Prediction Center for next 30 days"


(Courtesy of NOAA)

"Here 10mi Northeast of Harrisburg, PA 2009 Statistics"
(Severe Weather Stats...)
Severe Thunderstorm Watches- 5
Severe Thunderstorm Warnings- 5
Tornado Watches- 0
Tornado Warnings- 0
Total Thunderstorms- 26

(Precipitation Stats...)
Flood Watches- 3
Flood Warnings- 1
Monthly Precipitation- 5.03inches
Yearly Precipitation- 23.67inches

(Temperature Stats...)
Heat Advisories- 0
Excessive Heat Warnings- 0
90degree Days- 5
Highest Temperature- 92degrees
The views of the author are his/her own and do not necessarily represent the position of The Weather Company or its parent, IBM.
Reader Comments
Comments will take a few seconds to appear.
The Northeast Weather Blog...
Recent Posts
Local Weather
44 °F

Overcast
Previous Entries for 2017
Personal Weather Stations