The Northern CONUS Summer 2009...
Hardly a day goes by this summer that I do not hear; where is the summer heat? So I thought I explore a bit about the northern CONUS summer 2009 and see possible pattern trends that may even extend into the rest of the summer and possibly winter. When will we hit 90degrees again? Where is the hazy, hot, and humid weather? Why won't my tomatoes ripen? Well this isn't a game of 20 Questions, but I will try to take a look at a few of these questions and answer. Each season I try to take a look at a more analytical explanation for seasonal trends for example recollect my Middle Atlantic Winter Blog which took a look at the typical Winter in the Middle Atlantic also detailing why there has been a lack of snow and will this pattern continue. For more information see this link... Link. One has to wonder why the past two years our seasons have almost been well you could say backwards. We yearn for average snowfall in the winter and yearn for hot weather and thunderstorms in the summer and yet we get neither. Whether it be that we just live in a boring weather zone or that there are forces in the atmosphere beyond our control; there is not fact arguing against that the weather the past two years has been everything and anything benign. First off I want to point out the interesting statistics for this first half of the summer and then I will take a look into the pattern trends, etc.

One of the more impressive statistics this Summer has been the abundance of negative departures and New York City is holding the golden trophy for negative departures...

Central Park...
Day/Temperature Average Anomaly

June 12 +1
13 -4
14 -5
15 -6
16 -8
17 -10
18 -10
19 -2
20 -5
21 -2
22 -3
23 0
24 -2
25 -2
26 0
27 -2
28 -1
29 -1
30 0
July 1 -1
2 -4
3 -3
5 -2
6 -6
7 -3
8 -8
9 -9
10 -7
11 -5
12 -3

So as you can see New York City has not had a positive temperature anomaly since June 12. This isn't the only city with similar conditions across the Northeast. Many cities have yet to see a positive departure during the entire month of July so far. Take for instance the last week temperature departures...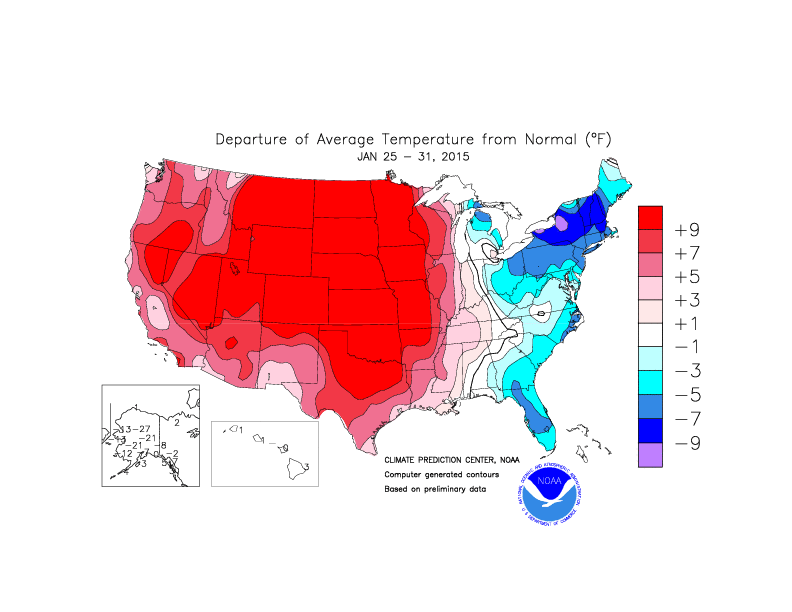 A majority of the country excluding the south and southwest have experienced below normal temperatures. Now in a larger time frame the monthly anomalies from June...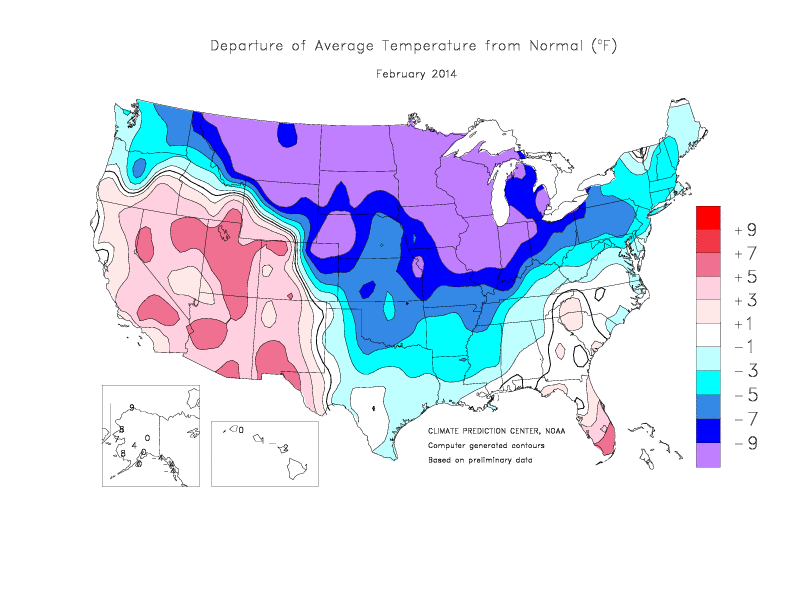 Once again excluding the southeast the majority of the country had below normal temperatures. The weather the majority of us here in the Northeast have been facing is closer that of May or September. Here is a map of the min temperatures in the last 24hours. It is quite impressive to see some of the cold lows across the northern CONUS...


Here are a few more statistics on a few cities across the US and the departure from normal for the month of July...

Boston- (-6.8)
Hartford- (-5.5)
Allentown- (-4.9)
Philadelphia- (-2.9)
Harrisburg- (-4.0)
Erie- (-6.4)
Buffalo- (-5.2)
Concord- (-5.8)
Portland- (-5.3)
Trenton- (-4.0)
Baltimore- (-3.5)
Washington DC- (-2.6)

As you can see all across the Northeast temperatures are well below normal. Here are some record lows for major cities across the northeast during this Summer season...

...RECORD LOW TEMPERATURE TIED AT HARRISBURG PA...

A LOW TEMPERATURE OF 45 DEGREES OCCURRED AT HARRISBURG PA YESTERDAY.
THIS TIES THE OLD RECORD OF 45 SET IN 1930.

...RECORD LOW TEMPERATURE SET AT ATLANTIC CITY...

THE TEMPERATURE AT THE ATLANTIC CITY INTERNATIONAL AIRPORT DROPPED
TO 54 DEGREES EARLY THIS MORNING, ESTABLISHING A NEW RECORD FOR THE
DATE. THE PREVIOUS RECORD LOW TEMPERATURE FOR JULY 11 WAS 55
DEGREES SET IN 1998.

...RECORD LOW TEMPERATURE SET AT BRIDGEPORT CT...

A RECORD LOW TEMPERATURE OF 57 DEGREES WAS SET AT BRIDGEPORT CT
TODAY AT 447 AM. THIS TIES THE OLD RECORD OF 57 SET IN 1990.

...RECORD LOW TEMPERATURE SET AT NEWARK NJ...

A RECORD LOW TEMPERATURE OF 58 DEGREES WAS SET AT NEWARK NJ TODAY.
THIS TIES THE OLD RECORD OF 58 SET IN 1953.

...RECORD LOW TEMPERATURE SET AT KENNEDY NY...

A RECORD LOW TEMPERATURE OF 58 DEGREES WAS SET AT KENNEDY NY TODAY.
THIS BREAKS THE OLD RECORD OF 62 SET IN 1991.

...RECORD LOW TEMPERATURE TIED AT HARTFORD CT...

THE TEMPERATURE DROPPED TO 51 DEGREES AT BRADLEY INTERNATIONAL
AIRPORT IN WINDSOR LOCKS AT 520 AM EDT. THIS TIED THE RECORD LOW FOR
TODAY WHICH WAS LAST SET IN 1973.

...COLDEST HIGH TEMPERATURE TIED JULY 2 IN WORCESTER...

YESTERDAYS HIGH TEMPERATURE OF 62 DEGREES AT THE WORCESTER AIRPORT
TIED A NEW RECORD COLDEST MAXIMUM TEMPERATURE FOR THE DATE. THE
COLDEST HIGH TEMPERATURE FOR JULY 2ND IN WORCESTER...IS ALSO 62
DEGREES SET IN 1986.

...RECORD DAILY MINIMUM TEMPERATURE SET AT PITTSBURGH PA...

AT 510 AM THIS MORNING...A NEW RECORD DAILY MINIMUM TEMPERATURE FOR
JULY 14 WAS SET OF 51 DEGREES. THE PREVIOUS RECORD DAILY MINIMUM
TEMPERATURE FOR PITTSBURGH WAS 52 DEGREES SET IN 1888.

These are only a small samplings of many record lows broken during the past two months across many locations. These cool anomalies are thanks to a persistant pattern of a trough ridge trough. The bubble of heat and humidity has been persistantly across the south especially in Texas and the southwest in Arizona. Now understandably these places are more accustomed to high heat and humidity, but many records have been broken. Teleconnections are to blame for this pattern as we have really not broken the typical jet stream flow that is persistant in a typical winter. The NAO has been very unusually negative for quite an extended period of time even as long as to question whether there are decadal changes among us. I first brought to light in January about my reasoning on a decadal change in the NAO teleconnection.


Above you can note the unusually negative anomalies in the NAO index. While the NAO index is not full understood with its direct effects across North America correlations in the Summer are definitely weaker than in the Winter. But still a trough does form across the Northeastern states with a ridge across the southcentral United States. I do believe we are entering a period of more substantial negative NAO phases as we see changes in the PDO which are quite interesting to say the least. Generally from about 1998 through 2009 we have been in a decadal cycle of negative PDO values which are values of the SSTs in the North Pacific (20N on northward) anomalies. A general rule of thumb suggests negative values to correlate to warmer weather patterns with southeast ridges with positive anomalies correlating to cooler than normal temperatures across the north with the warmth confined to the South. The PDO can directly be related to the near term index PNA which positive suggests ridging in west and troughing in east and negative suggests trough in west and ridge in east. Again this is all a general rule of thumb. Anyways a look at the PDO index during the year of 2009 shows a remarkable pattern...

January... -1.40
February... -1.55
March... -1.59
April... -1.65
May... -0.88
June... -0.31

We have finally peaked in the cycle and potentially are headed for a positive anomaly cycle. Now in each decadal cycle have been slight discrepancies such as in 2002-2003 where we had positive numbers, remember the winter of 02-03 (quite snowy). Whether we have finally seen a turn-a-around or this is just a hiccup; things may be improving in the winter department. The AO teleconnection has also been lending its icy hand down to those of us in Canada and the northern United States. A negative AO typically delivers the built-up cold air away from the arctic circle and down to the central North America region. A negative AO usually brings warmer conditions across Alaska which we have seen...

PUBLIC INFORMATION STATEMENT
NATIONAL WEATHER SERVICE FAIRBANKS AK
327 AM AKDT FRI JUL 10 2009
...WHAT A DIFFERENCE A DAY MAKES...IN THE WAKE OF A STRONG COLD FRONT THE HIGH TEMPERATURE AT THEFAIRBANKS INTERNATIONAL AIRPORT YESTERDAY WAS 71 DEGREES. THISWAS 20 DEGREES COOLER THAN THE RECORD HIGH OF 91 ON WEDNESDAY. ITWAS ALSO THE FIRST DAY SINCE JULY 1ST WITH A HIGH TEMPERATUREBELOW 80.

TEMPERATURES TODAY AND SATURDAY WILL BE IN THE 70S...HOWEVER...ALARGE RIDGE OF HIGH PRESSURE WILL REBOUND ACROSS THE INTERIOR ONSUNDAY. THIS RIDGE OF HIGH PRESSURE IS EXPECTED TO REMAIN IN PLACETHROUGH TUESDAY BEFORE SLOWLY RETREATING TO THE NORTH. HIGHTEMPERATURES SUNDAY THROUGH TUESDAY ARE EXPECTED TO BE IN THE 80S...WITH THE POTENTIAL THAT A FEW SPOTS COULD COME CLOSE TO 90DEGREES ON MONDAY OR TUESDAY.

AS THE RIDGE RETREATS TO THE NORTH MID-LATE NEXT WEEK...TEMPERATURESARE EXPECTED TO SLOWLY COOL BACK INTO THE 70S BY LATE NEXT WEEK. SMOKE FROM A LARGE FIRE NORTHWEST OF NENANA WILL LIKELY PRODUCESMOKE AT TIMES IN THE MIDDLE TANANA VALLEY THROUGH THE WEEKEND. DRY WEATHER IS EXPECTED FOR THE NEXT SEVERAL DAYS...WITH THECHANCE OF SHOWERS AND THUNDERSTORMS INCREASING BY THE MIDDLE OFNEXT WEEK AS THE LARGE RIDGE OF HIGH PRESSURE RETREATS TO THENORTH OF THE AREA.

The current AO index...


The AO index has a direct effect on our temperatures here in the Northeast. Look at the index back in April late April after the 16th, you can see the stark positive index. This meant the cold air was bottled up across the north. Now lets look at actual temperatures during that time period.

Harrisburg, PA KMDT
April 25 (+14)
26 (+16)
27 (+20)
28 (+23)

This shows the warmer temperatures. During the last few winter seasons the repeated warm weather was caused by the lack of funneling of arctic air on southward. If you remember Alaska has had some very cold and snowy winters the last few years. In fact this 2008-2009 season was the snowiest winter ever recorded in Barrow, AK. So all of this cool air this summer has been sweeping directly down from the Arctic. Canada had one of their coldest Springs ever recorded. Here is an interesting record report for Portland, Maine...

RECORD EVENT REPORT ... CORRECTED
NATIONAL WEATHER SERVICE GRAY ME
400 PM EDT THURSDAY JUL 09 2009

...MORE RECORD COLD WEATHER FOR PORTLAND MAINE...

THE TEMPERATURE AT THE PORTLAND JETPORT ONLY REACHED 58 DEGREES
YESTERDAY. THIS SET A RECORD FOR THE COLDEST HIGH TEMPERATURE ON
JULY 7TH. THE OLD RECORD WAS 59 DEGREES SET IN 1961. TO PUT THIS IN
ANOTHER PERSPECTIVE...THE NORMAL LOW TEMPERATURE FOR JULY 7TH IS 58
DEGREES.

THE LOW TEMPERATURE ON WEDNESDAY WAS 55 DEGREES. THIS PRODUCED A
RANGE OF ONLY 3 DEGREES BETWEEN THE HIGH AND LOW TEMPERATURES WHICH
IS A RECORD FOR THE SMALLEST DAILY RANGE IN TEMPERATURES ON JULY
7TH. THE OLD RECORD WAS A 4 DEGREE SPREAD SET IN 1963 AND 1995.

THE 3 DEGREE DAILY TEMPERATURE RANGE YESTERDAY ALSO TIED THE RECORD
FOR THE SMALLEST DAILY TEMPERATURE RANGE FOR ANY DAY IN JULY. THE
RECORD WAS ESTABLISHED ON JULY 16TH, 1961 AND OCCURRED FIVE MORE
TIMES BEFORE THIS YEAR.

THE AVERAGE TEMPERATURE YESTERDAY WAS 57 DEGREES...WHICH TIED 1961
AS THE COLDEST AVERAGE TEMPERATURE FOR JULY 7TH.

THE HIGH OF 58 YESTERDAY TIED JULY 6TH OF 1956 AS THE SECOND COLDEST
HIGH EVER RECORDED AT THE PORTLAND JETPORT IN JULY. THE COLDEST HIGH
EVER IN JULY WAS 57 DEGREES ON THE 4TH OF JULY IN 1992.

ON THE 1ST AND 2ND OF THIS MONTH PORTLAND ONLY REACHED 59 DEGREES
BOTH DAYS...SETTING RECORDS FOR THE COLDEST HIGH TEMPERATURE EACH
DAY AND ALSO TYING SEVERAL OTHER DAYS FOR THE FOURTH COLDEST HIGH
EVER RECORDED IN JULY.

PORTLAND HAS SET A RECORD COLD HIGH TEMPERATURE FOUR OUT OF THE
FIRST EIGHT DAYS THIS MONTH. HERE IS A LIST OF THE RECORD COLD HIGH
TEMPERATURES SO FAR THIS MONTH...

DATE HIGH TEMP. 2009 OLD RECORD HIGH AND YEAR
JULY 1ST 59 DEGREES 62 DEGREES IN 1976
JULY 2ND 59 DEGREES 63 DEGREES IN 1986
JULY 7TH 60 DEGREES 64 DEGREES IN 1956
JULY 8TH 58 DEGREES 59 DEGREES IN 1961

HERE IS A LIST OF THE COLDEST HIGH TEMPERATURES EVER RECORDED IN THE
MONTH OF JULY AT THE PORTLAND JETPORT. FOUR OF THE TEN COLDEST
HIGHS OCCURRED IN THE FIRST EIGHT DAYS OF THIS MONTH...

RANK TEMPERATURE DATE
1 57 DEGREES JULY 4, 1992
2 58 DEGREES JULY 6, 1956
58 DEGREES JULY 8, 2009 <===
4 59 DEGREES JULY 8, 1961
59 DEGREES JULY 16, 1961
59 DEGREES JULY 30, 1976
59 DEGREES JULY 3, 1987
59 DEGREES JULY 1, 2009 <===
59 DEGREES JULY 2, 2009 <===
10 60 DEGREES JULY 7, 2009 <===
11 61 DEGREES SEVERAL DATES

THE NORMAL HIGH TEMPERATURE FOR THE MONTH OF JULY IS 78.8 DEGREES.

ALONG WITH THE COLD WEATHER PORTLANDERS HAVE ALSO HAD TO DEAL WITH
SOAKING RAIN THIS MONTH. THERE HAVE BEEN THREE DAYS SO FAR WITH
AROUND AN INCH AND A HALF OF RAIN. RAINFALL OF 1.41 INCHES FELL ON
THE 2ND, 1.57 INCHES FELL ON THE 7TH AND 1.50 INCHES FELL ON THE 8TH.

THE 1.41 INCHES ON THE 2ND SET A RECORD FOR DAILY PRECIPITATION FOR
THE DATE...TOPPING THE OLD RECORD OF 1.32 INCHES SET IN 1983. THE
1.57 INCHES ON THE 7TH WAS ALSO A RECORD...BREAKING THE OLD MARK FOR
THE DATE OF 1.34 INCHES SET IN 1935. THE 1.50 INCHES ON THE 8TH WAS
FAR SHORT OF THE RECORD 3.66 INCHES THAT FELL ON JULY 8TH, 1915.

TEMPERATURE RECORDS AT THE PORTLAND JETPORT BEGAN ON NOVEMBER 25,
1940 AND PRECIPITATION RECORDS GO BACK TO 1871.

The ENSO cycle is also something causing the consistent cool weather across the northern US. We have finally come to an end in terms of the below normal SSTs in Nino area 3.4. La Nina is to blame for the lack of snow and the cooler summers in the period from 2003-2009. La Nina patterns tend to favor the southeast ridge in the winter giving way to a more western favored jet stream putting us in the warm sector favoring ice storms with snow more across New England. Then in the Summer La Nina favors extended periods of troughing across the Northeast as what has been the case the last two summers. Now we have above normal central Pacific SSTs which are going to change our weather pattern greatly starting in the Fall. Currently we are still under residual effects of the La Nina this summer. But typically with Ninos lasting one year they either develop or dissipate in the summer. In this case we are under the influences of a developing El Nino. This is going to have important influences in the weather for this winter unlike previous years. Ninos have a bad rap in the winter thanks to 1998-1999, but typically they can produce very snowy and cold conditions. The best analog year I can find is 76-77 in which we had above normal April temperatures followed by a cooler Summer then followed by a cold winter. Also 2002 could be a match as the Summer was slightly cool and quite wet as is the case this year. Despite the changing ENSO conditions, this coming winter is no doubt going to have a very different jet stream location this winter.

So wrapping everything up proves to show that this cooler than normal weather pattern is likely to continue through the last few weeks of the month. But latest EURO weeklies and guidance suggests a shift in the trough ridge trough jet stream bringing a more zonal flow at the end of the month. I do expect a warmup as we head into August with brief above normal temperatures. But once again towards the end of August temperatures should surge below normal under the influence of another negative NAO. Something to look out for is definitely severe weather during this slight and brief pattern change. MCS disturbances will be favorably located to travel across the Northern Middle Atlantic. This period of time should be quite exciting weatherwise in the region.

Whether one wants to believe that solar cycles are to blame or cooling of the stratosphere or volcano influences from Mount Redoubt we have been in a period of cooler than normal weather for many locations globally. During my travels in Italy and Greece all of my tour guides remarked how unusually cool and wet the weather pattern was as the dry season is usually in summer yet we had a thunderstorm every day. And typically summer highs in both countries are in the upper 90s with high humidity yet my travels showed highs of the upper 80s and not overly humid. But that does not mean all areas have been cooler than normal; many areas have had warmer than normal temperatures especially in the Arctic and US southwest. I do think Winter will be very interesting this year as it should be quite different that the last few winters, and as usual I will be here to track every last minute of it. It amazes me when I look back at some of the winter blogs and the comments totaled nearly 1000. Anyways I hope this blog makes you a little more aware of this unusual summer on a more wider level and hope that I showed that some of the reasons why this has been cooler than normal this Summer. Have a wonderful day!!!

"Here north of Harrisburg 2009 statistics"
(Severe Weather Stats...)
Severe Thunderstorm Watches- 3
Severe Thunderstorm Warnings- 5
Tornado Watches- 0
Tornado Warnings- 0
Total Thunderstorms- 23

(Precipitation Stats...)
Flood Watches- 1
Flood Warnings- 1
Monthly Precipitation- 1.63inches
Yearly Precipitation- 20.27inches

(Temperature Stats...)
Heat Advisories- 0
Excessive Heat Warnings- 0
90degree Days- 5
Highest Temperature- 92degrees
The views of the author are his/her own and do not necessarily represent the position of The Weather Company or its parent, IBM.
Reader Comments
Comments will take a few seconds to appear.
Post Your Comments
Please sign in to post comments.
Not only will you be able to leave comments on this blog, but you'll also have the ability to upload and share your photos in our Wunder Photos section.
The Northeast Weather Blog...
Recent Posts
Local Weather
43 °F

Overcast
Previous Entries for 2017
Personal Weather Stations