Where is Summer???
"Afternoon Thoughts" (Updated 6/20)
Well I am back from a very nice trip with abnormally disturbing weather for mid June standards. I first want to thank everyone for each and every great observation. It makes everything real easy to take a look back at the weather in the region. On to the trip... We stayed in Corolla, NC in the southern end of town along the ocean. The drive that was supposed to take about 6 or so hours took exactly 12 hours thanks to beautiful traffic and construction on the beltways outside Washington DC, Baltimore, and Richmond. Then another area of traffic was located getting onto the Outerbanks on the Wright Brother's Memorial Bridge. The trip down was all rain with very heavy rain in Corolla until the mid evening. Areas of flooding did occur on the island. The first half of the week we were north of the warm front with a coastal low sitting a few hundred miles off the Atlantic Coast. This caused abnormally high tides promting a Coastal Flood Warning and several Coastal Flood Advisories. The water was near 4ft higher than normal during high tide. The southeasterly strong fetch also caused quite a many riptides which in fact they closed the beach for one day. I also witnessed several water rescues on Friday. Then one night during the week a severe thunderstorm that hit Virginia Beach up the coastline traveled south to the northern Outerbanks. Heating lightning occured for nearly 45minutes before and after the storm. Then the storm hit with about 1inch of rain and several CTG strikes, one possibly striking a beach home as I heard many fire trucks during and after the storm. The next morning dense fog occured even with the sun completely out in clear skies. The RH was near 100% and the fog did not burn out until noon. Several days the high was only in the low 70s and many of nights were very, very chilly. Finally on Friday the sun appeared completely admist a 3mile haze for a decent beach day with a high near 80. Overall the beach weather was not the best including the surf which was quite rough. But I did learn quite a bit about forecasting marine forecast and tide levels which may come in handy this tropics season. I also picked up two local weather books to add to my library of meteorological books. I picked up "The Great Storms of North Carolina" and "The Ash Wednesday Storm." We had a really great time and I enjoyed myself here much better than even Emerald Isle in the southern Outerbanks. I took a few day trips such as the Wright Brothers and Lighthouses. I am a large collector and enjoy visiting lighthouses. So now my travels end for now... I come back here to 74degrees and a stiff northwest wind, Fall? Anyways have a great day!!! Attached are a few pictures I took.

"Regional Radar"


(Courtesy of NOAA)

"Regional Satellite"


(Courtesy of Penn State Meteo.)

"Regional Advisories"


(Courtesy of NOAA)

"Forecast Discussion" (Updated 6/20)
1000mb Low pressure and associated cold front near the tri-state region will be departing out into the Atlantic. But it will churn and move slowly off shore posing the threat for some rain showers and isolated pea sized hail thunder showers with freezing levels below 10,000ft on Sunday. Rain showers will not be too widespread and generally confined to the higher elevations. Another cold pocket aloft approaches for Monday afternoon causing similar conditions to Sunday, but more across the eastern half of the state. The low pressure will begin to stall several hundred miles offshore putting Pennsylvania in a cyclonic flow with winds out of the northwest. H85s remain around 10C under the northwest flow keeping temperatures near to slightly below normal for the first half of the week. Current operation guidance including the GFS and ECMWF keep the low far enough offshore to prevent rain showers for the week, but still partly to mostly cloudy skies will prevail with cloudier skies the farther east one travels. Thankfully the low remains far enough north that we do not fall under a southeast wind otherwise a marine layer would dominate our forecast our week. Towards Wednesday the flow does turn a bit more easterly with some light drizzle and light rain less than .1inches of QPF for eastern Pennsylvania with some 500' ceilings and possible 1-2mile visibility fog near Philadelphia. A ridge of warmth and weak high pressure moves in for the second half of the week through Thursday and the first half of Friday with a return to warmer conditions with H85s near 15C and highs near normal. Sunshine will prevail. A high cirrus deck will likely approach ahead of the next frontal system towards Friday and Saturday as several thunderstorm complexes approach for the first half of the weekend. Convection may be widespread along with another chance of heavier rain. Current GFS guidance suggests over 1inch of rain once again as the front slowly progresses over the region. The front looks to stall over the region with pessimistic guidance suggesting rainfall through the beginning of the next week. Once again pattern change for the short term does not look likely.

"Current Surface Map and Weekly History of Jet Stream Position"


(Courtesy of Weather Underground)

"Weekly Forecast" (Updated 6/20)
Sunday- The region remains under a northwest cyclonic flow with a more typical fall like regime with strato-cumulus over the higher elevations thanks to some additional lift. Temperatures look to be below normal with highs across the north and mountains in the upper 60s with highs across the south in the mid 70s. Skies will be mostly cloudy across the region and with some heating of the day there will likely be some rain showers that form some of which could be heavier with pea sized hail, but that would be isolated at best. Rainfall amounts should not exceed .25inches in any one locale. With sunset should cause a decline in cloud cover and rain showers should become more intermittent. Lows will be in the upper 50s to low 60s for much of the state under a northerly flow.

Monday- Monday looks slightly similar to Sunday, but with some more sunshine. Another very weak wave approaches the region tapping some light and spotty rain showers over the eastern half of the state especially in the Poconos. Cloud cover will generally be partly cloudy skies with a cumulus deck. Rainfall should not exceed .1inches in most locations. Highs will be slightly below normal once again with low 70s over the north to upper 70s across the south. Areas in western Pennsylvania though will see more sunshine and the Pittsburgh metro area may approach 80degrees. Monday night will feature clear skies early in the evening with some clouds moving east to west from a weak marine layer thanks to the low pressure offshore. Lows will be in the 60s statewide.

Tuesday- Cloudy skies will be generally across extreme eastern Pennsylvania with nicer conditions the farther west one goes. Some light rain showers are possible over the east as an area of energy from the churning low pressure brings in some spotty showers with rainfall generally less than .1inches. Highs will greatly vary across the state as western areas see more sunshine than the east. Highs in the east will struggle to reach 80degrees, but 85degrees is possible across the west especially in the Pittsburgh metro region. Tuesday night will feature low clouds especially near Philadelphia with ceilings near 500-1000ft and possible spotty drizzle and light fog with visibilities from 1-3miles. Lows will be once again in the 60s across Pennsylvania.

Wednesday- The weak wave will depart along with the low across the North Atlantic shipping lanes so conditions will be improving throughout the day with sunshine possible for all areas by evening. Some light rain is even possible in the morning for eastern areas with amounts generally less than .1inches. The stratus deck will slowly move out to sea and will cause highs to be near normal or slightly below normal for the east. But once again across the west there will be near normal to slightly above normal temperatures under the full sunshine. Highs will be in the upper 70s in the east to mid 80s across the west. Wednesday night will feature improving conditions will generally clear to partly cloudy skies in the east with lows once again in the 60s.

Thursday- A ridge of warm weather and weak high pressure will approach the region turning the flow more typical of that of summer from the south-southwest. Humidity and dewpoint levels will be on the increase to near 60 for the Susquehanna Valley. Highs will be near normal to slightly below normal under brilliant sunshine with highs in the 80s statewide. Thursday night will feature clear skies with mild overnight lows generally in the 70s statewide.

Friday- Sunshine will prevail only with a slight increase in clouds from the west ahead of the next weather system. Any cloud cover will generally be high and wispy cirrus. Humidity levels will continue to increase with dewpoints touching the mid 60s in the Lower Susquehanna Valley near the Mason-Dixon line. Highs will be in the mid to upper 80s statewide. Friday night will feature an increase in clouds with possible showers and thunderstorms late especially across the west. Rainfall amounts will be near .25inches for areas that receive rainfall.

"Wildfire Outlook" (Updated 6/20)
Once again with quite a bit of rainfall during the past week, it appears the fire threat for natural forest fires remains low the next seven days. Our wildfire seasons while minor are typically in the fall in spring as there is a lack of foliage on the trees making for dry brush. The nest seven days will not be seeing as much rain as the last seven so dry fuel levels will increase later in the week, but any threat should be quite minimal. So after some thought I was thinking on changing this secton to a Chesapeake Bay forecast section for tides and such along with updates on winds and currents. But I was wondering on what every thought about the idea and whether it would be of any use for anyone. Write down a comment or shoot me by a Wunderground mail on your thoughts. Thanks!

Here again are the fire criteria for development in Pennsylvania... Link.

Criteria for rapid initiation and spread of wildfires in PA:

1. Winds must be sustained at 15 mph (13 knots) for two hours or more, and

2. Minimum Relative Humidities (which usually occur in the afternoon) must be 30 percent or less, and

3. 10-hour Fuel Moistures must be 15 percent or less (and expected to remain there for two or more days).

"Fire Outlooks from Storm Prediction Center Days 1, 2, and 3"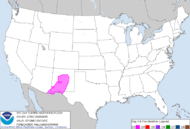 (Courtesy of NOAA)

"Gardening Outlook" (Updated 6/20)
I will admit I was a bit excited to return to see how my gardens grew especially after just so much rainfall. My annuals in pots are growing terrific especially my impatients and sweet potato vines. Perennials are also growing nice with several flowers blooming on the bee balm and hydrangea. It appears about a little over 2inches of rain fell here while I was gone during the past seven days. My vegetables grew relatively nicely, but they are definitely lacking due to the lack of heat. My zucchini grew beautifully and already is starting with small yellow flowers. The pickling cucumber also grew very nicely and I built two trellises for then ti grow up on. Remember last year I let the cucumber plant grow along the ground and I ended up with a very low harvest. The beets are growing slow, but seem healthy and may need some thinning out later this week. The radishes are about down and I may plant another summer variety shortly. My tomato plants are just massive especially my Early Girl. The roma and cherry varieties have little green tomatoes, none of which have ripened. The watermelon and cantelope also seem healthy and are growing nice long vines. The herbs are growing nicely although the cilantro has bolted flowers which I need to snip immmediantly. The onions and garlic continue to grow over two feet high and look very healthy; the leeks are also very similar. My yellow wax beens look very nice and are about 2-3inches tall after I planted seed about a week and a half ago. My pepper plants are very slow to grow and need immediantly some hot weather. My blueberry bushes have some unripened berries, which will need picked in the beginning of July most likely. The celery plants continue to grow, but I just do not see a stalk anywhere. Sadly all of my lettuce bolted so I will need to replace that area likely with zucchini or more tomatoes. The Swiss Chard continues to look great and has a wonderful spinach like flavor. Everything continues to grow very nicely and likely the second week of July will be my yearly vegetable gardening blog where everyone shares their pictures!

"Soil Moisture Anomalies and 5-day Precipitation Amounts from Hydro Prediction Center"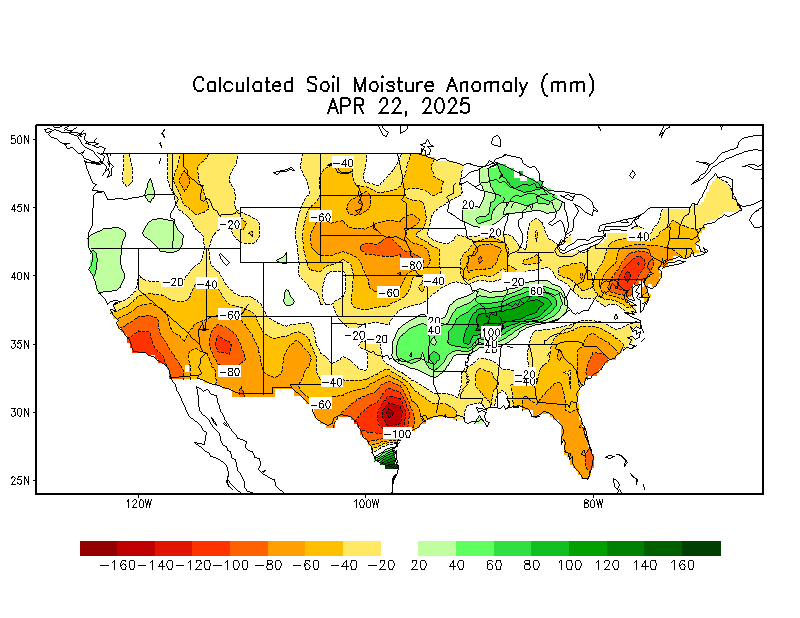 (Courtesy of NOAA)

"Severe Weather Outlook" (Updated 6/20)
Severe weather chances will be relatively quiet this week as generally high pressure remains in control along with a slight easterly flow along the coastline as a low pressure churns off the coast several hundred miles. The next frontal system poses at the region towards Friday and Saturday with a cutoff low to the north in Canada. This displaces the highest winds to the north, but with a southerly flow along the warm front ahead of the cold front could position some form of MCS complex across the Northeast with as always the threat of wind damage, lightning, and very heavy rain common from these events. But this threat is nearly seven days away so at this point threat level is quite minimal. During this previous week I saw there was quite a bit of severe weather in the Pittsburgh region with intense flash flooding and funnel clouds with hail and wind damage. Training thunderstorms really dumped quite a bit of water nearly 6inches in some locations on the western side of the north-south ridges. Also some flash flooding occurred in the Northeast Mountains in Susquehanna and Bradford Counties. Wind damage also occured in the western mountains of Butler County and surrounding ares with several severe thunderstorm warnings being issued for the strong cells. Also finally some severe weather occurred today with wind damage across York and Lancaster County from a supercell that proceeded into Maryland causing an EF-1 tornado near Essex in Baltimore County with top winds of 90mph with damage to several homes and many trees and power lines down. So overall the threat for severe weather for at least the next five days looks slim.

"Severe Weather Outlooks from Storm Prediction Center Days 1, 2, and 3"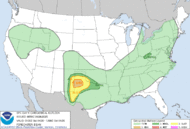 (Courtesy of NOAA)

"Monthly Outlook" (June)
Well I guess there has to be a best and worst with everything and my recent May forecast was my worst monthly forecast to date. My call for warmer and drier temperatures definitely did not pan out as temperatures were slightly below normal to normal and precipitation was well above normal. This pattern is very strange we are in with a very solid negative NAO and strong positive PNA. MJO also has been pretty steady in the higher phases such as 6,7,8. These phases are quite favorable for east coast troughing. Interesting to note is the currently 3.4 Nino status. SSTs are rapidly warming as the Hadley cell departs the region and immediant term wise SSTs rose enough to be classified as a weak El Nino. But the CPC waits for a certain length of time for classification. We also have a favorable Greenland blocking creating these troughs in the east. Looking at the long term model runs they continue this winter like jet stream pattern with troughing over the east and a strong ridge in the west. This also will combine with these consistent stalled fronts. Rainfall looks plentiful this month with some GFS model runs indicating 4-6inches of rainfall in the first half of the month with some areas 6-8inches of QPF. This pattern looks to continue for most of the month as the pattern seems very consistant. The remnants of the La Nina continue to dominate the flow and this pattern appears to do so. My Summer Outlook so far is not looking great unless we can see some signs of the troughing backing off in the east and have the Bermuda high and Southeast ridge build in. For now the pattern will be cooler than normal temperatures with periods of heavy rain. Severe weather will be common for those south of the occluded fronts. Here are more details...

Temperature- I am calling for normal to slightly below normal temperatures as a trough dominates the weather here in the east and cloud cover keeps a hold on highs even in warm sectors. Temperatures anomalies should be in the (-1.2)-(-.2) sector. The best chance of warmer temperatures will be extreme southern Pennsylvania closer to the warm sector in these stalled frontal situations.

Precipitation- I am calling for well above normal precipitation as we continue to be right in the perfect region for these stalled fronts. Rainfall will be common with many overrunning situations. Also MCS complexes will be common overnight as severe weather in the southern Great Lakes creates weak complexes of nocturnal thunderstorms. The month will be wettest in the first two thirds.

"Temperature and Precipitation Outlooks from Climate Prediction Center for next 30 days"


(Courtesy of NOAA)

"Tropical Update" (Updated 6/20)
The Atlantic remains relatively quiet as we continue to move through the Atlantic Hurricane Season. Lack of any surface feature along with high shear levels will continue to preclude tropical chances likely for the next five days or so. A non tropical coastal low will be tracking several hundred miles off the east coast, but the only threat to the lower 48 would be heightened tides along the coast about 1ft above normal along with a heightened chance of rip currents particularily from the Jersey Shore on northward through Cape Cod. The Eastern Pacific looks a bit more active, but still relatively calm givin the East Pacific Hurricane Season begins earlier than the Atlantic. A weakening area of showers and an isolated thunderstorm southeast of the Hawaiian Islands will cause little to no impact with a low threat of developing. Off the coast of Mexico remains a large area of thunderstorms and rain showers slowly organizing. As winds aloft begin to weaken some possibly development is likely as the tropical wave moves westward. Any threat to the coastline remains very low. An update on El Nino proves that sea surface temperatures continue to warm to above normal levels in the Central Pacific. NOAA has issued an El Nino watch and likely the El Nino will keep a hold on the tropical season in the Atlantic to normal or below normal activity. But as I always say it only takes one storm to make a season such as in 1992 with Andrew. Otherwise the season was relatively quiet. Also Atlantic Sea Surface Temperatures along the east coast remain semi-below normal, but they have greatly warmed in the last two weeks in the Caribbean where temperatures are now slightly above last year's numbers. So for now the tropics continue to remain quiet.

"Latest Tropical Systems including Sea Surface Temperatures"


(Courtesy of Wunderground)

"Here north of Harrisburg 2009 statistics"
(Severe Weather Stats...)
Severe Thunderstorm Watches- 3
Severe Thunderstorm Warnings- 3
Tornado Watches- 0
Tornado Warnings- 0
Total Thunderstorms- 18

(Precipitation Stats...)
Flood Watches- 1
Flood Warnings- 1
Monthly Precipitation- 5.04inches
Yearly Precipitation- 18.44inches

(Temperature Stats...)
Heat Advisories- 0
Excessive Heat Warnings- 0
90degree Days- 3
Highest Temperature- 92degrees
Corolla Beach- We had a very strong thunderstorm the one evening which also hit north of here near Virginia Beach with a funnel cloud and waterspout. The thunderstorm hit around midnight with intense lightning and an inch of rain. But during the evening the thunderstorm could be seen approaching. Note the mammatus clouds on the underside of the anvil over our beach homes.
The views of the author are his/her own and do not necessarily represent the position of The Weather Company or its parent, IBM.
Reader Comments
Comments will take a few seconds to appear.
Post Your Comments
Please sign in to post comments.
Not only will you be able to leave comments on this blog, but you'll also have the ability to upload and share your photos in our Wunder Photos section.
The Northeast Weather Blog...
Recent Posts
Local Weather
63 °F

Clear
Previous Entries for 2017
Personal Weather Stations