Middle Atlantic Monday/Tuesday Severe Weather...
"Thoughts on Severe Weather of June 8-9"
A two day period of scattered thunderstorms will be occuring generally across the entire state of Pennsylvania as a warm front lifts northward followed by a cold front passage. The current weather pattern we are in has been anything but typical as these Pacific Airmasses in the form of troughs continue to track over much of the nation resulting in calm weather. But it does appear finally that the pattern is beginning to slowly transition to a more summer like regime. Bubbles of high pressure are beginning to form across the southeast and the Bermuda high will slowly move into a more summer like position. I do forsee warmer temperatures on the horizon, though with a continue unsettled pattern through at least mid month. El Nino is really beginning to crank out and if you haven't heard, NOAA has issued a El Nino Watch. This current blog will feature the potential for severe weather for the next two days across the Middle Atlantic. While severe weather shouldn't be overly widespread, there certainly will be some stronger storms. Interestingly enough we still haven't seen a widespread severe weather outbreak at all here in Pennsylvania in fact most thunderstorm events have been pretty quiet. Once we get into the simple summer weather pattern with the southeast ridge and occasional simple cold front passages with southwest flows, then we will be able to get more widespread severe weather with squall lines and such. It just seems like our weather is just so quiet lately here in the Lower Susquehanna Valley without any real major storm since December of 2007 with the severe ice storm. Our weather since then has been quiet. Now lets look at the date I joined Wunderground, December 14 2007. I guess I must be jinxing us, hahahaha. Anyways I suppose it is a good thing that our weather has been quiet and not causing problems across the region. But for us weather watchers, it sure has been quiet. Thanks to all still leaving comments and hanging around and for those who occasionally check-in throughout the summer until their season hits, winter. Stay tuned for updates from the NWS on the next two days with the potential of strong to severe thunderstorms.

"Current Weather Setup"
A frontal boundary located around the Mason-Dixon line will slowly sink southward during the day Sunday through Monday morning finally beginning to stall from northern New Jersey across northern Pennsylvania. The warm front will lift northward putting the southern half of Pennsylvania in the warm sector towards Monday afternoon. Some initial cloud debris will be across the region as a few morning showers are possible with some added lift from previous MCS complexes of the Midwest. But under strong June sunshine, the clouds should quickly burn out across southern Pennsylvania. Southwesterly winds will draw up warmer temperatures and higher dewpoints. Temperatures will rise to near 85degrees for many areas south of I-80 as temperatures in the 850s rise to near 13C slightly warm enough to CAP off the environment for the first half of the day. As instability begins to develop CAPE values will soar up to near 2000 j/kg with lifted indices near -2. The lacking mechanism will be organized bulk shear aloft and the lacking contrast between cold air aloft and the warm boundary layer. But with the warm front focusing the development of thunderstorms and some added 300 layer helicity, pulse thunderstorms will develop across Pennsylvania Monday afternoon. PWATs will rise to near 2inches in southeastern Pennsylvania thanks to a Chesapeake influence. Highest winds aloft remain displaced to the north of the best instability therefore resulting in winds aloft near 35knots. Freezing levels also will be relatively high aloft near 11000ft. But with moderate thermodynamics a few thunderstorms will be severe south of I-80. Damaging winds are the primary threat, but hail and an isolated tornado cannot be ruled out with semi favorable horographs.

Tuesday poses the question for a more widespread severe weather event than pulse thunderstorms that occur Monday. The final push of the cold front will approach the region from the Midwest. The main concern for Tuesday and an inhibiting factor will be cloud cover. Strong thunderstorm complexes near Chicago will have formed Monday night and move across the Ohio Valley. Cloud debris may overspread Pennsylvania for parts of Tuesday. But with such strong June sunshine, we should be able to break out into the sunshine for at least central and eastern Pennsylvania. Dewpoints will rise into the low 70s with highs into the mid 80s. While bulk shear is lacking intensity strong low level and mid level lapse rates will dominate for the threat of an organized thunderstorm development possibly in the form of a squall line or clusters of bow echo thunderstorms. Wind damage is the primary threat with helicity displaced to the north lacking the tornado threat. Hail is also a possibility with 10000ft freezing levels. Mesoscale models are developing extremely high thermodynamics with CAPE values near 4000j/kg! But this seems a bit overdone with possible cloud cover, highs in low 80s, and dewpoints only in low 70s. Also some models show Lifted indices near (-4)-(-6), again seems overdone. Still though potential is there for a semi organized severe weather event as the front will be passing through during a favorable time with the full heating of the day.

"Current Advisories"



"Current Satellite"


(Courtesy of Penn State Meteorology.)

"Current Surface Map and Weekly History of Jet Stream Position"



"Radar for Western Pennsylvania"


"Radar for Central Pennsylvania"


"Radar for Eastern Pennsylvania"



"Forecasts from Storm Prediction Center"
SPC AC 091210

DAY 1 CONVECTIVE OUTLOOK
NWS STORM PREDICTION CENTER NORMAN OK
0710 AM CDT TUE JUN 09 2009

VALID 091300Z - 101200Z

...EAST...
AIRMASS RECOVERY IS EXPECTED IN THE WAKE OF MORNING STORMS FROM
DELMARVA NWD ACROSS ERN PA. INSTABILITY WILL ALSO INCREASE ALONG THE
EAST SLOPES/FOOTHILLS OF THE APPALACHIANS FROM CAROLINAS TO VA.
BROADLY DIFFLUENT MID/UPPER FLOW AND WEAK HEIGHT FALLS WITH PASSAGE
OF UPPER TROUGH TO THE NORTH WILL FURTHER AID STORM DEVELOPMENT
WITHIN MARGINALLY SHEARED FLOW. POCKETS OF SLIGHTLY GREATER SHEAR
ACROSS THE MID ATLANTIC AND PERHAPS ACROSS THE CAROLINAS WILL
CONTRIBUTE TO POTENTIAL FOR MORE ORGANIZED STORMS THESE AREAS.
GREATER PERSISTENCE/ORGANIZATION APPEARS MOST LIKELY ALONG
LEE-TROUGH AND NEAR COLD FRONT/LEE-TROUGH INTERSECTION AND
DEVELOPING WEAK SURFACE LOW FROM PA ACROSS DELMARVA AREA LATER THIS
AFTERNOON. A FEW STORMS IN THESE AREAS MAY BRIEFLY ACQUIRE SUPERCELL
STRUCTURE WITH HAIL AND HIGH WINDS POSSIBLE. OTHER MULTICELLULAR
STORMS COULD PRODUCE SOME WIND/MARGINAL HAIL BEFORE DIMINISHING IN
INTENSITY AFTER SUNSET.

"Tornado Risks"


"Hail Risks"


"Wind Risks"



"Model Analysis"
A few model errors appear to be developing in the short term with some error in the placement of how far north the warm front makes it and how strong of surface instability develops Tuesday. The GFS appears to be having some convective feedback issues especially reguarding Tuesday as it develops CAPE values near 4500 j/kg. The HIRES WRF and NMM also seem to be having a few convective feedback problems in result of some possible MCSs developing across the Midwest and tracking east over the Ohio Valley. This event being two days seems to call for a blend of models especially in reguards to frontal placement.

"3z SREF Model Forecast Lifted Index Values"


(Tuesday afternoon)

"0z NAM Model Forecast SWEAT, Helicity, and CAPE indices"


(Tuesday afternoon)

"0z GFS Model Forecast Bulk Shear 0-6km"


(Tuesday afternoon)

"0z GFS Model Forecast EHI Values"


(Tusday afternoon)

"My Forecast for Severe Weather"
For Monday I am expecting the best chance of severe weather to be over the southern half of the state closer to the higher instability with wind, hail, and isolated tornadoes all being possible threats. The activity will be organized into generally pulse thunderstorms some of which will develop over the high terrain and move eastward into the valley regions with higher instability. Tuesday looks to be a bit more active for severe weather if the debris clouds do not inhibit storm activity. Stay tuned for a forecast map and short paragraph in this section Monday evening for the Tuesday forecast.

Below is my Tuesday severe weather map. I am calling for some significant thunderstorms across the southeastern portions of the state as low level moisture from nocturnal convection combined with sunshine breaking out later in the day forming high instability. Some of the models such as the NAM and GFS really break us into the moderate to high index of CAPE. What is lacking is the lack of low level jet feature causing stronger winds aloft. But with a high SWEAT index and some 200 helicity, a few rotating supercells cannot be ruled out. I am thinking about changing the format of my severe weather forecast maps. My moderate area is not the same as a SPC moderate guidelines. So I think I may change it to probability with putting max probabilities despite how widespread the severe weather is. I will explain it more once it is developed. In any case today's thunderstorms look to be organized into multi clusters and not a large squall line.

"My Severe Weather Risk Map"


(Tuesday)



(Monday)
*Note... It has been a while since my severe weather maps have been posted. For review my probability areas are slightly different than the Storm Prediction Center due to the fact of the somewhat rarity of severe weather in Pennsylvania in comparison to other parts of the country. Therefore my moderate risk for Pennsylvania would be similar to a high end SPC slight risk. My 25-50% chance of thunderstorms include 0% chance of severe weather. My 75% chance of thunderstorms include 5% severe weather. My slight risk of severe weather includes 15% severe weather. My moderate risk includes 30% severe weather and my high risk includes 45% chance of severe weather. And after the storm I will plot the storm reports and forecast warnings over my forecast regions for a verification map.

"Conclusions on Severe Weather Outbreak"
Overall this event does not seem to be anything of too much significane on a widespread level as both thermodynamics and kinematics are displaced from one another, but still some severe weather will likely occur. Here is the outlook for the rest of the month. Well I guess there has to be a best and worst with everything and my recent May forecast was my worst monthly forecast to date. My call for warmer and drier temperatures definitely did not pan out as temperatures were slightly below normal to normal and precipitation was well above normal. This pattern is very strange we are in with a very solid negative NAO and strong positive PNA. MJO also has been pretty steady in the higher phases such as 6,7,8. These phases are quite favorable for east coast troughing. Interesting to note is the currently 3.4 Nino status. SSTs are rapidly warming as the Hadley cell departs the region and immediant term wise SSTs rose enough to be classified as a weak El Nino. But the CPC waits for a certain length of time for classification. We also have a favorable Greenland blocking creating these troughs in the east. Looking at the long term model runs they continue this winter like jet stream pattern with troughing over the east and a strong ridge in the west. This also will combine with these consistent stalled fronts. Rainfall looks plentiful this month with some GFS model runs indicating 4-6inches of rainfall in the first half of the month with some areas 6-8inches of QPF. This pattern looks to continue for most of the month as the pattern seems very consistant. The remnants of the La Nina continue to dominate the flow and this pattern appears to do so. My Summer Outlook so far is not looking great unless we can see some signs of the troughing backing off in the east and have the Bermuda high and Southeast ridge build in. For now the pattern will be cooler than normal temperatures with periods of heavy rain. Severe weather will be common for those south of the occluded fronts. Here are more details...

Temperature- I am calling for normal to slightly below normal temperatures as a trough dominates the weather here in the east and cloud cover keeps a hold on highs even in warm sectors. Temperatures anomalies should be in the (-1.2)-(-.2) sector. The best chance of warmer temperatures will be extreme southern Pennsylvania closer to the warm sector in these stalled frontal situations.

Precipitation- I am calling for well above normal precipitation as we continue to be right in the perfect region for these stalled fronts. Rainfall will be common with many overrunning situations. Also MCS complexes will be common overnight as severe weather in the southern Great Lakes creates weak complexes of nocturnal thunderstorms. The month will be wettest in the first two thirds.

"Storm Reports"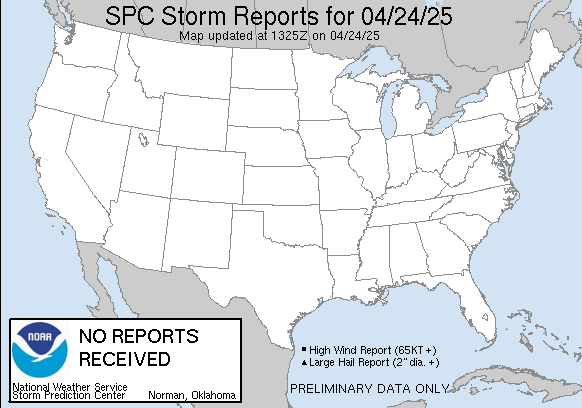 Below is my verification map for Monday. The forecast panned out really well as isolated severe pulse thunderstorms did form across the region only with a few reports of severe weather, but several warnings.



(Monday)



(Tuesday)

"Here north of Harrisburg 2009 statistics"
(Severe Weather Stats...)
Severe Thunderstorm Watches- 3
Severe Thunderstorm Warnings- 3
Tornado Watches- 0
Tornado Warnings- 0
Total Thunderstorms- 14

(Precipitation Stats...)
Flood Watches- 1
Flood Warnings- 1
Monthly Precipitation- 2.95inches
Yearly Precipitation- 16.35inches

(Temperature Stats...)
Heat Advisories- 0
Excessive Heat Warnings- 0
90degree Days- 2
Highest Temperature- 92degrees
The views of the author are his/her own and do not necessarily represent the position of The Weather Company or its parent, IBM.
Reader Comments
Comments will take a few seconds to appear.
Post Your Comments
Please sign in to post comments.
Not only will you be able to leave comments on this blog, but you'll also have the ability to upload and share your photos in our Wunder Photos section.
The Northeast Weather Blog...
Recent Posts
Local Weather
51 °F

Overcast
Previous Entries for 2017
Personal Weather Stations