Very unusual April-like weather...
"Afternoon Thoughts" (Updated 6/3)
First my apologies for lack of blogging the last week or two as I have been quite busy. But now it appears I will have a bit more free time in the next few weeks ago. So here I am sitting inside on a June afternoon and I look at the temperature and it reads 59degrees with low clouds covering Blue Mountain and an occasional light rain. Does anything seem wrong with that picture? These last three weeks to four have been very benign across the entire continental United States with just about no severe weather across the country. I am interested to see the tornado count for the month of May. It is contradictory how the poor VORTEX2 scientific research event is trying to conduct experiments on severe weather, but yet there are pretty much no tornadoes to be found. I guess one would consider that a decent thing to say the least for the folks living out there. Looking ahead I really do not see much changing in the pattern which is ashame as this is basically Summer, but yet it just does not appear so at all especially looking at the 500mb charts. One has to wonder when looking at the three day forecast and the highest temperature is 65. Also it is not just air temperatures that are cool, the beach water temperatures are well below normal along the east coast for this time of year. We were lacking of any real hot weather last year and once again I wonder if we are headed that way again. O and finally just to spark some early thought for us snow crazies. This El Nino pattern we are entering may be very favorable for us finally to get snow. El Nino winters have a bad rap of being very warm because of the far right anomaly of 1998-1999. But really Nino patterns are much more favorable for a southern storm track vs. northern dominated jet streams like the La Nina patterns. Just something to monitor and if we get a weak to moderate Nino and a negative PDO; I think we are in snow business in the winter. My concern is how quickly this Nino is developing. Anyways for now enjoy, well, hope for warmer times around the corner! Have a great day!!!

"Regional Radar"


(Courtesy of NOAA)

"Regional Satellite"


(Courtesy of Penn State Meteo.)

"Regional Advisories"


(Courtesy of NOAA)

"Forecast Discussion" (Updated 6/3)
A very winterlike pattern remains in control with a strong ridge across the west coast and deep trough in the east. Another stalled front is located across the northern Middle Atlantic just south of the Mason-Dixon line. A stark contrast in temperatures is located around the Mason-Dixon line Wednesday with severe weather to the south and an overrunning rainfall to the north. H85s will remain below 10C for much of the period until Sunday as they rise ahead of the next front. For Wednesday night rising PWATs several deviations above normal combined with a mid level wave will produce periods of moderate stratiform rainfall over the region. An easterly flow will promote the lowering of the stratus deck overnight creating MVFR and IRF conditions at the local terminals and ceilings drop to near 900ft and visibilities in patchy fog drop to around 3miles. QPF does not remain overly impressive. One cause for concern is the remnants of MCV in western Pennsylvania which may try to enhance some convective activity to the rainfall, but with boundary layer temperatures in the 50s and 60s Wednesday and Thursday with CAPE below 200 j/kg, nothing of severe weather is expected. QPF through Thursday afternoon will be around .25inches with slightly more in some areas. Conditions will improve early Thursday evening before another wave brings IFR conditions early Friday morning causing more rainfall Friday with QPF amounts near .25inches or so. Finally a kicker cold front pushes the stalled front out of the region giving way to a nice weekend after some patchy dense ground fog early Saturday morning. Sunshine will prevail before another cold front and low pressure ride across the western Ohio Valley before they move in for late Sunday night as another front stalls out over the region. Showers and thunderstorms will be possible once again.

"Current Surface Map and Weekly History of Jet Stream Position"


(Courtesy of Weather Underground)

"Weekly Forecast" (Updated 6/3)
Thursday- The frontal boundary will slowly move southward but an easterly wind will keep conditions very dreary during most of the day south of I-80. Low cloud ceilings and patchy fog will be quite common in southern Pennsylvania with occassional rainfall especially in the first half of the day. Rainfall totals will be near .25inches for some areas, but generally less than that is expected. Highs will be extremely below normal by 15degrees and it will feel more like early April than June. Highs will be in the upper 50s to low 60s for the southern half of Pennsylvania and in the 70s across the north. Partly to mostly cloudy skies may begin to appear for northern Pennsylvania for later in the day as the front moves southward. Overnight Thursday will continue the threat of rainfall generally light at best with additional amounts up to .25inches. Lows will be below normal generally in the upper 40s statewide. Low clouds and dense fog on the ridgetops will also be common overnight.

Friday- Once again the frontal boundary will slowly but surely moving southward keeping the southern third of Pennsylvania socked in clouds and rainfall during much of the day. The day will be more dry than wet, but still rainfall could total up to .25inches in some locations. Temperatures will once again be well below normal as a cool easterly wind keeps a maritime airmass over the region. Highs will be in the upper 50s to low 60s with 70s for the north. Northern Pennsylvania will once again likely break out into some sunshine which will keep warmer temperatures up that direction instead of across the south. Friday night will feature occasional light rain and drizzle with rainfall less than a tenth of an inch for most locales. Lows will be chilly in the mid to upper 40s for most areas. Lows clouds and dense fog again will be common especially over the ridgetops.

Saturday- If enough clearing takes places late Friday night some dense fog could form in areas that saw rain the previous day and or night. Fog will quickly burn off giving way to brilliant sunshine which will be a nice turn of events. After some cool morning air highs will soar to near normal levels in the upper 70s to near 80 near Philadelphia. Saturday night will feature clear skies with low dewpoints in the 50s giving way to lows in the 50s statewide.

Sunday- Sunshine will be over much of the region for the morning hours before some cirrus moves ahead of the next stalling frontal boundary for next week. Highs will once again be near normal in the upper 70s for most areas. A few thunderstorms cannot be ruled out across southwestern and northwestern Pennsylvania as the southwest flow begins to bring in some high dewpoints and orographic lift off the mountains might just be enough to spark a pulse thunderstorm or two. Most areas though will be dry. Sunday night will feature an increase in clouds as showers and nocturnal thunderstorms move into the region ahead of the next frontal boundary. Lows will be mild likely in the upper 50s for much of the state.

"Wildfire Outlook" (Updated 6/3)
Extremely low wildfire threat for the next seven days as conditions remain very wet with rain after rain. Also temperatures will be reluctant to even touch 80degrees in the next seven days keeping temperatures well below normal. The wildfire season is just about over as most new vegetation is out and the dry dewpoint season is just about over. Overall it seems it was a quiet season with very few large fires. There were several brush fires especially in eastern Pennsylvania this year as conditions were still dry from last Summer. I may replace this section as wildfire threats will be limited the next few months. If anyone has any ideas about a new section to replace this one, please drop them by me in a comment or Wundermail. Thanks!

Here again are the fire criteria for development in Pennsylvania... Link.

Criteria for rapid initiation and spread of wildfires in PA:

1. Winds must be sustained at 15 mph (13 knots) for two hours or more, and

2. Minimum Relative Humidities (which usually occur in the afternoon) must be 30 percent or less, and

3. 10-hour Fuel Moistures must be 15 percent or less (and expected to remain there for two or more days).

"Fire Outlooks from Storm Prediction Center Days 1, 2, and 3"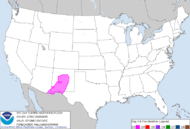 (Courtesy of NOAA)

"Gardening Outlook" (Updated 6/3)
Well the height of the Spring planting season is already over, which surely is hard to believe. Usually this time of year is not good to plant annuals as it gets much too hot and too dry. This though is certainly not the case this season. Looking ahead at this week frosts threat remain minimal even for far northern mountain valleys. Also there will be quite plentiful rain this week and watering does not really appear necessary in the next seven days. Onto an update of my garden; I am sad to report but a new groundhog has moved into the region. I have tried several options to get rid of it but it does not work. The animal has completely eaten my broccoli and has terrorized some of my cauliflower plants. Everything else in my garden is doing great with my red and yellow onions nearly two feet tall some of which with flowers which I quickly break off. My radishs are being picked daily and I hope to plant a Summer variety after they have all been picked. This cool weather we have been having is definitely extending my lettuce crop season as so far none of even look closed to bolting. I have been picking lettuce every night and I have been quite popular with the neighbors. My swiss chard is also very tasty and growing very nice. My celery plants also appear to be getting fuller and slightly larger. The blueberry bushes have dropped their flowers and are now in the formation of the berry stage. It appears I will have a decent crop. I did get a mesh net to protect the bluberries this year from the birds. My herbs are doing great and this year I planted oregano, chives, parsley, basil, and cilantro. The garlic still is growing large but I think it still has a long way to go. My leeks are also doing well and finally I have noticed a large growth in them. My new vegetable box is also doing well with small green cherry tomatoes forming, but now early girl or roma tomatoes yet. My zucchini and cucumber are growing extremely quickly and really seem to like the fertile soil and very wet weather we have been having. Finally my watermelon plant has grown slightly and appears healthy. On another note I finally finished planting all my annuals including my shade impatients everywhere. I always seem to forget how quickly plants add up at the nursery. Anyways good luck finding a dry day to plant including dry soil. Happy Gardening! By the way my annual vegetable gardening blog will be out towards the end of the month.

"Soil Moisture Anomalies and 5-day Precipitation Amounts from Hydro Prediction Center"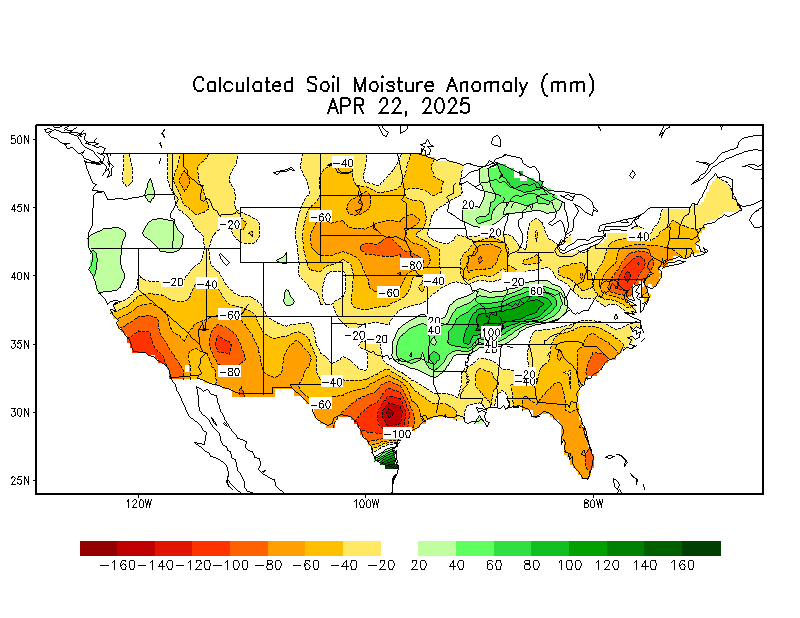 (Courtesy of NOAA)

"Severe Weather Outlook" (Updated 6/3)
Chances of severe weather remain slim in the near term as the warm front lies just a few miles south of the Mason-Dixon line putting us in the cold sector. Wednesday evening will feature widespread severe weather across the Southern Middle Atlantic being just south of the cloud deck. Along a few outflow boundaries from thunderstorms from the previous night will cause initial initiation of pulse thunderstorms capable of tapping into the 30knot shear values aloft. A few mesoscale thunderstorms cannot be ruled out with isolated tornadoes. Later in the day thunderstorms will form along the warm front with high winds being the primary threat along with heavy rain and vivid lightning as up in the troposphere will be much colder than normal temperatures causing more ice crystal development giving way to more positive CTG lightning strikes. In fact a very bad lightning strike hit up this way north of Harrisburg the other evening. Flash flooding will also be a major threat with saturated ground and training thunderstorms. The next best chance of thunderstorms will be next week in the first half of the week as another front moves in and potentially stalls out over the region again. We could be dealing with a similar situation as we are with this recent stalled front. Being about seven days from the next potential outbreak, details remain limited. Stay tuned for further updates. The pattern we are in is very favorable for nocturnal thunderstorms that produce vivid lightning and very heavy rain.

"Severe Weather Outlooks from Storm Prediction Center Days 1, 2, and 3"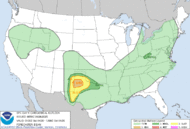 (Courtesy of NOAA)

"Monthly Outlook" (June)
Well I guess there has to be a best and worst with everything and my recent May forecast was my worst monthly forecast to date. My call for warmer and drier temperatures definitely did not pan out as temperatures were slightly below normal to normal and precipitation was well above normal. This pattern is very strange we are in with a very solid negative NAO and strong positive PNA. MJO also has been pretty steady in the higher phases such as 6,7,8. These phases are quite favorable for east coast troughing. Interesting to note is the currently 3.4 Nino status. SSTs are rapidly warming as the Hadley cell departs the region and immediant term wise SSTs rose enough to be classified as a weak El Nino. But the CPC waits for a certain length of time for classification. We also have a favorable Greenland blocking creating these troughs in the east. Looking at the long term model runs they continue this winter like jet stream pattern with troughing over the east and a strong ridge in the west. This also will combine with these consistent stalled fronts. Rainfall looks plentiful this month with some GFS model runs indicating 4-6inches of rainfall in the first half of the month with some areas 6-8inches of QPF. This pattern looks to continue for most of the month as the pattern seems very consistant. The remnants of the La Nina continue to dominate the flow and this pattern appears to do so. My Summer Outlook so far is not looking great unless we can see some signs of the troughing backing off in the east and have the Bermuda high and Southeast ridge build in. For now the pattern will be cooler than normal temperatures with periods of heavy rain. Severe weather will be common for those south of the occluded fronts. Here are more details...

Temperature- I am calling for normal to slightly below normal temperatures as a trough dominates the weather here in the east and cloud cover keeps a hold on highs even in warm sectors. Temperatures anomalies should be in the (-1.2)-(-.2) sector. The best chance of warmer temperatures will be extreme southern Pennsylvania closer to the warm sector in these stalled frontal situations.

Precipitation- I am calling for well above normal precipitation as we continue to be right in the perfect region for these stalled fronts. Rainfall will be common with many overrunning situations. Also MCS complexes will be common overnight as severe weather in the southern Great Lakes creates weak complexes of nocturnal thunderstorms. The month will be wettest in the first two thirds.

"Temperature and Precipitation Outlooks from Climate Prediction Center for next 30 days"


(Courtesy of NOAA)

"Tropical Update" (Updated 6/3)
A look currently at the tropics shows an area of disturbed weather across the far North Atlantic, but the showers and thunderstorms are rapidly cooling thanks to the very cold water temperatures. The area of thunderstorms will only be affecting the shipping lanes. The coastline of Africa remains pretty quiet for right now. Water temperatures are currently very cold esecially along the Atlantic seaboard where temperatures are coldest since 1994 for this time of year. The only area of concern I see is in the central Atlantic moving towards the Virgin Islands. Currently the area if under poor development conditions but as it moves into the Caribbean I would not rule out some development as it moves west into Central America. Occasional GFS model runs have hinted at this possible of a solution. For now though I would put chances below 15% for this possibility. Overall the tropics including the east Pacific remain quiet. Just recently we did have a tropical disturbance move across Florida, or I should say stall, as many areas saw rainfall for nearly seven days straight with totals of rainfall over one foot. Also we did have our first tropical Depression for formed hunreds of miles off of Cape Cod. This system quickly become extratropical and caused little if any issues to land and only affected shipping lines. I still feel confident on my tropics forecast of a relatively calm season with threats limited mainly towards the southwestern Gulf Coast and the entire Florida coastline. While elsewhere off course is at threat; it does not seem to be a hotspot as was other years. Also looking at local indices such as the relative short term NAO index, it will be a cause for a cooler pattern with troughiness. The overall jet stream pattern as I mentioned earlier is very reminisent of a winter time flow and this pattern would probably be very favorable for large winter storms.

"Latest Tropical Systems including Sea Surface Temperatures"


(Courtesy of Wunderground)

"Here north of Harrisburg 2009 statistics"
(Severe Weather Stats...)
Severe Thunderstorm Watches- 2
Severe Thunderstorm Warnings- 1
Tornado Watches- 0
Tornado Warnings- 0
Total Thunderstorms- 9

(Precipitation Stats...)
Flood Watches- 1
Flood Warnings- 0
Monthly Precipitation- 1.03inches
Yearly Precipitation- 14.43inches

(Temperature Stats...)
Heat Advisories- 0
Excessive Heat Warnings- 0
90degree Days- 2
Highest Temperature- 92degrees
The views of the author are his/her own and do not necessarily represent the position of The Weather Company or its parent, IBM.
Reader Comments
Comments will take a few seconds to appear.
The Northeast Weather Blog...
Recent Posts
Local Weather
59 °F

Clear
Previous Entries for 2017
Personal Weather Stations