Middle Atlantic Severe Weather...
"Thoughts on Severe Weather Outbreak of May 15"
Well there is the potential for the first widespread severe weather outbreak of the season in Pennsylvania. Energy is coming together for the best ingredients right over the central Pennsylvania region over the Middle and Lower Susquehanna Valleys. I have never been a fan of early season severe weather outbreaks as they are quite difficult to forecast. In most all May severe weather forecasts there are never quite all the ingredients together and usually the lacking factor in minimal surface instability. This time of year the jet stream is transforming from winter time stratiform events to pure cold front convective events of the summer. During this time period ahead of cold fronts there are many dirty warm fronts that cause debris clouds and inhibit instability. But with extremely strong sunshine this time of year, in cases sensitive like the current one sometimes the clouds will become overcome. If any factor is lacking and busts this event, it will be the lack of sunshine. Looking back on the semi-quiet severe weather season of 2008 there was only one severe weather report in the whole month of May. It occured in Jonestown in Lebanon County with a high wind report with a small bow echo that moved through Lebanon and Dauphin Counties. But typically we get many of these questionable severe weather outbreaks this time of year. MCS activity will be ongoing overnight also and may cause debris clouds over the Middle Atlantic in the morning too. So for this event the potential is there for a supercellular event with a few embedded squall lines capable of damaging winds and a few isolated tornadoes. If clouds end up preventing any instability, the event will cease to exist other than regular thunderstorms. Also there is such high shear values in the lower level of the trophosphere that a few thunderstorms may even be torn apart.

"Current Weather Setup"
Friday night will feature some pretty close temperature/dewpoint contrasts with nearly 95% RH values by 6am Saturday morning. With a slight southeasterly wind and high dewpoints a fog bank has formed over the Atlantic as evident by evening visible satellite. This will track inland across eastern Pennsylvania likely as some low 400ft ceiling stratus clouds. It remains in question how far inland this makes it. Meanwhile a warm front over Virginia will try to lift north bringing a so called dirty warm sector by morning. Once in the warm sector there will be mostly cloudy skies along with periods of light rain showers. Meanwhile to the west an overnight MCS complex currently over Illinois will being move into a more stable environment by morning causing the remnaints to cause clouds out ahead of the remaining showers. But we have hit mid May and the sun is nearly a month from its peak ray value. The sun should be strong enough to devour some of the cloud cover for a partly to mostly cloudy sky cover in the afternoon. As the front approaches an anomalous low level jet will strengthen over Pennsylvania causing impressive kinematics with 0-6km shear values over 45knots. As pockets of instability develop with 500-1000 j/kg CAPE it appears that isolated thunderstorms will begin to form first along natural boundaries such as a sea breeze type boundary over eastern Pennsylvania where a temperature varient of 15degrees will occur and there will be a difference between sun and fog. Those storms though will be weak. Moisture advection with PWATs near 1.75inches will occur over the Susquehanna Valley combining with some sun shine will cause the best ingredients for severe weather as the front nears. By later in the afternoon low level wind veering should allow for supercellular activity to form. These cells ahead of the front will be the ones capable of tornadoes. They are most likely in the Harrisburg-York-Lancaster-Reading Corridor. EHI values will rise to near 2 and helicity is near the highest on the charts. Undirectional shear aloft should help create the natural spin on the atmosphere. Thermodynamics will be lacking though with only LI values near 0 and max CAPE near 1200 j/kg. The SWEAT index is proving impressive though near 250. As the front approaches western Pennsylvania a squall line will develop with a primary threat of wind damage. Freezing levels are high aloft near 1200ft, so the threat of hail will not be widespread. As the front approaches the marine airmass over extreme southeastern Pennsylvania the storms should weaken. QPF totals will likely be near .5inches for many areas with up to 1inch for areas that received the heaviest storms.

"Current Advisories"



"Current Satellite"


(Courtesy of Penn State Meteorology.)

"Current Surface Map and Weekly History of Jet Stream Position"



"Radar for Western Pennsylvania"


"Radar for Central Pennsylvania"


"Radar for Eastern Pennsylvania"



"Forecasts from Storm Prediction Center"
SPC AC 161256

DAY 1 CONVECTIVE OUTLOOK
NWS STORM PREDICTION CENTER NORMAN OK
0756 AM CDT SAT MAY 16 2009

VALID 161300Z - 171200Z


...UPR OH VLY/NY INTO NRN MID ATLANTIC...
LOW LVL MOISTURE WILL CONTINUE TO STREAM NNE INTO PA/NY AHEAD OF
AFOREMENTIONED COLD FRONT AND W OF DIFFUSE WARM FRONT NOW EXTENDING
CNTRL NJ TO CNTRL NY...SUPPORTING MODEST DESTABILIZATION.
INSTABILITY WILL...HOWEVER...REMAIN MARGINAL DUE TO WEAK MID-LVL
LAPSE RATES AND PRESENCE OF VARIABLE CLOUD COVER. AFTN SBCAPE
SHOULD RANGE FROM 500 TO 1000 J/KG IN NY TO NEAR 2000 J/KG IN MD/NRN
VA.

MODERATE WSWLY MID LVL FLOW WILL EXIST OVER THE NERN STATES TODAY
AHEAD OF APPROACHING TROUGH...WITH 500 MB SPEEDS AOA 40 KTS FROM
CNTRL PA NWD INTO NY. PROFILES SHOULD BE FAIRLY
UNIDIRECTIONAL...ALTHOUGH SOME DEGREE OF LOW LVL VEERING WILL EXIST
INVOF WARM FRONT AND PRE-FRONTAL TROUGH OVER ERN PORTIONS OF PA/NY.
TSTMS SHOULD FORM WITH SFC HEATING ALONG AND AHEAD OF COLD FRONT BY
EARLY AFTN. RESIDUAL PRE-FRONTAL STORMS NOW OVER WV MAY STRENGTHEN
BY LATER THIS MORNING...AND OTHER STORMS MAY FORM BY MID AFTN ALONG
LEE TROUGH ACROSS MD/SE PA.

THE PRIMARY THREAT SHOULD BE BOWING SEGMENTS/SMALL LEWPS WITH STRONG
TO DMGG WIND GUSTS. A COUPLE TORNADOES CANNOT BE RULED OUT GIVEN
STRENGTH OF DEEP SHEAR WITH NWD EXTENT...AND GREATER
MOISTURE/LOW-LVL VEERING FARTHER S AND E. OVERALL SEVERE POTENTIAL
SHOULD REMAIN SOMEWHAT LIMITED GIVEN MARGINAL THERMODYNAMIC
ENVIRONMENT...AND SHOULD DIMINISH TOWARD EVENING.

"Tornado Risks"


"Hail Risks"


"Wind Risks"



"Model Analysis"
It has been while since I scrutinized over the models and each variable. But it is beginning to be that time of year. Winter is the most common season for my indepth model analysis, in fact I inspect each run. But in Summer other than severe weather outbreaks I typically just look at the basic 850 heights, 500mb, and 6 hr QPF charts all for the main global models of the GFS and EURO. Anyways as usual there are model discrepancies with the NAM predicting CAPE values much lower than the GFS more in the 500 j/kg range while the GFS is more up to a max of 1400 j/kg. The SREF and MOS guidance though tends to side with the GFS and there are near 1200 j/kg. This indicates that they try to show more sun than the NAM. In any case below are few of my selected maps that detail important indices for thunderstorm development, heavy rainfall potential, and kinematics aloft. Also keep in mind convective temperatures are in the mid 70s to near 80 tomorrow, so they should be reached for cumulus development. I will update these maps throughout the day. Stay tuned!

"15z SREF Model Forecast Lifted Index Values"


(Saturday evening)

"0z NAM Model Forecast SWEAT, Helicity, and CAPE indices"


(Saturday evening)

"0z GFS Model Forecast Precipitable Waters"


(Saturday evening)

"0z GFS Model Forecast EHI Values"


(Saturday evening)

"My Forecast for Severe Weather"
I like the axis for best severe weather to be in central Pennsylvania and up through the Middle and Lower Susquehanna Valleys. These locations will have the highest threat for an isolated tornado. Wind damage though will be common from western Pennsylvania on eastward as the best dynamics are over the state of Pennsylvania. The highest threat for flash flooding will be over eastern Pennsylvania that has recently been rain socked with 2inches just yesterday and flash flood guidance is near 1.5inches in 6hours for flooding to occur. Cold air aloft is lacking for this event with H85s well near 15C, but some intense lightning may still occur especially in the more cellular cells. Impressive high temperatures also may occur depending on much sun there is and I could see highs near Lancaster if the sun comes out potentially up to 87degrees. Dewpoints will be very high also in the 60s for just about the entire state.

"My Severe Weather Risk Map"


(Saturday)
*Note... It has been a while since my severe weather maps have been posted. For review my probability areas are slightly different than the Storm Prediction Center due to the fact of the somewhat rarity of severe weather in Pennsylvania in comparison to other parts of the country. Therefore my moderate risk for Pennsylvania would be similar to a high end SPC slight risk. My 25-50% chance of thunderstorms include 0% chance of severe weather. My 75% chance of thunderstorms include 5% severe weather. My slight risk of severe weather includes 15% severe weather. My moderate risk includes 30% severe weather and my high risk includes 45% chance of severe weather. And after the storm I will plot the storm reports and forecast warnings over my forecast regions for a verification map.

"Conclusions on Severe Weather Outbreak"
So it is another wait and see event in this ever difficult area for forecasting, Pennsylvania. While nothing is never set in stone for the weather, forecasting here in the Appalachians is much more difficult than other parts of the nation. Geographic features play such a large role and then to our east is the Atlantic Ocean. So cloud cover as usual is in the biggest question of concern and I could see how this event easily fizzles out especially if the warm front does not come far enough north and the cloud cover is thicker than expected. Still though thunderstorms should be around the region despite other factors. The low level jet is quite impressive and if we had impressive thermodynamics such as 2000 j/kg CAPE like in late June, this could have been a pretty impressive tornado outbreak. Depending on how the weekend flows, my next weekly forecast blog may be out Sunday evening. Have a wonderful weekend!!! Feel free to add forecast discussions here and storm reports!

Verification Map...



"Storm Reports"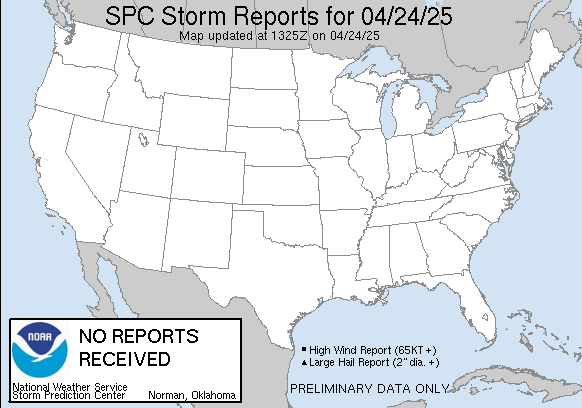 "Here north of Harrisburg 2009 statistics"
(Severe Weather Stats...)
Severe Thunderstorm Watches- 2
Severe Thunderstorm Warnings- 1
Tornado Watches- 0
Tornado Warnings- 0
Total Thunderstorms- 4

(Precipitation Stats...)
Flood Watches- 1
Flood Warnings- 0
Monthly Precipitation- 4.30inches
Yearly Precipitation- 11.16inches

(Temperature Stats...)
Heat Advisories- 0
Excessive Heat Warnings- 0
90degree Days- 1
Highest Temperature- 92degrees
The views of the author are his/her own and do not necessarily represent the position of The Weather Company or its parent, IBM.
Reader Comments
Comments will take a few seconds to appear.
Post Your Comments
Please sign in to post comments.
Not only will you be able to leave comments on this blog, but you'll also have the ability to upload and share your photos in our Wunder Photos section.
The Northeast Weather Blog...
Recent Posts
Local Weather
26 °F

Clear
Previous Entries for 2017
Personal Weather Stations