Unsettled weather pattern...
"Afternoon Thoughts" (Updated 5/2)
Well it is just about that time of year, Summer. Full of outdoor activities, sports, laughing, swimming, vacations, and lawn mowing; yes lawn mowing. It amazes me every year how some people have no pride in the exterior appearance of one's home. In this modern age we care so much about the exterior of our appearances to the point of costly and dangerous surgery. Why do we not care about the place we spend the most time and best resemble who we are, our homes? I am sure all of you have that neighbor who doesn't mow their lawn for two-three weeks at a time and then when it is time to mow you park you front lawn chair in front of your house and watch the show. Weeds up to a foot high, dust flying in the air as the mower has problems chewing down the high grass. The occasional stalling of the mower and o so much more. And then we all seem to have that one neighbor who actually does mow their lawn on a regular basis, but does not have a shrub/tree/flower from here to Kalamazoo. Now you don't have to be an expert landscaper to have a nice exterior of the home, all it takes is a bit of elbow grease and a hop off the sofa into the hot summer sunshine. I guess this is all just one of many rants this time of year I have, and I know others share. Anyways, it looks like this week is going to feature an unsettled pattern, but the sun should be out at times. It reminds me of a typical week in April even though the calendar says May. May, wow it is hard to believe we are so far away from last winter. Why it seems like just yesterday everybody was watching every model run and holding their breath like there is no tomorrow. This time of year the weather is pretty benign, but once we head into June the next active weather begins, severe weather season. Enjoy the beauty and warmth of May and have a great day!!!

"Regional Radar"


(Courtesy of NOAA)

"Regional Satellite"


(Courtesy of Penn State Meteo.)

"Regional Advisories"


(Courtesy of NOAA)

"Forecast Discussion" (Updated 5/2)
Difficult forecast period as a stalled frontal boundary forms south of the Mason-Dixon line. Waves of low pressures will ripple along the front creating at times showers and thunderstorms through the next seven days. Model guidance appears a bit too pessimistic so I am straying away from that. The cold is farther south than progged located across the Tennessee Valley east into North Carolina. This will keep stratus clouds to the south of Pennsylvania through Saturday night as high pressure noses in from the north. Conditions will likely remain dry through Saturday night as cooler and drier air H85s dropping below 8C. But the front will lift a bit more northward during the later part of the day Sunday along with a complex of showers and thunderstorms. With LIs around +3 and meager elevated instability, thunderstorms will be possible but not common. PWATs will rise +1-3 standard deviations above normal along with H85s rising to near 10C. This will be enough to create a period of heavy rain south of I-80 towards Sunday evening and overnight through early Monday. Heaviest QPF will generally stay south of the State College Selinsgrove line with the highest numbers up to .75inches near the Maryland-Pennsylvania border. Occasional showers will be around Monday afternoon, but the majority of the heavier steady precipitation will be out of the region. This period will feature poor travel conditions with IFR and LIFR conditions at local airfields as ceilings drop to near 500ft and visibility drops to around 1-3miles at times. Conditions will improve as we head towards Monday night as high pressure drops south from the Canadian Maritimes with a 1024mb pressure. The frontal boundary should generally keep south of the region along with associated precipitation for a generally dry Tuesday with normal H85s around 8C. Some .01-.1inch QPF will be possible in the extreme south generally near Philadelphia. Sun may peak as with increasing inversion heights across areas north of I-80. The Monday night time frame may allow some dense fog to form right along the dry line somewhere just south of the I-80 corridor where they may see clearing skies after the Monday rainfall. This will generally be in western Pennsylvania for the most part. A clearing period looks like Wednesday with dry conditions and partly cloudy skies with H75 RH values relatively dry. Overnight Wednesday PWATS will be on the rise near 1.75inches with rising H85s near 12C across the southeast. This will allow moderate to heavy stratiform rain with perhaps some enhanced convective activity over the southeast thanks to being close to near the 1000mb surface low. Again this will bring a return to IFR conditions and low ceilings as low as 300ft. Cooler air blows in towards Thursday as the low moves northeast and becomes cutoff just north of Maine. This will keep a wet northwest flow with scattered rain showers with pea sized hail with freezing heights as low as 6000-7000ft. QPF looks meager for the rain showers only up to .1inches on average. Another stalled frontal boundary works over the region towards the weekend with unsettled conditions, but nothing overly impressive in the rainfall department.

"Current Surface Map and Weekly History of Jet Stream Position"


(Courtesy of Weather Underground)

"Weekly Forecast" (Updated 5/2)
Sunday- Departing high pressure over New England will allow the stalled frontal boundary to lift back northward again. Rising humidity levels along with a wave of precipitation will allow precipitation to initiate west to east over Pennsylvania towards afternoon and evening. Clouds will preclude any precipitation in the morning with a strato-cumulus deck. Clouds will lower towards afternoon with the approach of the rain. Rainfall amounts through evening will generally be light up to .25inches in extreme southwestern Pennsylvania. Highs will generally be in the low 60s with up to the upper 60s across northern Pennsylvania as they will be exposed to more sunshine. Sunday night will feature damp conditions south of I-80 with rainfall amounts averaging up to .5inches. The close amounts near .5inches will be for the Mason-Dixon Line locations. Lows will be cool as wet bulb cooling will have already dropped temperatures early in the evening. Lows will be in the upper 40s for the south and mid 40s for the north.

Monday- Monday looks relatively damp as a departing stratiform rain shield moves east and another one moves in for early afternoon. Total rainfall amounts for the day to not look to be anything impressive, generally near .25inches or so with higher amounts in the extreme south. Again rainfall will generally be south of northern Pennsylvania. As the rain moves west to east a few breaks in the clouds will occur in northwestern Pennsylvania by early afternoon with a slow progression eastward towards evening. High pressure will move into the region forcing the front back south again creating a generally dry evening. A few light rain showers may plague parts of extreme southeastern Pennsylvania in the evening. Highs will be near normal generally once again in the upper 50s to lower 60s with the higher numbers in the north thanks to the sunshine. Monday night will feature clearing especially in the north and west. Dense fog may form as high pressure creates light winds. This fog though will only be limited in areas that saw rainfall earlier in the day. Lows will be in the upper 40s statewide.

Tuesday- Tuesday creates a close call as the frontal boundary tries to stay far enough south of the region for an ok day. High pressure seems to want to push the rainfall to our south so it does appear that conditions will be partly to mostly cloudy statewide between systems. Rainfall if any will be confined to near the Maryland-Pennsylvania border with amounts only up to one tenth of an inch. Sunshine will be out for northern Pennsylvania. Highs will once again be in the lower 60s which will be kept in check thanks to somewhat overcast skies at times. Though for a forecast error, it would not take much to cause the boundary to lift northward for a damp day. Very close call. Towards Tuesday evening another weak storm system moves into the Ohio Valley under a southwest warming flow. Tuesday night looks dry for most of Pennsylvania though only with increasing clouds from west to east. Lows will be mild in the low to mid 50s statewide.

Wednesday- It appears the first half of Wednesday will be somewhat nice especially the eastern half of the state that is still under the control of the high pressure. Clouds will be moving into western Pennsylvania later in the day ahead of the Ohio Valley system. The flow will be from the southwest ahead of a trough and this will cause rising temperatures with highs relatively mild in the 70s statewide. A few upper 70s may be possible particularly in the eastern quarter of the state. Wednesday night will feature the return of poor traveling conditions as the next systems moves into the region. Rainfall will develop west to east throughout the night with perhaps some thunderstorms possibly strong in western Pennsylvania. Rainfall amounts should be manageable around .5inches at most. Lows will be in the mid 50s overnight with the rainfall.

Thursday- The front will likely cross the region during the day Thursday. I would watch out for some stronger thunderstorms as a vortex with high winds aloft moves over the region along with some enhanced instability. It looks to be just something just to monitor at this point. Rainfall will likely be associated with some form of frontal band and depending on convection will likely average amounts up to .25inches. Cooler air will move in behind the front during the day. Highs will generally be in the lower 70s statewide. The northwest flow returns overnight with slightly drier air but still a strato-cumulus deck over the region. Lows will be in the upper 40s.

Friday- Friday will feature pulse rain showers and thunderstorms as the low stalls to our northeast putting us in a westerly flow added by lake moisture and orographic lift. Pea sized hail will be possible with any of the heavier showers. Little temperature change will occur thanks to a Pacific air mass keeping highs in the lower 70s. Friday night will feature some early diurnal driven showers before only cloudy skies persist overnight. Precipitation amounts will generally be light and isolated.

"Wildfire Outlook" (Updated 5/2)
The flow appears generally unsettled throughout the seven day period as RH values will be high thanks to the southerly flow. But a large boundary will exist over the I-80 corridor early in the week between rain showers and partly cloudy skies with drier air. This may pose an enhanced fire weather threat over extreme northern Pennsylvania as conditions there will be dry. But towards midweek RH values will surge and winds will be lightning up. Rainfall will overspread much of the region midweek. Then towards the end of the week the flow remains unsettled with occasional rain showers. Groundwater and soil moisture levels for the short term look wet. Winds will be generally light most of the week and temperatures will be near normal. Overall the fire threat is limited.

Here again are the fire criteria for development in Pennsylvania... Link.

Criteria for rapid initiation and spread of wildfires in PA:

1. Winds must be sustained at 15 mph (13 knots) for two hours or more, and

2. Minimum Relative Humidities (which usually occur in the afternoon) must be 30 percent or less, and

3. 10-hour Fuel Moistures must be 15 percent or less (and expected to remain there for two or more days).

"Fire Outlooks from Storm Prediction Center Days 1, 2, and 3"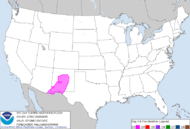 (Courtesy of NOAA)

"Gardening Outlook" (Updated 5/2)
My vegetable garden is doing just wonderful with this rain followed by sunshine followed by more rain. Also temperatures are right where they are supposed to be. This week looks to feature occasional periods of rain with a week total of near 1.5inches for the next seven days. Watering does not appear necessary at all this week. Soil moisture anomalies will stay above normal also. Temperatures will be warm enough to inhibit any frost from forming statewide so this week you will not have to worry about covering some of your more touchy plants. I have really noticed a dramatic growth in my broccoli and cauliflower plants. The broccoli plants appear to be getting a bit top heavy so I might have to stake them a bit later this week. I added my one and only application of 10-10-10 fertilizer. I apply it extremely lightly to my beds particularly around my blueberry bushes will have full foliage now and many buds and white flowers. I only apply fertilizer before the summer season starts and I apply one more dosage a few weeks after I put in my warm weather crops. I likely will not be planting my warm weather vegetables until late May or early June. I am thinking a bit about building another raised bed box as I have had such success with the other raised boxes. These raised beds allow me to choose my own soil composition. Also weeds are less likely to grow and it makes it difficult for animals to get in them. And finally the warm sun heats the boxes faster the soil at ground level so this extends the growing season for some crops. I have had some plants in the boxes since mid March! The two crops I was worried about growing this season, celery and garlic, are growing great or they appear so at least. The only plant I have added within the last seven days is a cilantro herb plant. It appears my first harvest of lettuce can occur any day now and my first scallion onions will be within a week or two. My radishes are about two weeks from harvest also. Everything else is more than two weeks from harvest. I tried planting spinach seeds again this year and once again they grow at a snail's pace. Has anyone had any luck with them before? My neighbor bought actual spinach plants and they are growing like beauties, but everytime I go to a nursery I cannot find the actual plants. Well now sightings of my leaping gazelle like groundhog within two weeks, knock on wood. I did place a chicken wire fence now around my garden that is ground level just to be on the safe side too.

"Soil Moisture Anomalies and 5-day Precipitation Amounts from Hydro Prediction Center"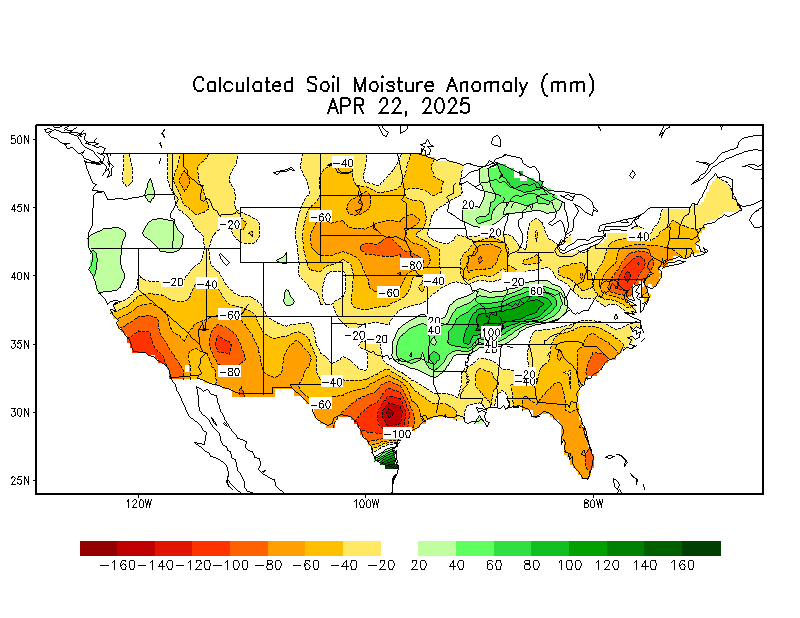 (Courtesy of NOAA)

"Severe Weather Outlook" (Updated 5/2)
I do not see this week as a big severe weather week for the Northeast, but I do have my eyes turned towards late Wednesday for western Pennsylvania and Thursday for the rest of the state. Ahead of the cold front in the right front quadrant lies Pennsylvania in the warm sector. A strong disturbance will role across the region with a vortex of 60knot winds aloft over much of the Northeast. With the steep lapse rates and possible elevated instability, any strong May sunshine may allow a few strong to severe thunderstorms to form. The threat does not look overly high thanks to timing Wednesday night and the widespread stratus overcast skies, but the potential is there. The highest threat would be in western Pennsylvania with a squall line associated with the frontal rain band. The threat levels diminished slightly as one moves east. Boundary layer dewpoints and RH values look somewhat high along with temperatures in the 70s. So stay tuned throughout the week for more updates. As for anything else occasional thunderstorms are possible throughout the week with any of the waves of low pressure rotating along the frontal boundary. The best chance of severe weather this week looks to be over the southern US. But heading in towards next week the active jet shifts northward possibly bringing some severe weather to the Central Plains and South Great Lakes.

"Severe Weather Outlooks from Storm Prediction Center Days 1, 2, and 3"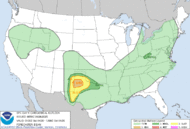 (Courtesy of NOAA)

"Monthly Outlook" (May)
Well my April forecast verification looks just ok. My temperature forecast was spot on with near normal to above normal temperatures. Cooler conditions persisted early in the month, but by mid to late month an anomalous near heat wave definition for some areas hit rising the average monthly temperature for all climate reporting stations in the Keystone State. Temperatures averaged near 0-(+1.5) degrees for the month. Now my precipitation called for drier conditions, which did not pan out. Most areas ended up with about .5inches above normal in the rainfall department. Temperature forecasts always are much more uniformed than the at times unpredictable precipitation forecast. May looks to be a transition month for precipitation as the first half looks wet followed by a return of the average summer jet stream that looks to be this summer with trough in west, ridge in central US, southeast ridge, and weak trough in extreme Northern New England. My temperature call is for near normal to slightly above normal temperatures along with near normal precipitation for the month. The best chance of rainfall will be the first half of the month; also the warmest temperatures look to be towards the end of the month. Already the latest guidance is showing the summer jet stream pattern with MCS traveling through the Great Lakes and across just north of Pennsylvania. Latest EURO weeklies also support this. Here are the detailed predictions...

Temperature- Temperatures will be put on a cap for the first half of the month as cloud cover from rainfall will hold temperatures near normal. Soil moisture levels will be +1 deviation above normal. When soil moisture is below normal this allows boundary layer temperatures to be much warmer. Wet soil conditions tend to keep a hold on extreme hot temperatures. Later in the month the Bermuda high looks to nose in with a southerly flow drawing up very warm conditions with highs likely in the 90s several days this month.

Precipitation- Precipitation will be common for the first half of the month under a progressive flow. Precipitation may in fact average above normal the first half of the month. As the pattern transitions drier conditions will occur with only occasional thunderstorms outbreaks providing needed rainfall. The end of the stratiform rainfall will likely occur mid month. By the months end an above normal first half and below normal second half will lead to near normal precipitation. Although as we all know a two week period of dry weather does not at all show that we may have just had a wet four previous weeks.

"Temperature and Precipitation Outlooks from Climate Prediction Center for next 30 days"


(Courtesy of NOAA)

"Tropical Update" (Updated 5/2)
Well it is time to end the winter storm outlook section and replace it with my tropical section as we are entering the state of the tropical storm season which officially begins June 1. But as we have seen with the past, tropical storms and hurricanes can occur in May. I do not consider myself a tropical expert by any means as I have a limited knowledge, but this section is here for just my quick analysis that may be used while reading for convenience. Looking at the Atlantic SSTs it does appear the early in the year well below normal SST crisis has ended. The Gulf of Mexico is still a bit cooler than last year by the central Atlantic is warmer than last year at this time. There have been a few weak areas of showers and thunderstorms coming off the Africa coast, but nothing of any organization. As this pattern change occurs Mid May and the 2009 summer jet stream flow sets up, the GFS does show a few areas of concern in the tropics, but for now nothing is in the short or medium term and nothing should raise any eyebrows. Last year the first tropical storm occurred in June, so May is typically not a very active month. For now it seems intelligent to ignore the GFS fantasy storms and enjoy the quiet period in the tropics as we all know what happens when we get towards August and September. My forecast again is for a normal season as far as tropical storm and hurricane numbers go. I do think there will be a west based weak El Nino forming towards later in the season. Also a dominated Bermuda high should form and this may help to steer tropical systems out to sea. My areas of concern are in the southwest Gulf near the Texas and Mexico borders. Also I think a Florida hit may be possible earlier in the season. As for the east coast, if they were to face a tropical threat I would estimate the best time to be in early September as the jet becomes a bit more better oriented and the El Nino begins to develop, but overall the east coast threat looks lower than normal this year.

"Latest Tropical Systems including Sea Surface Temperatures"


(Courtesy of Wunderground)

"Here north of Harrisburg 2009 statistics"
(Severe Weather Stats...)
Severe Thunderstorm Watches- 1
Severe Thunderstorm Warnings- 0
Tornado Watches- 0
Tornado Warnings- 0
Total Thunderstorms- 3

(Precipitation Stats...)
Flood Watches- 1
Flood Warnings- 0
Monthly Precipitation- 2.49inches
Yearly Precipitation- 9.35inches

(Temperature Stats...)
Heat Advisories- 0
Excessive Heat Warnings- 0
90degree Days- 1
Highest Temperature- 92degrees
The views of the author are his/her own and do not necessarily represent the position of The Weather Company or its parent, IBM.
Reader Comments
The Northeast Weather Blog...
Previous Entries for 2017