Spring-like weather is ahead...
"Afternoon Thoughts" (Updated 3/29)
Good afternoon!!! There has been a bit of talk lately about computers and automated forecasts replacing meteorologists on the field. It seems that technology is advancing to the point of replacement in some realms and fields. Why just the other day I walked into Home Depot and checked out using an automated machine instead of a employee cashier. But in the field of weather this talk of lack of need for meteorologists in the future is bogus. Automated forecasts just do not have the same skill as a pure meteorologists or otherwise human forecast. Even with the development of such advanced computer systems for forecasting in the last decade, statistics prove that accuracy of a forecast has only improved about a day and a half. Forecasts for 5-day forecast accuracy 10years ago are equilavelent to 7-day forecasts of present day. Features such as radiational cooling and snow cover in winter affecting temperatures does not have any influence in these automated computer made forecasts. There has even been talk of people suggesting the NWS offices be merged into regional offices. For example have all of the Pennsylvania offices become one. Yet this causes major problems. Each office for Pennsylvania is allowed to focus on the mesoscale activity that is subject to their geographic location. For example there is a big difference between the weather in the southeast Piedmont near Philadelphia than in the northwest mountains near Du Bois. Local NWS offices also coordinate public EMA meetings and SKYWARN opportunites for the general public. I think those mentioning that there will be little need for meteorologists in the future are just trying to stir the pot thanks to the poor economy. In fact working for NOAA is one of the best current federal government associated jobs there are in the present time. There will likely not be pure non-human generated forecasts in the next decade. As forecasts become more accurate from models, humans will create even better precision and accuracy along with exploring the options of forecasting longer term.

"Regional Radar"


(Courtesy of NOAA)

"Regional Satellite"


(Courtesy of Penn State Meteo.)

"Regional Advisories"


(Courtesy of NOAA)

"Forecast Discussion" (Updated 3/29)
998mb low is heading up through the Great Lakes currently along with a trailing cold front. A double barrel low pressure of 996mb has formed in West Virginia and will be headed across the Middle Atlantic with the cold front during the afternoon Sunday. Impressive jet dynamics and wind field aloft are promoting a chance of some strong convective activity over southern areas of Pennsylvania as the low travels closely by. The warm front is lifting northward eroding the present marine layer. As the low passes by the flow will shift to the northwest during the day Monday under a slightly tight pressure gradient. Winds aloft at ASOS stations in the Laurel Highlands are near 40-45knots which may cause some gusty winds near 50mph on the ridgetops especially those westerly facing. H85s will drop to near -7C also causing a few snow showers in the mountains during Monday morning. High pressure moves in control for Tuesday with lighter winds under the clockwise flow. Winds will generally be light with mild temperatures. Another storm system will be across the middle of the nation creating a southwesterly flow here in the east bringing in some warmer air and more humid air later Tuesday. A 1024mb high will be departing across the Canadian Maritimes and a tight frontal precipitation band will be across the Ohio Valley. A tight pressure gradient will cause gusty southwest winds near 30mph ahead of the front. Once again a second double barrel low travels across the Middle Atlantic. Under the strong and moist southerly flow a decent rainfall is possible. Latest guidance promotes QPF to around .5inches or slightly above. MOS guidance suggests even .75inches. The front will travel through with only a bit drier and slightly cooler air. Weak 1016mb High Pressure takes control later Thursday afternoon ahead of another storm system. This one takes a bit more southerly and easterly track and heads up through the Ohio Valley as a strong 996mb low. This storm system has the potential for some severe weather on Friday in some areas. As we head into the weekend high pressure remains in control ahead of yet another storm system for early next week with more severe weather in the Plains.

"Current Surface Map and Weekly History of Jet Stream Position"


(Courtesy of Weather Underground)

"Weekly Forecast" (Updated 3/29)
COMING SOON!!!

"Wildfire Outlook" (Updated 3/29)
Well quite the fire hazards last week. Red flag warning criteria was met statewide last week under brutally dry conditions and desert like low dewpoints with 15% RH values. Many brushfires were fought statewide, but especially in the lower Lehigh Valley. Nearly 10 wildfires were reported in Montgomery County in only a two day span. Even with this latest rainfall, there will still be dry conditions. With growing vegetation anything below a half an inch of rain will be quickly taken in by the growing plants. We need a soaking rain of over 1inch at one time to start recovering the ground water table. This time of year is crucial to the rest of the Spring and Summer season in terms of soil moisture. This rainfall will only affect the near term, but for those of you with wells, this rainfall is not helping the situation for later in the year. It still does appear the wet pattern continues for a bit next week, but I expect as with this storm that the precipitation will begin to dry up as it moves east. Looking at bufkit data, yesterday 18z GFS printed out 1.9inches of rain mid week, 6z GFS went to .79inches of rain. Most areas are currently at a deficit of about 5inches for the year especially for the east half of Pennsylvania. That deficit will be hard to make up if there isn't a Spring nor'easter. Once Spring is over most of our precipitation is from convection which is not a reliable source of rainfall. Late Summer sometimes though can produce beneficial tropical rains. But I am hoping we can stay in this wet pattern through April with these waves of precipitation every few days. If not, we are going to run into problems down the road come June and July. As far as the wildfire threat next week, it looks relatively low.

Here again are the fire criteria for development in Pennsylvania... Link.

Criteria for rapid initiation and spread of wildfires in PA:

1. Winds must be sustained at 15 mph (13 knots) for two hours or more, and

2. Minimum Relative Humidities (which usually occur in the afternoon) must be 30 percent or less, and

3. 10-hour Fuel Moistures must be 15 percent or less (and expected to remain there for two or more days).

"Fire Outlooks from Storm Prediction Center Days 1, 2, and 3"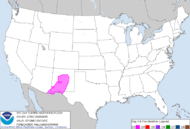 (Courtesy of NOAA)

"Gardening Outlook" (Updated 3/29)
Well this time of year just gets me so excited to get planting, I always jump the gun a bit. In any case today I noticed a few of my ornamental crab apple trees are starting to bud and will shortly turn the beautiful pink buds. I also noticed this weekend started the cherry blossom festival in Washington DC. It must be Spring. Despite somewhat dreary weather yesterday, I headed out towards the flower nursery for some more vegetables, again I am always a bit premature. I bought some leeks, lettuce, and celery plants. I found that the leeks are somewhat preventive in keeping pests away from the garden. I am hoping my celery plants hold out as they are a bit touchy as far as temperature. My onion bulbs I planted two weekends ago are sprouting very nicely, especially the red onions ones. My pea seeds have also sprouted and are slowly coming up. My garlic shows no signs of growing so hopefully I wasn't too late in planting it. Now for my broccoli and cauliflower, sadly they are destoyed by my leaping gazelle-like groundhog. He pulled the entire plant out of the ground root and all. He then decided to hop next door and destroy their fresh veggies. Keep in mind all of our gardens are fenced in. He jumps the two foot chickenwire fence. I found his home which is located in someone elses backyard. His makes his daily travel from my yard in the back and then squeezes into my nextdoor neighbor and finally ends up two homes down the street in their garden. Ugh! I guess until myself or my neigbors are more proactive, we can't complain too much. I plan on planting in the next week or so, some Spinach and possibly replacing the broccoli and cauliflower that was destoyed. Also it looks like there won't be too many frosts for this coming week and rainfall looks somewhat plentiful.

"Soil Moisture Anomalies and 5-day Precipitation Amounts from Hydro Prediction Center"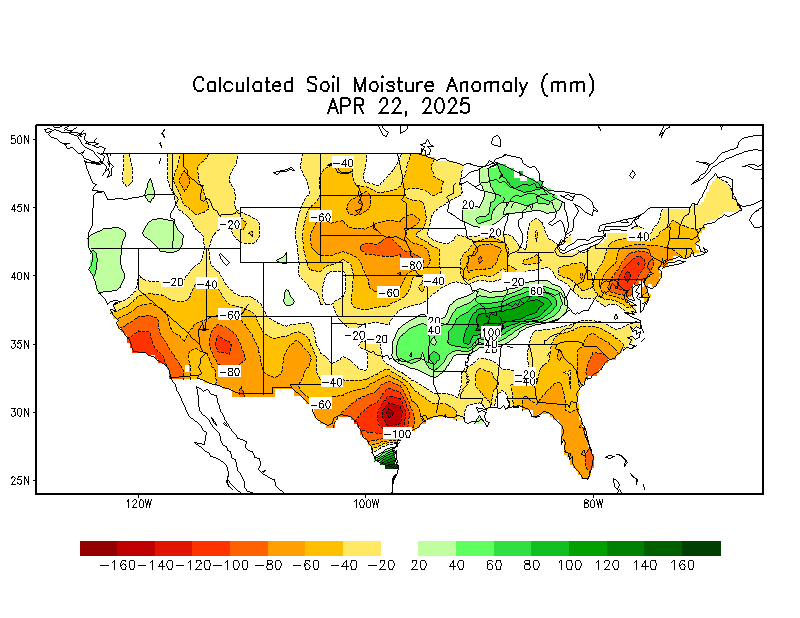 (Courtesy of NOAA)

"Severe Weather Outlook" (Updated 3/29)
A bit of severe weather is possible this afternoon as high bulk shear aloft near 110 knots 8km aloft and high helicity values. CAPE values remain marginal near 500-700 j/kg and LI values are meager near +1. A strong 992mb low will be pulling up through the Great Lakes along with a strong cold front producing steep lapse rates helping to form thunderstorms under relatively elevated instability with MU CAPE around 500 j/kg. Latest lightning convectivity is showing some impressive CTG and CTC lightning strikes with about 40 in the last hour in Maryland and Pennsylvania. Freezing levels being only around 8000ft will also help to cause hail. Pea sized hail will be common even with small updrafts. PWATs are near .7inches, so very marginal. Heavy flooding rains are not expected keeping rainfall at only max rates near 2" per hour. Kinematics show parts of southeastern Pennsylvania to be near the front right entrance of the upper jet where the strongest winds aloft are located. Surface dewpoints are in the 50s and 60s with boundary layer temperatures in the 50s, 60s, and 70s. Currently the best instability looks to be a line from Red Lion, York County - Lancaster County - Chester County - Bucks County. Latest mesoscale analysis shows the CAP has broken for extreme eastern Pennsylvania, but most areas remain under the inhibiting factor of stable air from this mornings marine layer and easterly wind. In any case it appears strong thunderstorms are possible this afternoon in the areas mentioned above. It appears after today the severe threat is non-existant for this coming week with convective chances held to a low to a minimum. Stay tuned through Sunday afternoon for more updates!

"Severe Weather Outlooks from Storm Prediction Center Days 1, 2, and 3"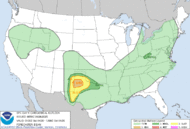 (Courtesy of NOAA)

"Monthly Outlook" (April)
Due to ever-so dull nature of the weather lately and my busy schedule, I never did issue a formal March prediction. In any case it appears the month will come up with near normal temperatures to slightly above normal temperatures along with below normal precipitation for most areas with only above normal precipitation for areas north of Interstate 80. I had a bit of a difficult time coming with a prediction for April. There still though does appear to be a general agreement with an analog year of April 2008. That month was dominated by generally a zonal flow with a weak trough situated over New England. This April I am expecting generally a ridge across the central part of the nation with a trough over the west with a central axis though off the coast and a weak trough across northern New England. This pattern fits well with teleconnections of a positive NAO and negative PNA along with a weak influenced MJO and GWA wave pattern. The weakening SO Nina also favors this setup given the month of April.

Temperature- I am going with near normal temperatures to slightly above normal temperatures. The cooler anomalies will be found for those closer to the New York/Pennsylvania border as they will be closer to the cooler air of the Canadian Maritimes with a trough over northern New England. This will occasionally provide the opportunity for a back door cold front.

Precipitation- Precipitation appears to be below normal for much of the month with the lowest anomalies across the south. Backdoor cold fronts will occasionally bring rain to northern Pennsylvania along with some lake enhanced rain/snow showers on the northwest flow. Meanwhile the flow will be a bit more southern stream dominated with much of any moisture being suppressed to the south of the state with the southern Middle Atlantic being in a more favorable region. Of course with any mesoscale events as thunderstorms, this could disrupt the precipitation totals for localized areas. The severe weather threat appears low for Pennsylvania as there should be a lacking in the clashing of warm/cold airmasses.

"Temperature and Precipitation Outlooks from Climate Prediction Center for next 30 days"


(Courtesy of NOAA)

"Winter Storm Watch" (Updated 3/29)
Well for those of you holding out for an onion snow, odds look pretty slim. Still looking at teleconnections the PNA is heading possibly positive and we have a negative NAO. A few of the guidance does show the potential for something along the east coast with the last wave on this parade of storms in the next week or two so I guess that is something to monitor. But I think I am done with snow for this season, and just ready to get in my thunderstorm game face. April snowfalls are somewhat common across the state especially for upsloping locations in the Northwest Mountains and Laurel Highlands. It does appear as H85s dive down to -7C Sunday night and Monday morning along with 1000-500 thickness around 538 that some upsloping snow showers will occur under the wrap around flow from the departing low in the Great Lakes. Snowfall accumulations of C-1.5inches are possible for elevations above 2000ft with just a dusting possible in the valleys. This will be confined to Somerset, Cambria, Warren, Crawford, Mercer, Erie, Mckean, Elk, and Cameron Counties. The rest of the week looks to mild for any sort of snowfall even after weak cold front passages.

"ECMWF/GFS Day 8-10 H5 Mean Anomalies"



"Here north of Harrisburg 2009 statistics"
(Severe Weather Stats...)
Severe Thunderstorm Watches- 1
Severe Thunderstorm Warnings- 0
Tornado Watches- 0
Tornado Warnings- 0
Total Thunderstorms- 1

(Precipitation Stats...)
Flood Watches- 0
Flood Warnings- 0
Monthly Precipitation- 1.25inches
Yearly Precipitation- 3.05inches

(Temperature Stats...)
Heat Advisories- 0
Excessive Heat Warnings- 0
90degree days- 0
The views of the author are his/her own and do not necessarily represent the position of The Weather Company or its parent, IBM.
Reader Comments
Comments will take a few seconds to appear.
The Northeast Weather Blog...
Recent Posts
Local Weather
56 °F

Scattered Clouds
Previous Entries for 2017
Personal Weather Stations