Spring is here...
"Afternoon Thoughts" (Updated 3/13)
Ah, the beginning of Spring. From reruns of "The Sound of Music" to the blossoming of tulip bulbs, there is nothing quite like the season. This blog format will last until May 1 when the winter storm watch section shifts to tropical discussion. During this transition period the spirit of many is lifted dramatically from that of winter. The dull gray and brownness. The colors of brown and gray evoke in us a warm and sensational feeling with a sense of moodiness and dullness. And now we transition into a brighter period full of yellows symbolizing joy and happiness. But still in this era of "media depressionism," it is difficult to find a true sense of optimism. One of my favorite poems around this time of year is "The Road Not Taken;"

Two roads diverged in a yellow wood And sorry I could not travel both And be one traveler, long I stood And looked down one as far as I could To where it bent in the undergrowth; Then took the other, as just as fair And having perhaps the better claim, Because it was grassy and wanted wear; Though as for that, the passing there Had worn them really about the same, And both that morning equally lay In leaves no step had trodden black. Oh, I kept the first for another day! Yet knowing how way leads on to way, I doubted if I should ever come back. I shall be telling this with a sigh Somewhere ages and ages hence: Two roads diverged in a wood and I-- I took the one less traveled by, And that has made all the difference.

~~Robert Frost

Reading through this the narrator is faced with a difficult decision when approached by a fork in the road with two roads overgrown with weeds and such. Both roads are untraveled, but the narrator says he or she chooses the red less traveled, the difficult road, the "Carpe Diem" mentality. In this Spring period many people decide to move on with the future putting the dullness and grayness of winter behind. People do not conform with society and instead result in a more Ralph Waldo Emerson personality in non-conformity. The poem is an inspirational read for those around this time of year looking for new opportunity and a sense of belonging. Spring brings this opportunity as the harshness and coldness of winter (deep blue=cool and calming). Spring brings a rejuvenation in excitement as the ever ending horizon turns into the sense of optimism. Again this takes us back to "The Sound of Music" mentality with the song "The hills are alive...music." For some Spring is like another New Years with a new beginning after any desperation occurrences have happened over the winter. So let this season ring with excitement and optimism. Always remember a short little smile can go a looooooong way! Have a wonderful day!!!

"Regional Radar"


(Courtesy of NOAA)

"Regional Satellite"


(Courtesy of Penn State Meteo.)

"Regional Advisories"


(Courtesy of NOAA)

"Short Term Forecast" (Updated 3/13) (Saturday through Sunday night)
High pressure remains parked over the center of Pennsylvania generally a weak 1024mb. This is keeping a moderate type airmass over the state with dry air aloft. But a somewhat easterly flow is allowing some moisture to funnel into the lower levels. This may allow for some upsloping on the eastern Alleghenies to receive some stratus cloud formation overnight Friday into Saturday morning particularity in counties such as Blair and Bedford. Ceilings may drop to as low as 1000ft causing for some fog on the ridgetops. A weak stationary front to the south has been allowing a few waves to move over the southern Middle Atlantic even causing a few inches of snow this morning and last night in Kentucky and western Virginia. The inverted trough shifts slightly north on the day Saturday funneling in some high aloft cirrus clouds over the region. The moist southern influx of moisture will keep a bit of haze around the region. Temperatures will generally be near seasonal means Saturday. As evening approaches clouds will thicken and lower particularly over the south. Another waning area of moisture approaches the state as the boundary lifts a bit to the north. Initially dry air should prevent any precipitation other than virga. But as the column moistens in the 700mb layer, there should be enough relative humidity to squeeze out some light rain and maybe a flake or two of snow in the higher elevations. Any rainfall amounts will generally be less than a .1inch Saturday night. Precipitation generally will be from around the turnpike on south. Low temperatures will generally be mild and in the 30s. A bit of light rain will hang around for early Sunday morning church services, but generally the day will remain clouds. A bit of fog is possible throughout the day in areas the previously received rain the night before under the overrunning flow and 850 temperature warm air advection. Temperature highs will be near normal values. An even weaker wave moves in for Sunday night with just some light rain and light fog. Little to no measurable precipitation is expected.

"Current Surface Map and Weekly History of Jet Stream Position"


(Courtesy of Weather Underground)

"Long Term Forecast" (Updated 3/13)
The majority of the week remains dry as high pressure remains in control under a Pacific influence. Temperatures will be near normal. But towards Wednesday a cold front will be approaching the region. High pressure builds in for a southeast ridge influence causing a southwesterly flow. Temperatures will warm to above normal with values approaching over 60 for Wednesday. A strengthening cold front will move down from the lakes with the best chance of moderate measurable precipitation in the next seven to ten days. High pressure quickly works down through the Great Lakes bringing an immediate return to cooler air to end the work week and start the weekend. Overall though, the event looks to be a low-impact event. QPF totals are generally .25inches.

"Wildfire Outlook" (Updated 3/13)
Southern Pennsylvania particularity east of the mountains is suffering under some very dry conditions. In fact I just noticed that the NOAA drought monitor now puts the southern PA/MD border counties in the abnormally dry section. Little relief to these areas is expected in the coming seven to ten days. The ground remains very dry thanks to the dry February and March with limited snowmelt. Local larger river stems are above normal for most areas thanks to the recent heavy rains across the PA/NY border and the melting of all the snow. But local water tables such as near Harrisburg are running near 89% capacity such as Dehart Dam. While that is still pretty good on a typical basis, this period with snow melt in the mountains of Peter and Stony should result in 100% capacity. Dry air fuels remain low locally as much of the state is under a very slight by somewhat evident influx of southern moisture keeping dewpoints from dropping off too much. High pressure is also in control keeping winds near 0-5mph. Overall fire hazards are highest for areas around the Pennsylvania turnpike. A low to nil hazard is for across northern Pennsylvania.

Here again are the fire criteria for development in Pennsylvania... Link.

Criteria for rapid initiation and spread of wildfires in PA:

1. Winds must be sustained at 15 mph (13 knots) for two hours or more, and

2. Minimum Relative Humidities (which usually occur in the afternoon) must be 30 percent or less, and

3. 10-hour Fuel Moistures must be 15 percent or less (and expected to remain there for two or more days).

"Fire Outlooks from Storm Prediction Center Days 1, 2, and 3"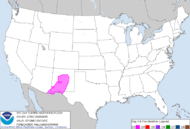 (Courtesy of NOAA)

"Gardening Outlook" (Updated 3/13)
It is time to get those shovels and gardening gloves off. It is the beginning of the planting season. So as I took a step outside this morning under a brisk cool light breeze with a 26degree temperature reading, a foul odor poised across through the valley. It turns out the farm next-door has turned up their fields and planted manure. The easterly breeze brought the odor across my neighborhood. Luckily this evening the manure seems to have settled. Anyways that just shows it is time to get out there and make for some Spring cleaning which can be a daunting task in not handled properly in an orderly fashion. My suggestion is break the task into a two-day period. Take one day and go around pruning the perennials and trimming down the ornamental grasses. Take this time also to pull out any dead weeds or annuals from last season to prevent the reseeding of weeds in the soil for this coming season. Take day two and brush out the dead leaves, sticks, etc from the garden along with churning up the dirt in vegetable garden beds. For those of you in the far south, you may even find it time to begin planting cold-season vegetables especially for those near Philadelphia under the urban-heat island effect preventing too many freezes and frosts. This coming week looks to feature little rainfall with seven day totals of around .3inches for southern Pennsylvania and .25inches for northern Pennsylvania. The areas likely to receive the most rainfall will be across the Laurel Highlands and western portions of Pennsylvania particularity in the southwest near Greene County. Temperatures look to be near normal for highs to slightly above normal temperatures. Frosts will be possible most nights of the week especially for sheltered valleys and northern locations up in the North Central Mountains near Williamsport.

"Soil Moisture Anomalies and 5-day Precipitation Amounts from Hydro Prediction Center"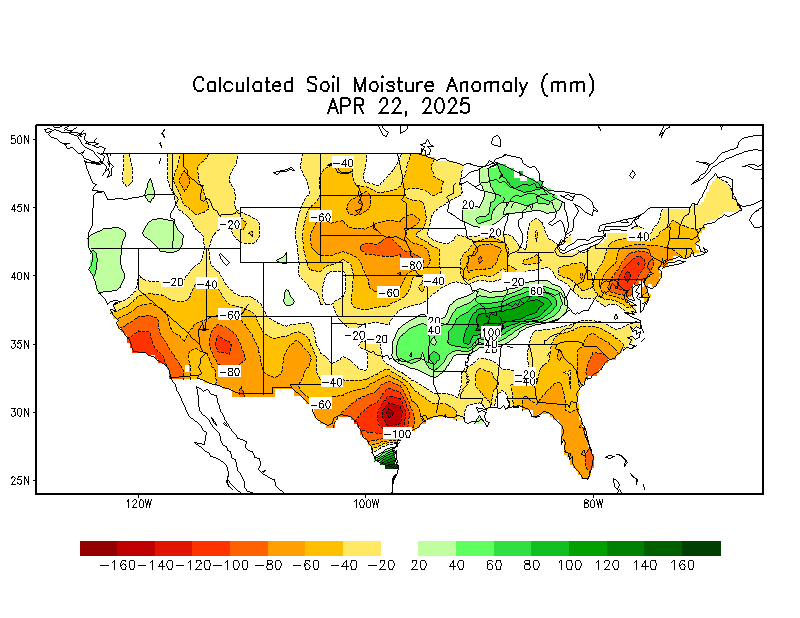 (Courtesy of NOAA)

"Severe Weather Outlook" (Updated 3/13)
A factor necessary for late Winter and early Spring severe weather outbreaks is the clash of airmass masses. This is something that really has been lacking in the last few weeks as generally a Pacific type airmass is across the Lower 48. With the zonal flow severe weather outbreaks is hard to come by other than a few occurrences. At least it appears we are not nearly starting as bad in tornado count as we did last year. The next seven days do not appear to feature any severe weather outbreaks. The best chance would be potentially towards Wednesday with an incoming cold front. But weak jet dynamics and light winds aloft should prevent any formation. Thermodynamics such as CAPE and LI values will prevent strong thunderstorm formation even across the Southeast. As we enter the month of April, thunderstorms should begin to become a bit more common across the nation.

"Severe Weather Outlooks from Storm Prediction Center Days 1, 2, and 3"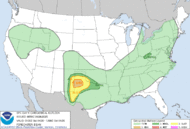 (Courtesy of NOAA)

"Monthly Outlook" (April)
Due to ever-so dull nature of the weather lately and my busy schedule, I never did issue a formal March prediction. In any case it appears the month will come up with near normal temperatures to slightly above normal temperatures along with below normal precipitation for most areas with only above normal precipitation for areas north of Interstate 80. I had a bit of a difficult time coming with a prediction for April. There still though does appear to be a general agreement with an analog year of April 2008. That month was dominated by generally a zonal flow with a weak trough situated over New England. This April I am expecting generally a ridge across the central part of the nation with a trough over the west with a central axis though off the coast and a weak trough across northern New England. This pattern fits well with teleconnections of a positive NAO and negative PNA along with a weak influenced MJO and GWA wave pattern. The weakening SO Nina also favors this setup given the month of April.

Temperature- I am going with near normal temperatures to slightly above normal temperatures. The cooler anomalies will be found for those closer to the New York/Pennsylvania border as they will be closer to the cooler air of the Canadian Maritimes with a trough over northern New England. This will occasionally provide the opportunity for a back door cold front.

Precipitation- Precipitation appears to be below normal for much of the month with the lowest anomalies across the south. Backdoor cold fronts will occasionally bring rain to northern Pennsylvania along with some lake enhanced rain/snow showers on the northwest flow. Meanwhile the flow will be a bit more southern stream dominated with much of any moisture being suppressed to the south of the state with the southern Middle Atlantic being in a more favorable region. Of course with any mesoscale events as thunderstorms, this could disrupt the precipitation totals for localized areas. The severe weather threat appears low for Pennsylvania as there should be a lacking in the clashing of warm/cold airmasses.

"Temperature and Precipitation Outlooks from Climate Prediction Center for next 30 days"


(Courtesy of NOAA)

"Winter Storm Watch" (Updated 3/13)
This section will take a look any snow potential down the road. Basically I will take a look at the overall mean of the pattern and see if we can sneak anything out of it or for at least some parts of Pennsylvania. Being that we are approaching Spring equinox, it is beginning to get difficult to have any snow outside of the mountain locations or for elevations above 1000ft in valleys. Looking up towards the arctic circle there has been a recent buildup of cold polar air as evident in last sea ice reports. But it seems that what once looked like a possible cold plunge, it is now being delayed and delayed which typically results in a non-event. The mean flow is quite progressive under a zonal flow as there will be absolutely zero blocking upstream. The once forecasted negative NAO even looks non-existent now. This pattern should result in Pacific type airmasses, which do not usually bring in cold enough air for any snowstorms for the most part. Usually only thread-the-needle type situations are the ones that only produce a snow event. In any case I think any widespread snowstorm is likely finished for the state as a whole. Still any possible little clipper in a colder pattern is possible to produce an onion snow in late March and early April. In fact the latest EURO weeklies and EURO operation models indicate a return of below normal temperatures towards the end of the month. I still find a hard time believing this given the recent accuracy of the forecasts and the recent delaying of this pattern. So overall looks like a low potential for any snowfall in the next week or two.

"ECMWF/GFS Day 8-10 H5 Mean Anomalies"



"Regional Forecasts" (Updated 3/13) (Saturday)
1. Eastern- (Allentown, Southern Poconos)-
Partly cloudy skies becoming mostly cloudy by late afternoon. Morning hard freeze likely with widespread frost. High 45-47.

2. South Central (Harrisburg, York, Lancaster)(my home)-
Mostly cloudy skies with hazy skies (visibility 7-9mile). Morning frost likely with a hard freeze. High 47-49.

3. Southern- (Philadelphia)-
Mostly cloudy skies throughout the day with cloudy skies late. Slightly cool temperatures. Possible heavy frost likely in morning. High 49-51.

4. Central- (State College)-
Partly cloudy skies throughout the day. Possible haze (7-9mile visibility). High 44-46.

5. Northern- (Erie, Bradford, Williamsport)-
Partly cloudy skies throughout the day. Rapid melting of any leftover snow. Possible haze (6-9mile visibility). High 43-46.

6. Western- (Pittsburgh)-
Mostly cloudy skies throughout the day becoming cloudy late. Some possible patchy drizzle/sleet towards early evening in southern areas. High 47-49.

7. Johnstown, Altoona-
Morning low stratus cloud ceilings (1000ft). Haze throughout the day with mostly cloudy skies (5-8mile vis.). High 42-43.

***Note on regional map, the number equals which region in Pennsylvania. I chose regions with similar climates, geography, and elevation to make my overall forecast for the region.



"Here north of Harrisburg 2009 statistics"
(Severe Weather Stats...)
Severe Thunderstorm Watches- 1
Severe Thunderstorm Warnings- 0
Tornado Watches- 0
Tornado Warnings- 0
Total Thunderstorms- 0

(Precipitation Stats...)
Flood Watches- 0
Flood Warnings- 0
Monthly Precipitation- 0.23inches
Yearly Precipitation- 2.03inches

(Temperature Stats...)
Heat Advisories- 0
Excessive Heat Warnings- 0
90degree days- 0
The views of the author are his/her own and do not necessarily represent the position of The Weather Company or its parent, IBM.
Reader Comments
Comments will take a few seconds to appear.
The Northeast Weather Blog...
Recent Posts
Local Weather
56 °F

Clear
Previous Entries for 2017
Personal Weather Stations