Winter forecast...
Verification Winter Forecast...
Wow, would you believe it is March 4 today? It is hard to believe the meteorological winter is already over and soon astronomical Spring will be headed our way. We delt with quite a many hardships this winter as cold air was available, but it was extreme that it surpressed much of the storm activity. I first want to thank everyone for the wonderful blog activity this blog got this winter. This was wonderful valuable scientifical informations along with spot on observations. I hope that everyone sticks around for the summer season to endure severe weather season. Thunderstorms is one thing we can count on in summer, snowfall is more questionable in winter, lol. Thanks again all!

So it is time to look at my winter forecast which was posted Labor Day weekend back in September. My forecast was for the months of December, January, and February. Looking at temperatures, my call was nearly spot on. Again they were severly negative departures, but they were still below normal. The only anomaly was Mt. Pocono with a normal value that was slightly above normal. I consider values from -.5-+.5 to be around seasonal normal. A trough dominated the region for much of winter especially in January. The pattern was a bit more variable in the other months. My call for a negative NAO for a majority of the season panned out pretty well. The CPC data base confirms a negative to neutral average value for the three month period. As for snowfall my call was not quite as good. Above normal snowfall did fall across the western half of the state, but the eastern half did not exactly pan out. The snow drought was located across the Upper, Middle, and Lower Susquehanna Valley this year. Snowfall was above normal in the far northeastern mountains, snowfall was near normal in the Poconos, and snowfall was above normal in southeastern Pennsylvania. This left central Pennsylvania with a deficit due to the lacking of a major snowstorm. Overall I am quite pleased with my forecast. Snowfall was definitely lacking in accuracy, but precipitation forecasts are much harder to forecast. For example my summer outlook featured a near spot on temperature call, but my precitation was not as accurate. My summer outlook for 2009 will be debuting around the first week of April, so just a little less than a month. My regular weekly blog will be posted on Saturday for next week's forecasts. Feel free to critique my winter forecast along with posting your data for the winter such as temperature and snowfall. Have a fantastic day!



Fig. 1- This is my winter forecast for temperatures. Above is the verification map with the plotted temperature anomalies for the three month period for all of the official climate reporting observation stations in Pennsylvania.



Fig. 2- This is my winter forecast for snowfall. Above is the verification map with in red the snowfall anomalies for the official climate reporting observation station. In blue are seasonal snow totals for the season so far. For comparison below is map of the average snowfall per season in Pennsylvania. Keep in mind the totals in the map above do not include any March or April snowfall that gets calculated into the averages for the map below.

-----------------

Winter Outlook 2008-2009 (December, January, February)



(Ice Storm of December 2007)

Introducing thoughts...
So I have been announcing this blog for quite awhile. Many forecasters like to get out their forecasts come October and early November because there is a more clear focus on what will happen with ENSO forecasts. But I like to get my forecasts out early and ride with them without making any changes. My seasonal forecast for winter is unusual to a point as I do not define an analog year and I do not base my forecast purely on the overall climatic scheme. My winter outlook is based on recent weather patterns, climatic forecasts from models, ENSO type patterns, sun forecasts, and teleconnections. As many people know I am definitely a winter person. I have been waiting for the return of winter for a long time, especially after a most boring summer with non-eventful weather. But there were some interesting events that occurred in the winter that could possibly show us future patterns for early winter. There is also one other thing I slightly base my forecast on and that is nature patterns, which basically no professional meteorologists forecast based on. But I have always felt that animals are the world's best little meteorologists. Below the following sections will the key forecasting techniques I use for making my winter forecasts break all up. For those who missed my first in the Labor Day Weekend blog series, here is a link... Link. In this blog I took a look back at my summer forecast I made in April of 2008 and I looked at where my forecast errors were. See comments #1 and #13 for more details. So now onto my winter outlook!!!

Look back at typical Pennsylvania's winters...
An average winter in Pennsylvania consists of many different types of winter weather. Winters in Pennsylvania are more severe than middle Atlantic winters and Ohio valley winters, but less severe than neighboring New England winters. On average the first snowflakes fall in mid to late October in the northwestern part of the state. And the last snowflakes typically fall in the northwestern part of the state in early May. Frost season lasts from early October to mid May in most areas. The geographic regions of Pennsylvania play a major part in snow totals and temperatures.


("Courtesy of NOAA")
There are two regions of Pennsylvania that see significantly higher snow totals than the rest of the state. The Laural Highlands and Northwest Mountains see snow totals well over 100inches every winter. In extreme winters snow may be on the ground into June with seasonal totals of over 200inches. The seasonal snow total record is held in Corry, Pennsylvania of 237inches. The monthly snow total record is held in Blue Knob, Pennsylvania with 96inches of snow. Corry is found in the northwest mountains and Blue Knob is a ski resort found in the Laural Highlands. Blue Knob is the highest ski able mountain in Pennsylvania. Below is a map of average seasonal snow totals in Pennsylvania.


("Courtesy of NOAA")
Different types of winter storms affect the state of Pennsylvania, clipper systems, lake effect snow outbreaks, nor'easters, advection snows, and etc. The coldest month is typically January statewide. And the snowiest month statewide is typically February. Northwest Pennsylvania typically sees a majority of their snows in Lake Effect snow outbreaks. While eastern Pennsylvania sees most of their snows from coastal storms. When coastal storms come up the coast many areas in Pennsylvania can see major snowstorms. The Poconos typically see the most snow from coastal storms due to their elevation aid to precipitation totals. Some of the greatest storm total snowfall records are actually held in eastern Pennsylvania and not in the northwest Snowbelt regions. The highest average seasonal snow average is found in Corry, Pennsylvania with an average of 118inches. While the low seasonal snow total is found in Philadelphia, Pennsylvania with 21inches of snow. As far as temperatures go the coldest temperatures are found in the Alleghany Plateau region with the lowest temperature every recorded in Pennsylvania was in Smethport with -42degrees. Temperatures typically dip below freezing every day from November to March statewide. Extreme cold outbreaks typically occur around mid to late January. At times warm thaws may occur, but they are rare and sparse. As for ice storms they typically occur in December when the sun's rays are at their lowest. Very odd winter weather features occur each year including thunder snows, etc. and thunder snows are like thunderstorms but with snow instead of rain. Snow rates up to 5inches can occur. Thunder snows are mostly likely associated with frontal passages and lake effect snows. As far as winds, typically northwest winds setup on the coldest of winter days and can gust up to 50mph. Wind chills as low as -25degrees are felt almost at least once in the mountains of Pennsylvania. On average winds gust to 30mph several times each month. For ice on waterways, many northern lakes and rivers solidly freeze every winter. For southern areas ice forms every winter, but does not necessarily become very thick. During extreme winters though even southern regions can see ice thicknesses of over a foot. The most extreme winter storms that affect Pennsylvania are nor'easters though. They affect large areas of the state with high winds and heavy precipitation. On rare occasions snow totals of over 35inches have occurred with snowdrifts as high as 6ft in many areas of eastern Pennsylvania. Winters in Pennsylvania overall are relatively severe, with geographic regions playing a major part in average snow totals and cold temperatures.

Recent weather patterns...
This summer has been very unusual with our warmest weather falling before summer officially begins. The worst heat wave occured in early June and after that temperature trends began to decline to below normal. One other thing to note is the extremely cool May weather we had in 2008. Troughs dominated the region with many days going in the 30s for lows. Here is a statement I made back on May 19 about the weather we had so far that month. Good Wednesday afternoon!!! Wow, what a miserable May it has been. My highest temperature is 79degrees and that is basically one of very few 70degrees temperatures this month. Yesterday my high temperature was 49degrees along with .39inches of rain. It is amazing of how winter like this pattern we are in looks like. Like the rain yesterday was from an Alberta clipper type storm. And today a cold front is moving through with rainsqualls. Northwest flows also have been quite common this month. Snow this month has been surprisingly more often than it was in April for some mountain areas. Also remember the strong nor'easter we had two weeks ago with 2-4inches of snow in the mountains and in the valleys up to 1inch of snow. Then more traces of snow were recorded. And just the other day snow was reported in Bradford and Johnstown with lake effect snow. In the suburbs of Buffalo, NY up to 1inch of snow fell that day also. Now still snow is in the forecast for northern areas as a shortwave moves through Thursday morning. This is just getting unbelievable. Then came June and a brief impressive heat wave occured in the early part of the month, but throughout the rest of the month temperatures were below normal with troughs. But overall the month ended up above normal thanks to the record-breaking heat wave. For July temperatures were pretty close to normal with a brief heat wave or two during the month, but overall once again more troughs over the region. And August, well what happened to summer during the month, troughs dominated the region with blocking highs. Temperatures were near 6 degrees below normal in the mountains of Pennsylvania. Pretty amazing. For the most part of summer the NAO has consistently been negative which is indicate of east coast below normal temperatures. From April 15 to August 30 the NAO has only been positive for five short periods.


(Courtesy of NOAA)
So looking ahead to September it appears the NAO stays negative and keeps troughs moving over the region for the most part. I always have believed in long-term patterns with the teleconnections and it appears the negative NAO will continue through the winter, but I will talk about that more in a section below. Here is a map showing the average storm tracks from the past 90days along with accumulated precipitation...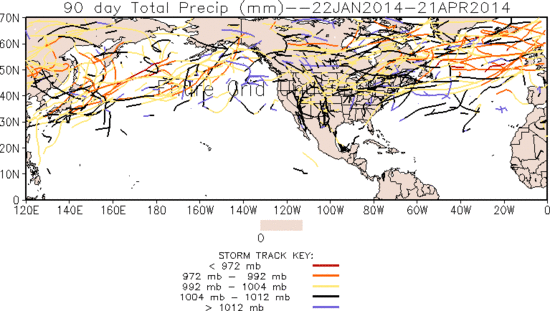 (Courtesy of NOAA)
There is no definite correlation between a cold summer leading to a cold winter, but I do feel it sometimes helps in the situation.

Climatic forecasts from computer models...
I really do not rely on computer models for the most part in forecasting short-term climate forecasts, but in any case here in the CFS forecast which takes an average of the NCEP models for several month periods. But overall looking at the CFS there appears to be the forecast of a very cold fall, especially November with normal to above normal temperatures for the months of December, January, and February. The CFS though has been back and forth with predictions with just two weeks ago it was predicting below normal temperatures for the key winter months. Here is a link to the month temperature anomaly forecasts... Link. As for the EURO long-term model, it is released to professional meteorologists each month. Last that I had heard from the August 15 release, it showed below normal temperatures with above normal precipitation across much of the east coast. Here is a link to the release statements... Link. My forecasts usually do not use too much computer model guidance for long-term forecasts. So overall that is all the information I use for my overall forecast.

ENSO climate forecasts...
One of the key players in this winter's forecast is the development of either a pacific La Nina or El Nino. Last year the winter was highly dominated by a very strong La Nina, which caused an unusual jet stream favoring very heavy snow north of I-80 also causing a very active storm pattern. Looking over some of the latest data I have come up with this conclusion. Neutral conditions will persist through the Fall of 2008. Come the winter months of December, January, and November conditions will generally be near neutral slightly leaning towards a weak La Nina. Below are the latest sea surface temperatures for the Pacific which indicate neutral conditions...


(Courtesy of NOAA)
Looking at the latest global model forecasts they generally agree with neutral conditions to even slightly positive conditions with a weak El Nino. But still overall mainly neutral. Looking at the latest CFS spaghetti plot it shows neutral to weak La Nina conditions persisting through most of the winter months. Overall with a weak La Nina possible this favors colder than normal temperatures along with above normal precipitation due to active jet stream. Many infamous winters occured with a weak La Nina such as 1995-1996.

Sun forecast...
While some people do not agree on this topic, one thing for sure is the sun controls our weather. According to the USA Today Weather Book by Jack Williams, sunspots are dark regions on the sun's surface that average about five times the size of the earth. While the sunspots are associated with cool temperatures, they release tremendous amounts of heat and energy towards the Earth. During periods of low sunspot cycles some astronomers and meteorologists agree that is correlated to slightly below normal temperatures on the Earth. Currently the sun has been ever so quiet with absolutely no sunspots in quite a long time. I have seen several correlations between low sunspot periods and rough east coast winters. Here is a chart showing future predictions for sun spot cycles...


(Courtesy of NASA)
Based on this many meteorologists believe this winter will be faced with below normal temperatures. The Farmers Almanac believes we are headed into a colder pattern thanks to cycle 23. Forecasts continue to push back the date of the next cycle, 24 which may max out around 2011, but that date has been pushed back several times. Here is a link to the current picture of the sun... Link. While many meteorologists do not agree on the impact of sunspots, there is some factual evidence to suggest that the "Little Ice Age" was due to a low sunspot cycle.

Teleconnections...
Now I hinted on this earlier, but I do believe we are headed into a long-term negative NAO regime. Here is a link to the CPC teleconnection page... Link. Also it appears that a positive PNA and negative AO will persist through the winter. I really do not have much to mention about the teleconnections for the winter other than my predictions.

A look at what mother earth is telling us...
While this section is anything but scientific, I do find that animals have a sense of forecasting the weather. No I do not mean like a groundhog seeing its shadow, but I mean by looking at annual migrations of bird, etc. I have seen abnormal amounts of Canadian Geese already beginning their migration southward throughout the past week. This is way ahead of schedule. Fall leaves are beginning to change much earlier than normal. Last year leaves changed late. There are plenty of other unusual things occurring. Squirrels have been actively gathering acorns for the winter also. If anyone else has any observations, please leave them in a comment below. Nature can tell us a lot about the weather, but most professionals are reluctant to take notice.

Overall forecast...
So overall here is my forecast for the 2008-2009 winter for the months of December, January, and February. For snowfall I am thinking normal snowfall for most locations, but above normal snowfall in the typical lake effect snow belts thanks to very active arctic front patterns followed by lake effect snow. The pattern will favor very chilly and dry air sometimes suppressing precipitation to the south of the region as we have seen this August already.
Snowfall Outlook


As for temperatures I think we are going to see widespread below normal temperatures for a majority of the state, though I do not see temperatures being values anywhere near record values for coldest winters.
Temperature Outlook



Concluding thoughts...
While my discussions above are at times not typical to other seasonal forecaster's methods, I try to use techniques that work for my liking. I do not use any previous analog years. Also I did release my winter outlook relatively early, because I like to get my thoughts out early, even though some may argue it is too early to get a feel for the overall climatic scheme. On March 1, which is the end of the meteorological winter, I will reopen this seasonal outlook and take a look at my forecast accuracies and errors. I was pleased with my summer 2008 forecast, so we will have to wait and see how this forecast turns out. These are experimental forecasts, which provide several learning opportunities for others and myself. I do not consider seasonal forecasting one of my strong subjects, as it takes an expert to look at all of the forecasting variables to make a seasonal prediction. In any case I am excited about the prospects of this winter and hope everyone will be ready to share forecasting ideas for each major winter storm with speculation ranging from best to worst case scenario. I will release my winter format for my blogs sometime this month probably in a week or two. Hopefully this will be an exciting winter. Have a wonderful and safe winter!!! And be sure to stay tuned throughout the winter to my blog updates, lol. Have a great day!!!

-Part II Winter Forecast... Link.

-Middle Atlantic Winter Blog... Link.

-Winter Recap... Link.

"Here northeast of Harrisburg 2008-2009 winter statistics"
(Snow Stats)
Current Snow Cover- Patchy C-1inch
Monthly Total- 3.00inches
Seasonal Total- 25.40inches
Winter Weather Advisories- 7
Winter Storm Warnings- 2
Ice Storm Warnings- 1
Blizzard Warnings- 0
Freezing Rain Advisories- 0
Winter Storm Watches- 4

(Temperature Stats)
Lowest High Temperature- 14degrees
Lowest Low Temperature- -3degrees
Wind Chill Advisories- 0
Wind Chill Warnings- 0

(Snow Storms Stats)
First Snow - October 29 - Trace
First Snow on Ground - November 18 - Coating
Lake Effect Snow - November 21/22 - 6.00inches
Synoptic Snow - December 16 - 3.50inches
Clipper - January 17-19 - 1.50inches
Synoptic Snow - January 27/28 - 4.00inches
Lake Effect Snow - 2.00inches
Coastal Storm - 2.00inches
The views of the author are his/her own and do not necessarily represent the position of The Weather Company or its parent, IBM.
Reader Comments
The Northeast Weather Blog...
Previous Entries for 2017