Severe Weather Chances Thursday for the Northeast
By: Blizzard92, 5:44 PM GMT on July 24, 2012
A warm front will lift northward across the northern Middle Atlantic reintroducing higher humidity and heat for Thursday into the weekend. Increasing shear values as an upper level wave moves through on Thursday will enhance the risk for significant severe weather chances across northern Pennsylvania up through central New York State. Scattered showers and thunderstorm chances will continue through the weekend over most areas.

"Afternoon Thoughts" (Updated 7/24)
As of early July the word 'derecho' was ranked 7th for trending words on twitter. Link. This is courtesy of post-storm from the June 2012 derecho across the Ohio Valley and Middle Atlantic causing one of the most widespread damaging wind tracks in recent memory. It affected millions across the eastern portions of the country. The explosion of popular social media has greatly influenced the way weather is related to the general public. Only just a few months ago, the majority of Americans would not have any idea the meaning of a derecho. Now the word is a commonplace in the internet language particularly for amateurs on weather forums. In fact the word is now often abused; for instance today's squall line advancing southeast over the Ohio Valley does not actually fit the word of derecho despite those definitions currently bouncing arounds on sites such as twitter today.

Credit must be given to The Weather Channel for sparking the general public's interest in weather and meteorology, but in the last decade many sources have directly improved acknowledgement for general weather conditions across the country. For the most part this has been for the better, but there has been an increase in ignorance in severe weather warnings for the general public. Many false alarms have allowed many to ignore other weather warnings such as severe thunderstorm warnings. Many people believe they are issued when any thunderstorm is threatening a region.

There are too many weather advisories/warnings being issued and the definitions are too complex to relay to the general public. This is causing general confusion and ignorance. The system needs to be reworked and this is not just an education problem... The problem exists in the original architect of the system.

"Regional Radar"


(Courtesy of NOAA)

"Regional Satellite"


(Courtesy of Penn State Meteo.)

"Regional Advisories"


(Courtesy of NOAA)

"Forecast Discussion" (Updated 7/24)
A cold front on Tuesday will continue to dip south across the Middle Atlantic sparking a few broken lines of scattered showers and thunderstorms. 0-6km shear values around 30kts may enhance a small threat of damaging winds particularly towards the Washington, DC-Baltimore corridor. Winds will begin to turn to the north and northwest filtering in drier and cooler air. High pressure will take control on Wednesday for the best day of the week. Sunshine is expected region-wide with near normal temperatures. By Wednesday night a warm front will begin to lift north across Pennsylvania with increasing heat and humidity. Scattered thunderstorm development along the front may enhance convective probabilities for portions of western Maryland and western Pennsylvania overnight. A slight risk of severe weather is possible in those areas with the highest threat being damaging winds.

An upper level low over the Great Lakes will spark the development of a MCS that will advance east into New York before dawn on Thursday with heavy rain. Current NAM/SREF progs indicate QPF totals in excess of 0.5in. This complex will weaken as it advances east into New England by Thursday morning. Existing boundaries and the cold front trigger will initiate thunderstorm development later in the day across Pennsylvania and New York with possible severe weather development given the favorable right front entrance from the low level jet positioned directly over the region. Highest shear is a bit displaced to the north, but should be enough to give way to a widespread damaging wind threat as a potential squall line develops. H85s will rise above +20C on Thursday with highs reaching the upper 90s across southern areas in Maryland and the Washington DC area. Dew points in the lower 70s will increase heat indices to near heat advisory criteria values. PWATs near 2.0in will also enhance the threat of heavy rain especially across Pennsylvania. The highest threat for convective activity will be across northern Pennsylvania into south-central New York. To the north in New England will be an area of more stratiform rain showers, while areas in the south experience a strong warm mid level cap.

Recent GFS and ECMWF runs highlight the potential for a second MCS to move through on Friday across Pennsylvania with heavy rain and scattered thunderstorms, but for now this threat remains a bit more uncertain. Temperatures will begin to lower towards the weekend, but higher instability will enhance the risk for pulse thunderstorm development each day. Most areas will be dry and the weekend will not be a washout. High pressure will advance over the Northeast by early next week with cooler temperatures and lower humidity. Sunshine will prevail by Sunday and Monday.

"Current Surface Map and Weekly History of Jet Stream Position"


(Courtesy of Weather Underground)

"Fire Outlooks from Storm Prediction Center Days 1, 2, and 3"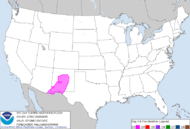 (Courtesy of NOAA)

"Gardening Outlook" (Updated 7/24)
After an extensive dry period across much of the Northeast, a basin-wide rainfall gave relief to many areas nearing D0 or D1 drought conditions. Areas that received the most rainfall were across central and eastern Pennsylvania up through New England. Continued drought conditions exist across central New York state, western Pennsylvania, and parts of the Delmarva. These areas have received little precipitation this year after a nearly snowless winter. Main-stem waterways are running quite low in this region. Isolated may be on the way over the next seven days as several convective chances of precipitation will exist with isolated locations receiving 7-day QPF totals in excess of 2.0in while other areas receive little. Latest GFS/NAM runs indicate the potential for a MCS to move through New York state into New England with widespread heavy rain QPF totals. This may help the drought-stricken regions around the Finger Lakes. This complex will likely weaken as it moves east of the Hudson River. Elsewhere precipitation chances will remain less organized and more isolated in nature. Showers and thunderstorms can be expected Thursday through early next week.

Temperatures will average near normal for the next seven days with highs generally at 90F or slightly below depending on location. The combination of rain chances and cooler conditions will be beneficial for those late-summer gardens. Many farmers have been saved from poor seasons courtesy of the last widespread stratiform rain. Corn and soy bean crops were generally saved across much of the region.

My vegetable garden has had an excellent year. Currently my corn stalks are beginning to produce small ears and appear to be cross-pollinating very nicely. Pepper and tomato crops have been slow producers despite the hot weather. I believe my main problem was that I planted them too late in the season. I also am currently growing watermelons, eggplant, cucumber, zucchini, yellow beans, and the typical herbs (basil, cilantro, chives, oregano, parsley).

"Soil Moisture Anomalies and 5-day Precipitation Amounts from Hydro Prediction Center"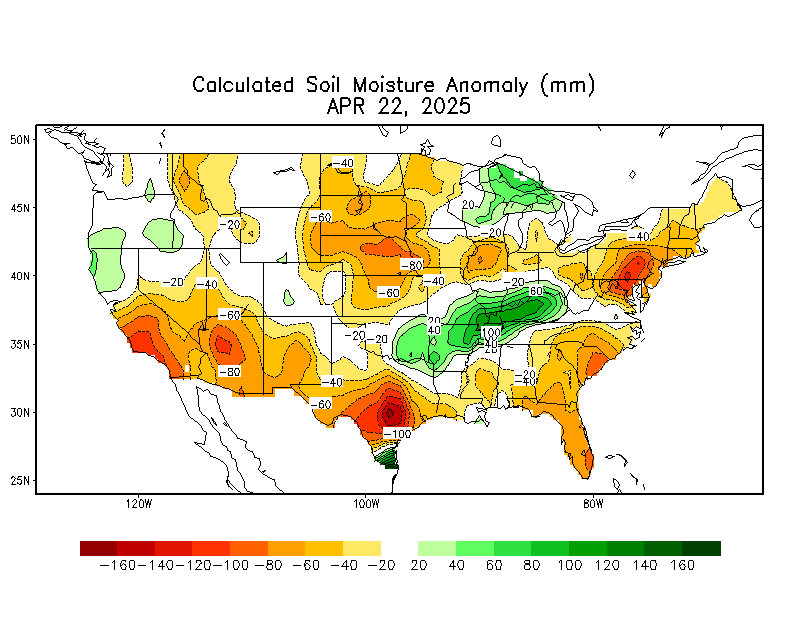 (Courtesy of NOAA)

"Severe Weather Outlook" (Updated 7/24)
Severe weather probabilities are beginning to increase for Thursday across parts of the Northeast. A warm front will begin to lift north across the region allowing warmer and more humid air to advance into southern New England. Meanwhile an intense upper level low will begin to rotate east across New York state. Current guidance including the latest 12z NAM highlights PWATs rising to near +2SD as far north as the Finger Lakes associated with a MCS that will move through the overnight hours on Wednesday. Given the unfavorable diurnal hours and slightly displaced dynamics at that time, it is likely severe weather chances will remain low with this complex. The track will likely be across New York state before weakening as it advances east into southern New England. Heavy rain will be the primary threat along with continuous lightning. Total QPF may approach 0.5-1.0in for those areas.

Thursday morning will feature lower CIN as an area of subsidence exists across New York and New England as the MCS advances off the coast. Widespread strato-cumulus will likely prevent any morning surface instability. As the low level jet begins to intensify, the warm sector will begin to destabilize once again. Existing boundaries left from the MCS and approaching trough will act as the trigger for afternoon thunderstorm development. 0-6km shear values near 40-55knots and SBCAPE in excess of 2,000j/kg will be the primary ingredients for a severe thunderstorm threat. Current HIRES guidance suggests the development of a squall line with a widespread damaging wind threat across Pennsylvania and New York. A SPC moderate risk of severe weather is possible across these areas. The primary inhibiting factors are the questionable stabilization after the passage of the MCS along with the extent of the cloud cover.

For the time being it appears like a widespread severe weather outbreak is possible Thursday afternoon and evening with the highest threat across northern Pennsylvania and southern New York. Stay tuned!

"Severe Weather Outlooks from Storm Prediction Center Days 1, 2, and 3"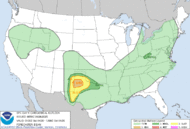 (Courtesy of NOAA)

"Monthly Outlook" (August)
As El Nino conditions continue to develop based on the latest SST reports from the equatorial Pacific region, lingering La Nina-based weather patterns will continue to dominate across the contiguous United States. Despite a near record low NAO for much of the meteorological summer. This has allowed the higher heights to develop across the central United States where persistent above average temperatures and dry conditions will continue through much of August. Little to no pattern change is expected allowing drought conditions to worsen. The Northeast long range forecast shows some upper level troughs rotating through the region with northwesterly flows for 1-3 day periods. This cooler weather will most directly affect parts of New England, while the Middle Atlantic continues in a warmer regime.

Temperatures for the most part should average above normal for the month of August across the entire Northeast around (+)1F-(+)2F. Precipitation chances will be on the increase with normal to slightly above normal rain given the slightly more active northwesterly flow with chances of rain showers and thunderstorms. Given the convective nature of the precipitation, some areas will see localized D0-D1 drought conditions particularly in areas that are already dry such as central New York and portions of Delaware.

Guidance also continues to favor a relatively quiet tropics for the next few weeks with limited activity. Given the current position of the upper level ridge over the Midwest, a higher than normal probability exists for a tropical storm to near the eastern seaboard should one develop. This of course will enhance rainfall amounts for the month over the Northeast. None the less the general theme will be a warmer than normal pattern, but less hot than it has been with increasing rain chances. The worst heat waves of the summer are likely over for the Northeastern part of the nation.

"Temperature and Precipitation Outlooks from Climate Prediction Center for next 30 days"


(Courtesy of NOAA)

Follow my 24hr forecasts on Twitter... Link and Facebook... Link.

Lower Susquehanna Valley Doppler...


(Courtesy of WGAL)

"Linglestown, PA 2012 statistics"
(Severe Weather Stats...)
Severe Thunderstorm Watches- 9
Severe Thunderstorm Warnings- 10
Tornado Watches- 1
Tornado Warnings- 0
Total Thunderstorms- 21

(Precipitation Stats...)
Flood Watches- 0
Flood Warnings- 0
Flash Flood Watch- 2
Flash Flood Warnings- 0
January precipitation- 2.82"
February precipitation- 1.90"
March precipitation- 1.41"
April precipitation- 1.74"
May precipitation- 7.47"
June precipitation- 3.30"
July precipitation- 5.29"
August precipitation- 0.00"
Yearly precipitation- 23.93"

(Temperature Stats...)
Heat Advisories- 9
Excessive Heat Watch- 1
Excessive Heat Warnings- 1
90F days- 22
100F days- 1
Highest Temperature- 102F on 7/7
Updated: 3:46 PM GMT on August 03, 2012
The views of the author are his/her own and do not necessarily represent the position of The Weather Company or its parent, IBM.
The Northeast Weather Blog...
Recent Posts
Local Weather
57 °F

Clear
Previous Entries for 2017
Personal Weather Stations