Floods and snow, irregular jet stream temp records, a December eclipse and hurricane
Flooding in Atlantic Canada turns to ice and snow

Last week, much of New Brunswick, parts of Nova Scotia and the Gaspe Peninsula in Quebec were hit by widespread floods that saw some areas receiving over 250 mm (10 inches) of rain in less than 48 hours. The flooding was described by some as being hurricane-like and to be expected of spring, but not December. The St. John River in New Brunswick was hardest-hit.



Image of flooding from Zealand, New Brunswick. Courtesy CBC.

A significant winter storm is now arriving in the Maritimes, impacting New Brunsick. Some parts of the province could see over 30 cm (1 ft) of snow, especially the northeastern part of the province. Some parts of Cape Breton Island, Nova Scotia, meanwhile will get hit by over 100 mm (4 inches) of rain, potentially creating another flooding situation after some flooding already occurred there. The GFS computer model in its 18z run is calling for New Brunswick to freeze over by Thursday, after the rain and snow from this strong nor'easter system are over. For much of New Brunswick, residents will face not a White Christmas like in half of the United States, but rather an icy one. What's more, a second nor'easter is due to arrive in Southeastern Quebec and Gaspe, New Brunswick, Nova Scotia and PEI by Sunday, just in time for Boxing Day.

Early in 2003, a melting and re-freezing event led to nearly a meter of ice forming on streets in parts of Gander, Newfoundland. Where the water has not receded, much of the same unusual occurrence could occur in Atlantic Canada over the next week.

Flooding and mounting snowpack in California

As is typical for a La Nina pattern, the jet stream is ploughing directly from the warmest part of the Northwest Pacific into California, in the so-called Pineapple Express that usually brings heavy storms to British Columbia and Washington State. For now, that pattern is stuck bringing storm after flooding storm to California's Sierra Nevada Mountains, where several feet of rain could fall. Already, this is proving to be a disasterous situation, where the highest snowfall level was 12.5 feet (380 cm). Many records were broken, especially in Southern California, which is normally dry year-round. Snowfall warnings are in effect for the mountains and areal flood warnings are in place for much of the San Joquain Valley as the snow on the lower parts of the mountains melt under the weight of the heavy rain, which gets trapped on the west side of the mountains and feeds into the normally-dry rivers. The National Weather service warns:

Most flood deaths occur in automobiles. Never drive your vehicle into
areas where the water covers the roadway. Flood waters are usually
deeper than they appear. Just one foot of flowing water is powerful
enough to sweep vehicles off the Road. When encountering flooded
roads make the smart choice... turn around... dont drown.

Excessive runoff from heavy rainfall will cause flooding of small
creeks and streams... highways and underpasses. Additionally... country
roads and farmlands along the banks of creeks... streams and other low
lying areas are subject to flooding.

A Flood Warning means flooding is occurring or is imminent. Most
flood related deaths occur in automobiles. Do not attempt to cross
water covered bridges... dips... or low water crossings. Never try to
cross a flowing stream... even a small one... on foot. To escape rising
water move up to higher ground.





A flooded street in Oakland, California. Courtesy The Associated Press.


Areas that were damaged by fires in the past two years should be on high alert for toppling trees and landslides as raging water replaces fire, washing away all the detritus. Computer models call for a respite in the flooding between December 23 and 25. When the rains return on Christmas night, the bulk of the rainfall should shift to Northern California, flooding the Sacremento Valley portion of the Central Valley. Some winds on the mountains have exceeded 100 mph (160 km/h), and many homes were evacuated. The floods are likely to continue for at least another two weeks.

As spring arrives, watch for increased flooding along major North American rivers such as the Missouri River, the Red River, the Columbia River, the Fraser River, the Kootenay River, the Sacramento River, the San Joquain River, the Athabasca River, the Illinois and Ohio tributaries, the Hudson River, the Saint John River (Maine and New Brunswick), the Thames River (in Ontario), the Nottawasaga River, the Pawtuxet River, and the Connecticut River, as a result of the increased snow melt.

Could all this extra water trigger an earthquake?

Southern California is not used to seeing this much rain and snow, though La Nina years do prove wet in much of the state. Near the Central Valley of California, expected to be flooded in the coming months, is the San Andreas Fault. Recent research from many scientific groups have indeed found that weather systems and the precipitation and pressure changes they bring can provide that extra trigger in crustal stress changes for a potential earthquake when the energy has already been building up. That being said, the M7.2 Easter Sunday earthquake that struck near Mexicali, Mexico likely increased crustal stress along sections of the San Andreas Fault running from San Diego to San Francisco. Earthquakes along the fault that occurred earlier this year were usually around magnitude 6 for the strongest tremors. However, I refuse to many any specific earthquake predictions.

Granted, I have made several succesful albeit nonspecific quake predictions in 2010, including the M8.8 Chile earthquake (but that's another story, for another time), but NOT for the M7.0 Haiti earthquake that killed 220,000. It remains to be seen whether any truly scientific predictions for earthquakes based on weather can have a reasonably high success rate.

Heavy late autumn snow pounds Europe

Heavy unseasonal snow has been hitting Western Europe since November. This has proven to be a travel nightmare, as London Heathrow Airport (one of the busiest in Europe) last weekend and even the Eiffel Tower two weeks ago were closed (although the Paris landmark was later shut down a week later due to a strike).


Great Lakes snowsqualls snarl traffic to a standstill


In late November and early December, over one metre (39 inches) of snow from snowsqualls drifting over Lake Erie hit Buffalo, and many people were stuck in traffic for over 24 hours. Soon, during the first weekend of December, snowsqualls began in earnest downwind of Georgian Bay, Lake Huron and Lake Michigan. In Ontario, several located recieved more than one metre, including Lucan, Ontario, where 177 cm (70 inches) fell. Many snowfall records were broken. Most of that snow later melted, as another winter storm arrived in the region. The third week of December, however, proved disasterous for Southwestern Ontario. On Highway 402, many motorists were buried under snowdrifts for days. Local farmers and tractor drivers helped dig out stranded drivers, and some stayed at a local Tim Horton's. One man was killed by the snow and hypothermia as he likely wandered away from the car during the traffic chaos.



Snow in front of a house in Lucan, Ontario. Courtesy CBC.

As long as the lakes remain unfrozen, snowsqualls will intermittently continue for much of the Great Lakes region of North America.

Heavy snow falls in China

Beginning in November, heavy snowstorms hit the capital city of Beijing after dust storms struck the northwest. Parts of Southern China were also hit by the snow mid-December.

In February 2008, a series of snowstorms crippled Southern China in areas without snow removal equipment, claiming at least 129 lives in a La Nina season similar to this one.

Unusual jet stream pattern causing global weather disruption

The Arctic dipole anomaly (Wikipedia article) is responsible for much of this weird weather. An additional blocking pattern is forcing cold air into continental interiors and warm air to the Arctic, in the "Warm Arctic-Cold Continents" pattern, which has only surfaced six times in the past 170 years, including the previous winter and this one.

See the article from The Weather Network about Arctic temperature records and the unusual jet stream pattern in place across the Northwestern Hemisphere.

The unusual pattern caused high temperature records to be broken in Nunavut and Newfoundland in Canada, while low temperature records were shattered in Florida and Cuba. On December 16, a station recorded a record low of 1.9C (35F), in a country that has never seen a temperature below freezing. This means that for a brief period during December 2010, parts of Greenland and Nunavut were even warmer than a small part of Cuba! Parts of subarctic regions are also fluctuating between above and below freezing, critical for ice formation. Parts of eastern Hudson Bay and the Hudson Strait still remain unfrozen as of December 20 due to the jet stream pattern, even though they would usually be frozen by now.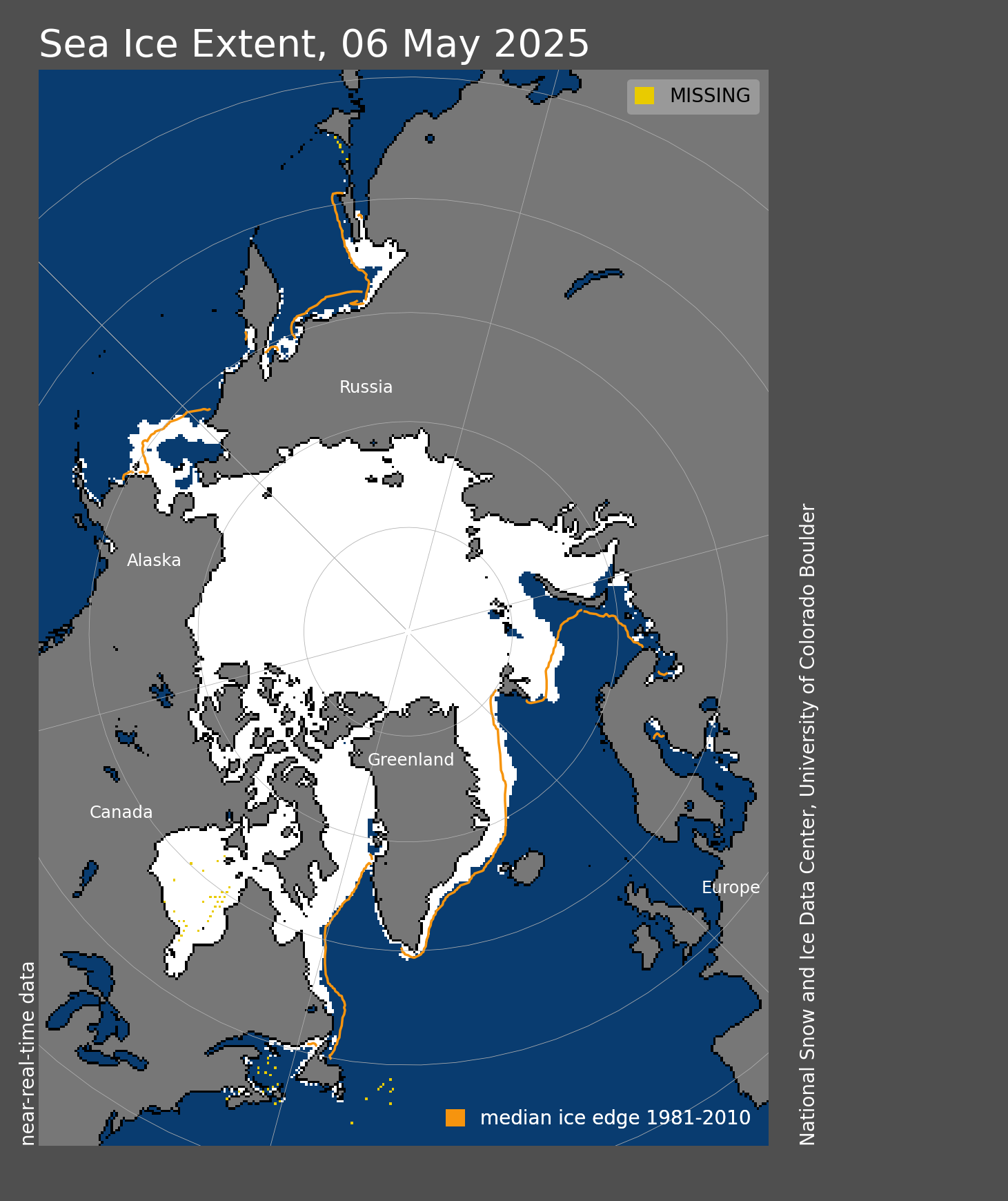 Current Arctic sea ice extent. Courtesy National Snow and Ice Data Center.

Most of the Davis Strait leading into http://en.wikipedia.org/wiki/Jakobshavn_Isbræ in Greenland, a major outlet for melting ice from the Greenland Ice sheet, remain unfrozen as well. Low pressure systems retrograding over Canada are reinforcing the flow of warm air and some Gulf Stream water into the Strait, and sea surface temperature anomalies confirm this area remains warmer than normal.

What is causing the jet stream anomalies?

The jet stream blocking pattern this year has been blamed on a variety of natural disasters during the summer, including the persistent Pakistan floods and Russian wildfires. The pattern further enforced the West Siberian fire situation by continuously sending in Saharan air and keeping the smoke that reached the stratosphere in place over Western Russia amid record temperatures, fuelling a toxic smog over Moscow that, in combination with the heat wave, likely killed over 15,000. We know that the warm Arctic-cold continents pattern occurred in the winter of 2009-2010 during an El Nino "Modoki" year and the event this winter is during a strong La Nina, so ENSO probably isn't the cause.

I propose three distinct possible causal mechanisms:

1. Low solar activity is reducing total solar irradiance, thus reducing the incoming heat near the equator, and due to the 2.2-year temperature lag the warming effects from the Sun don't take effect until 2012. As a result, the temperature contrast between the tropics and the poles is reduced, slowing down the latitudinal jet stream winds and allowing air masses to now only move freely but also get stuck. A simultaneous reduction in Arctic temperatures should allow blasts of cold Arctic air to invade continents.

2. Rapid warming of the Arctic in recent decades compared to other latitudes is concentrating excess heat in that region. In winter, the normally cold air masses are split by the presence of warm air and forced south into the continents. These cold air masses stabilize and the warm air remains in the Arctic late into the winter season.

3. Global climate change warms the poles faster than the mid-latitudes, so a decrease in overall temperature contrast slows down the mid-latitude winds and allows the jet stream to meander more than usual. Intrusions of warm and cold air abound, as ocean currents are able to enter farther into the Arctic regions due to reduced sea ice cover, forcing cold, dry air into the deep south of continents where cooling of the surface occurs more readily. Higher pressure developing over ice-free areas of the Arctic pushes more cold air into the continents, and the warmer wintertime oceans continue to feed warm air into the region.

Most likely, it is a combination of the aforementioned factors. The Arctic dipole is known to displace the Arctic Oscillation and the North Atlantic Oscillation, the latter which dipped to record low levels last winter. Solar variations have already been proposed as a factor, but climate change from largely anthropogenic causes can be another factor.

Arctic air blast possible early January

The latest GFS computer model runs predicted a possible Arctic air blast in early January, and temperatures could dip below -25C (-15F) in much of the US Midwest. Cold temperatures could be in store for Southern Ontario as well. However, shortly after this freeze, a January thaw could come for much of the United States and Southern Ontario. This January thaw occurs every winter in Southern Ontario when temperatures rise sufficiently above freezing to melt the snow, and it appears to be more pronounced in La Nina years. This thaw could produce a 40-C temperature rise (72F rise) in under a week in the Great Lakes region, if it occurs. The drastic shifting of air masses come Janaury is a potential set-up for a major winter storm. Some GFS runs suggest the continuation of retrograding lows over the Great Lakes and eastern Canada, setting up for heavy snows funneled in from Hudson Bay while the storm system forms a temporary Hudson Low, usually gone by mid-winter. This pattern could see the snow sinking directly into Southern Ontario through the amplification of northwesterly winds and snowsqualls from the lakes if they be unfrozen, which I would call the "Hudson Hammer". More lows could track directly into the Great Lakes region afterwards.

A rare winter solstice total lunar eclipse
In North America, there will be a total lunar eclipse TONIGHT. In times EST, the eclipse will progress as follows:

Penumbral eclipse begins at 12:27 am
Partial eclipse begins at 1:32 am
Total eclipse begins at 2:40 am
Greatest eclipse occurs at 3:17 am
Total eclipse ends at 3:52 am
Partial eclipse ends at 5:02 am
Penumbral eclipse ends at 6:06 am



Visibility zone of the lunar eclipse. Courtesy NASA.

Tropical Storm Omeka forms in the Central Pacific

West of Hawaii, on the International Date Line, a possible tropical, subtropical or extratropical disturbance drifted around 20N over 27C (80F) SSTs on December 19, developing a well-defined and annular-looking eye that persisted for several hours in the West Pacific basin. It had a Dvorak T-number of 4.5, strong enough to be a category two hurricane or typhoon. The hurricane, typhoon, or tropical depression drifted around itself counterclockwise, as the center of an extratropical storm, the same one feeding into the jet stream and poised to flood California yet again, and lost its eye feature. It then came under the Central Pacific Hurricane Center's area of responsibility, being declared Tropical Storm Omeka on December 20. By this time, it was weakening.

Until Omeka formed, the 2010 Pacific hurricane season had the earliest dissipation date of any Pacific hurricane season on record, as well as the lowest number of EPac named storms ever. The strong La Nina is likely at least partly responsible for this. Omeka's formation makes this Pacific season the first since 1997 to have a tropical storm in either the Central or East Pacific form in December.



The disturbance that would become Omeka, showing a well-defined eye. Courtesy U.S. Navy.

Meanwhile, the SSTs in the North Atlantic are unusually flat, even compared to last winter. This means that there is little surface temperature variation in that ocean across a latitude line, and potentially suggesting that the ocean currents and gyre that regulate the temperatures are running at a reduced level.

Invest 95L

A late-season Invest is popping up in the Atlantic, east of the Caribbean Sea. Although the system is over 28C SSTs, wind shear and dry air ahead of the disturbance will inhibit any tropical formation. The tropical oddity is already falling apart and losing its circulation.
The views of the author are his/her own and do not necessarily represent the position of The Weather Company or its parent, IBM.
Reader Comments
Comments will take a few seconds to appear.