Follow @Sean_Breslin
The solar eclipse set to occur April 29 will only be seen by an exclusive group.
Only those in Australia and parts of Antarctica will see Tuesday's annular solar eclipse, which will transform the sun into a ring of fire, according to Space.com.
This eclipse will be an annular eclipse because the moon will be close to its furthest distance from Earth, making it too small to create a total eclipse. So instead of a brilliant blackout of the sun, people who view the eclipse will see a reddish-yellow ring around the moon.
(MORE: Antarctica Was Once As Warm As ...)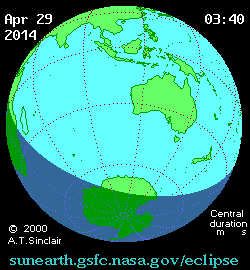 Here's an animated image of the areas that will see the April 29 solar eclipse. (NASA/GSFC/A.T. Sinclair)
This eclipse is rare because the center of the moon's shadow, known as the antumbra, will barely miss the Earth, passing just above Antarctica, Universe Today reports. Out of nearly 4,000 annular eclipses occurring in a 5,000-year period, only 1.7 percent will be like the one occurring April 29.
Universe Today explains that even though Australia will be in the viewing area for this eclipse, no part of the continent will see it in totality. Only a sliver of Antarctica will have a chance to witness the entire event. Parts of Australia will see as much as 55 percent of the sun eclipsed, and some smaller islands in the Indian Ocean may see the eclipse to the same extent. Other islands, like Bali or Indonesia, will see a small chunk of the sun eclipsed by the moon.
There are only two solar and two lunar eclipses in 2014, the minimum that can occur in a single year, according to Astro Guyz.
(MORE: The 8 Biggest Mysteries of Our Planet)
The next eclipse event for the United States will occur Oct. 8 with the second total lunar eclipse of 2014, Universe Today reports. North America will experience a partial solar eclipse Oct. 23.
However, we won't see another total solar eclipse from the United States mainland until Aug. 21, 2017, EarthSky says.
MORE: Images of the Blood Moon Eclipse on April 15
Total eclipse of the moon underway over southern California as seen from Korea town ,west of downtown Los Angeles ,early on April 15, 2014. (Desiree Martin/AFP/Getty Images)
---