Busy epac, Quiet Atlantic
Busy July in the epac
The east Pacific has been very active lately with hurricane Daniel, Emilia, and now Fabio. Fabio marked the 5th epac hurricane and their 6th storm. A warm nuetral to weak el nino conditions have lead to less wind shear in the epac along with the mjo being in the Indian ocean and epac. This has lead to favorable conditions for tropical cyclone formation. I expect these conditions to persist for the next couple weeks as the mjo stays in its same spot. SST's in that area are being cooled by upwelling from back to back to back hurricanes. The cooling of ocean temperatures and the mjo eventually heading to the Atlantic should slow and even stop epac developement. I expect 0-2 more storms in the epac before things quiet down.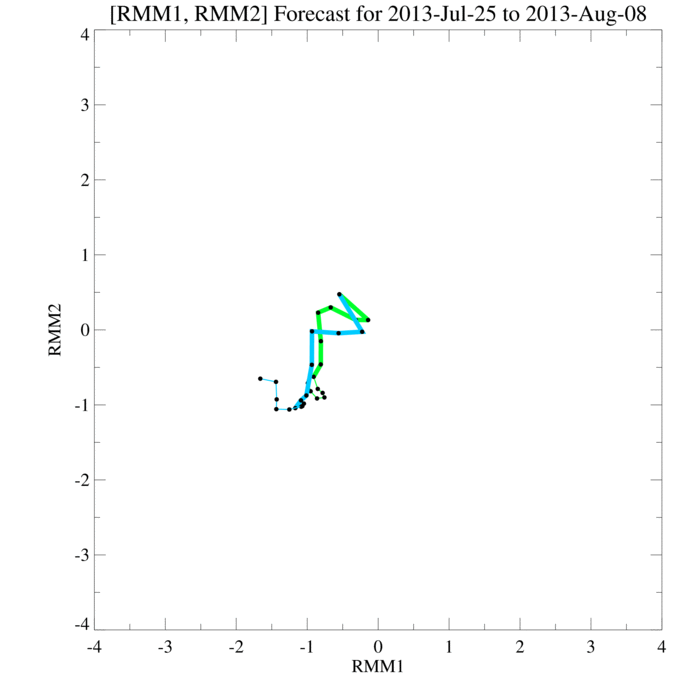 Unstrangely quiet in the Atlantic
After an early start to the Atlantic season, things have quieted down. We had Alberto and Beryl in May and Chris and Debby during June. Conditions have became less favorable to TC developement. Wind shear has increased, there is some dry air, and the mjo is not in the Atlantic basin. These factors have kept any wave or low at bay. For the next couple weeks this stubborn pattern will continue. The Bermuda and Arozoes high pressures have also not allowed much developement. They have made it where if a cyclone form then it would track toward the US. A change may be on the way which would open the door for developement. The mjo will eventually return to the Atlantic in the next few weeks, sst's should warm alitte, and the highs should break down alittle as well. We are approaching the active part of our hurricane season. We have to remember that July is usually quiet so this is normal. The CV season hould begin in a few weeks. No reliable model is forecasting a tropical storm in the next 14 days. A weak low(1015mb) is in the GOM, it will not develope and it will just bring some showers and thunderstorms to the east gulf. A tropical wave is coming off the coast of Africa and has the potential to develope. With light to moderate shear and other waves before it taking out dry air, there is a chance it could form into a TS. although there is little model support I think it could suprise us. I'll have another post if anything of intrest happens.

Reader Comments
New Comment
Post Your Comments
Please sign in to post comments.
Not only will you be able to leave comments on this blog, but you'll also have the ability to upload and share your photos in our
Wunder Photos
section.
About wxchaser97
| | |
| --- | --- |
| | I'm in high school and love meteorology and extreme weather. I've been fascinated by weather since I was 5, and I plan on becoming a meteorologist. |
Tropical Blogs
Tropical Weather Stickers®
Local Weather
| | |
| --- | --- |
| | Clear |
Previous Entries for 2014
Personal Weather Stations