Preparations must be rushed to completion
Current watches, warnings and advisories.

Current watches, warning and advisories issued by the National Weather Service. Courtesy of NOAA.

___________________________________________


Well, this is it. Any and all preparations for Hurricane Sandy must be completed by this evening and no later. If you wait until Monday you will be risking your life venturing out into this storm. A brief overview of the worst Sandy has to offer is a sobering picture of an unfolding natural disaster. Most importantly, in terms of risk to life, property and infrastructure will be the storm surge. The track Sandy is now expected to take is the worst-case scenario for New York City and surrounding areas. A surge of over 12' is expected across western Long Island Sound, New York Harbor and Raritan Bay. A surge of this height will flood several subway lines, overtop seawalls along the south side of Manhattan and flood La Guardia airport causing massive disruptions which will last long after Sandy has passed. Wind will be the second most dangerous aspect of this storm, despite the 4-10 inches of rain expect long and to the left of Sandy's track. Many, many trees will be toppled over, and large ones at that, also many large limbs and branches will be snapped off. Not only is there a high risk of being crushed by a falling tree, people caught out driving may very well get stranded, trapped by fallen trees on roads, for many days before a crew could reach them. Yes, it is that serious. Inland flooding will also be a major concern with the expected amounts of rain. River stages along many of the rivers across Pennsylvania and New Jersey should reach moderate flood stage at the very least. In addition, with many of the trees losing their foliage over the last week, along with much of the remaining foliage expected to be stripped with Sandy, storm drains and culverts will become clogged with leaves causing extensive ponding of water. The storm which is bearing down upon the Northeast will be unlike any storm many of us have ever seen. Residents along the shores in the aforementioned highest surge risk areas will experience the highest surges yet recorded for their portions of the coast. Many of the residents of northern New Jersey, southeast New York and eastern Pennsylvania will experience sustained winds unlike any those areas have ever experienced. These are heavily forested areas so tree loss will be extensive and power outages in these areas may be the longest in the storm's aftermath.

The rest of the forecast will remain as is, updated with some graphics.


Synopsis

As of the 8am National Hurricane Center advisory Hurricane Sandy was located at 32.1°N, 73.1°W, moving northeast at 10MPH. Maximum sustained winds are 75MPH with higher gusts. Minimum central pressure is 951mb and is dropping rapidly, 9mb in the last 3 hours. Tropical storm force winds extend out from the center 520 miles with hurricane force winds extending up to 175 miles from the center. This is an incredibly large storm and is approaching record size in the Atlantic hurricane analong.



East Coast IR satellite image.

Track, structure and intensity forecast

The satellite presentation of Sandy is one of a highly sheared hurricane struggling with the entrainment of dry air, which working in tandem have left Sandy devoid of convection in the southern semi-circle of the cyclone. This is due, in large part, to a rather potent upper-level low pressure located over the Florida Straits. In fact, there's been a warming of the cloud tops in the northern semi-circle observed as well, all pointing to a temporary weakening of Sandy over the next 24 hours as she undergoes structural changes. Otherwise, Sandy remains an impressive feature on satellite, occupying a huge region of the western Atlantic Ocean. Most of the convection associated with Sandy lies in a large cyclonically curved band over the northern half of the storm, wrapping back into the western core of Sandy's circulation. Outflow is excellent to the north and east and is being aided by a large cold-cored low pressure southeast of Newfoundland, fanning the high cloud blow off from Sandy several thousand miles downstream.

In the short term, Sandy will continue to struggle with the shear provided by the upper-level low and may very well weaken just below hurricane strength. Sandy will also parallel the Southeast US Coastline, remaining about 200 miles offshore through the next 48 hours. Once clearing Cape Hatteras, North Carolina the storm will begin to turn back towards the north as Sandy begins to feel the effects of an approaching deep mid-latitude trough. Embedded within this trough will be a rather potent shortwave at the trough's base which will undercut Sandy as the trough tilts negative. As the trough goes full negative tilt it will capture Sandy and slingshot her back toward the East Coast. When exactly this happens will ultimately determine where along the coast Sandy will make landfall. The sooner the trough captures Sandy, the further south landfall will occur. This puts a huge stretch of coastline at risk for a direct hit from the center of Sandy. A highly unusual track but looking back at recent times we have had a storm chart a similar course through the offshore waters of the Northeast, through it was during the winter season with the February 2010 Blizzard. After Sandy makes landfall models diverge with some looping Sandy cyclonically along the coastal plain before lifting north into Canada. Other models simply continue pushing Sandy west, then northwest and north toward the eastern Great Lakes region.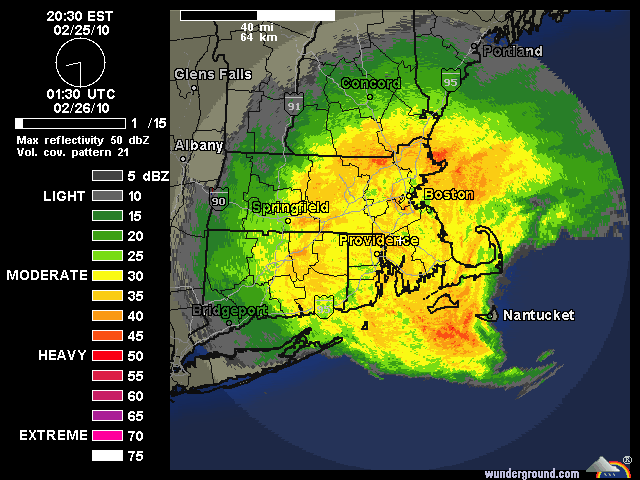 February 2010 Blizzard - radar loop of landfall.

The intensity forecast for Sandy is a very tricky one indeed. Not necessarily for the short-term, but the long -term when baroclinic energy is introduced. Over the next 48 hours there should be little change with Sandy as she remains a purely tropical cyclone with a deep, warm-core, despite a rather amorphous structure throughout this timeframe. Maximum sustained winds should remain in the 60-70kt range and the storm's central pressure will fluctuate between 965-972mb. Thereafter, as the trough catches up to Sandy, she will take on more of a subtropical-like structure, a warm seclusion storm and her windfield will greatly expand. This poses its own set of risks and benefits. For one, an expanding windfield will allow Sandy to pile up much more water along the coast before her arrival and this is where her general landfall location will become more critical. A late capture of Sandy by the trough, Sandy heads into New England, a shoreline much more capable of absorbing a storm surge. An early capture of Sandy would bring her into the Delmarva, where locations along Delaware Bay could see a catastrophic storm surge of 10-15' above normal tides. But there's a worst-case scenario I will detail later in the blog. What's important to note is that the introduction of baroclinic energy will spark a new round of intensification which should drop the central pressure to ~950mb. This is where a warm-seclusion sub-tropical storm, as Sandy is predicted to be by then, might pose an enhanced wind threat in the areas immediate to Sandy's landfall location. A short, rapid drop in central pressure combined with the whiplash effect of Sandy being captured and shot back toward the west could have an area of coastline in the right-front quadrant immediate to the center of the storm see a 1-2 hour period of 80-100mph winds with much higher gusts, similar to the 1962 Columbus Day Storm along the Oregon Coast. This has to be considered as a distinct possibility given the storm's expected structure after interaction with the mid-latitude trough. After making landfall Sandy will slowly fill and weaken but remain a significant weather-maker over the Northeast through Wednesday and linger through Friday.

Impacts (wind, rainfall, snowfall based on central NJ landfall)

Storm surge:
This is the sleeper part of this storm. Not that storm surge isn't expected, nor expected to be bad. It's that it could be something we've never seen before in the modern-era and I will explain. Several forecast models track Sandy along, or just to the south of Long Island as it curls into the coast. Should Sandy retain a strong warm-core in a warm seclusion scenario this will force a tremendous amount of water into the bottlenecks of Raritan Bay, Manhasset Bay, Flushing Bay, Little Neck Bay, etc., in and around New York City. This could easily produce a 12-15' storm surge into these areas capable of producing catastrophic damage, including flooding lower Manhattan and flooding the New York City subway system. This will also result in a shutdown of the financial district and La Guardia Airport for perhaps a period of time after the storm passes. This is the worst-case scenario in terms of breadth of impact across the socioeconomic spectrum but not the worst-case scenario in general. Should Sandy take a southerly route into the coast and make landfall just south of Delaware Bay a similar surge of up to 15' may be pushed into this region, likewise producing catastrophic damage not seen in these areas in modern times. In addition to the surge, very large and battering waves will build over the Atlantic due to the long fetch easterly flow. This storm will not be like Irene, moving parallel to the coastline, it will come in at a perpendicular angle in most scenarios. This will fully realize surge potential unlike any storm this region of coast has ever seen. Since most storms impacting the coast in this region have a northerly component to forward movement, wind direction turns as the storm zips by. However, with Sandy, wind direction will be with the storm movement and not turning quickly offshore with her passage. Moreover, the wind will be of that direction for 18-30 hours preceding the storm, which will allow seas to build over several high tide cycles also at astronomically high levels. Could this get any worse?
The most likely location for landfall, as per the NHC and a clustering of deterministic and ensemble models, has been the southern/central New Jersey Shore. While this would also produce a large storm surge of 5-10' along the coast to the north of the landfall location for hundreds of miles, it would be hitting a coastline well-guarded by barrier islands, buffering the surge to some extent. So storm surge, unlike many storms of the recent past will play a major role. Only a few take the storm north into New England where there's more oblique angles of the coast relative to storm movement. This would produce a 4-8' surge in some of the bays along the southern New England coastline, causing moderate damage to these areas, but these are surges experienced in these locations with some frequency and wouldn't be out of the ordinary.


Wind: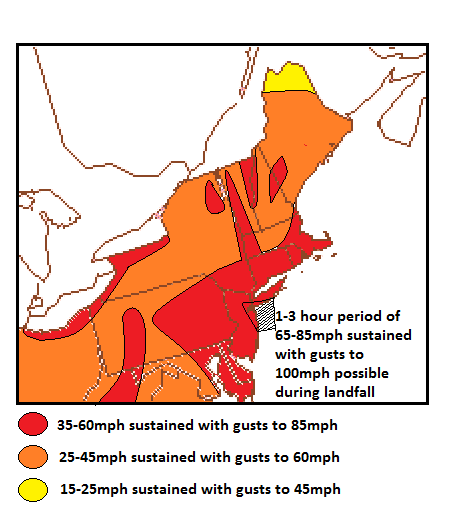 There's going to be two areas which receive a significant wind storm from Sandy as she traverses through the Northeast. First, mainly out ahead of the storm a persistently easterly component wind of 30-50mph with gusts to 70mph will impact just about all of the Northeast, east of the Appalachians and south of I-90. The high elevation regions of the Catskills, Berkshires, Poconos could easily see wind gusts over hurricane force, as will areas along the coast. This will cause extensive tree damage to the region and will leave its scar on the forest for years to come. Widespread and lengthy power outages are a given and preparations should commence now for being without power for several days. Plus there's the wild card of Sandy's core remaining tight and energized by baroclinic energy to produce a mesoscale wind event close to the landfall location. The structure of Sandy will be such that there may be multiple bands of enhanced wind maxima. So there will be peaks and lulls in the action. The second area of high winds will be on the backside of the storm, likely from western/central Pennsylvania down the spine of the Appalachians to West Virginia. Here elevations above 2000' may see a horrific wind storm with sustained 60-80mph winds with gusts over 100mph as lower elevation areas receive 45-60 mph winds with gusts to hurricane force. This region, too, will also see extensive tree damage and widespread power outages lasting several days.

Rainfall:




As Sandy moves up the coast and interacts with the mid-latitude features that will yield our superstorm, a predecessor rainfall event (pre-event) will commence across western Pennsylvania and western New York Saturday afternoon into Sunday yielding 1-3 inches of rain in these areas. There will be a 18-24 lull in steady precipitation before the main show begins early Monday morning as Sandy morphs from a tropical low to whatever state she takes. A heavy band of deformation precipitation will develop along the backside of the storm of 1-2"/3hr rates. This area of rainfall will move across the coastal plain from the Delmarva through New Jersey, eastern Pennsylvania and southeast New York west of the Hudson River. A more banded, convective type of precipitation will occur in areas east of here, with some convection capable of producing isolated tornadoes. As Sandy begins to ricochet back toward the coast the deformation axis will slide west as well, as showery, banded rainfall overtakes areas to the east. This precipitation will have a heavily influence owning to topography so upslope areas of the Catskills, Berkshires and Poconos will see amounts up to double the basin average while rain-shadowed areas may see only half basin average rainfall. In total areas to the west and south of Sandy's track, from New Jersey through central Pennsylvania and south to Maryland, northern Virginia and Delaware, anywhere from 3-8 inches of rainfall will be common with some areas seeing as much as a foot of rainfall. Areas along and to the immediate north of Sandy's track will see an average of 2-6 inches of rainfall with isolated amounts up to 10 inches. This will be especially true across the aforementioned areas of higher elevation. Areas east of the Hudson River should see 1-3 inches of rain with isolated amounts to 6 inches; this will tend to be where persistent banding sets up.

Snowfall:
This "Frankenstorm" will have a wintry side to it as well. Now, depending on where Sandy comes ashore will determine the extent and amount of snowfall seen across the region. The snowfall will be on the southwestern flank of the storm in the cold sector, covering southwestern Pennsylvania, southern Ohio, eastern Kentucky, West Virginia, western Maryland and western Virginia. Snow could even fall as far south and eastern Tennessee, western North Carolina, upstate South Carolina and northern Georgia, though in light amounts. As far as the amounts go, some high elevation areas of West Virginia could see as much as two feet of snow! Elsewhere along the spine of the Appalachians from 8-16 inches of snow is well within the realm from the northern Smoky Mountains to the Laurel Highlands. Lower elevation areas, including the Pittsburgh metro area could even see up to 6 inches of heavy wet snow. This will pose a serious problem when wind is gradually introduced into the storm for these regions.

________________________________________


Radar: Northeast Region Loop



Radar loop of the Northeast region. Courtesy of Weather Underground.

___________________________________



Sea-surface temperatures off the Northeast Coast. Courtesy of NOAA.



Reader Comments
New Comment
Post Your Comments
Please sign in to post comments.
Not only will you be able to leave comments on this blog, but you'll also have the ability to upload and share your photos in our
Wunder Photos
section.
About sullivanweather
| | |
| --- | --- |
| | Thomas is an avid weather enthusiast, landscaper and organic gardener. This blog is dedicated to Northeast and tropical weather forecasting. Enjoy! |
Tropical Blogs
Tropical Weather Stickers®
Local Weather
| | |
| --- | --- |
| | Clear |
Previous Entries for 2013
Personal Weather Stations
Barryville, NY

Elevation:

1012

ft
Temperature:

18.9

°F
Dew Point:

15.9

°F
Humidity:
88%
Wind:
Calm
Wind Gust:

11.0

mph

Updated: 12:25 AM EST on December 12, 2013
Town of Lumberland

Glen Spey, NY

Elevation:

1326

ft
Temperature:

18.5

°F
Dew Point:

11.9

°F
Humidity:
75%
Wind:
Calm
Wind Gust:

5.0

mph

Updated: 12:25 AM EST on December 12, 2013