Northeast prepares for Irene
Current watches, warnings and advisories.

Current watches, warning and advisories issued by the National Weather Service. Courtesy of NOAA.

Your Northeast Forecast

Synopsis


The Northeast region will be treated to stunning late-summer weather this Wednesday (hopefully no earthquakes) before a cold front delivers another round of strong to severe thunderstorms on Thursday. A nearly undetectable short-wave ridge will provide enough subsidence for a pleasant Friday, which should be taken as a day of preparation for the arrival of Irene for residents within 150 miles of the coast. By Friday night Irene will be bearing down on the Outer Banks of North Carolina from Atlantic Beach to Cape Hatteras, headed north or north-northeast toward our region. Well out ahead of Irene will be a predecessor rain event (PRE) across a portion of the Northeast, from eastern Pennsylvania to southern New England, while most everywhere else escapes any precipitation. This weekend Irene begins to accelerate up the coast with gradually deteriorating conditions throughout the day Saturday for areas along the coastal plain and hurricane conditions possible by Saturday night and Sunday from Delaware to Maine. Heavy rain and flooding, damaging winds, and storm surge and beach erosion are all expected to accompany Irene, which stands a good possibility of becoming the first landfalling hurricane in the Northeast in 20 years. Following the storm, an area of high pressure nosing down from Canada will provide several days of cool, dry weather to allow for clean-up to commence.


Short-term forecast


A stunning day across much of the Northeast today so get out and enjoy it. Mostly sunny skies for most areas east of the Appalachians, though there will be some passing high cloudiness. Further west, cloud coverage will be a bit more widespread and some scattered showers or thunderstorms are possible in these areas by mid to late afternoon ahead of a cold front pushing towards the region. Temperatures will run a few degrees above normal and humidity levels will rise as the day progresses thanks to a breezy southwesterly return flow around a departing offshore high pressure. As this high gives way to the cold front moving in from the Great Lakes region, cloudiness will continue to increase into the evening and overnight hours. Showers and thunderstorms will become more numerous across the west and push into central Pennsylvania and the Finger Lakes region by daybreak. The increasing cloud cover and humidity will keep temperatures quite mild tonight, with 70's expected along the coastal plain and 60's across the interior.

Yet another round of heavy rain and severe weather is expected on Thursday From eastern New York and Pennsylvania to western New Englan, pushing across the remainder of New England Thursday night. Although my previous forecast had indicated there would be a lack of instability due to cloud cover on Thursday it now appears that enough sun will break through during the morning hours to adequately destabilize the warm, humid airmass ahead of the front before it sweeps through. CAPE's reach up to 1,500J/kg along the coastal plain with 500-1,000J/kg across the interior. Primary severe threats will be large hail up to 1.5" in diameter and strong thunderstorm winds via wet microburst. Heavy rains will also be a concern. Precipitable water values reach up to 2" out ahead of the front, which will be in the process of stalling as it aligns to the upper-level flow. This will make for training and/or slow-progressing thunderstorms capable of flash flooding, especially in rain-soaked regions from New Jersey to southern New England. Likelihood of such storms will increase towards evening as the front slows. Most of the activity will slide offshore a little after midnight. Highs on Thursday will be in the upper 60's across the higher terrain with low 70's to near 80°F expected across the remainder of the North Country and back towards the Great Lakes region. Further south highs will range from the upper 70's to mid 80's. Lows will remain elevated Thursday night along the coast with cloud cover hanging around. Expect upper 60's to low 70's here with upper 50's to mid 60's over the interior.

Friday will be a day of contrast across the Northeast as the coastal plain sees a rather warm, muggy day in the vicinity of the washed-out front with filtered sunshine and temperatures in the 80's. Further north the airmass will be cooler and drier with more abundant sunshine and temperatures in the upper 60's to mid 70's. The canopy of high clouds from Hurricane Irene will quickly spread from south to north starting early afternoon across New Jersey and reaching the Capitol District of Albany by dusk.



Mid-term forecast


The first effects of Irene will begin to be felt by Friday night across New Jersey and southeastern Pennsylvania as moisture streaming up the coast ahead of the storm reaches the old washed-out front still hanging around. This will cause heavy showers and thundershowers to develop and become more widespread as a predecessor rainfall event develops. Predecessor rainfall events (Pre-event) are quite a common occurrence in recurving tropical systems. Pre-events are notorious for having very localized areas of 4-6" of rainfall and this one should be no different. A combination of a rich tropical moisture transport, jet dynamics, positive vorticity and a pre-existing trough will lead to yet another round of heavy rains over areas that have been repeatedly hit this month and are about to get their heaviest rain yet when Irene arrives. To the north and west Irene's shield of clouds will gradually envelope the entire region, lowering and thickening during the overnight. As the flow turns back onshore humidity will rise and the air will begin to acquire the smell of the ocean as saltine air rides inland. Lows will be several degrees above normal with the increasingly muggy conditions.


As the weekend begins the pre-event will be tracking northward into New York and southern/western New England as Hurricane Irene, either after making landfall over the Outer Banks of North Carolina or just brushing them by, tracks toward Long Island. The outer rainbands of the hurricane itself will begin to impact southern New Jersey by mid-afternoon so all preparations and/or evacuations should take place by Saturday morning at the very latest for areas along the Jersey Shore. Elsewhere it will be mostly cloudy and muggy with high temperatures in the 70's region-wide.

The real show begins Saturday night as Irene moves from a position just offshore the Tidewater region of the lower Mid-Atlantic during the evening to about 40 miles east of Cape May, New Jersey by midnight and 25 miles south of central Long Island by daybreak Sunday. Hurricane conditions can be expected along the Jersey Shore for a 4-6 hour period during Irene's closest approach with tropical storm conditions as far west as eastern Pennsylvania and across nearly all of interior New Jersey up to New York City. In Long Island conditions will steadily deteriorate as the night progresses with tropical storm conditions likely by midnight and hurricane conditions likely by early Sunday morning. Across Long Island Sound into southern New England the first outer bands should be felt by midnight with tropical storm conditions likely by morning. The further one lives away from the coast the less likely it is they will see much from Irene. This appears to be a hard-hitter for those within 100-125 miles of the coast but west of here Irene will be a cloudstorm. During the day on Sunday Irene continues to accelerate to the north-northeast, crossing southern New England and finally into Maine by late in the evening. Irene is likely to be downgraded to a tropical storm sometime either late Sunday afternoon or Sunday evening over New England but will still remain quite a storm for the North Country of New Hampshire and the North Woods of Maine.

Irene's impacts will be felt greatest along the coast and will be detailed further in a future blog as the exact track gets nailed down. Generally, expect a 6-10' storm surge to the east of where the center comes ashore with a 2-5' storm up the Jersey Shore, across Long Island Sound and west of where the center comes ashore, presumably, in Long Island. Rainfall will be quite intense with 3-8" along the track of the cyclone, heaviest in a band just to the northwest of the center. Sustained hurricane force winds along the coast from New Jersey to Cape Cod are a good bet and may occur inland of the coast to the east of the center's landfall (southeastern southern New England). To the west of the storm's track up to 75 miles tropical storm conditions are a good bet as well, with possible gusts to hurricane force with 25 miles of the center. The strength of this wind on loaded trees, rooted in already saturated ground is a recipe for many fallen trees and power outages. There's a good chance this storm will rival any other before it in the number of customers who lose power due to the high population density of the region this storm is hitting and the antecedent conditions.



Long-range Outlook


High pressure builds down from Canada behind Irene bringing a taste of fall to the Northeast with crisp nights and dry, sunny afternoons both Monday and Tuesday. A little bit of moisture sneaking into the region next Wednesday may spark off a few scattered showers and thunderstorms across the southern half of the region but most areas will remain precipitation-free. Temperatures will average 4-7 degrees below seasonal averages.

-------

Tropical Update


Coming soon...




IR Satellite image of Hurricane Irene.



Track forecast for Hurricane Irene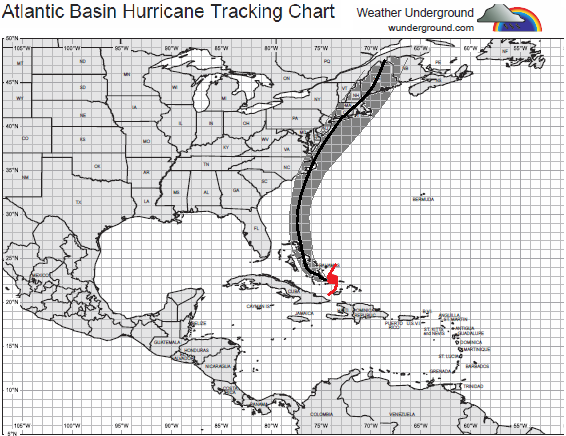 Intensity forecast for Irene
Wind impact equivalent from Irene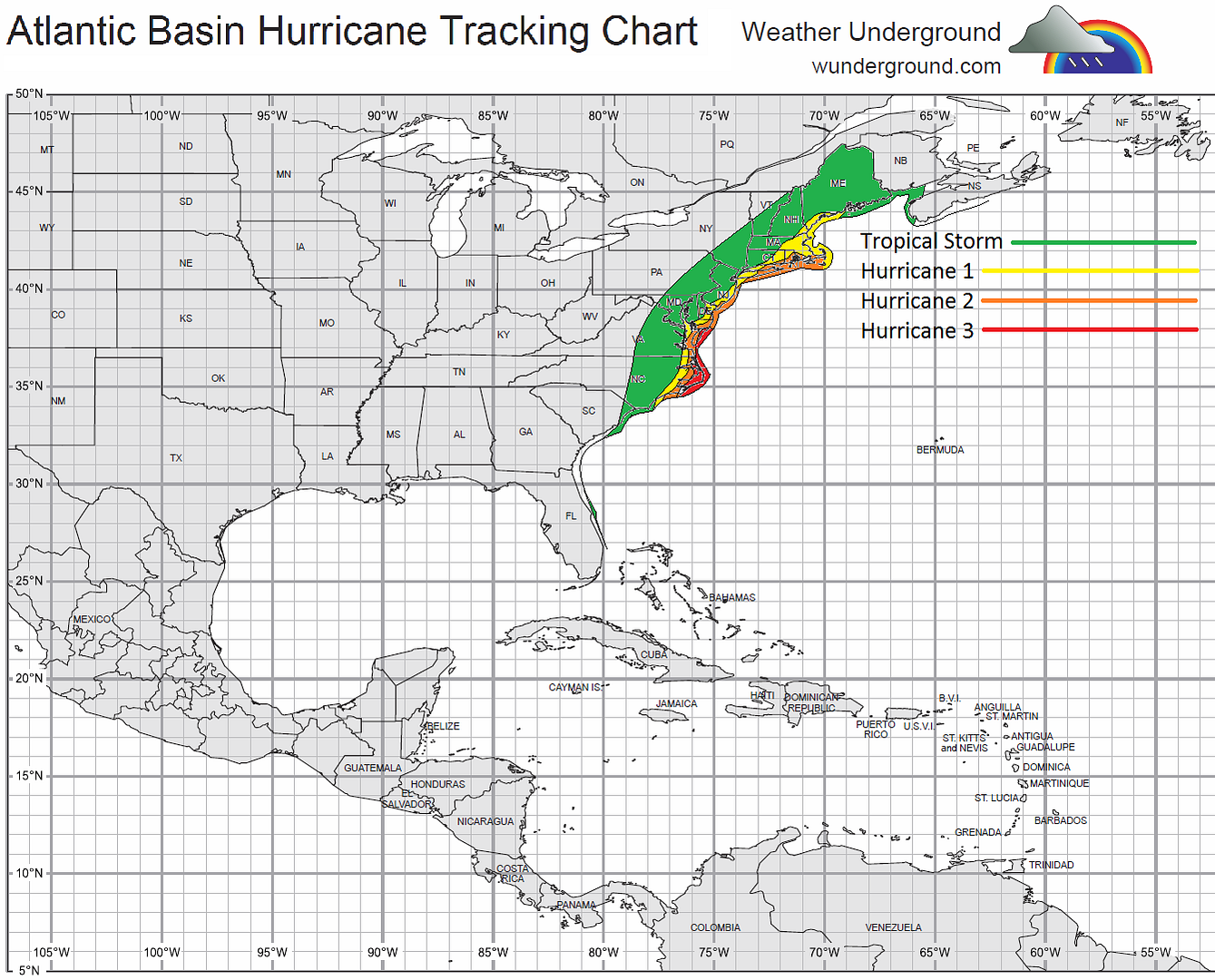 _________________________________________________ __________


Radar: Northeast Region Loop



Radar loop of the Northeast region. Courtesy of Weather Underground.


_________________________________________________ __________

Local SST's



Sea-surface temperatures off the Northeast Coast. Courtesy of NOAA.


_________________________________________________ __________



All hits.

.

Unique hits.

.



Reader Comments
New Comment
Post Your Comments
Please sign in to post comments.
Not only will you be able to leave comments on this blog, but you'll also have the ability to upload and share your photos in our
Wunder Photos
section.
About sullivanweather
| | |
| --- | --- |
| | Thomas is an avid weather enthusiast, landscaper and organic gardener. This blog is dedicated to Northeast and tropical weather forecasting. Enjoy! |
Tropical Blogs
Tropical Weather Stickers®
Local Weather
| | |
| --- | --- |
| | Overcast |
Previous Entries for 2013
Personal Weather Stations
Barryville, NY

Elevation:

1012

ft
Temperature:

30.3

°F
Dew Point:

29.0

°F
Humidity:
95%
Wind:
Calm
Wind Gust:

11.0

mph

Updated: 1:33 AM EST on December 10, 2013
Town of Lumberland

Glen Spey, NY

Elevation:

1326

ft
Temperature:

29.1

°F
Dew Point:

27.8

°F
Humidity:
95%
Wind:
Calm
Wind Gust:

0.0

mph

Updated: 1:32 AM EST on December 10, 2013