Recent extreme rainfall comparison
The very slow moving upper-level disturbance which has brought extremely heavy rainfall over the Northeast during the previous four days is finally lifting out into the Canadian Maritimes early this morning. A short-lived period of tranquility will return for Wednesday, with mostly sunny skies and temperatures returning to seasonable levels. A fairly weak trough will glide into the region on Thursday and remain till Friday, sparking off widely scattered, slow-moving showers and thundershowers during the afternoon and evening hours. Over the weekend, a deeper trough will dig into central Canada, shifting the mean flow to the southwest which will bring warmer and more humid air into the Northeast with further isolated, diurnally-driven showers and storms. The Canadian trough will sharpen further to open next week as it moves east, sending a strong cold front towards the region that has the potential for a more widespread severe weather outbreak Monday afternoon and evening. This front will make slow but steady progress through the region, however, a solid one to two inches of rain may accompany this front along with the severe potential. The front clears New England by Tuesday evening with drier, autumn-like air back for midweek.

The Rainfall which fell on the region since Friday night was particularly heavy along the coastal plain, where development of a coastal front/low pressure aided in low-level convergence. Cold air moving in aloft in the form of a very tightly would (especially for August) mid/upper-level low pressure system promoted convective elements within the overall shield of heavy rain, combined with unidirectional flow, this led to some rather impressive totals.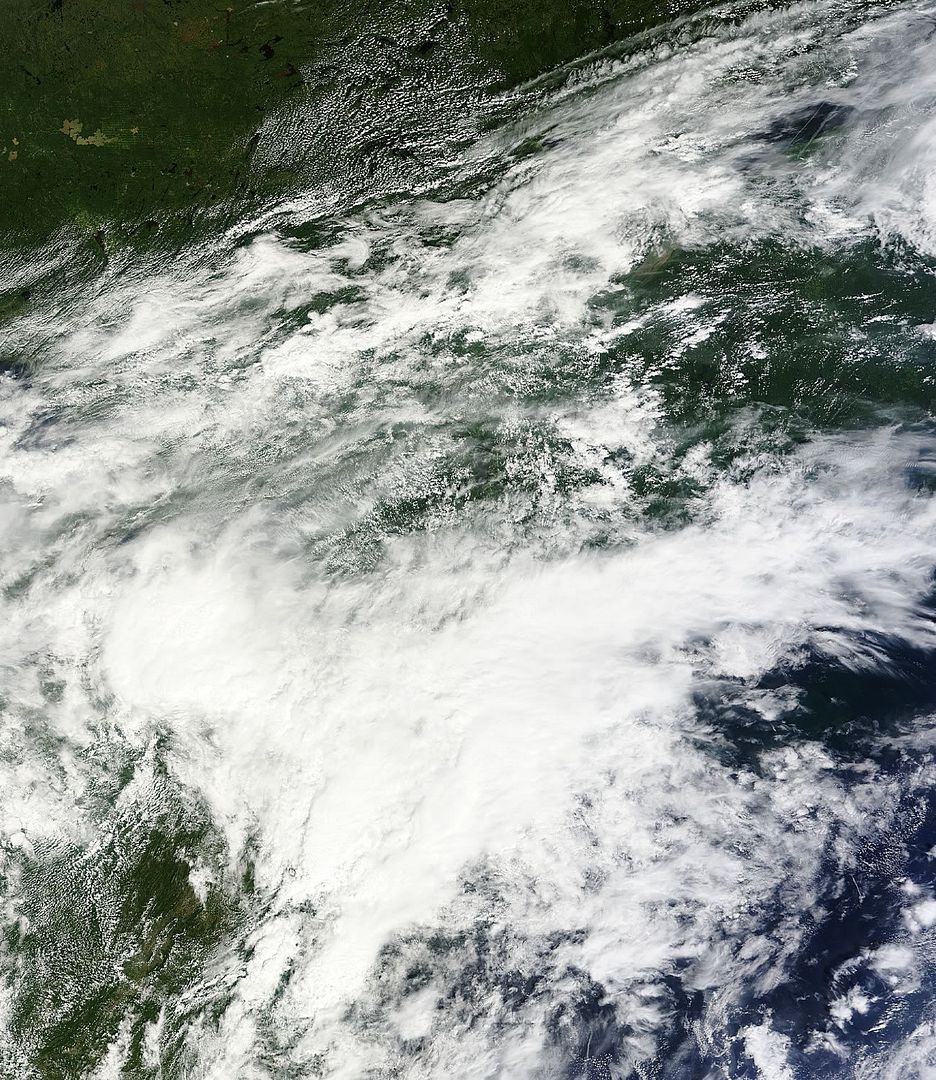 NASA MODIS Terra image of the Northeast on August 14th depicting a convective band of heavy rain along the coast.

Rainfall totals tapered inland, further removed from best forcing/moisture but 1-4" totals weren't uncommon up the Hudson Valley and points east into interior New England. Here's a brief rundown of some of the higher rainfall totals over the last four days:

Lido Beach, NY - 10.87"
Seabrook Farms, NJ - 10.64"
Wantagh, NY - 10.54"
West Islip, NY - 9.18"
Oceanside, NY - 8.75"
JFK Airport - 7.80" (all-time greatest daily rainfall - 8/14)
Central Park, New York City, NY - 6.37"
Lyndhurst, NJ - 6.00"



How does this event stack up against historical extreme rainfall events across the region?

April 2007 nor'easter

The last such widespread extreme rainfall event for the region affected by this latest system occurred during the April 2007 nor'easter, a slow-moving intense nor'easter which will be mostly remembered for the heavy wet snow dumped across upstate New York, northeast Pennsylvania and interior New England. But this storm did have a very wet side to it and the rainfall totals across the coastal plain were quite impressive, especially for a cold-season system. Rainfall totals as a whole were very similar over much the same area as what occurred this past weekend. However, due to the stratiform nature of the precipitation rainfall amounts were more evenly distributed than with this most recent event.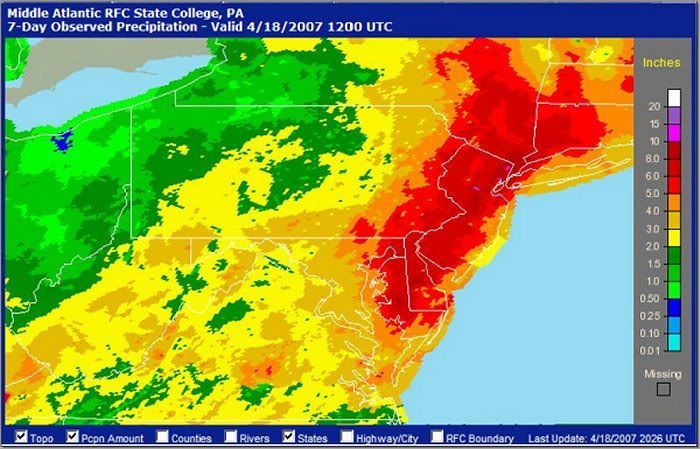 Radar rainfall estimates of precipitation during the April 2007 nor'easter

Rivervale, NJ - 9.30"
Central Park, New York City, NY - 8.41"
East White Plains, NY - 8.22"
West Shokan, NY - 7.43"
Lambertville, NJ - 7.25"
Somerset, NJ - 6.73"
Bakersville, CT - 6.72"
Roxborough, PA - 6.22"

Upton WFO PNS report of April 2007 nor'easter
Mt.Holly write-up/PNS of April 2007 nor'easter

However, for the Northeast as a whole, there's been other even more impressive rainfall events over the last ten years which make the latest event pale in comparison. June of 2006 was one such event.

June 2006 flooding






Over a 6 day timespan (24-29th) an oscillating band of heavy rain moved into the Northeast, hitting Pennsylvania and New York the hardest. Record river crests occured at many gauge sites on all 3 main stem rivers in this area (Deleware, Hudson and Susquehanna) as 5-14" of rain fell. Along the Deleware River the flooding was particulaly bad with many locations receiving a '100-year flood'.

June 2006 precipitation departures
Binghamton, NY Case Study: June 2006 Flood
Binghamton, NY June 2006 Flood page(including photos, precipitation estimate graphics and river gauge data)
Plot of rainfall amounts - New Jersey, eastern and central Pennsylvania, southeast New York, Deleware and northeast Maryland.

October 2005 flooding

Just eight months prior to the big June of 2006 flood, in October of 2005, there was a very similar atmospheric set-up which led to the most recent rainfall event; a slow-moving series of upper level disturbances moving over an area of high tropical moisture and numerous low-level convergent boundaries. This pattern repeated over a period of more than a week with two separate rainfall events, one from October 7-9th and the next from the 11-15th. Up to a foot of rainfall fell during the first system across parts of southeast New York while the second system, or series of systems, produced another widespread 5-15" of rain across the region. Central Park finished the month with 16.73", just short of breaking the all-time monthly record for rainfall of 16.85" set way back in September of 1882.

Upton WFO PNS of the Oct 7-9th event
Upton WFO PNS of the Oct 11-15th event

Flooding of late summer 2004

The most impressive widespread monthly rainfall over the Northeast over the last ten years, and on record, occurred during a period spanning August and September of 2004. The flooding was due to a series of 5 remnant tropical systems: Gaston, Hermine, Francis, Ivan and Jeanne. Each one of these systems produced some level of flooding and created wet antecedent conditions for the following systems, exacerbating the flooding problems.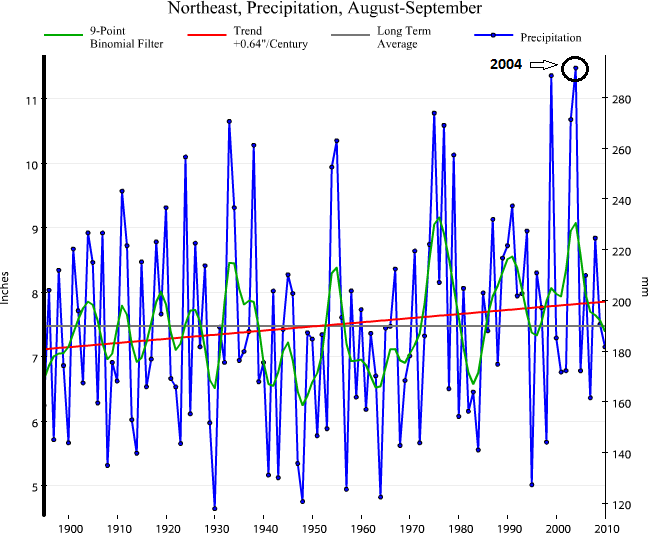 Graph showing Northeast region rainfall since 1895. Note 2004 recorded the record highest basin-wide rainfall for the period of record with an 11.48" average.



Gaston




Although Gaston affected the region in late August, it layed the groundwork to what the pattern would be like the the rest of the month, remnant tropical systems interacting with cold frontal boundaries to produce copious amounts of rainfall.

Gaston made landfall as a category 1 hurricane along the South Carolina coast. The storm then turned northward, then northeastward and exited the coast near Ocean City, Maryland and continued out to sea. Although the storm never made a direct impact on the Northeast, the moisture from this system became entrained into a cold front to produce localized rainfall amounts of 3-6 inches causes numerous flash floods.

Major flash flooding took place in Westbrookville, NY, a small village along the Sullivan County/Orange County border in southeast New York. Large sections of US route 209 were washed away along with many mobile homes in a trailer park. Further north in upstate New York the counties of Onondaga, Cayuga, Madison and Steuben all received significant flash flooding.


Hermine

Hermine was a weak tropical storm which moved ashore Massachusetts on the last day of August. For the most part Hermine was a non-entity, producing up to 2 inches of rain over eastern Long Island and southeastern Massachusetts. There were some reports of minor basement flooding but that was the extent of her damage. Hermine formed from the same trough of low pressure that formed Gaston and oddly enough made landfall in the general vicinity as Hurricane Carol did 50 years prior.


Frances




Frances was a long-lived Cape Verde hurricane that made 2 U.S. landfalls in Florida. One as a category 2 hurricane and another as a tropical storm in the Panhandle. The storm then turned towards the north and rode the west side of the Appalachian Mountains along a cold front before moving up the St. Lawrence River Valley.

Most of the rainfall from Frances that fell on the Northeast fell across the western half of the area with a few localized spots in southeast New York receiving heavy amounts of rain as well. Across western sections of New York and Pennsylvania 3-6" of rain fell, which brought sharp rises to areas rivers and brought some flashier creeks and streams out of their banks.

For the rest of the Northeast Frances brought a soaking rainfall which prepped the ground for Ivan, which followed one week later. There was one other area of heavy rainfall from training convection ahead of the cold front in southeast New York State which hit Orange, Putnam, Dutchess and Ulster counties hard, bringing flash flooding.

Rainfall amounts from Frances in my local area.
National Hurricane Centers' tropical cyclone report on Frances


Ivan




Ivan was another long-lived Cape Verde hurricane which reached category 5 on 3 different occasions and accumulated the 2nd highest ACE for any Atlantic hurricane on record. Ivan made landfall on the Gulf Coast of the U.S. moved northward to the central Applachians before turning east, moving offshore the Delmarva. Ivan lost tropical characteristics overland, but once offshore the East Coast, moved southward before looping back towards the west. The remnants of the system then moved over Florida where it gradually regained tropical characteristics before becoming a tropical storm yet again in the Gulf of Mexico, making its final landfall in Louisianna.

For the Northeast, Ivan brought widespread heavy amounts of rain. Almost the entire state of Pennsylvania received 3 inches of rain or more, with several locations getting as many as 7 inches. With wet antedecent conditions from Gaston and Frances, flooding became a major issue. Many small streams and creeks as well as main stem rivers were brought out of their banks due to the excessive amounts of rain on saturated soil.

NWS Local forecast office links:

NWS Binghamton, NY

Radar rainfall estimates
Flooding photos
Damage reports/spotter reports

NWS Albany, NY

Multi-sensor precipitation estimate

NWS Upton, NY (NYC)

Spotter rainfall reports

NWS Tuanton, MA

24 hour rainfall 9/18/2004
24 hour rainfall 9/19/2004

NWS Mt. Holly, NJ (Philadelphia area)

Ivan rainfall page
Includes a plotted rainfall map and Public Information Statement

NWS State College, PA

Ivan Storm Summary
-This is a very informative link on the impacts of Ivan on central Pennsylvania. This link includes an in depth storm summary(text), plotted rainfall map, individual spotter reports, satellite and radar imagery, tornado reports and river stage charts for many gauge locations including river crests from Ivan, historical record crests and a comparison to the January 1996 flood.


Jeanne




Jeanne developed from a tropical wave just east of the Lesser Antilles and eventually became a category 3 hurricane, striking Florida in the same spot as Hurricane Frances 3 weeks prior. Jeanne followed an unusual path, seemingly headed out to sea after turning north, north of Hispainola. However, a strong high developed to Jeannes' north, blocking this cyclone from recurving and eventually turning her towards the U.S. East Coast. Jeanne, after making landfall, stayed inland moving up the Floridian Peninsula and up the east side of the Appalachian Mountains before moving offshore the Delmarva Peninsula.

In the Northeast rainfall from Jeanne was not as widespread as Ivan or Frances, but with saturated ground areas that did recieve rainfall quickly flooded. For the most part rain was confined to the southeastern half of the Northeast with the Philadelphia-New York City metro area hardest hit with totals of 4-7". This stripe of heavy rain continued eastward across Long Island, Nantucket, Martha's Vineyard and Cape Cod.

Jeanne related links:

HPC Jeanne Rainfall synopsis

NWS WFO State College, PA
Another very informative look into Jeannes' impacts across central Pennsylvania.

NWS WFO Mt. Holly, NJ
Includes a radar estimated precipitation map, tornado information and storm damage photos.

NWS WFO Upton, NY
Pubilc Information Statement detailing spotter reported rainfall amounts.

NWS WFO Taunton, MA
24 hours rainfall 9/29/2004
24 hour rainfall 9/30/2004



Current watches, warnings and advisories.




Current watches, warning and advisories issued by the National Weather Service. Courtesy of NOAA.


-------

Tropical Update

It's mid-August and the tropical Atlantic basin is sputtering to a start, despite a near-record pace in the number of named storms. Thus far all seven storms have failed to attain hurricane strength and most have been short-lived. The most recent rash of tropical storms, Franklin and Gert, barely achieved two ACE points between them, bringing the total for all seven storms to a measly 11.9.

There may be one more such storm in the offing, as a strong tropical wave (93L) currently entering the central Caribbean Sea has been showing signs of organization and could very well become the next named system. Strong cyclonic flow is noted on satellite loops in the mid-levels and should build down to the surface during increasing convective flare-ups over the next 12-24 hours as it moves into a region of higher moisture content. Wind shear across the Caribbean Sea is remarkably low and sea-surface temperatures are running 28-29°C, so there aren't too many obstacles in the way of future development.



Tropical disturbance '93L' in the central Caribbean Sea.

I expect a depression to be named from 93L by late tonight or early tomorrow morning, which will then become Tropical Storm Harvey by tomorrow afternoon. With high oceanic heat content, high levels of atmospheric moisture and low wind shear expected along the path of Harvey the cyclone should strengthen right until interaction with land, which will likely be Belize/Yucatan Peninsula. Whether or not 'Harvey' strengthens to a hurricane will be dependent on how quickly it can take advantage of the conducive environment before making landfall.

An upper-level low pressure to the southwest of the disturbance should continue its brisk pace towards the west into Central America with the tropical disturbance in hot pursuit. This westward motion of around 15kts should continue for the next 36 hours, with a slight bend to the north and a minor slowing of the forward speed. This track will take the possible tropical storm very close to the northeast coast on Honduras in 36 hours. From there a more west-northwest track is expected until crossing the Yucatan in 60-72 hours. With strong deep-layer ridge to the north over northern Mexico and the US Southern Plains this storm may not make it back into the Bay of Campeche and may instead be suppressed south into Mexico.


Elsewhere in the tropics, a well-defined tropical wave has just emerged off Africa which computer models have consistently developed into our first Cape Verde storm of the 2011 Atlantic Tropical Season. The GFS model in particular has this storm taking dead aim on the US mainland for several model runs straight. Broad cyclonic turning in the cloud field is noted with this wave with a cluster of moderate to strong convection south of the low center associated with the ITCZ. This will be definitely be something to keep an eye on over the next week to ten days.



_________________________________________________ __________


Radar: Northeast Region Loop



Radar loop of the Northeast region. Courtesy of Weather Underground.


_________________________________________________ __________

Local SST's



Sea-surface temperatures off the Northeast Coast. Courtesy of NOAA.


_________________________________________________ __________



All hits.

.

Unique hits.

.
Reader Comments
New Comment
Post Your Comments
Please sign in to post comments.
Not only will you be able to leave comments on this blog, but you'll also have the ability to upload and share your photos in our
Wunder Photos
section.
About sullivanweather
| | |
| --- | --- |
| | Thomas is an avid weather enthusiast, landscaper and organic gardener. This blog is dedicated to Northeast and tropical weather forecasting. Enjoy! |
Tropical Blogs
Tropical Weather Stickers®
Local Weather
| | |
| --- | --- |
| | Light Rain |
Previous Entries for 2014
Personal Weather Stations
Barryville, NY

Elevation:

1012

ft
Temperature:

34.7

°F
Dew Point:

15.5

°F
Humidity:
45%
Wind:

4.0

mph from the North
Wind Gust:

8.0

mph

Updated: 2:12 PM EDT on March 09, 2014
Town of Lumberland

Glen Spey, NY

Elevation:

1326

ft
Temperature:

26.3

°F
Dew Point:

17.8

°F
Humidity:
70%
Wind:
Calm
Wind Gust:

11.0

mph

Updated: 8:59 AM EDT on March 09, 2014