Northeast storm of Oct 19/20th.
After much self debate I decided to give my Fall Foliage Blog a one day hiatus to focus on today's impending severe weather event.

__________________________________________________

Severe Weather Reports 10/19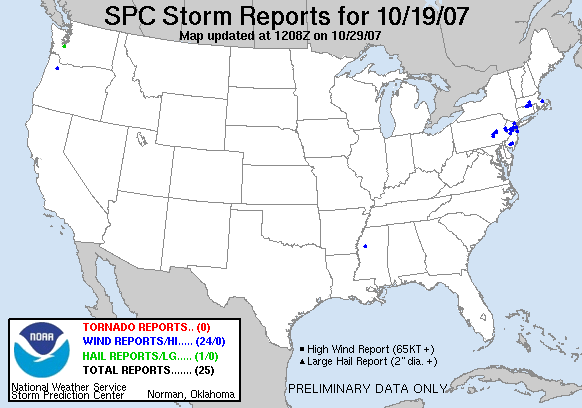 Severe weather on Friday was mainly confined in an area from eastern Pennsylvania to southern New England with areas in and around New York City getting hit pretty hard. Western suburbs got raked with some strong winds over 50mph, while eastern suburbs saw some flash flooding.

Elsewhere across the Northeast a solid half inch to inch and a half of rain fell. A few localized areas got over 3" of rain. This precipitation will put a good dent into the drought situation. At my location in Bethel, NY we recieved 1.07" of rain on the 19th. More rain fell after midnight and I will go out and get a storm total after sunrise.

Most of the precipitation from this system has moved into northern New Hampshire and the state of Maine as of 6am.

I will let this blog run through the morning then go back to the foliage blog with some new pics added for the remainder of the weekend.


1130PM EST Update




Squall line currently lies across southeast New york State and bisects the state of New Jersey from SSW-NNE.

This line of storms has the capability of producing strong straight line winds in excess of 60mph and torrential downpours that could drop over an inch of rain in under 30 minutes. This could lead to flash flooding of small streams and poor drainage flooding where fallen leaves clog storm drains. There's not much lightning with this line of storms, so don't let the relative calmness of the sky play trickery. Strong winds are present!

These storms should move across the NYC metro area over the next 1-2 hours before weakening as they head over offshore waters, Long Island and southern Connecticut.

**High impact severe weather event likely today**

An intense 977mb low pressure is currently located in the vicinity of Duluth, Minnesota. This low will send a strong cold front sweeping through the Northeast into an unseasonably warm and humid airmass, more reminicent of August, later this afternoon through Saturday morning resulting in an outbreak of severe thunderstorms. This system already has a long history of producing widespread severe weather, including over 45 tornado reports (based on peliminary data) over the previous two days. The main threat from today's expected severe weather outbreak will be strong damaging winds. However, a few tornados cannot be ruled out.

Despite the unseasonably warm airmass in place over the Northeast today, surface instability will not be strong. Instead thunderstorms will fire due to strong surface convergence along a pre-frontal trough and the actual cold front, very strong wind fields (30-40kt 850mb jet, 80kt+ 500mb jet). This will be a classic Autumn severe event where little sbCAPE exists but strong wind fields aloft will organize convection in line segments out ahead of the front and a strong squall line of low-topped convection along the front.

In fact the previous 3 autumn seasons*(12/1/06 is technically the first day of meteorological winter but close enough) have had similar events.

December 1st, 2006

November 6th, 2005

November 25th, 2004


Synoptic placement of low pressure with today's expected event is further northwest than the 3 events mentioned above, but wind fields are similar. Another difference will be the highly anomalous moisture content of the atmosphere. PW's are expected to climb close to 2" which is more than twice normal values for this time of year. Flash flooding could be a concern for localized areas that receive mulitple/training storms. Antedecent conditions are not favorable for a widespread flooding event, thankfully, and this system should not be an issue for main stem rivers.

--------------------

1PM EST Update

After a few breaks of sun earlier this morning a stratus deck has moved overhead. There's been a misty drizzle that has been falling over the last hour but not much more.

The heavier rain and a few embedded thunderstorms are still located over western and central New York and Pennsylvania. There's also a cluster of heavy rain just off the New Jersey coast extending onshore into the western suburbs of New York City. This area of rain should move into Long Island over the next 1-2 hours. A smaller band of showers lies across southern New England at this time as well. This band contains a few heavier showers, but for the most part consists of light to moderate rain showers.

A line of thudnerstorms should begin to materialize in eastern Ohio/western Pennsylvania by mid-afternoon and push eastwards as a squall line. For the time being this potential development appears to be the only shot of seeing severe weather today in the Northeast. The area of rain out ahead of the front is doing a good job thus far at keeping the severe threat from the pre-frontal trough at bay.

**UPDATE 845PM EST**

*********


*********






___________________________________________________________




___________________________________________________________






Current SST's off the Northeast Coast.

---------------------------




Great Lakes SST's as of 10/14/2007.
___________________________________________________________




October daily weather statistics.

------------

October 1st - 64°F/46°F....0.00"....15%
October 2nd - 69°F/49°F....0.00"....25%
October 3rd - 77°F/55°F....0.00"....40%
October 4th - 82°F/55°F....0.00"....60%
October 5th - 82°F/55°F....0.00"....80%
October 6th - 84°F/54°F....0.17"....85%
October 7th - 75°F/54°F....0.01"....45%
October 8th - 83°F/52°F....0.71"....70%
October 9th - 68°F/55°F....0.63"....10%
October 10th - 70°F/54°F....0.05"....35%
October 11th - 56°F/52°F....2.76"....0%
October 12th - 55°F/38°F....0.23"....30%
October 13th - 54°F/36°F....0.00"....40%
October 14th - 53°F/37°F....Trace....20%
October 15th - 57°F/45°F....0.00"....30%
October 16th - 64°F/41°F....0.00"....40%
October 17th - 66°F/45°F....Trace....55%
October 18th - 73°F/48°F....0.00"....60%
October 19th - 71°F/57°F....1.07"....5%
October 20th - 62°F/45°F....0.04"....40%
October 21st - 73°F/38°F....0.00"....95%




Create your own visitor map!
Reader Comments
New Comment
Post Your Comments
Please sign in to post comments.
Not only will you be able to leave comments on this blog, but you'll also have the ability to upload and share your photos in our
Wunder Photos
section.
About sullivanweather
| | |
| --- | --- |
| | Thomas is an avid weather enthusiast, landscaper and organic gardener. This blog is dedicated to Northeast and tropical weather forecasting. Enjoy! |
Tropical Blogs
Tropical Weather Stickers®
Local Weather
| | |
| --- | --- |
| | Clear |
Previous Entries for 2013
Personal Weather Stations
Barryville, NY

Elevation:

1012

ft
Temperature:

41.9

°F
Dew Point:

26.4

°F
Humidity:
54%
Wind:

1.0

mph from the ESE
Wind Gust:

11.0

mph

Updated: 12:19 PM EST on December 19, 2013
Town of Lumberland

Glen Spey, NY

Elevation:

1326

ft
Temperature:

41.2

°F
Dew Point:

20.9

°F
Humidity:
44%
Wind:

3.0

mph from the WSW
Wind Gust:

13.0

mph

Updated: 12:19 PM EST on December 19, 2013