No more hurting people - peace
This blog will be taking a break from the garden for a time in honor of the victims of the bombing of the Boston Marathon.

It's a struggle to find the proper words to express how one may feel about this cowardly and ruthless act of terrorism perpetrated upon our people, our society, our freedom. A marathon, especially, is the most open of all sporting events. People of every race, creed, religion, and ethnicity are the participants, as are the spectators. The marathon is an event dating back to the dawn of democratic society in ancient Greece and a celebration of achievement and endurance of the spirit of humanity.

As many of you know one of my jobs is delivering newspapers and this morning I read the cover of the Daily News and was truly heartbroken at the cover story of one of the victims - young Martin Richard, just eight years of age when his life was stolen. His school picture for this year epitomizes the spirit of humanity and deserves our recognition - every one of us. This isn't to slight any of the other victims of this senseless attack but Martin Richard is a face no one should ever forget and his message displayed in his school picture is a message everyone should take to heart.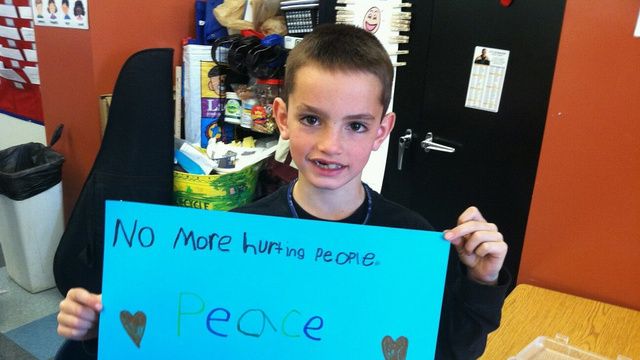 Cool Season Crops - Week 3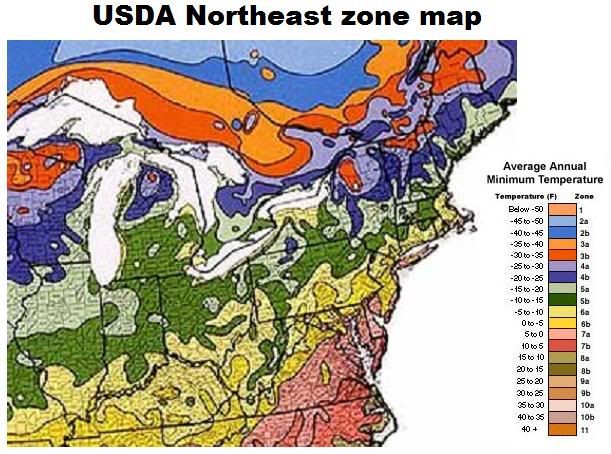 ________________________________________________


In the previous blog we discussed the steps needed to be taken early in the season to plan the garden and some of the work needed to prepare it for planting. Now that we're started the next steps that need to be taken involve basics in weed control, garden pests and fertilization of the soil keeping in mind that we want to put in a garden in accordance with nature (i.e. organic!). Also, this may be the time you'll want to start a compost heap or bin. Although we briefly discussed amending the soil in the previous blog I will try to provide additional information that will help you find the appropriate fertilizer to the corresponding crops. I also want to discuss some crops that you could start early in the season that are frost tolerant that perform best while the weather is still cool.

First we'll concentrate on amending the soil. Even though certain crops require specific soil types and fertilizers you'll want to have a basic fertile foundation soil. Before you go out and purchase bags upon bags of soil, look around the your yard for anything that you could use to amend the soil with. If you're into yard work there's likely a pile of grass clippings or leaf mulch that has been rotting in an unused corner of your yard that you've been dying to get rid of, here's your chance. Find the most broken down parts of this pile and mix it into the garden dirt to a depth of 6 to 8 inches. Now, grass clippings only go so far and if you plan on raising your beds you'll have to consider buying soil. The size of your garden will determine how much of what you'll need to purchase. I highly recommend adding peat moss to the soil, especially if your soil is sandy but even if it is hard clay. Peat moss helps to aerate soil and increase its ability to hold moisture. A 3.8 cubic foot bale will amend an area of 150 to 200 square feet and cost 8 to 10 dollars. Peat moss will come very dry, resemble saw dust and will have to be worked deep into the soil (top 6 inches) otherwise a heavy rainfall soon after adding it will likely wash it away or have it form clumps on the surface of the soil. Secondly, you'll also want to add peat humus to your soil, which is a dark colored highly organic soil. Humus is the last stage organic material breaks down into and has many benefits in the garden. It helps with the breakdown of organic material and nutrients into forms that makes it easy for plants to uptake into their roots, moderates the acidity or alkalinity of soil and its dark color helps to warm the soil temperature in spring. Peat humus can be found in 40 pound bags for around 2 to 3 dollars a bag. Add a 40 pound bag of peat humus for every 20-30 square feet of garden space and work into the top 4 inches of soil. In addition to the soil amendments, you'll want to add an all-purpose fertilizer to provide your plants a source of nutrients. Remember, buy an organic (non-chemical) fertilizer. I'll provide links at the bottom for such products.

There's only a few varieties weeds that over-winter and have begun to grow but soon there'll be many more weeds that will begin their growing season as soil temperatures are now beginning to rise aiding in their germination. There's several methods of weed prevention in the garden, however, there's only one I recommend - using a cultivator. Whether a long handled cultivator or a hand cultivator this method works best for it not only gets rid of the weeds but also aerates the soils. When using a cultivator be especially careful to get the weeds and not the crops or their roots which happens if one it not paying attention. For shallow rooted plants or root crops it is best to simply pull those weeds by hand. There's plenty of other ways of weed prevention, such as laying plastic or felt, but sometimes weeds still grow through and it also makes it impossible for the soil to get proper aeration and could also lead to mold/fungal disease. Again, the goal here is to avoid using any chemicals. I cannot stress this enough.

Now is also a time you may want to think about pest prevention so you won't have to deal with them later on in the year. As you were turning your soil you may have noticed white, brown or gray worms occasionally. These are cutworms, grubs and/or beetle larvae and will do significant damage to your young crops if left unchecked. Finding and killing these pests is not enough, there's too many of them in the soil. A wonderful control method to rid yourself of these pests is beneficial nematodes, which can be bought from a website I will provide a link for at the bottom of the page. This company specializes in organic products that you could use in pest control and prevention and will send a great mail order catalogue. There's also a plethora of other garden pests that will show up as temperatures warm later into the spring and summer. There's also certain flowers that you can plant in your garden that will attract natural predators that will feed on pests. Early in the season alyssum is a frost tolerant flowering annual that can be planted along garden borders to help get this process started.


Beets
Beets are a highly nutritious root crop which requires a high phosphorous, low nitrogen soil free of rocks or other debris. Beets also require a higher alkaline soil than most crops, so if you had used peat moss to amend the soil you may want to consider using lime to raise the soil PH as peat moss will gradually turn soil acidic. About a pound of lime per 20 square feet will do. Beets will tolerate frost so can be sowed directly into the garden a week or two before your last expected frost. Sow seeds an inch apart in rows about 1/2 inch deep and cover with fine soil. Once the seedlings appear you'll want to thin every other plant. Seeds can be identified by their reddish purple color. After the second and third sets of leaves appear you'll want to thin again, leaving the strongest looking plants about 4-6 inches apart. Beets perform relatively poor if having to compete with weeds. Around the plants themselves you'll want to pull the weeds by hand making sure not to disturb the root of the plant. Beets also need a steady supply of moisture. A lack of moisture will cause leaves to wilt and the root to not develop fully and become bitter to the taste. The entire plant is edible. Beet greens can be harvested early for a highly nutritious side dish, but leaving enough leaves on the plant to ensure proper food production. The root will normally mature in 50-70 days. Leaving beets in the ground too long will make their root become woody and tough in addition to losing flavor.

Broccoli
Broccoli is a highly versatile crop which performs best in the 'cool season' but there are varieties that can be grown where temperatures during the summer are routinely hot, although they will typically require shade during the hottest time of the day. A neutral PH soil is what broccoli prefers best although the crop will tolerate acidic or alkaline soil. Soil high in organic matter is preferred and should be fertilized with a high nitrogen fertilizer. Seeds should be sowed 1/2 inch deep about 2 inches apart and covered with fine soil. After seedlings appear and have grown their second sets of leaves thin plants to every foot apart. These plants also require a moist soil and grow very quickly once established. Harvest broccoli heads once the buds of the flowers begin to swell. You will only have a 2-3 day window to harvest the heads as the flowers will open quickly if left much longer. Cut the stalk about 4 to 6 inches below the base of the head. Broccoli will continue to produce side shoots for weeks afterwards into the summer.

Carrots
A root crop which needs deep, loose stone-free soil in order to maximize it's performance. Carrots require full sun but will tolerate partial shade, especially if started late in the spring which will take the plant into the hottest time of the year. You may want to add the ashes from a wood fire to amend the soil as this adds potassium to the soil which promotes sweeter crisper carrots and will also ward off common pests to carrots. Too much nitrogen will make carrots mealy and fibrous roots susceptible to branching. Carrots can be directly sowed into the garden 1-2 weeks before the last expected frost as they will tolerate freezing temperatures to 28 degrees. Sow seeds 1/4 inch deep, cover with fine soil and keep moist. Carrots are slow growers and will need to have weeds removed by hand until plants are several inches tall. After the plants reach 2-3 inches tall thin the plants to roughly 3 inch spacing. After 60-80 days remove some dirt from around the crown of the carrot. If the crown of the carrot is ~1 inch wide it is time to harvest, keeping in mind that leaving the crop in the ground too long will cause the carrot to become tough.

Cauliflower
A true cool season crop which doesn't tolerate hot weather and can be started 4 weeks before the last frost. Cauliflower should be planted in fertile soil rich in organic material. Cauliflower is also a heavy feeder and will need additional fertilization every 3rd or 4th week. Seeds should be started indoors early in the season and transplanted outside once plants are 2 inches tall. Seeds can also be sowed directly into the soil soon after it can be worked (zones 3-4). Seedlings take about 4-6 weeks to appear so patience is required and another good reason to start indoors to make for easier identification. Cauliflower prefers evenly moist soil and should be kept well watered. Once heads begin to form in about 4 or 5 months you'll have to blanch the heads by covering them with the leaves of the plant or a brown paper bag. This blanching process will help to keep the heads white in color but do not leave the heads on the plant too long otherwise they will lose their crispness. Cauliflower leaves are also edible.

Celery
Celery is a mild flavored cool season crop which is a dieters dream vegetable for it contains many vitamins and nutrients but virtually no calories. Celery prefers full sun and well-drained soil loosened to a depth of around a foot. Seeds should be started indoors 10 weeks before the last frost, but can be directly sowed into the garden in zones 3-4. If sowing seeds directly into the garden sow them just under the soil surface 2-3 inches apart and cover with fine soil. After seedlings are 2-3 inches tall thin to a spacing of around a foot apart. Celery has a long growing season and are heavy feeders, so make sure to apply fresh compost or fertilizer at regular intervals of around 4 weeks. Once plants are around a foot tall you'll want to blanch them by wrapping their stalks with screening or paper. This helps to keep them tender.

Chard
Chard is a cool season crop related to the beet and used for the large leafy 'greens' chard which comes in many different colors. Chard is another vegetable which can be directly sowed into the garden very early in the season, 3-4 weeks before the last frost. Seeds should be sowed at a depth of 1/2 to 3/4 of an inch at a spacing of 2 inches and covered with fine soil. To increase your harvest you can thin the plants to 4 inches apart until they're 6 inches tall. Then remove every other plant in a final thinning to leave plants 8 inches apart, using the plant you had thinned. Harvest leaves throughout the season before they're on the plant for too long as the stalks, or chard, of the leaves will become tough and the leaves will lose flavor. Also, use the chard leaves soon after harvesting, for they do not keep well, on the order of just a few days.

Leeks
Leeks are another cool season crop in the onion family which does not tolerate temperatures much above 80 degrees. Leeks are best started indoors as some varieties require a 5 to 6 month growing season. Whether transplanting leeks into the garden or directly sowing them, you'll want to have a 1-2 inch trench to plant them into. As the leeks grow gradually fill in the trench with soil. Leeks will tolerate heavy frosts but not hard freezes, so make sure to harvest the leeks before temperatures drop below 24 degrees. Leeks store quite well for several months in crisper bins.

Lettuce
Lettuce is a cool season crop that comes in many varieties of color, taste and texture. Lettuce should be directly sowed into the garden a week or two before the last frost. Most lettuce varieties will tolerate temperatures down to 28 degrees but not much lower. Full sun and well drained soil are essential for earlier plantings while later plantings towards late spring and summer should be of a heat-tolerant variety and will prefer a couple of hours of shade during the hottest time of the day. Sow seeds 1/4 to 1/2 inch deep and cover with fine soil about 2 inches apart. After seedlings emerge thin to around 6 inches apart for leaf lettuce and a foot or more apart for head lettuce. Lettuce requires an inch or more of rainfall per week and an evenly moist soil. When harvesting lettuce you'll want to do so early in the morning while the leaves have their highest moisture content.

Onions
Onions are a bulb that require slightly acidic soil high in organic material. Onions can be planted by seed or purchased at your local nursery as small bulbs. Onions can be planted as soon as the soil can be worked and depending on the variety will take from 100 to 160 days to mature for harvest. If planting bulbs set them roughly 4 inches apart. If sowing by seed an inch apart will do. After seedlings emerge thin to the required 4 inch spacing. Onions do not like crowding so be sure to keep their immediate vicinity free of weeds. Since onions have a long growing season a future blog will provide information on maintenance and harvesting.

Peas
Peas should be sowed into your garden as soon as the soil can be worked as they can tolerate rather chilly temperatures down to 22 degrees. Soak pea seeds in water overnight before planting as this will aid in germination. Peas require as much sun as possible as shade will reduce their sugar content and make them mealy/starchy. Peas will grow even in poor soil and will not require much fertilizer, but growing them in fertile soil does enhance their flavor. Peas are also shallow rooted so they will require regular watering, but not in excess. Peas are ready for harvest after the pods become plump. Daily harvesting will prolong crop production and keep peas from becoming hard/starchy. Peas will lose flavor quickly after harvesting, so blanching your harvest may be necessary. This blanching process will also be discussed in a future blog. Peas can also be stored by drying.

Potatoes
Potatoes are a tuber, or stem plant high in starch and a staple food crop. Potatoes grow best in sandy soil high in organic material which is well-drained. Seed potatoes can be purchased from your local nursery or whole potatoes which have grown eyes can be cut and planted. If you plan on using cut potatoes you'll want to leave them out for a couple of days to dry out and heal, otherwise they will be susceptible to rotting. Potatoes can be planted a couple to several weeks before the last frost depending on the variety. Make sure you loosen the soil rather deep and remove as many rocks as possible as these tubers will need room to grow. When planting dig a trench and place potato seeds or cuttings in the trench and fill with soil right to the top of the tubers. As the shoots emerge and begin to grow you may also want to add organic compost around the plants as this will help to keep these plants well fed and help to support them upright.

Radish
Radish is a fast growing cool season crop ideal for adding to salads and in certain cooking dishes. Being a root crop, radish prefers loose well-drained soil free of rocks or other debris. Radishes can also be companion planted with many other crops for they deter certain pests, will not compete for space and will often be harvested before the other crops will need it. Radishes can be sowed directly into the garden at a depth of a 1/4 to 1/2 an inch 3 inches apart. Seedlings will emerge in 5-8 days depending on soil and weather conditions. For a continuing harvest radishes can be planted every 2 weeks through September. Radishes are usually ready for harvest between 25-35 days and should not be left in the ground too long for they will become woody and split.

Spinach
A cool season crop and one of the first crops to be planted in the spring, spinach is highly nutritious and contains a wide range of vitamins and minerals. The soil should be loosened to a depth of around a foot and high in organic material. The spot you choose should receive full sun, although if planted later in the season may require a few hours of afternoon shade and should also be a heat-tolerant/drought-resistant variety. Sow seeds 1/2 inch deep and 2 inches apart and cover with fine soil. Once seedlings emerge thin to 8 inches apart and add a top dressing of compost. Spinach should be kept moist and well cultivated. Harvest individual leaves as soon as they're big enough to eat. However, smaller leaves can be harvested early for spinach salad or spring mix.

--------

Espoma Natural Gardening Solutions

Environmentally Responsible Gardening Products - Garden's Alive

--------

Here's this weeks pics of the progress in the garden. First a pic from last week after I extended the right side of the garden.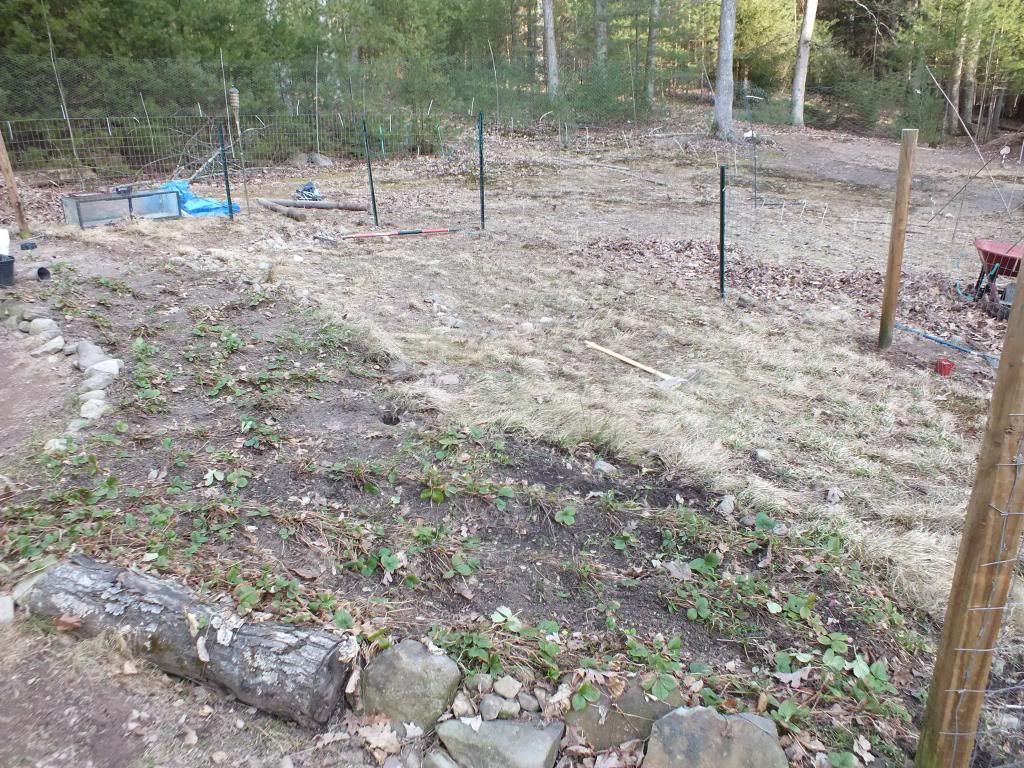 Here's a view from inside the garden showing the new area I fenced in. Most of this area will be filled with strawberries.

-------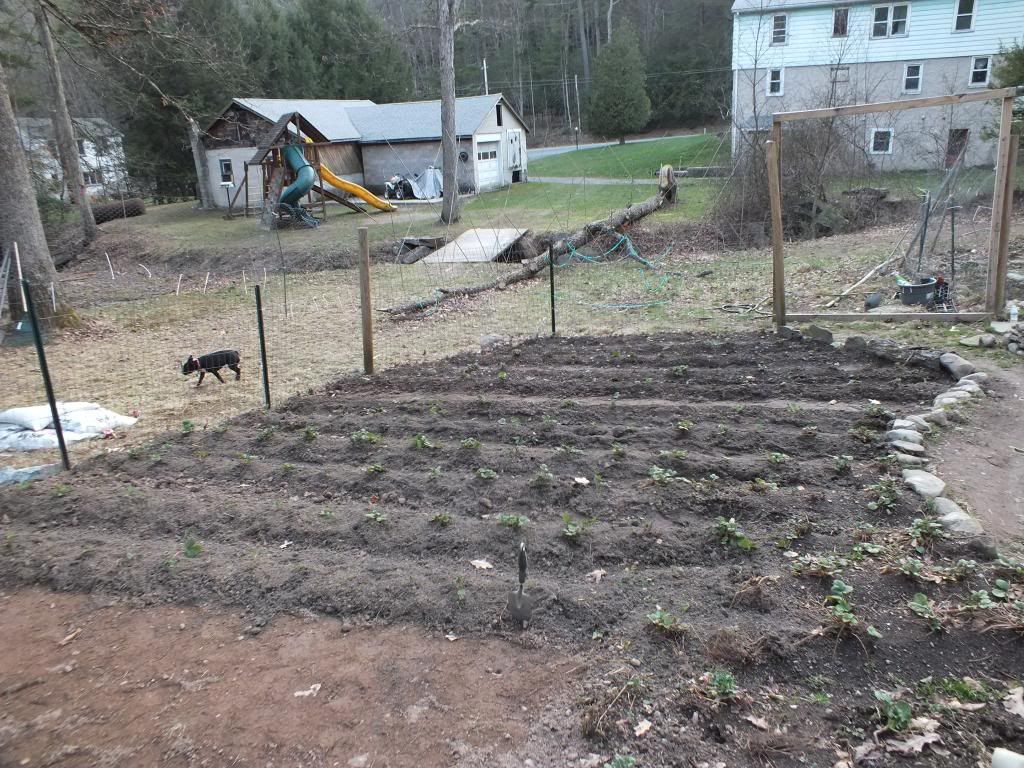 Here they are! All the new strawberries! Well, not all of them since it's not 100% complete yet (I took another day off today due to cold/wind/good sporting events on TV). Plus I have to get another 20lb bag of garden tone for the transplanting.

-------




Here's a closer view of the strawberries. There's roughly 175 plants in the ground now with about 30 more yet to go in. So I have to construct about 3 more rows.

-------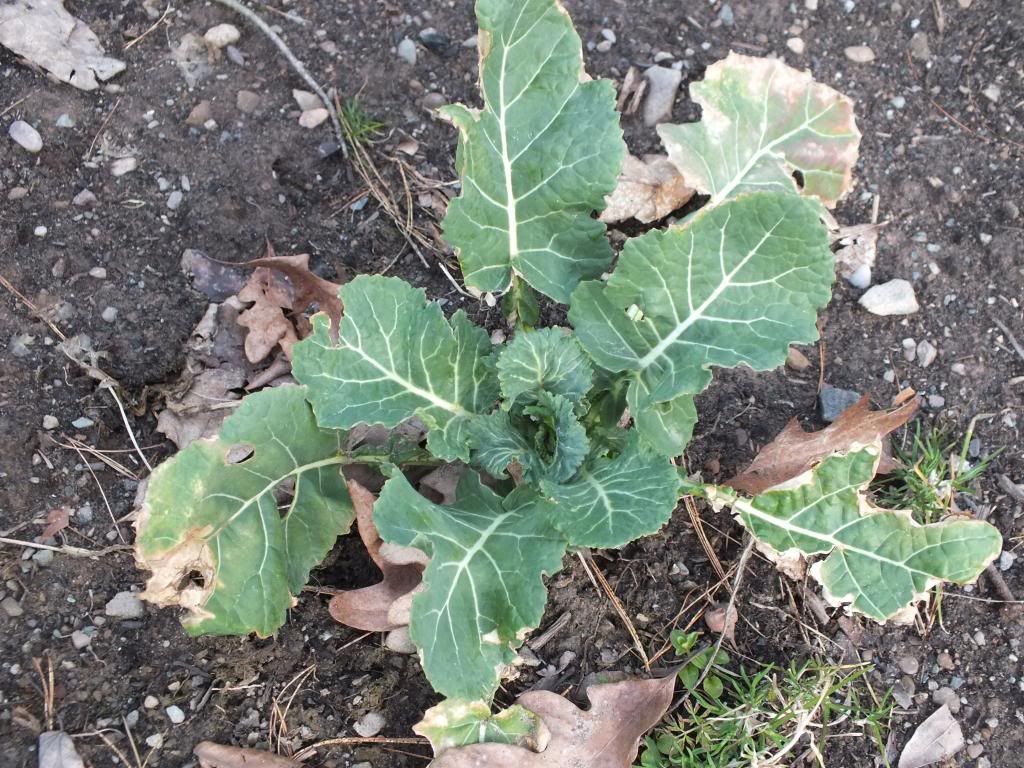 Here's the biggest of my collards which have overwintered. There's ten in total. Let me tell you, there's nothing like collards which are from plants which have overwintered.

-------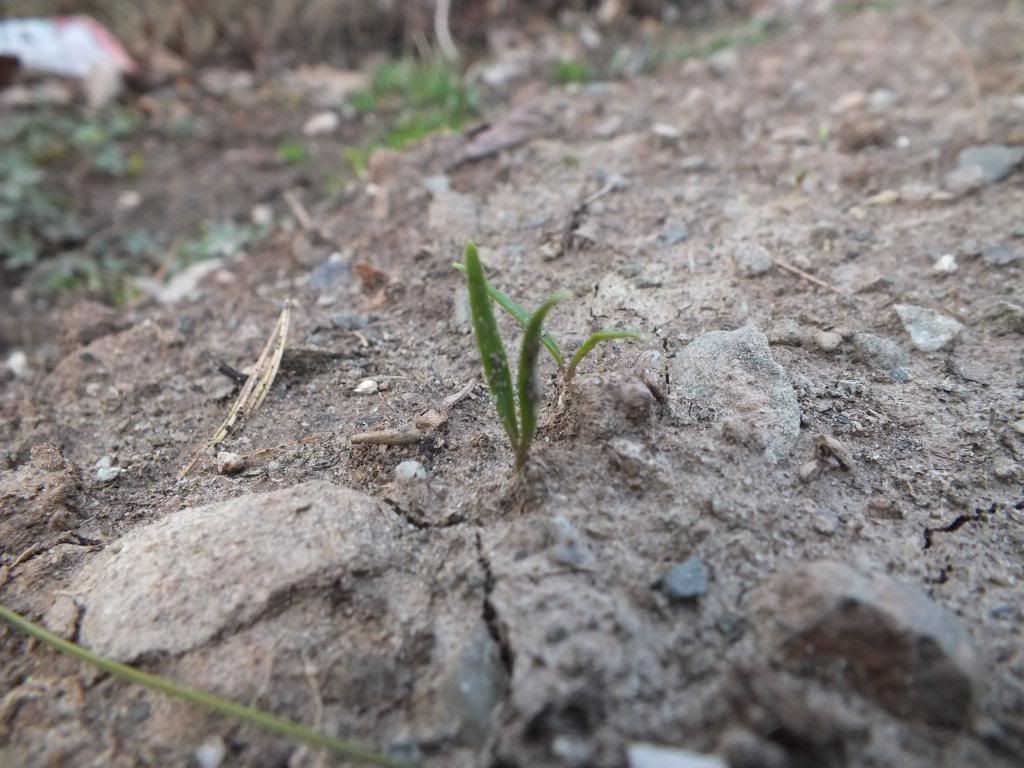 Spinach seedlings are starting to pop.

-------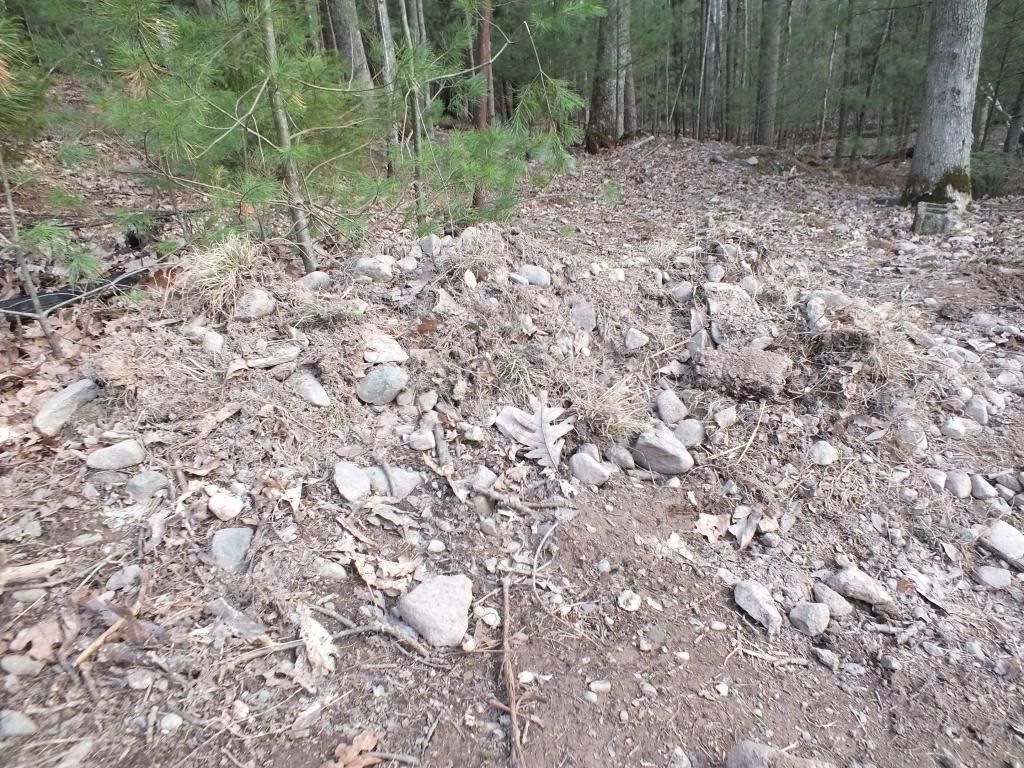 This is all the junk I took out of the expanded area of the garden where the new strawberries are. As I like to call it, a bumper crop of Northeast Harvest - rocks.

_________________________________________________ ___


Radar: Northeast Region Loop




_________________________________________________

Current Northeast Snowcover





_________________________________________________

Local SST's





Current SST's off the Northeast Coast.

Garden Preparation - Week 2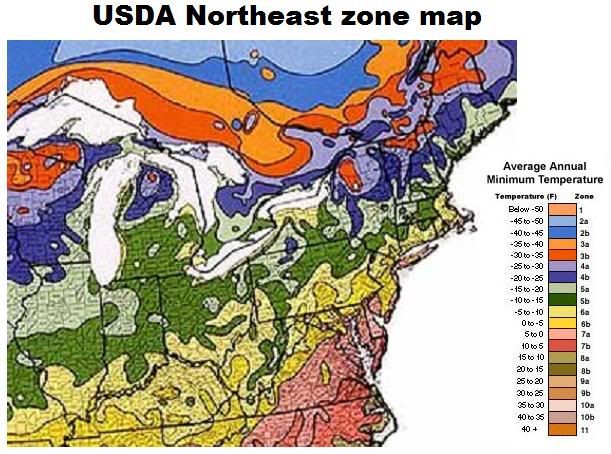 Gardening is something we could all do whether or not we have land, a front porch or back deck. There's many benefits for one to grow their own food, including savings on grocery bills, eating healthier, and reducing ones' impact on the environment. It takes many pesticides, fungicides, chemical fertilizers, the burning of fossil fuels/subsequent release of greenhouse gasses and the clearing of forest in order for large commercial operations to bring food from the farm to the grocery store and finally to ones' dinner table. A well organized garden could provide vegetables for ones' family for 4-10 months out of the year (Northeast region), depending on ones' taste and diet.

For Northeast locations where the snow has melted now is a good time to begin your garden preparations. If one doesn't have a garden and is thinking about installing one, this is the time you should choose the location for your garden. It is essential that a spot be chosen that receives at a minimum, 8 hours of direct sunlight. The more sun the better. Be mindful of any trees that have yet to leaf out. In choosing the spot for the garden you want to have a plan of what vegetables you'd like to grow. Certain plants require lots of space while others not so much. It is wise to plan for this aspect of your garden early. If you're a first time gardener you'll be very surprised at how large and spread out certain crops get by August and you'll want to leave yourself space for harvesting.

Once a spot is chosen, you want to begin turning the dirt, removing as many stones as possible. For us here in the Northeast this is the most back breaking aspect of gardening for our soil is very rocky due to the area being near the extent of the vast glaciers that once covered the area at the peak of the ice ages. You want to have a bucket handy to put any rocks and stones into. You can either get rid of these stones by dumping them in a location of your choosing or save them for garden pathways. In my garden I chose the latter. There's many techniques to turning the soil. If time is short and you're not looking for a good workout, having or renting a rototiller is the easiest way to get the job done. For those of us that like to get dirty there's various other methods of turning the soil. The one I recommend is using a pick axe with a broad side opposite the pick. Other methods include using a durable pitch-fork, or a plain ol' shovel. Start at a corner of the garden plot working down about 10-14 inches. After you have yourself a hole you'll find it easier to chip dirt off the sides of the hole rather than going down from the surface. While working on this process it is essential to take frequent breaks and drink lots of water if your method of turning the soil is manual labor.

Once this step is complete it is time to rake the area flat. You'll encounter many stones during this process so have your bucket handy. You'll want to rake through the soil several times, removing as many stones as possible, especially if you plan on planted root crops such as carrots or parsnips. In my garden my beds are raised and I highly recommend this method for vegetable garden beds. It has various advantages over more traditional garden beds that are at level with their surroundings For one, it makes for faster drainage of rainwater which helps to prevent fungus and rotting of your crops. Secondly, it helps make your garden aesthetically pleasing to the eye and gives you a place to put all those stones you'll encounter.

To raise your garden beds you'll want to have a border that'll be able to hold back your soil. Bricks, fieldstone placed up on end, non-treated wood, logs from a fallen tree are all very good at getting the job done. You'll want to outline your garden beds with these materials while placing the stones you have dug out of the garden in the paths along the outside. The stones will help with drainage and help to brace the outside of your border. Be mindful that this step is going to take several days to a week to complete, especially if your time is short. If you feel as though things are going slow don't be discouraged. The work you have to put into preparation is tedious but well worth the effort.

By now you should have your garden plotted, soil turned, borders set and paths installed. This next step is very important, especially if you live in an area where deer roam (and who doesn't). You'll want to install some type of fencing to keep them out of your garden being mindful of other various small animals that may enter your garden as well. The first step will be selecting proper fence posts. You'll want to get fence posts that are at least 6 feet tall but preferably 8 feet tall and a correspondingly tall fence (as well as chicken wire fencing *optional). Sink the fence posts at least 18 to 24 inches into the ground to make sure they're sturdy. After putting the fence posts into the ground dig a 6 inch trench between the fence posts then attach the fencing to the posts. Once the fencing is attached to the posts it is time to attach sections of chicken wire fencing to the primary fencing at the ground level. Cut a section of chicken wire to the length of the trenches you have dug between the fence posts. Lay the chicken wire into the base of the of the trenches and lean up the side of the primary fencing. Fill in your trenches with the dirt you removed and twist the cut ends of the chicken wire to the primary fencing. The reason for attaching the chicken wire fencing and burying it into the ground is to keep out smaller garden pests such as rabbits.

You're now almost complete in your garden preparation. The garden is plotted out, borders are in, fencing is up and now it is time to amend your soil and raise your beds. If you're putting in a garden for the first time it is very likely that your soil is not of great quality, especially if where you decided to put your garden used to be a lawn. You're going to want to add plenty of organic material to your beds to increase the fertility of the soil. The easiest way to do this is to buy bags of high organic top soil. However, with a little intuition, one can find plenty of organic material lying around ones' property. Many of us have places where we put yard waste, such as grass clippings, leaf piles etc. Wooded areas also can be a prime area to find high organic material to amend the soil with. Raking the top layer of leaves from a wooded area will reveal several inches of highly organic topsoil. Whichever method you use of getting this soil, upon having it you'll want to incorporate this material into the top 6 to 8 inches of soil in your garden. Make sure you incorporate enough soil into your garden beds to sufficiently raise them above the level of the surroundings. In addition to adding soil to your garden beds you'll also want to add an all-purpose organic fertilizer and work this into the top 4 to 6 inches of soil.

Depending on how much time you have on your hands to complete these steps you'll have yourself a garden ready for planting. The next blog in this garden series will be frost-hardy plants that you can start to put into the ground early in the season.

_________________________________________________ __________

Day 6

-------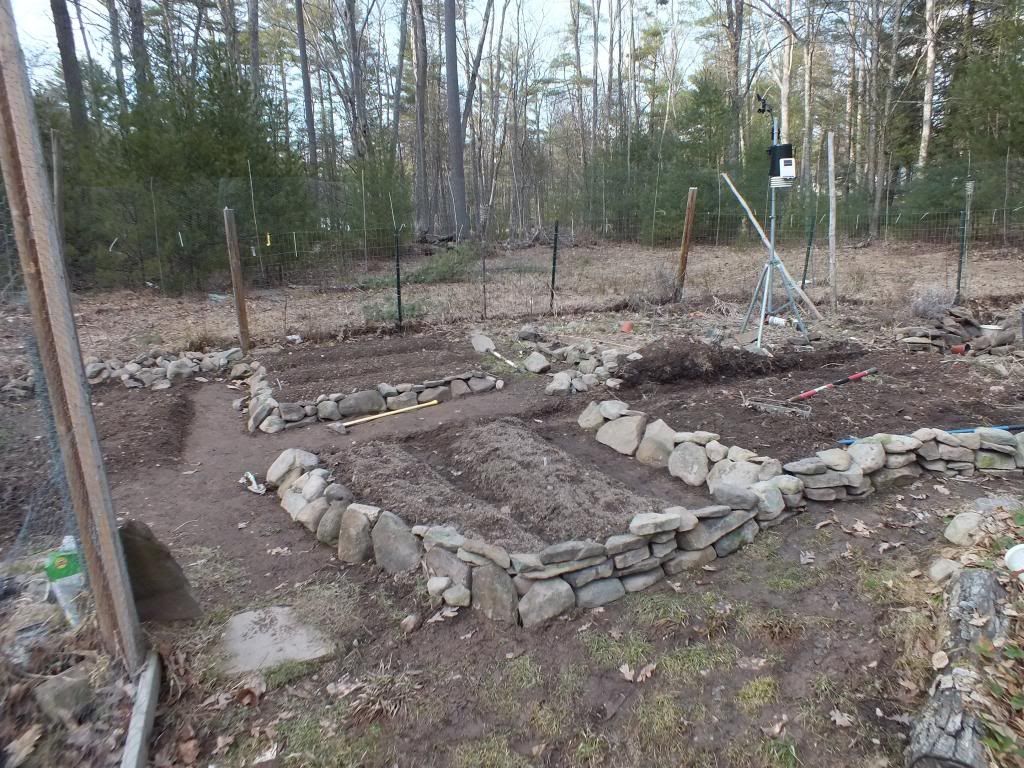 View looking into the garden from the front entrance - Day 6.

-------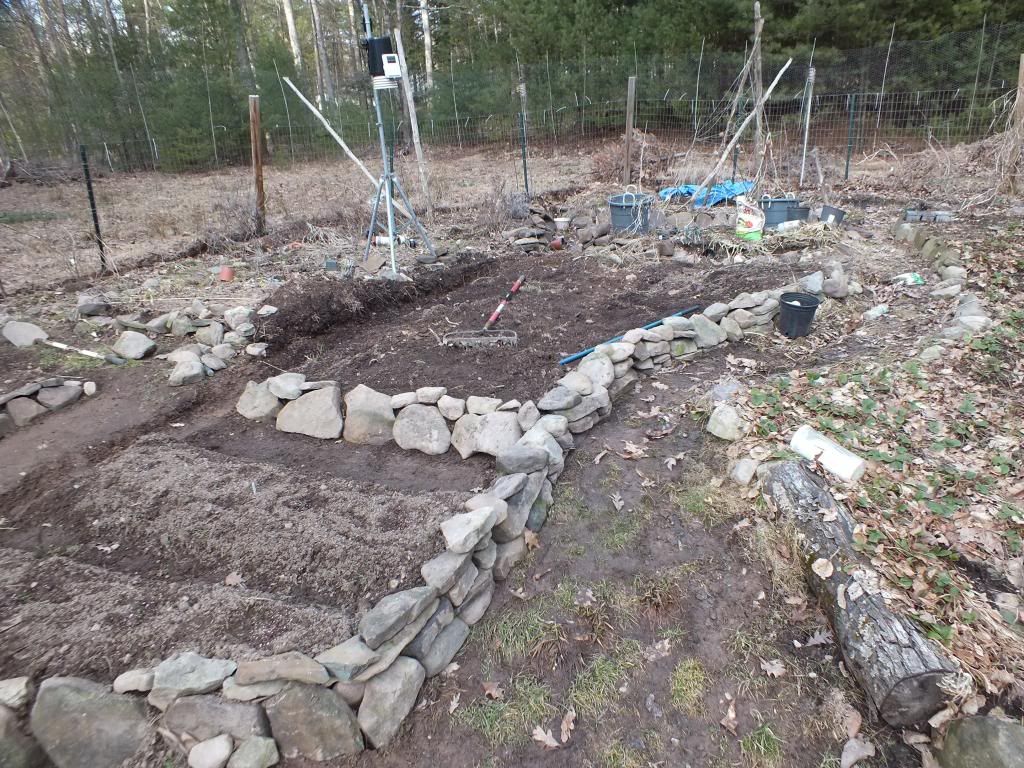 New rock wall bordering the right side of the new center beds and the old pathway.

-------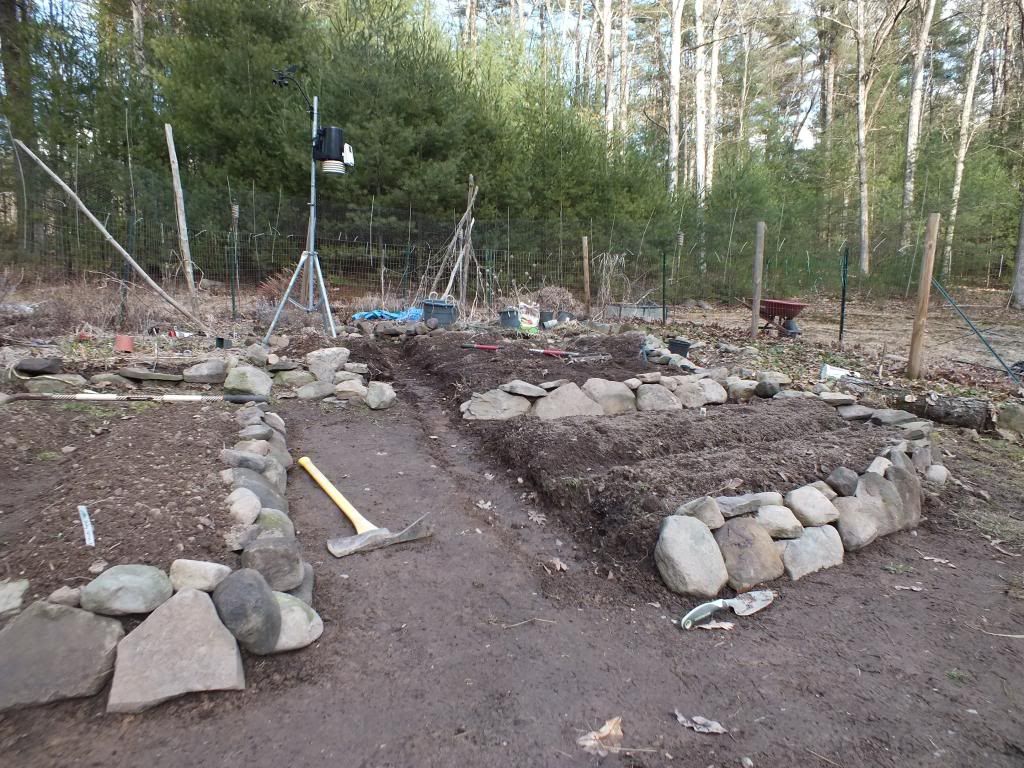 Closeup shot of the new center beds.

-------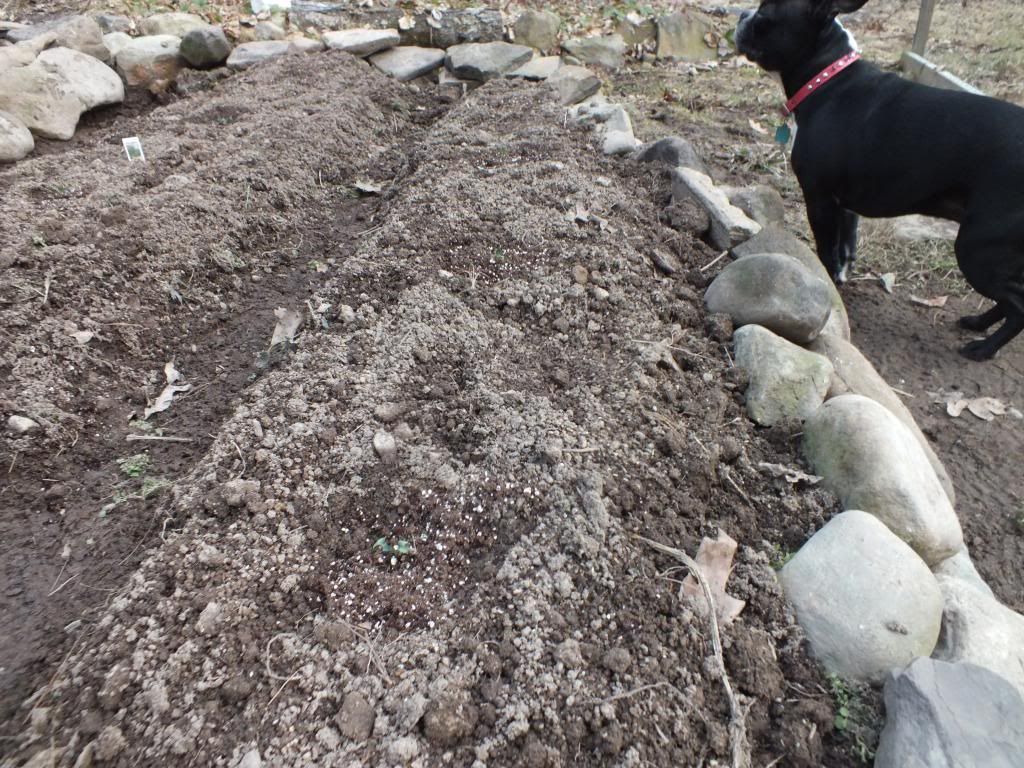 Broccoli planted in one of the new beds. Farm dog is looking on.

-------




Making good progress on the right side of the center beds.

-------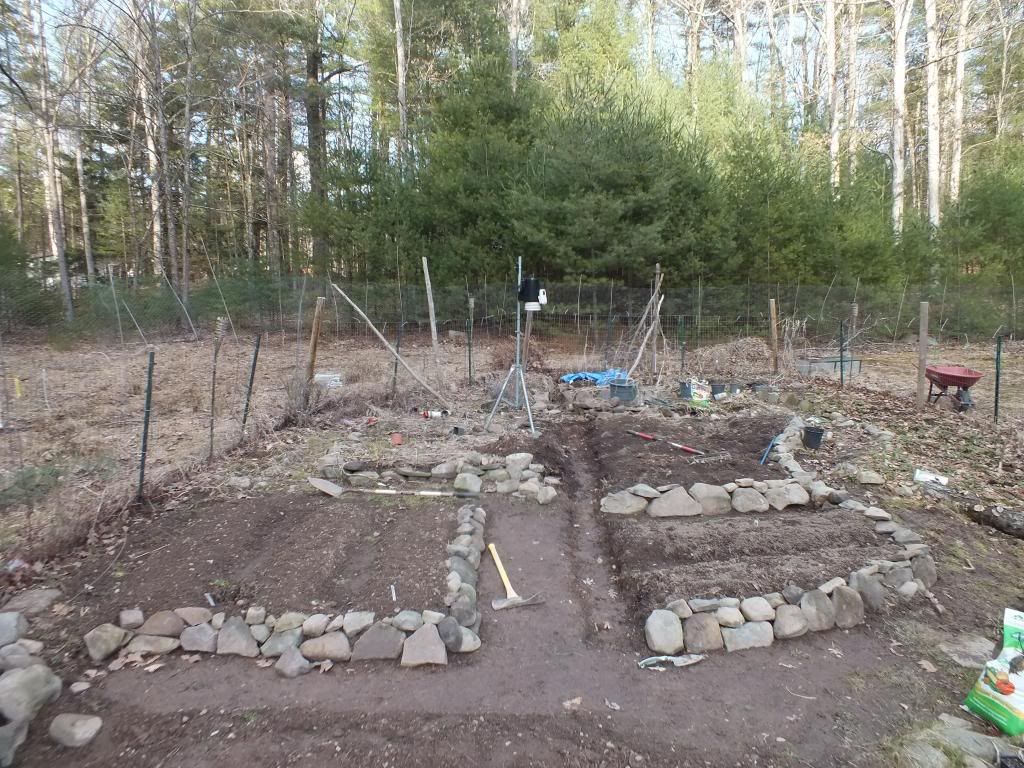 Wide-angle shot of new center beds.

----------

Day 10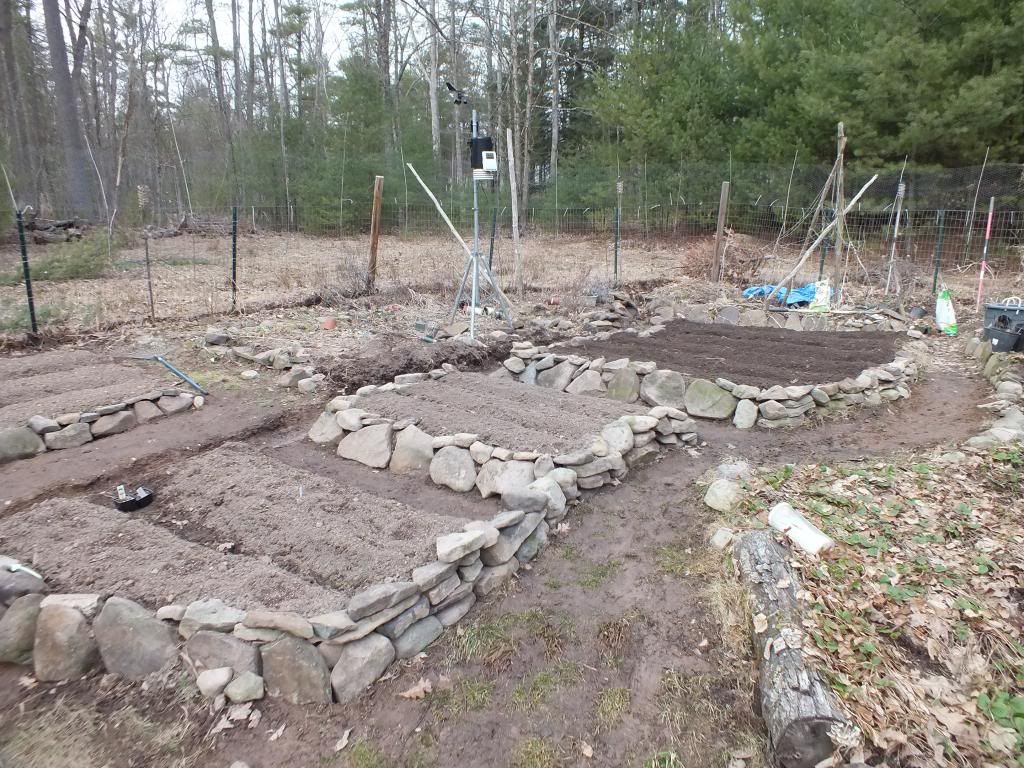 View of the garden from the entrance. Things are starting to come together.

-------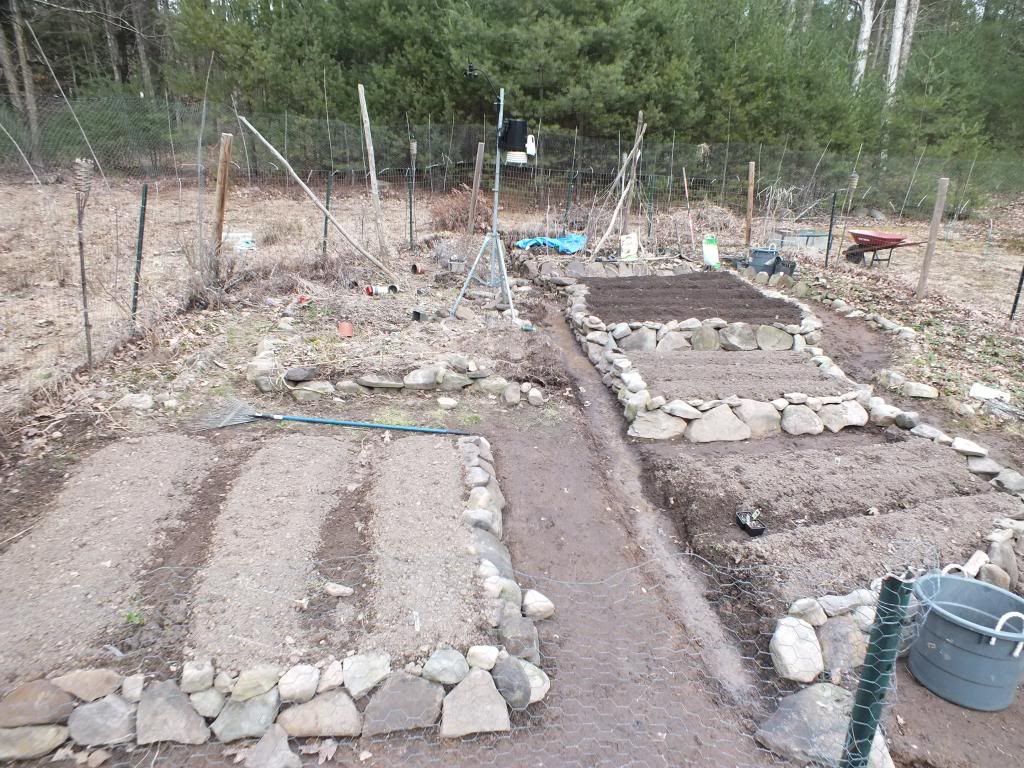 View of the center beds. There still aren't any sprouts coming up in the spinach hill but by this weekend I should have some green shoots.

-------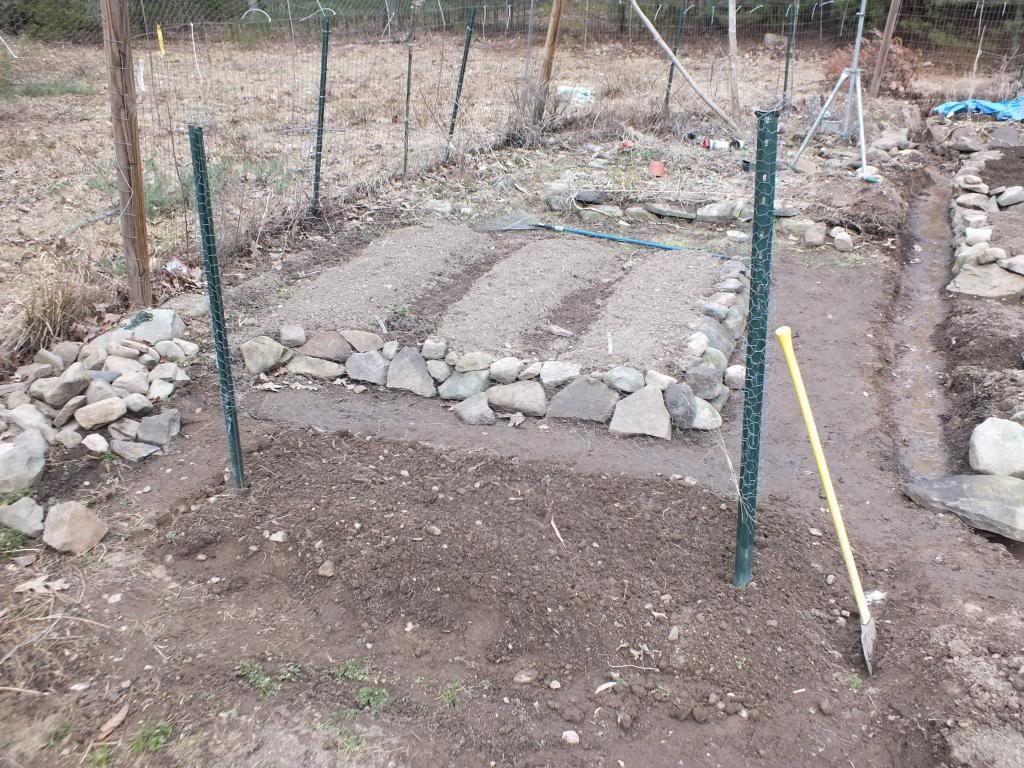 The new sugar snap pea bed. That yellow handled tool there is how most of the earth moving gets done - no power tools, everything done by hand. Makes big strong muscles =)

-------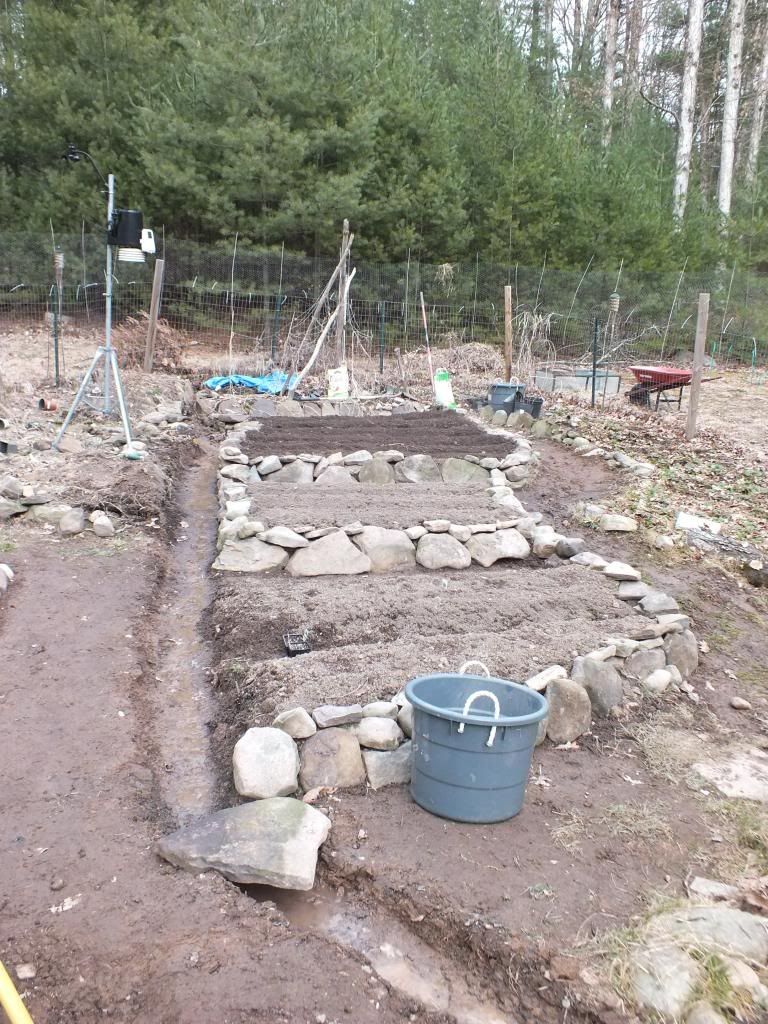 View showing the right side of the center beds and the new ditch. The dirt berm has been removed and the water is flowing streamward.

-------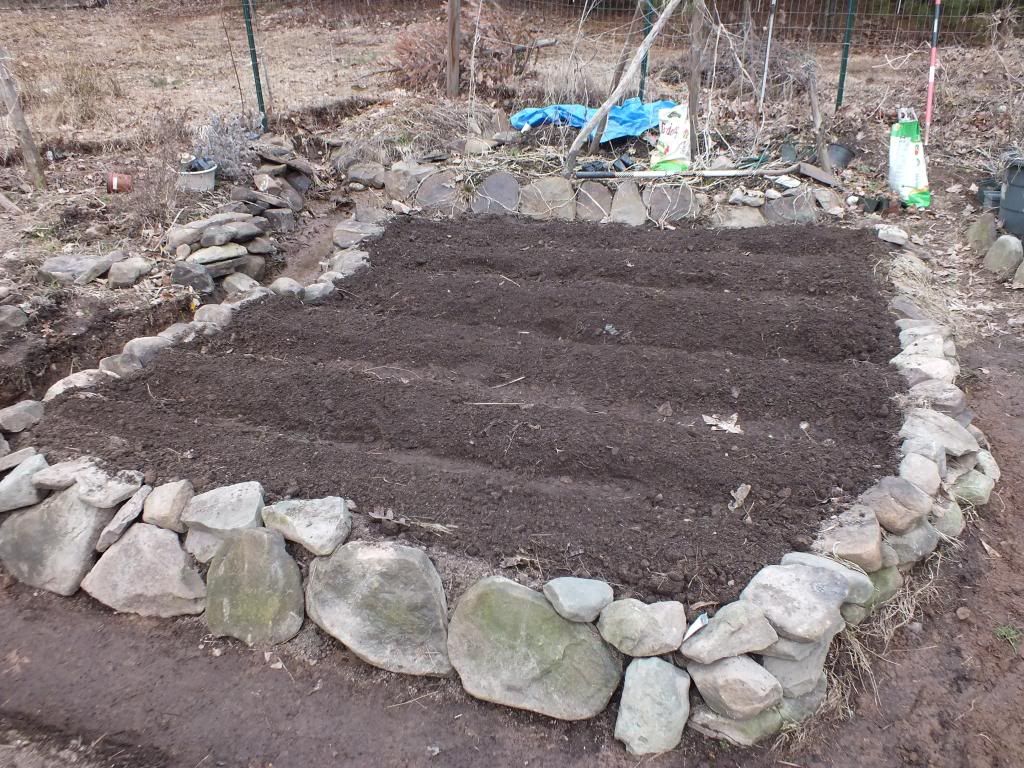 Newly installed lettuce bed. The two rows up front are a variety of buttercrunch. The middle two rows are a curly red-leaf variety (and my personal favorite). The last two rows are romaine.

-------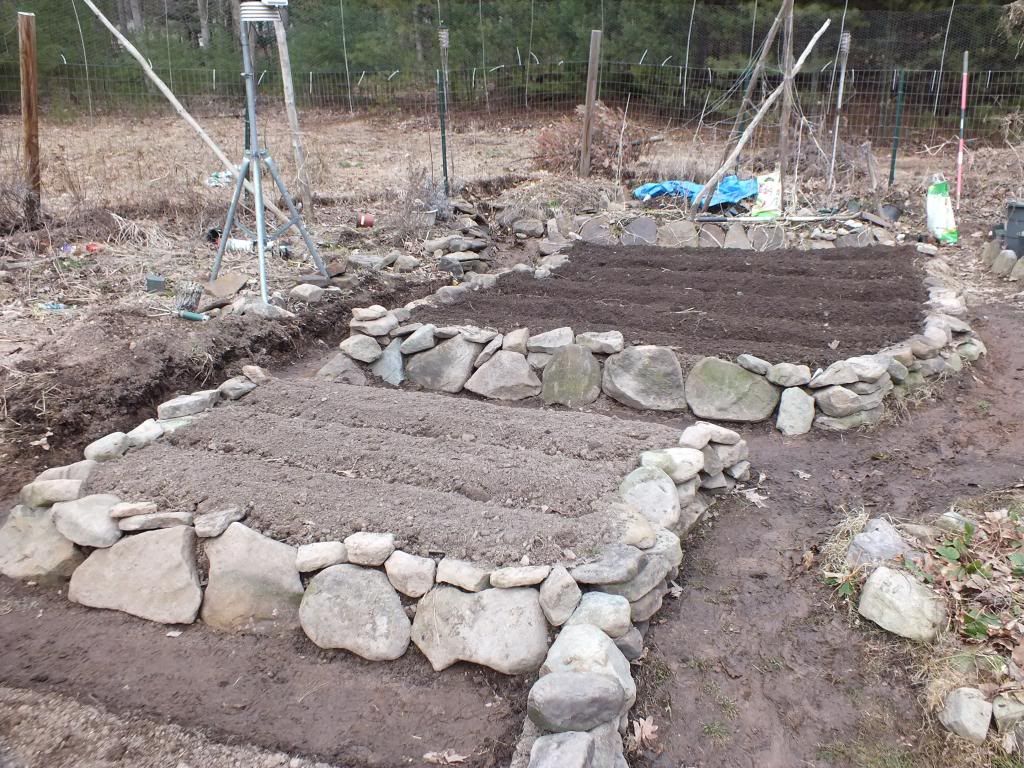 Here's both lettuce beds. The first lettuce bed installed on Day 6 contain a dwarf variety of green-leaf lettuce (first row) and a different variety of buttercrunch (last two rows).

-------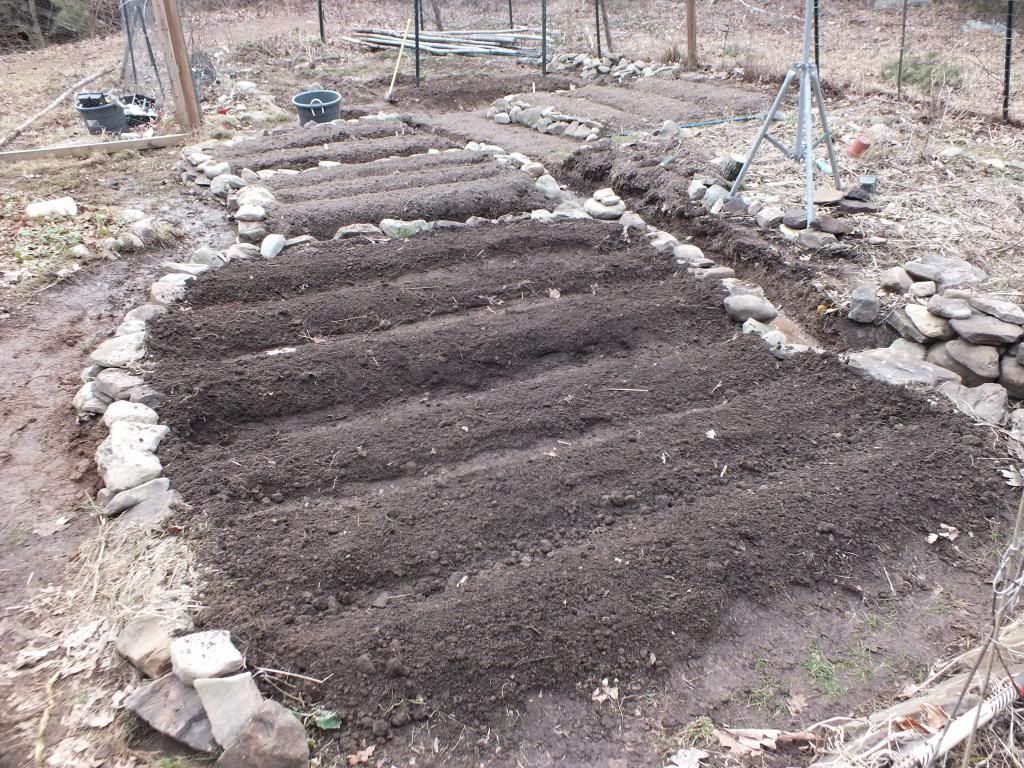 Top side view of the new lettuce bed.

-------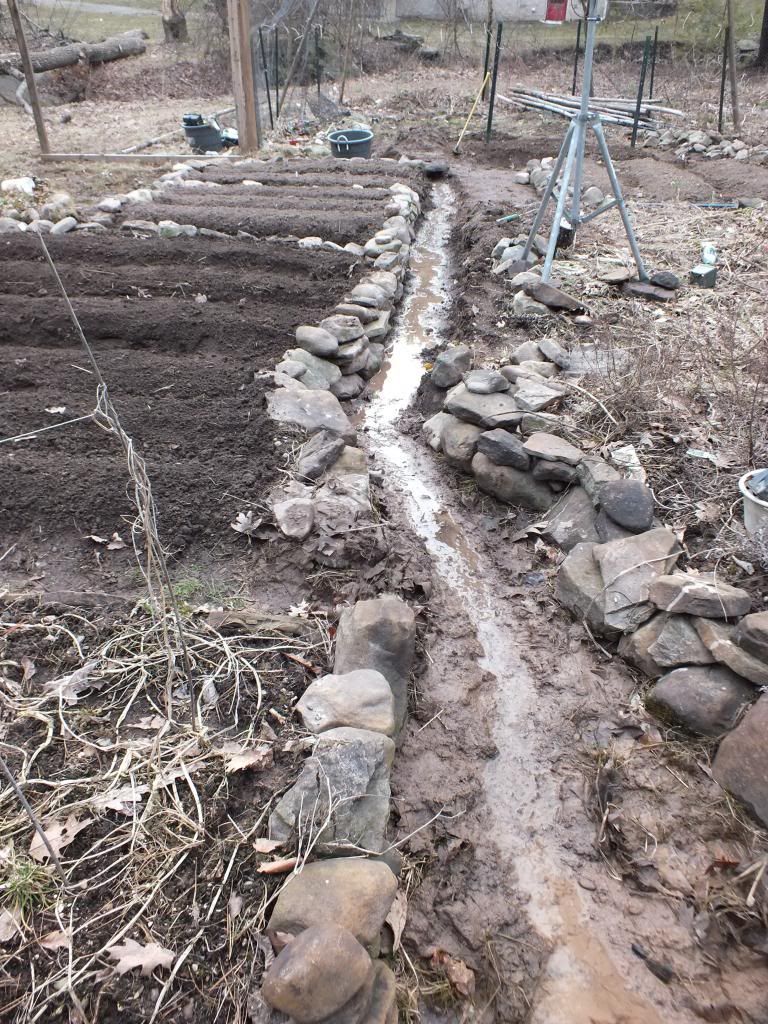 View of the newly completed ditch from the top side of the garden.

------------

Day 12/13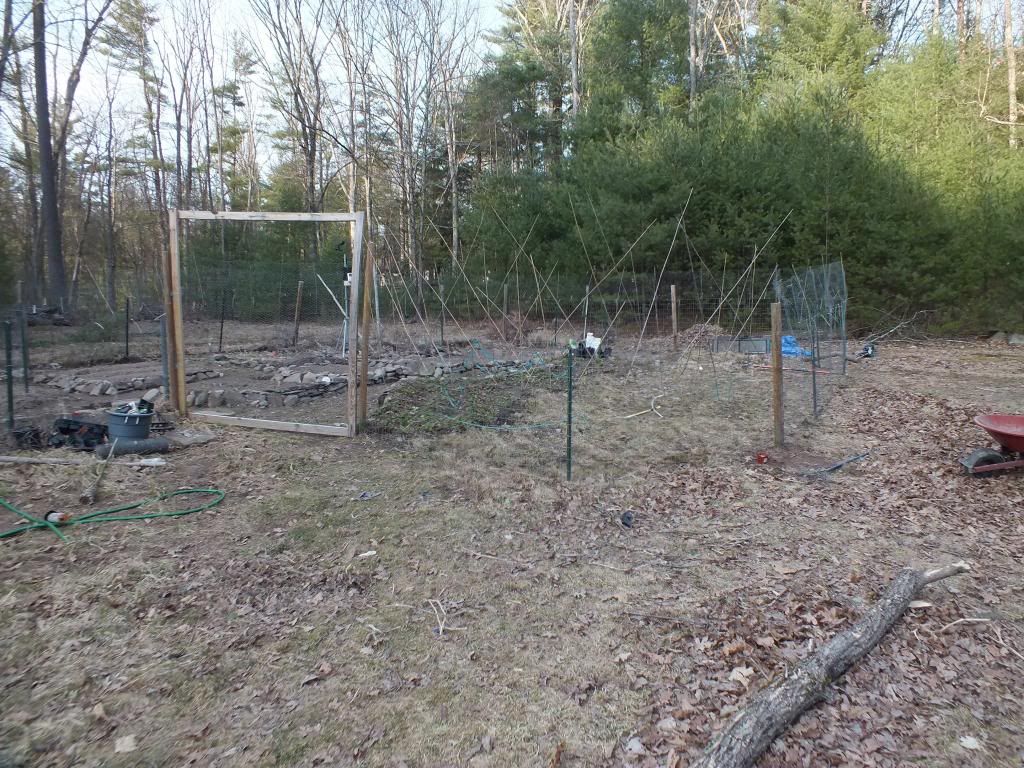 Here's the new extension added to the outside fence of the garden. I had to remove all the old posts from the ground (quite a chore as they were really in there good), detach them from the fence and reconstruct it all by digging new holes and pounding new posts into the ground and reattaching the fence to the posts.

-------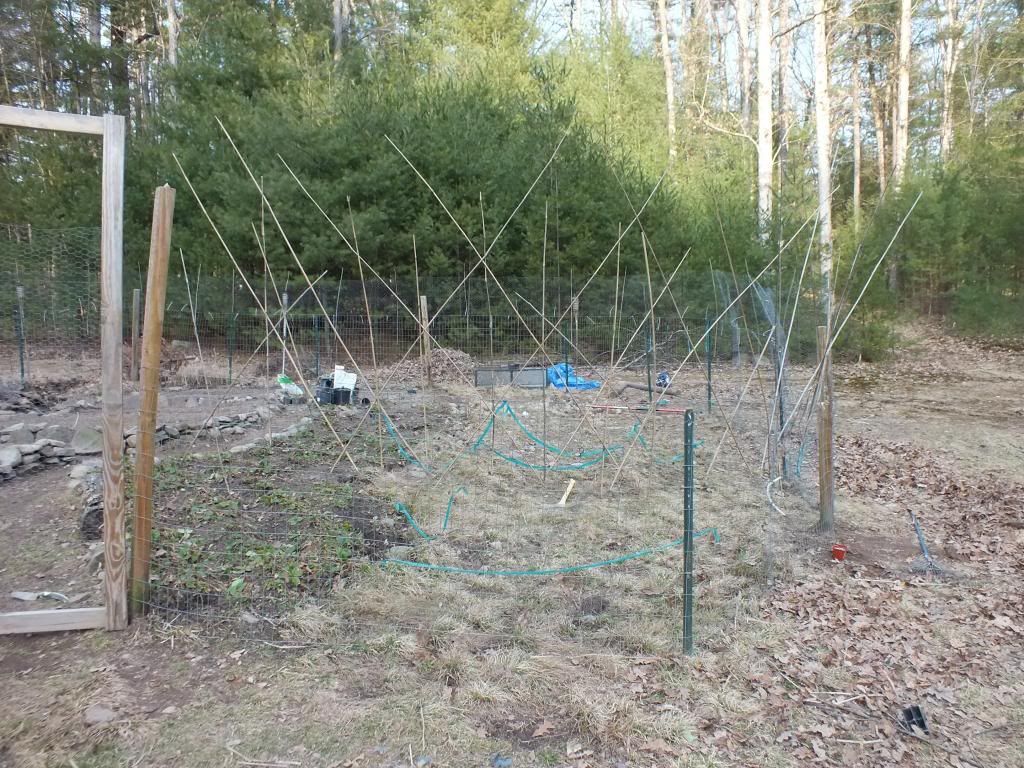 Here's a better shot of the new space I have to work with. This side of the garden is now roughly three times as large as it was prior to today. Now I'm going to have to remove all the weeds and amend the soil. What's not so visible in this picture are all the rocks I had removed from the original garden area which I had placed along the outside of the fence to keep burrowing vermin out. Now I have to remove all those rocks and repeat that process.

-------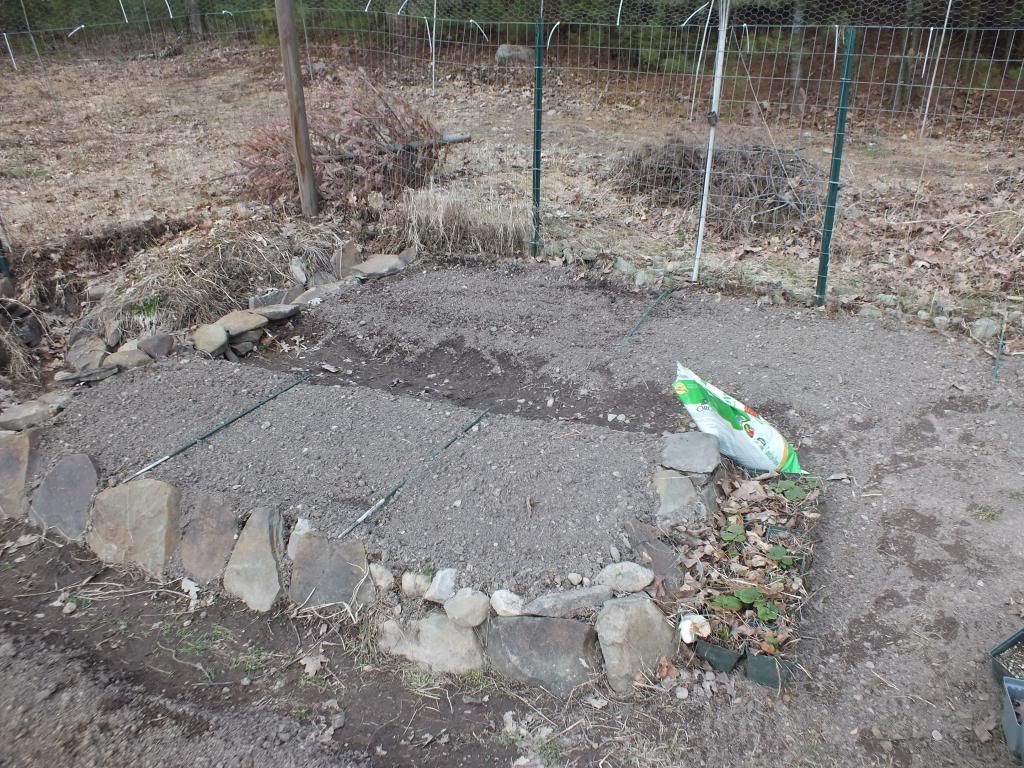 Here's the top two beds in the garden completed. The bed in the foreground is split into three sections containing in each: bok choy, pak choy, and michihli - three types of chinese cabbage typically used in stir fry dishes. The bed in the background is split in two sections, each one contains different types of spring mix.

-------




Here's a wide view of the completed garden beds showing the progress made thus far.

-------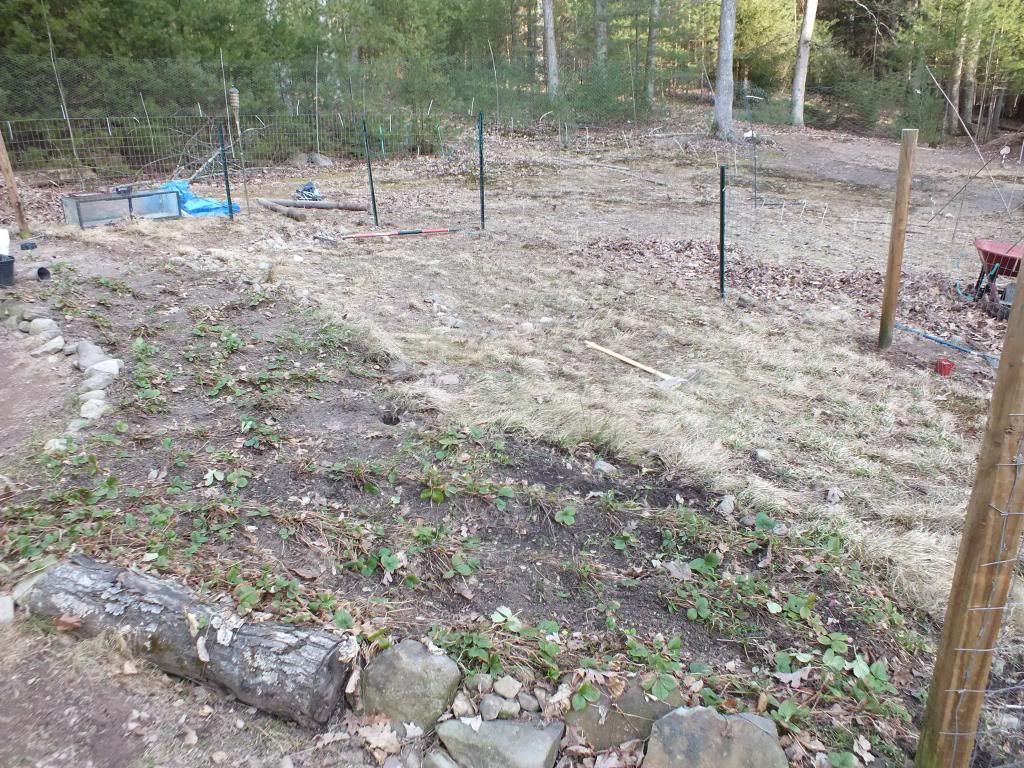 Here's a view from inside the garden showing the new area I fenced in. Most of this area will be filled with strawberries.

_________________________________________________ ___________

Radar: Northeast Region Loop




_________________________________________________ __________


Current Northeast Snowcover





_________________________________________________ __________

Local SST's





Current SST's off the Northeast Coast.

About sullivanweather
| | |
| --- | --- |
| | Thomas is an avid weather enthusiast, landscaper and organic gardener. This blog is dedicated to Northeast and tropical weather forecasting. Enjoy! |
Tropical Blogs
Tropical Weather Stickers®
Local Weather
| | |
| --- | --- |
| | Clear |
Previous Entries for 2014
Personal Weather Stations
Barryville, NY

Elevation:

1012

ft
Temperature:

27.6

°F
Dew Point:

23.7

°F
Humidity:
85%
Wind:
Calm
Wind Gust:

4.0

mph

Updated: 7:31 PM EST on March 07, 2014
Town of Lumberland

Glen Spey, NY

Elevation:

1326

ft
Temperature:

27.2

°F
Dew Point:

18.4

°F
Humidity:
69%
Wind:
Calm
Wind Gust:

0.0

mph

Updated: 7:31 PM EST on March 07, 2014