Pet Peeves For Sale - CHEAP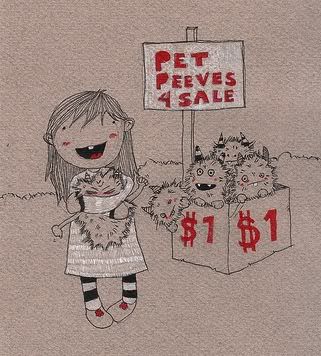 Like many folks, I've got a whole bundle of pet peeves. Right now, though, there is one that is driving me slap up the wall and I've just got to unload it.

I'm DESPISE those advertising banners that are cluttering up my TV screen! ARGH!!!!!

There I am, settling in to relax in front of the TV and watch a favourite programme, when BINGO! The bottom of my screen is filled with animated clips, miniature people smiling and waving at me and a constant barrage of reminders of what is coming up next or tomorrow night or the night after or, sometimes, even on another channel.

As near as I can recall, they started off on the three main networks. They have now spread like kudzu and swallowed up almost every channel on cable.

Am I the only one that finds them annoying, distracting and insulting? Do the TV Powers That Be think I'm too stupid to find out what's on or capable of choosing something to watch? Or that, without prompting, I have the attention span of a newt?


Hellooo????

I have a fairly decent IQ. The last time I checked, I still had the ability to pick and choose most things on my own. I have a pretty good level of concentration. I have TV schedules. There's one on cable, there's one in the daily paper and there is a whole schedule for the coming week published every Friday in the paper.


Do you have some pet peeves you'd like to get off your chest?

Well, pull up a chair, set a while and we'll let it all out.
Maybe even form a support group. Got any suggestions on what we'd call it?




Create your own visitor map!
About palmettobug53
| | |
| --- | --- |
| | WU member since Oct. 2005. I enjoy reading, crafts, crosswords, puttering in the yard, old movies and hanging out with my friends on WU. |
Tropical Blogs
Tropical Weather Stickers®
Local Weather
| | |
| --- | --- |
| | Clear |
Previous Entries for 2013
Personal Weather Stations
USC Sumter

Sumter, SC

Elevation:

165

ft
Temperature:

32.8

°F
Dew Point:

30.5

°F
Humidity:
91%
Wind:
Calm
Wind Gust:

1.0

mph

Updated: 6:30 AM EST on December 12, 2013
Lake Rabon

Laurens, SC

Elevation:

615

ft
Temperature:

25.8

°F
Dew Point:

24.3

°F
Humidity:
94%
Wind:
Calm
Wind Gust:

0.0

mph

Updated: 6:55 AM EST on December 12, 2013