Good King Wenceslas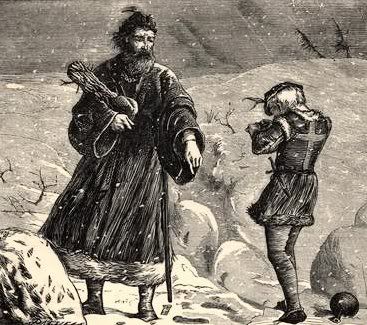 Good King Wenceslas

Good King Wenceslas looked out
On the feast of Stephen
When the snow lay round about
Deep and crisp and even
Brightly shone the moon that night
Though the frost was cruel
When a poor man came in sight
Gath'ring winter fuel

"Hither, page, and stand by me
If thou know'st it, telling
Yonder peasant, who is he?
Where and what his dwelling?"
"Sire, he lives a good league hence
Underneath the mountain
Right against the forest fence
By Saint Agnes' fountain."

"Bring me flesh and bring me wine
Bring me pine logs hither
Thou and I will see him dine
When we bear him thither."
Page and monarch forth they went
Forth they went together
Through the rude wind's wild lament
And the bitter weather

"Sire, the night is darker now
And the wind blows stronger
Fails my heart, I know not how,
I can go no longer."
"Mark my footsteps, my good page
Tread thou in them boldly
Thou shalt find the winter's rage
Freeze thy blood less coldly."

In his master's steps he trod
Where the snow lay dinted
Heat was in the very sod
Which the Saint had printed
Therefore, Christian men, be sure
Wealth or rank possessing
Ye who now will bless the poor
Shall yourselves find blessing


Written by John Mason Neale and set to a 13th century Swedish melody, Tempus Adest Floridum or The Flower Carol.

Wenceslas I was born c. 907. He became Duke of Bohemia at the time of his father's death in 921. He was considered a kindly and pious ruler. Wenceslas was assassinated by his brother, Boleslaus, c. 925.

Wenceslas is the patron saint of the Czech nation, which commemorates his saint's day on December 28th. In English speaking countries, he is associated with Boxing Day, December 26th, most likely because of the lyrics of the carol.

To read more:

Day of Czech Statehood

Wenceslas I

Story of Wenceslas

St. Stephen

St. Stephen's Day or Feast of St. Stephen


One of the girls at work sent this YouTube to me this morning. I laughed my butt off. This has got to be the happiest dog I've ever seen! The backstory is that Baily lives in Denver, CO. A winter storm in the late 90's dumped 54 inches of snow on Bailey's home. When it hits about 1:19, Bailey really goes to town!




Create your own visitor map!
Last Minute Christmas Gifts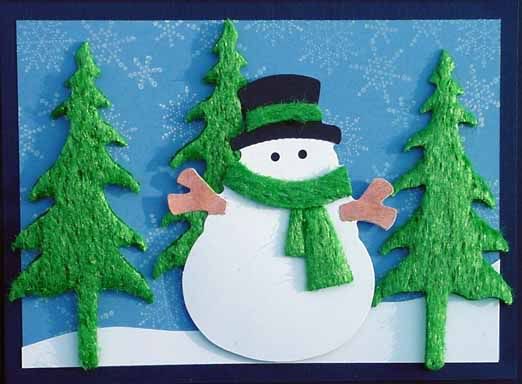 It never fails. You think you've got plenty of time to do your Christmas shopping. Or you think you've completed it all and realize that you've left someone out. You look at the calendar and realize that deadline is getting closer and closer. It's too late to order online, with any hopes of your purchases arriving in time. You could brave the crowds trying to finish up their last minute shopping and hope that you can find something in the picked over selections. And, heaven forbid, you should find yourself at the nearest convenience store on Christmas Eve, desperately trying to find the least tacky thing you can.

What to do? What to do?

There are several options.

You can always go with gift cards. Some folks prefer them, especially teenagers, who can be notoriously hard to shop for.

Another good choice, is to create a coupon, or booklet of coupons, good for redeeming a lunch, dinner, outing, rides to appointments, chores, etc. You can do this by hand, cutting up slips of paper and decorating them with crayons or colored markers. If you're really handy with the computer, you can create and print them out. Coupons are especially good for giving to an older friend or relative. They generally have more "things" than they know what to do with. A gift of your time and company are worth their weight in gold. It also works for a young parent. You can provide coupons for babysitting, while they get out of the house to shop, go to the beach, a spa or dinner and a movie.

If you bake, a gift of cookies, cake, nut breads, etc. are usually appreciated.

You can create gift baskets by shopping at the grocery store or places like Big Lots. Most of us usually have empty baskets, stored in the garage, attic or in closets. Pick up a selection of coffee, tea, gourmet cookies, jams, jellies, crackers, wine, cheese, etc. I do this every year for my Dad and SMom. Or you can create a gift basket for women, by selecting hand cream, body wash, a loofah sponge, lotion or other toiletries/accessories.

If you have some empty mason jars or old candle jars (washed, of course!) you can layer dried beans for soup. Cover the lid with a scrap of colorful material, tie a bow around it and there you are! There are also recipes out there for different dried mixes, such as hot chocolate, Russian tea. Here is one link but there are others out there, if you look: Dry Mixes for Gifts

You can also look at some quick crafting ideas. Crafting at this point, you ask? Yeah, I know.... I'm always saying I'll get busy and make my gifts next year. And, the next thing I know, it's Thanksgiving weekend and I've not started the first thing. By that time, it's really too late, for anything time consuming or complicated.

However, there are some nifty little craft ideas online. This site has some great ideas:

A Homemade Christmas

These sites have lots of ideas, but they may not be as suitable for those "right up to the nick" gifts. They are something to keep in mind, for next year.

Yeah, right.... LOL


Recycled Reindeer Ornaments A good way to use those burned out Christmas tree bulbs!
Christmas Crafts
Candy Cane Mouse
Candy Cane Reindeer
Christmas Ornaments

Pomander Balls This one is definitely not a last minute craft idea but they are wonderful. You can make them now for next year, as they do have to dry thoroughly and they keep their scent for several years. The spices can be pricey but you can find them in bulk online, which is less expensive than buying them at the grocer. I remember pomander balls with nothing but the cloves, so you could do that. Lemons and limes require less cloves/spices than oranges, so they would be a little more economical.

Something similiar to the pomander balls, are the decorated bars of soap. If you're my age, you'll remember these. Several of my aunts used to make and give these at Christmas. You take a bar of scented soap - Cashmere Bouquet is wonderful for this! Decorate the bar of soap with beads, sequins and ribbon, using straight pins. I tried to find something online. I did find one or two but they were not quite what I used to receive as gifts. One was a swan, with netting and another was a soap basket. Just not what I was looking for. We would use these decorated soaps to scent our unmentionable drawer or hang in our closets. If any of you can find something on this, I'd appreciate it!

What kind of last minute gift ideas have you used? Share your ideas with the rest of us. I'm sure someone reading this is going to need it!

It will probably be me.


Create your own visitor map!
About palmettobug53
| | |
| --- | --- |
| | WU member since Oct. 2005. I enjoy reading, crafts, crosswords, puttering in the yard, old movies and hanging out with my friends on WU. |
Tropical Blogs
Tropical Weather Stickers®
Local Weather
| | |
| --- | --- |
| | Fog |
Previous Entries for 2013
Personal Weather Stations
USC Sumter

Sumter, SC

Elevation:

165

ft
Temperature:

57.5

°F
Dew Point:

56.7

°F
Humidity:
97%
Wind:
Calm
Wind Gust:

4.0

mph

Updated: 12:30 AM EST on December 05, 2013
Lake Rabon

Laurens, SC

Elevation:

615

ft
Temperature:

59.2

°F
Dew Point:

58.9

°F
Humidity:
99%
Wind:
Calm
Wind Gust:

1.0

mph

Updated: 12:55 AM EST on December 05, 2013