Classic Halloween Theatre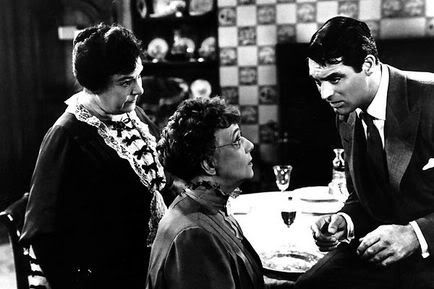 Halloween. The word itself conjures up repertoire of classic movies from the early years of cinema, complete with graveyards at midnight, spectral figures, creaking doors, mysterious fog, shifting shadows and ominous organ music. The cries of patrons in a darkened theatre, "NO! Don't open that door!" Hands over the eyes, at critical junctures in the story, gasps and sometimes, laughs. It was also a good opportunity for hesitant young men to put their arms around their dates, without getting slapped.

I think some of the best movies to watch at Halloween are the old classics from the early 20's through about the mid 60's. Some are Halloween themed; some are not.

One of my all-time personal favourites is the John Capra film, Arsenic and Old Lace, starring the ever debonair Cary Grant, the delightful Josephine Hull, Priscilla Lane, Jean Adair, John Alexander, Raymond Massey and Peter Lorre. It is based on the successful stage play by Joseph Kesselring. Complete with a graveyard next door, two of the sweetest murderesses you could ever meet, bodies in the window seat, the cemetery in the basement (otherwise known as Panama), "Teddy Roosevelt" charging up the stairs, and the menacing brother and his mad doctor friend, it is a hilarious romp of murder and mayhem and romance. "Oh, Mortimer....."
Quotes from Arsenic and Old Lace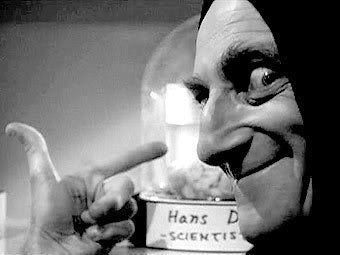 In the same vein, I adore Young Frankenstein.

Dr. Frederick Frankenstein: Igor, would you mind telling me whose brain I did put in?
Igor: And you won't be angry?
Dr. Frederick Frankenstein: I will NOT be angry.
Igor: Abby someone.
Dr. Frederick Frankenstein: Abby someone. Abby who?
Igor: Abby Normal.
Dr. Frederick Frankenstein: Abby Normal?
Igor: I'm almost sure that was the name.
Dr. Frederick Frankenstein: Are you saying that I put an abnormal brain into a seven and a half foot long, fifty-four inch wide GORILLA?
[shakes and grabs him]
Dr. Frederick Frankenstein: IS THAT WHAT YOU'RE TELLING ME?

and

Dr. Frederick Frankenstein: You know, I'm a rather brilliant surgeon. Perhaps I can help you with that hump.
Igor: What hump?

More Young Frankenstein Quotes

I realize that those two don't really qualify as horror movies, but I always want to see them around this time of year. I also love the old horror movies with Lon Chaney, Bela Lugosi, Boris Karloff, et. al. :

The 1920's film, Nosferatu.

The 1931 film, Frankenstein.

The 1931 film, Dracula.

The 1941 film, The Wolfman.

Keeping it within the time frame of about 1920 to maybe 1970 or so, what are your favourite movies to watch at Halloween?

(Kindly refrain from modern remakes, slasher films, the "Scary Movie", "Elm Street" and "Jason" series, etc. There is nothing wrong with them. I've watched most, though I don't care for the slasher flicks. If you'd like a blog on those, why not set up your own blog entry?)
Things That Go Bump in the Night


Picture a group of kids around the campfire. They've been hiking and swimming and climbing all day. Having fun. Supper was hot dogs roasted over the fire, with soda pop fished from the cooler. The tents are set up just just on the edge of the clearing. The full moon is high. The fire has died down now and the embers glow. Marshmallows on straightened coathangers dangle over the fire. As the campers nibble on their melted, gooey treats, there comes a sudden snap of a twig out in the darkness. All eyes turn and look but they see nothing. One of the older campers winks at his companion and whispers to the group: "Did you ever hear the story about Lavinia Fisher?"

Ah, the joys of camping out on a moonlit night. Lying in your tent with the earlier campfire stories of murderous tavern keepers, ghostly hoofbeats, unexplained balls of light and headless torsos interfering with a good night's sleep. Starting at the unexplained noises in the surrounding woods. Certain that you will not survive until dawn.

While they can't compare in number with the tales from England and elswhere across the pond, the South Carolina Lowcountry has it's share of ghost stories. I remember being told quite a few. They were whispered at overnight sleepovers, whether outside or inside. And they were all guaranteed to keep the entire group of us awake for half the night, until exhaustion overtook us! LOL

Years ago, I went several times out to see the Summerville Light. And on one of those visits, I did see something. It was a light and it did seem to act strangely but I can't swear that it really was "The Light". There was a group of us that night and it's possible we simply scared each other into thinking we saw something. You know, that mass hysteria type thing!

I've been in the Old Charleston Jail but nothing odd happened. I did know a couple that lived about a block away and the wife would not walk past the place after dark.

Over 30 years ago, I did spend the night with some friends in the St. Philip's and Congregational churchyards, in hopes of seeing something. Again, I think we scared each other and were just seeing shadows from the trees and streetlights.

I have been in quite a few of the supposed haunted buildings in the downtown area and I imagine that, after dark, they could be very spooky.

Whether or not "ghosts" exist, I can't say but as Shakespeare wrote, "There are more things in heaven and earth, Horatio, Than are dreamt of in your philosophy."

So, without further ado, here are a few of the local ghosts:

The Summerville Light

Charleston County Stories and Legends

The Whistling Doctor

Ghosts of Charleston

More Ghosts of Charleston

The Grey Man of Pawleys Island

The Ghosts of the Battery Carriage House

Haunted Places in S.C.

The Ghost of Poogan's Porch

You Tube at the Old City Jail

Lavinia Fisher

If I can locate some more, I'll post links. Most of my searches are coming up with links to tour companies, who do ghost tours, rather than stories about the ghosts themselves.

Happy Halloween!


Create your own visitor map!
| | |
| --- | --- |
| Updated: 10:43 PM GMT on November 04, 2007 | Permalink | A A A |
Keep This Man in Prison
As much as I hate to sully the blogs with a distasteful subject, this is important. I hope that my friends here will help keep a child murderer and predator in prison.

I have been signing petitions for years now, to keep Richard Valenti behind bars. His parole hearings come up every two years. I was reminded today, with this letter to the editor in today's paper, that it is time again.

If any of you would care to help keep this monster where he belongs, away from society, please go to the S.C. Parole Board website and oppose his parole. Be sure to use his prisoner number, 00071878.

I will leave this up for a few days only. I wish there was no need for an entry like this at all. I'll put up a new, and more pleasant, one this weekend.


Create your own visitor map!
About palmettobug53
| | |
| --- | --- |
| | WU member since Oct. 2005. I enjoy reading, crafts, crosswords, puttering in the yard, old movies and hanging out with my friends on WU. |
Tropical Blogs
Tropical Weather Stickers®
Local Weather
| | |
| --- | --- |
| | Clear |
Previous Entries for 2014