"FAY" LINKS, GRAPHICS, DATA, ETC.
Hey everyone,

As was the case with hurricane "Dolly", I am once again updating my blog consisting of a format that I hope best serves those who read it. With that goal foremost in mind, you will find graphics and links to some of the most pertinent data and information available to help keep one safe during a Tropical Cyclone (TC) event. My secondary goal (the motivation behind all of my respective blog entries) is focused on helping others better understand the science itself (with an emphasis on TC forecasting). To do so, I will be providing the majority of the links and data that I have used in the past, and continue to utilize today, in order to provide my own "best educated guess" as to what "may" transpire in the future, relative to TC forecasting. As time permits, I will continue to provide my own Tropical Weather Updates/Synopsis in "Section #4" of this particular blog. As Always, thank you for taking the time to read and/or post in my blogs, and I hope each one of you have a safe and truly wonderful day.:)

American Red Cross "Hurricane" Preparedness Website

SPECIAL SECTION: MOST SIGNIFICANT THREAT TO LAND AREAS (ATLANTIC BASIN):




The above "image" is the latest Infrared (IR) Satellite Image of a Strengthening Tropical Storm "FAY" (Courtesy of SSD/NOAA).

Latest NHC Public Advisory

Latest NHC Discussion

NWS/Local Hurricane Statements




SPECIAL STORM EVENT RADAR (CUBA)

Note: Here is the link to the Cuban Radar sites to keep track of "Fay's" every move.

LOCAL NWS RADARS:

a) Key West, Fl.
b) Miami, Fl.
c) Tampa, Fl.

Note: Each one of these NWS Radars are set to show the latest "Long Range" Base reflectivity image. Please select "loop" under that section (LR Base Reflectivity) displayed midway down on the left side of the page. As the respective storm comes into much better view of the radar site, you can change the settings by selecting "Short Range" Base reflectivity, which is displayed at the top left hand side of the radar listings as well.




Latest NOAA Recon "Vortex" Data message

"Live" Recon Data Decoder (Courtesy of "Tropical Atlantic").

Latest Buoy and Ship Observations (Courtesy of NDBC)




The above image is provided courtesy of "Weather Underground".




The above "image" is the latest "Visible" Satellite Image of an intensifying Tropical Storm "FAY".

TROPICAL STORM "FAY" SATELLITE LOOPS (Courtesy of SSD/NOAA):

A) Latest "Visible" Satellite Loop
B) Latest "Infrared" Satellite Loop
C) Latest "Water Vapor" Satellite Loop
D) Latest "Dvorak IR" Satellite Loop
E) Latest Close-Up "Water Vapor" Satellite Loop

SECTION #1: TROPICAL CYCLOGENESIS FORECASTS/ANALYSIS:

WHAT TO LOOK FOR IN IDENTIFYING A TC.




TROPICAL WEATHER OUTLOOK "TEXT" (NHC)

TROPICAL WEATHER DISCUSSION (NHC)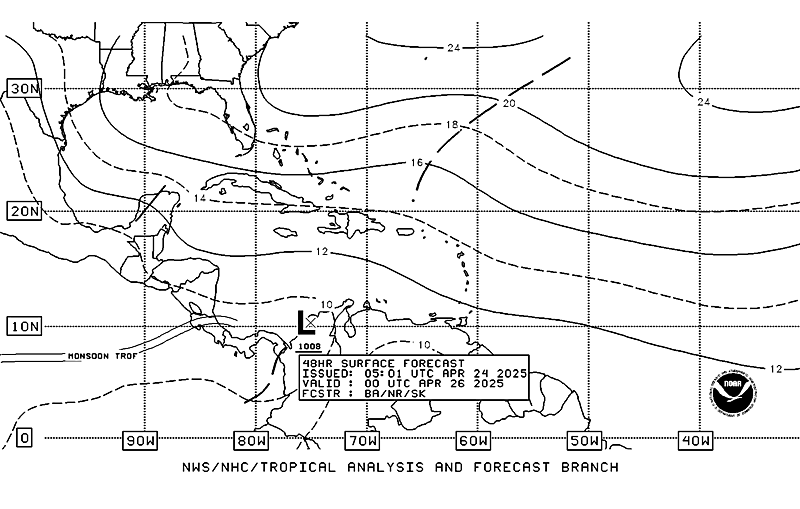 The Above Graphic is the 48 hour Forecasted "Surface" map for the Atlantic Basin (courtesy of NHC).

OPC "Current" Atlantic Basin Surface Analysis




The latest "Wide View" Satellite Image of the Atlantic Basin (Courtesy of SSD/NOAA). Also, here is the latest "Visible" Satellite Loop as well.

The latest Satellite Loops can be found here (It is best to use the respective "Floaters" for analyzing specific invests and/or TC's).

The Latest "Quickscat" Satellite Data.

TC Phase Analysis (Courtesy of FSU).

Latest Dvorak Intensity Estimates (Courtesy of Satellite Services Division)

Latest ADT (Advanced Dvorak Technique) Estimate (Courtesy of CIMSS)

MIMIC (Microwave Satellite Imagery) Courtesy of CIMSS

RAMMB "Real Time" Storm Data

Navy (NRL) Tropical Page




This is the latest Map designating "favorable" areas for TC development in the Atlantic Basin (Courtesy of PSU). Also, here is the link to PSU Tropical Weather Page that also includes the GFS "Long Range Model" forecasts, etc.

SECTION #2: THE LATEST COMPUTER FORECAST MODEL TRACK GUIDANCE:

South Florida Water Management District (SFWMD) Model graphics

Latest NHC TC Model Output Graphics (Track and Intensity forecasts) Courtesy of FSU.

Latest Major Global Computer Model Track Guidance (Courtesy of FSU).

TC Model Guidance Courtesy of CSU.

TC Track and Intensity Model Plots (Courtesy of MIT)

The "Weather Underground" Tropical Weather Page (includes excellent computer model graphics for respective TC's, etc.)

SECTION #3: ENVIRONMENTAL/ATMOSPHERIC CONDITIONS (ATLANTIC BASIN):

A) Wind Shear/Upper Level Wind Maps:




The above "wind shear" map displays current conditions (Courtesy of "CIMSS)

NOAA SSD "Current" Wind Shear Map

GFS 72 Hour Wind Shear Forecast (Courtesy of WU)

NAVY Wind Shear Forecasts From the Nogaps and GFS Models.

Saharan Air Layer Map (Courtesy of CIMSS)

TC Mean Steering Layer Maps (courtesy of CIMSS)

Upper Level Conditions (includes UL winds, vorticity, divergence, convergence, wind shear, etc. all courtesy of CIMSS)

OPC 500 MB Forecast Maps

Unisey's UL Wind Data

B) Sea Surface Temperatures:




This is the "Current" NOAA TC Heat Potential (TCHP) Map. Also, here is the link to other important SST data from the same site.

NOAA SST MAP

IMPORTANT NOTE (i.e. disclaimer): I want to strongly encourage all persons to visit the webpage of the National Hurricane Center (NHC) to review the "official" forecasts, analysis, and advisories for any and all respective TC's. As a result of the immense complexities that are inherent in TC forecasting, there is no such thing as a "perfect forecast". That being said, the forecast specialists at the NHC are by far the very best in the business. Therefore, I want to encourage you to always keep abreast of the "official" forecasts from the NHC, as well as adhering to the recommendations of your local Emergency Management authorities when making decisions to protect life and property (and should not be based on "unofficial" forecasts provided by myself and others in this community). With that in mind, I have posted the most pertinent graphics and links from the NHC website before providing My own detailed Tropical weather synopsis.

SECTION #4: MY TROPICAL WEATHER SYNOPSIS:

As time permits, I will utilize this particular section to submit my own detailed Tropical Weather Synopsis. In the meantime, I have provided graphics and links to the majority of TC data that I utilize to formulate my own personal forecasts (i.e. My own best educated guess) of Tropical Cyclones. As always, I want to thank each and everyone of you who have taken the time to read and/or post in my blogs.:) Moreover, I also want to wish you a truly safe and blessed "Sunday".:)

Most sincerely,
Tony

SECTION #5: A LITTLE ABOUT MYSELF (BACKGROUND, FORECASTING, ETC.):

A) My own forecasts/Background information: As time permits, I will be providing forecasts and analysis of active and prospective TC's originating in the Atlantic Basin. These forecasts will constitute my very own best educated guess as to what I expect to materialize (be most probable) with these respective tropical systems (as I have done occasionally during the past three seasons). When I joined this unique weather community in early October of 2005, I soon realized that these blogs provided an outlet whereby I could share the knowledge of "Atmospheric Sciences" I had obtained through my education and my own personal experiences working as an operational forecaster in the meteorological field. At the time, I also made a commitment not to share the full extent of both my education and professional experience in the field, in order to avoid any possible mischaracterizations of my own personal motivation for writing subsequent blog entries. Simply put, my focus (most heartfelt desire) has centered upon sharing the knowledge I have obtained from my own personal experiences in the hopes of helping others (if only one person) better understand this most inexact science. I do so with the full awareness that I have greatly benefited from the thoughtfulness of others, who chose to give of their own time, in order to share the generalities of TC forecasting for instance (during my very first brief internship at the NHC way back in 1986). It was that fascinating experience which fueled my overwhelming desire to one day work in the meteorological field myself. Although I very much enjoyed working in the meterological field, I ultimately made the decision to pursue another occupation that best provided for my families needs (the proper balance between work and family commitments) for my schedule at the time simply wasn't conducive to adequately meeting that standard (my devotion to my personal Faith and family are foremost in my life).

B) Blogging in the WU community: In short, I will always be committed to the desire of possibly helping others in some small way, which has always been my sole motivation for writing a blog in the first place. In my own humble opinion, ones life is best defined not by how much they may get, but rather by how much they choose to give. With that in mind, I greatly respect so many others in this community who take of their own time to do the same. Lastly, I want to reiterate a point I have stated consistently since I first joined WU back in late Fall of 2005, we are each individuals with our very own unique experiences in life. Consequently, some of us may have more experience (i.e. obtained knowledge) in a particular aspect of this very expansive science that another may not yet have been exposed to. As a result, I would strongly encourage each one of us to keep that reality in mind (which promotes humility, harmony, and the personal respect for others we all deserve) during our interactions with fellow bloggers in this community.

Reader Comments
Comments will take a few seconds to appear.
About ncforecaster
Featured Blogs
Local Weather
85 °F

Light Rain
Previous Entries for 2015