The Tree


"The Tree"

With all the Christmas decorations I'm reminded of a special tree – one in the corner of the field at the wood line near my home. It's the largest, most illustrious feature in the landscape with great girth and towering tall as the proud guardian overseeing its domain. It stands aged-old and weathered with great stature, yet graceful and deeply rooted in the heart of its surroundings.

It's a thing of splendor, an absolute joy to observe throughout the seasons. In the spring it blossoms gloriously with a bright green canopy of foliage that shimmers playfully in the sunshine. It radiates life and must be a favorite summer vacation spot for the many birds, squirrels and sorts who frequent as if it were a five-star resort destination. The enthusiasm becomes loud and rich, full of laughter and exploration. In the fall the color is simply inspirational. It becomes a tapestry of moving beauty, an ever-changing canvas of magnificent artisan. But the cold months are dreadful, and the tree's expression transcends to quiet rumination and solace in the stillness. The old tree raises his tired, exposed arms, bare of its summer shroud and free of the labor toiled since spring.

It stands naked in the cold darkness, alone and nearly lifeless, but conveying a consciousness of the years. The winter nights are even more haunting with the moon's shadows running long and permeating the deep darkness. The wind whistles through its appendages as if nothing were there at all - no resistance, no soul. Sounds emerge, creaking with each twist and turn from the passing breaths as if they were trying to resuscitate the old man. Those sounds, the muffled noises articulate an ache in the seclusion. It longs for rest and sighs in slumber from the tiredness, occasionally moaning as if it were dying.

The years grow weary and with each passing of the Winter Solstice I often wonder whether my old friend will survive and find another spring beginning. Will it start anew and once again flower the field with its abundant beauty, its timeless wisdom and gracious goodwill? I hope so, for it has been a mighty figure, a pillar of strength for even the subconscious, undiscerning observer. This noble and admirable creature has stood the test of time, becoming a trusted advisor, prescribing rest, quietness and reflection.

I ponder what has made him so strong and enduring. Is it genetics or geography? How has it weathered life's storms? Is it luck? Or is there something divine in its maturity? I search for tangible answers, and then suddenly, like a revelation I think, "Certainly, the angels have rested there!" and I resign my bewilderment, finally content with that understanding. After all, it does have a sort of tabernacle personality. And, I appreciate its connection to God, reaching upwards towards the heavens. I draw other parallels with it rising upwards from the ground and branching into many directions, similarly reflecting the various paths of our lives - some bent and twisted, others long and straight. Each has their bumps, bruises and scars. A few lesions are quite visible while the anguish of others remains hidden and unshared. Yet, the old man stands uninterrupted and undaunted by time and circumstance.

Perhaps the old man shares more wisdom than is readily recognized. I stare and my friend speaks, uttering silent syllables from the quiet corner in the field, and I try to understand. He smiles back, his branches curving upwards, reminding me that frowning takes considerably more effort and hurts even more. Those rickety smiles lift my spirit and I know there is more work to be done. The next step, the next road traveled will begin with an eager, more soulful ambition - renewed, prayerful, optimistic and determined. Spring will come again and we, too, must season ourselves for the tasks ahead. It's a greater thing than the singularity of self, there are many to consider. And, like my towering friend, we should stand tall and become the beacon for those watching, learning and longing to be closer to something better and bigger. With that kind of character we become significant like the tree, focused and flourishing for others.

I've been away too long. I've missed my old conversation companion. We've shared troubled sentiments and I always walk away comforted from our visit. This year I pray that the Christmas Star's light falls warmly on the soul of my wise, wooden friend and that he once again awakens on a new spring day to the laughter and joy from those of whom he is so loved. I'm truly amazed at how the old fellow magically transfers a spiritual majesty vastly beyond the field and far away. He offers adoration and affection, beckoning lasting friendships. He reaches out through the ages to all of us, embracing each and sharing the beauty of a life fulfilled.

He is my friend.

May the splendor of the "tree" this Christmas ameliorate colorful cheer in your home with the kind of spirit that lasts the whole year long, through all the seasons, charging you anew and joyfully abundant!

God bless! Have a Merry Christmas and a wonderful, Happy New Year!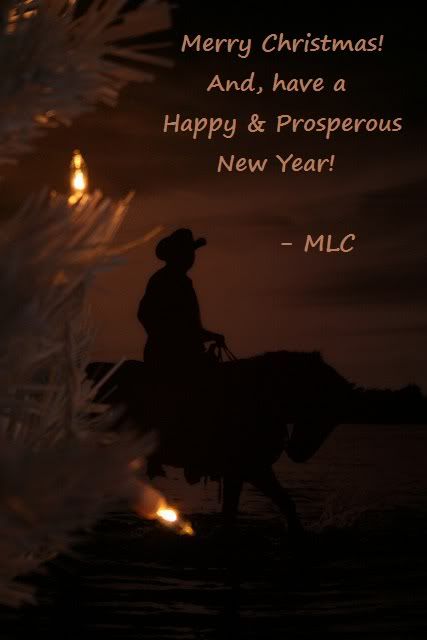 Reader Comments
New Comment
Post Your Comments
Please sign in to post comments.
Not only will you be able to leave comments on this blog, but you'll also have the ability to upload and share your photos in our
Wunder Photos
section.
About moonlightcowboy
| | |
| --- | --- |
| | "There is no heavier burden than a great potential." - Charles Schultz, in the Peanut's character of Linus. |
Tropical Blogs
Tropical Weather Stickers®
Previous Entries for 2013
Personal Weather Stations