Chillier Early Autumn!!
.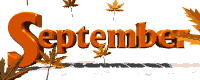 .....................
, ..........
...

...........


...........................


"But now in September the garden has cooled, and with it my possessiveness. The sun warms my back instead of beating on my head ... The harvest has dwindled, and I have grown apart from the intense midsummer relationship that brought it on." - Robert Finch

Summer's End by Holin Kennen

The gates of summer, once open wide like the arms of absent friends
begin to close, haltingly, with rusty hinges creaking in cool mornings.
The fireflies that rose in steaming clouds from humid backyard lawns
have disappeared overnight as though deported to another country,
leaving thrumming cicadas overhead, pulsing like high voltage wires.
Now great baskets of tomatoes, sunset crimson and dusky orange,
delicate raspberries, their jeweled caps painting picking fingers purple,
with seeds like tiny pearls, sweet and tart with days of rain and sun,
await the sauce pots and canning jars to hold their garnet ripening.
Standing at the counter putting up fresh corn long after time for sleep
knife swiftly parting kernels from the cob, white and gold, milk dripping;
the corgi puppy gnawing fiercely at the one cob left for him
scatters kernels, golden beads tossed along the blood red floor.
The pressure of the dimming light to hold to growth and life a while longer
knowing that surrender to the dark will come, that gates must close as well as open.
I lie next to you in bed, just touching, listening to distant thunder by the river,
your steady breathing, the dog, the cat at the foot of the bed, regular as clocks.
Dreaming of red seeds and blood -- the corn, the crimson jam and rust red sauce
as my own last blood begins to flow into this jar of late summer night.
Waiting for my womb's gate to close, to hold inside a few precious ruby seeds,
praying I have harvested enough, put by enough, to feed me when I'm old.


.CLICK HERE FOR SAFE LINK TO WEATHER.BOSTON.CBSLOCAL.COM FOR WEATHER AND MAP BELOW OF THE BOSTON METROLPOLITAN REGION. THIS IS ALL POWERED BY THE WEATHER UNDERGROUND, INC.

.........................


..........



...CLICK HERE FOR UNISYS WEATHER MAP AND SITE FOR THE U.S. NORTHEAST REGION

..........


This is a composite plot of the radar summary, echo tops, storm movement, TVS and MESO signatures and watch boxes. The radar summary is color coded by precip type. Greens, yellows and reds are rain. Pinks are mixed precipitation (freezing rain, sleet). Blues are snow. NOTE: Radar data is susceptible to a phenomena called anomalous propagation. This generally happens at night and appears as a area of 20 dBZ echos (darkest green) which is centered around each radar site and expands with time. To try and reduce the problem, low echo values near the radar sites have been removed.

..........


Click on map below to the link of NOAA's forecast.weather.gov. It also will forecast the type of weather conditions daily as is reflected by the colors on the map below.

.........................


CURRENT NORTHEAST WEATHER RADAR COURTESY OF NOAA:

................



................


................
Sadly, according to this decent weather website, Snowbrains, NOAA's 2014 snowfall weather map falls in line with that of the Farmer's Almanac! Looks like we could be receiving above average snowfall along with colder than usual temps. ~ GROAN! ~
Safe link to Snowbrains.com for further explanation below.
WU'S WEATHER TRACKER FOR CURRENT
TROPICAL DEPRESSIONS/STORMS/HURRICANES
DAILY MLB SPORTS SCORES - JUST CLICK ON THE DOWN ARROW
(NEXT TO MLB) ON THE WIDGET BELOW AND CLICK FOR ALL OTHER
CURRENT SEASONAL SPORTS SCORES.




\


Reader Comments
New Comment
Post Your Comments
Please sign in to post comments.
Not only will you be able to leave comments on this blog, but you'll also have the ability to upload and share your photos in our
Wunder Photos
section.
About masshysteria
| | |
| --- | --- |
| | Just an upper middle-aged gal from Mass. who's interested in the weather, photography, graphics and blogs created by special friends on WU! |
Tropical Blogs
Tropical Weather Stickers®
Local Weather
| | |
| --- | --- |
| | Clear |
Previous Entries for 2013
Personal Weather Stations
APRSWXNET Methuen MA US

Methuen, MA

Elevation:

114

ft
Temperature:

16.0

°F
Dew Point:

12.0

°F
Humidity:
85%
Wind:
Calm
Wind Gust:

0.0

mph

Updated: 8:18 AM EST on December 12, 2013
Salem Depot K1HRO

Salem, NH

Elevation:

197

ft
Temperature:

21.6

°F
Dew Point:

15.8

°F
Humidity:
78%
Wind:
Calm
Wind Gust:

1.8

mph

Updated: 3:23 AM EST on December 12, 2013