Fresh Asparagus here, now!
It's spring time and nothing says it's spring like a fresh, green bunch of asparagus. It's an elegant, simple and surprisingly versatile vegetable. Here are a few tips for using it in your cooking:
-Look for firm, bright green spears (either thin or thick) with compact heads.
-To store, wrap stem ends with a moist paper towel and refrigerate.
-Asparagus tastes best when eaten within the first few days of purchase, but you can cook it up to one week after.
-Enjoy asparagus boiled or steamed and only cook until it's tender-crisp (about 3-6 minutes, depending on size)
-Remove the tough ends of asparagus just before cooking; they should naturally break off about 1 inch from the base.
-Asparagus makes the perfect side dish, whether you cook it with butter or olive oil. Add some garlic, salt and pepper and a bit of Parmesan for a simple dish.
-Or next time try some asparagus on the side with this great recipe! Equal parts crispy and creamy, this yummy chicken dinner is also surprisingly easy to prepare. Though it may sound fussy in name, it has amazingly few ingredients and prep time to make this balanced meal. I love recipes like this that is satisfying and a smart choice too!

Parmesan Crusted Chicken in Cream Sauce
Prep time: 15min
Total: 30min
Servings: 4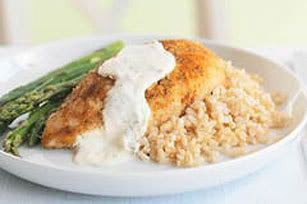 2 cups instant brown rice, uncooked
1 1/2can (14 oz.) chicken broth, divided (fat-free reduced-sodium for those on restricted diets)
12 RITZ Crackers, finely crushed
4 Tbsp Fresh Grated Parmesan Cheese
4 small boneless skinless chicken breast halves (1 lb.)
2 tsp.oil
12oz PHILADELPHIA Chive & Onion Cream Cheese Spread (Use Light to cut calories down)
3/4 lb. asparagus spears, trimmed, steamed

1)Cook rice as directed on package, using 1-3/4 cups of the broth and 1/2 cup water.
2)Mix cracker crumbs and Parmesan cheese on plate. Rinse chicken with cold water; gently shake off excess water. Dip chicken in crumb mixture, turning each piece over to evenly coat both sides. Discard any remaining crumb mixture.
3)Heat oil in large nonstick skillet on medium heat. Add chicken; cook 5 to 6 min. on each side or until golden brown on both sides and cooked through (165°F). Steam asparagus (I like to use a pat of Smart Balance butter, garlic salt and pepper and use the melted mixture to pour over the rice and asparagus before laying the chicken down) Place chicken on rice, put asparagus on the sides; cover to keep warm. Add remaining broth and the cream cheese spread to skillet. Cook on medium heat just until mixture comes to boil, stirring constantly. Simmer on low 3 min. or until sauce is thickened, stirring frequently. Spoon sauce over chicken. Enjoy!
Nutrition per serving: Calories 420(if you use low-fat cream cheese) including rice and asparagus, Total fat 12g, Saturated fat 4g, Sodium 520mg




Reader Comments
Comments will take a few seconds to appear.
Post Your Comments
Please sign in to post comments.
Not only will you be able to leave comments on this blog, but you'll also have the ability to upload and share your photos in our Wunder Photos section.
About dragonflyF15
Featured Blogs
Local Weather
72 °F

Scattered Clouds