2012 Model Performance (GFS vs Euro) and Current Tropical Analysis
By: TomTaylor, 7:29 AM GMT on September 19, 2012
2012 Model Performance; Analyzing the Big Battles


When tracking tropical cyclones, we usually see only minor disagreements in track among the models. Our two most reliable global models, the GFS and ECMWF, also tend to be in good agreement on track, as we would expect being the two most accurate models. However, track differences in a couple hundreds of miles out to five days are not uncommon between the two. This year, however, we have seen two massive disagreements between these two models, which is pretty rare (season isn't even over yet).

The two most significant track forecast challenges we have seen so far this year occurred with Debby and Nadine. Each case was a result of highly sensitive steering conditions where slight differences early on ultimately led to dramatic differences later on in the forecast period. Examples of the differences include a Texas landfall (EURO) vs a Florida (GFS) landfall with Debby, or, more dramatically, a track toward Bermuda (EURO) and a track toward Portugal (GFS) as we saw recently with Nadine. In both cases, the GFS significantly outdid the ECMWF, proving to be nearly spot-on.

September 17th's 00z Model Cycle for Nadine. Fortunately this storm is weak and in the middle of the Atlantic, imagine if it were centered over the Gulf






A third storm which provided significant disagreement among the big two was Isaac. Isaac was a bit different, however...

Early on (prior to the Isaac reaching the Florida Straights) the ECMWF did perform better. The difference between this situation and that of Debby and Nadine, however, is that up until this point Isaac was in the deep tropics. Differences between the model runs were a result of the individual model's handling of the storm's intensity. With Debby and Nadine, the difference arose between the longwave pattern evolution and the storms intensity; will the storm be deep enough to be picked up by the trough or will it get caught under the ridge? Once Isaac reached the Gulf, however, the differences can mostly be attributed to the evolution of the longwave pattern and intensity of the storm, like what we saw with Debby and Nadine. From this point on, just as we saw with Debby and Nadine, the GFS's run for each cycle proved to be better than that of the ECMWF. Initially we saw agreement on the panhandle, then the GFS moved to Louisiana. ECMWF resisted for over a day, then finally agreed, but even then, it over-corrected sending the storm into western Louisiana.


So far, all of the significant track forecast differences between the GFS and ECMWF have been won by the GFS. While Isaac was in the tropics, we did see the ECMWF lead, however, as he entered the Gulf and began interacting with the longwave pattern, the GFS ultimately had the final say. It is true the NHC's annual model verification report may show otherwise as it does account for all storms (not just the three shown here). However, it is quite apparent, the major battles were all won by the GFS.


.....

Current Tropical Analysis

Atlantic is pretty quiet right now, with the exception of Nadine. Nadine should hang around with us the next several days as she dances around the Azores before loosing tropical characteristics in a few days. Beyond that, it looks unlikely we will see any significant new developments for at least the next week. By the first week of October, however, we may get something brewing in the Caribbean as the MJO may be back over our region at that time (though weak) and the large longwave trough currently over the central and eastern US should be gone by that time (we want to see ridging in that area for developments in the Caribbean).

Multi-Model MJO Forecast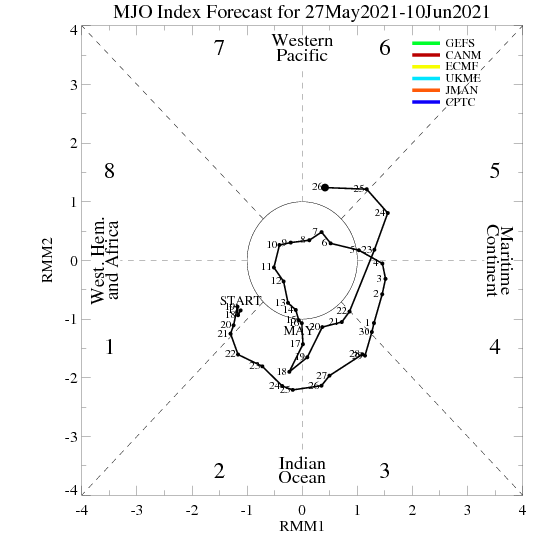 Updated: 7:50 AM GMT on September 19, 2012
Tropical Cyclone Monica's Maximum Intensity
By: TomTaylor, 2:23 AM GMT on September 14, 2012
While we have all been admiring the impressive intensity that Super Typhoon Sanba has achieved, I wanted to take a moment and comment on Tropical Cyclone Monica of 2006. With the lack of any instruments actually inside of the eye of Sanba, forecasters, and amateurs such as me, have been forced to rely on Dvorak satellite estimates to determine the intensity of the storm. In discussing the biases these estimates tend to have, a paper concerning Tropical Cyclone Monica was brought to my attention by fellow blogger 1900hurricane. Since Sanba is a similar storm of high-end category 5 intensity, under similar intensity estimate limitations, I figured I'd write a few of my thoughts on Monica. While the official record shows that Tropical Cyclone Monica peaked as a 916mb storm, I have heard many people refer to the 879mb estimate by the JTWC as well as the CIMSS ADT estimate of 869mb and mistakenly come to the conclusion that Tropical Cyclone Monica was more intense than Super Typhoon Tip, making Monica the most intense cyclone ever observed. However, I'd like to address this notion and hopefully settle the speculation once and for all.

Tropical Cyclone Monica of 2006, near peak intensity





First of all, the official record for Monica is placed at 916mbs, so any other pressure readings are unofficial estimates. Also note the word estimates. There are were no instruments that ever passed in or entered Monica's eye, therefore, all intensity estimates are speculation based off remote sensing evidence (satellite and microwave images) provided.

Now, simply using common sense, we can automatically be highly doubtful of the 869mb estimate the CIMSS ADT posted for Monica. The CIMSS ADT is notoriously a more aggressive dvorak technique (aggressive as in it tends to overdo the intensity of a storm), as noted by the NHC in numerous discussions, and even recently Super Typhoon Sanba. That overaggressive bias immediately makes the 869mb dvorak estimate seem overdone. Secondly, just look at the satellite image alone. The storm is actually fairly small, in comparison to other storms of similar intensity, especially compared to Tip, the record holder (in terms of largest tropical cyclone and most intense by pressure). The size and bias of the CIMSS ADT automatically cast large doubt on the dvorak estimate, making it highly unlikely.

Super Typhoon Tip's Record Size, near peak intensity





Finally, and most importantly, there is this paper which shows that based off microwave imagery and model simulations that the maximum intensity achieved by Tropical Cyclone Monica was likely between 900-920mbs. It is also mentioned in the paper that under a revised Dvorak Technique specific for the Australian region, that Monica likely peaked as a 906mb storm (based off that dvorak technique). This revised dvorak estimate of 906mb is based on a technique specific to the region Monica was in, making it more accurate than the previous 869mb Dvorak estimate.

In conclusion, it is highly unlikely tropical cyclone Monica was the most intense tropical cyclone of all time. There is no doubt this was an intense storm and it did have a near perfectly symmetric cloud pattern. However, microwave images, model simulations, and revised dvorak techniques indicate that this storm was likely never below 890mbs. And again, as the official record stands, Monica peaked as a 916mb storm. But of course, this is only an estimated intensity, due to the lack of any instruments ever being present within Monica's eye. Still, we can now conclude with little doubt that Monica likely never attained a pressure below 890mbs, and probably actually peaked around 900-910mbs.


As a side note, some of you may ask why this even matters considering the official record reports this storm as being a 916mb storm, but this what weather enthusiasts do. Extreme record and speculation behind the records and potential records has always fascinated me and in some ways I consider this post similar to some of the blogs Christopher Burt does on his blog. Also, thanks to 1900hurricane for providing the link to the paper.
Updated: 2:39 AM GMT on September 14, 2012
About TomTaylor
Featured Blogs
Previous Entries for 2014
Recommended Links