Mystery Cloud
By:

Susie77

, 12:14 AM GMT on February 25, 2014

+

2
From Spaceweather.com


MYSTERY CLOUD (DE-MYSTIFIED): On the night of Feb. 20/21, photographer Dennis Mammana
was stationed on Pedro Dome near Fairbanks, Alaska, in hopes of
recording the Northern Lights. "I caught this instead—a tiny and
bright cloud that rose from the western sky and spread slightly and
faded over an hour or so," says Mammana. Here is a composite of two of
his shots: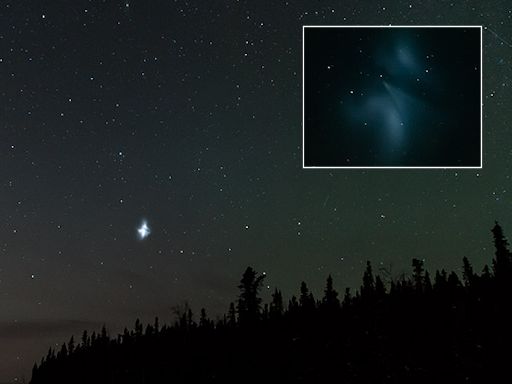 The cloud resembles a rocket fuel dump. Scientists from the University of Alaska frequently launch rockets from the nearby Poker Flat Research Range to study auroras. But on this night there were no rocket launches on Poker Flat.


Update: There was, however, a launch thousands of miles away. A Delta 4 rocket blasted off from Cape Canaveral carrying a GPS satellite.
Veteran satellite watcher Marco Langbroek
of the Netherlands says this is it: "The mystery object on the Mammana
photo is a fuel vent from the Feb 20 launch of GPS 2F-05 (USA 248,
20114-008A, #39533)."
"Although the satellite is
in an orbit with a 54.98 degree inclination, that does not mean it was
not visible from Mammana's location at 65N," he continues. "It is in a
very high orbit and was at an altitude of over 20,000 km at the time of
the photo. At such an altitude it is visible from 65 N, low in the west
in this case."
A sky map
prepared by Langbroek shows the position of the satellite (labeled
"Object A") in the sky above Alaska when Mammana saw the cloud. The sky
map and the photo are a good match.
Reader Comments
New Comment
Post Your Comments
Please sign in to post comments.
Not only will you be able to leave comments on this blog, but you'll also have the ability to upload and share your photos in our
Wunder Photos
section.
About Susie77
| | |
| --- | --- |
| | Sometimes I complain about the earthly weather, but mostly I like to post about astronomy and space events. Hope you enjoy the articles. |
Tropical Blogs
Tropical Weather Stickers®
Local Weather
| | |
| --- | --- |
| | Partly Cloudy |
Previous Entries for 2014